Pool Pro Online 3 opens its doors for Xbox Live on Windows Phone this week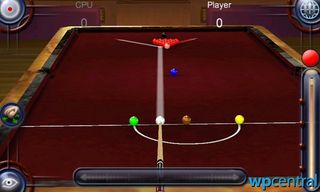 At the start of the month, Windows Phone Central provided exclusive first details and images of Namco Bandai's Pool Pro Online 3 for Xbox Live. Now we're back with first word of its release date: tomorrow, August 1st. Windows Phone gamers will be shooting pool in no time!
Pool Pro Online 3 offers a realistic simulation of three pool games: 8-ball, 9-ball, and snooker. All three can be played either single-player or online. According to word from Microsoft, gamers can view and join online lobbies, so you won't be restricted to playing with friends as with clunky ol' Battleship.
Let's hope players can communicate with each other in-game as well, just like the iOS and Android versions of the game. Whatever the case, we're glad to see Namco Bandai continuing to push the boundaries of multiplayer gaming on the mobile version of Xbox Live.
Money won offline or online can be spent on table felts, cue sticks, and even pool halls, providing long term goals between games. One of those pool halls is exclusive to Windows Phone, too! That just might help make up for the tough Achievements. We'll see!
Pool Pro Online 3 will cost $2.99 when it debuts on Wednesday, August 1st. Get the chalk ready, pool fans.
Paul Acevedo is the Games Editor at Windows Central. A lifelong gamer, he has written about videogames for over 15 years and reviewed over 350 games for our site. Follow him on Twitter @PaulRAcevedo. Don't hate. Appreciate!
There have been quite a few bad games coming out for Xbox live. Gun bros is ok and the sniper game is just boring. I'll pass on this one an play KH3DS

Finally! That's great news, Paul. *readying cc*

Overall, gaming on WP continues to disappoint. Announced games fail to show up, we keep getting one game a week and not the best we can expect. I'm happy I have an iPad I can play decent stuff on but WP8 needs to seriously step it up.

Not all are bad like that but I suspect it won't get better until the platform gets to Windows 8. Just a feeling.

Xbox Live has been one game a Week for the last 6 years, and don't you find it weird to whine about a game which going to come out tomorrow ? And tbh, touch screen devices games are just a side dish if you like games.

Once again never satisfied

Stop complaining until you have at least tried it, then if it isn't a good game by all means complain, and that means if it is not a good game not one that is not for you

What's with all the moaning and bitc**ng? The game hasn't even been released yet for cryin' out loud.

That's all Tahiti Bob does, unfortunately. :(

Cool, I'll check out the demo.

Haven't played digital pool since GTA4. Had some periods with pool games without nasty Russians and cop chases before that, though, so I'll have to check this out. Guess the final verdict will have to depend on how well the controls work.

I agree with slayer. Xbox live games have been typically 1-2 game per week. WP will not be any different. There is always non-live games and indie titles to play if you are not into the flavor of the week. We are not short of games to play. Do you check the other games in the marketplace? Back to the game, i am excite! Love 9 ball

Downloading now. :-) (use the search)

The autocomplete on web Marketplace seems to know it if you enter enough, but I'm not getting any further results there or anywhere else. Deeplink, anyone?

Oh, and NFS Undercover is DotW. Had to find that out myself. Still don't know how many times this has occurred before, but I have the feeling we'll know that soon... ;)

Not a horrible game, but it's pretty damn slow with all the messages between turns and stuff.

Is there any chance for 8 ball pool to join us?
Windows Central Newsletter
Thank you for signing up to Windows Central. You will receive a verification email shortly.
There was a problem. Please refresh the page and try again.