Let's Golf 2 leads the Windows Phone Red Stripe Deals this week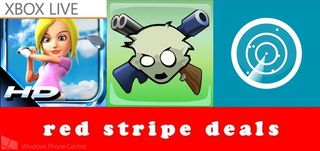 Now that EA Sports has released Tiger Woods 12 for Nokia phones, golf fans have two Xbox golf titles to choose from. Tiger Woods' predecessor, Let's Golf 2 is by comparison a much more cartoony title. But realism isn't always that important in sports games – just see our NBA Jam review. Besides, it's not like HTC and Samsung owners can get Tiger Woods anyway. Oh, and Let's Golf 2 is on sale for a lower price right now.
That's right, Gameloft's Let's Golf 2 for Windows Phone 7 and 8 is the Xbox Windows Phone Red Stripe Deal of the Week. You can get it for $1.99, down from the too-high price of $4.99. This marks the game's second outing as Deal of the Week – it last went on sale in September 2012 for the same price.
Rounding out the Red Stripe deals this week are Cradle to the Grave Premium from indie developer Coltran Studios and an air traffic utility app called Flightradar24, both on sale for 99 cents. Read on for descriptions, pictures, and store links!
Let's Golf 2 (Windows Phone 7 or 8)
Regular price: $4.99 Sale price: $1.99 Download size: 170 MB Store Link
Let's Golf 2 is an arcade-style golf game modeled after Sony's popular Hot Shots Golf franchise. Features include cartoony players, clean 3D graphics, six 18-hole courses, and both Career and Challenge modes. Even if you don't care about the sport of golf at all (like me), the game is actually very enjoyable and easy to learn. Check out our full review for more details.
Initially Let's Golf 2 launched with two broken Achievements, though a subsequent patch fixed one of them. Unfortunately, the 'Secret Code' Achievement remains unattainable by design. That's right, the Achievement's requirement of inputting a special code in order to unlock the ninth golfer is simply impossible in the Windows Phone version of the game. Why the developers would do that, and how it slipped by Microsoft's certification team, remains a mystery.
Still, if you can overlook that small blight on your GamerScore (I only have about 54 percent of my games completed anyway), Let's Golf 2 remains a lengthy and fun title.
Cradle to the Grave Premium (Windows Phone 7 or 8)
Regular price: $1.99? Sale price: $.99 Download size: 74 MB Store Link
Cradle to the Grave is a defense game without the tower building. Players control three stationary kids at the bottom of the screen as they fend off an invading army of zombies from the top of the screen. Just tap a character and aim in order to fire. But let a kid's weapon overheat and he falls asleep for a while, leaving you vulnerable. With tons of levels and weapons to choose from, this indie title could keep you busy for a while. Read George's review of the free version for the full skinny.
Flightradar24 (Windows Phone 8)
Regular price: $2.99 Sale price: $.99 Download size: 9 MB Store Link
Did you ever want to track the flight paths of planes everywhere? Well, somebody did and so we have this fancy app. It uses your location to find flight paths around you. The app's most impressive feature is the ability to select a plane and view a 3D recreation of what the pilot actually sees from that plane as it flies along. Check out Daniel's impressions if you'd like to learn more.
Thanks to Marcel at InsideGames.ch for the tip!
Windows Central Newsletter
Get the best of Windows Central in your inbox, every day!
Paul Acevedo is the Games Editor at Windows Central. A lifelong gamer, he has written about videogames for over 15 years and reviewed over 350 games for our site. Follow him on Twitter @PaulRAcevedo. Don't hate. Appreciate!
Sorry but, achievements who are unobtainable and never fixed equal a NO BUY for me :( Lets golf 2 wont be in my WP collection until it fixed

So true. Glitched achievements=no buy.

Flight radar is really great. And it's got an augmented reality view.

not quite reality view but okay! might for some people be close enough :)

Cradle to the Grave is a great game. Been playing it for a long time! Buy it! :)

I will second this :D Of course, I'm slightly biased! Thanks Aderud for supporting us, we appreciate every person that plays our game and are glad you are enjoying it. We have more coming too!! Spread the word friend, thanks again



Pleaseeee EA, please release Burnout Crash in the Windows Store! Windows Phone and/or Windows 8!! I loved that game tremendously in my iPad days. Very addictive!

Microsoft should enforce a rule where as no app can label itself as HD if it is not made for HD screens, hence designed with WP8 in mind

Xbox certification team at it's finest. Not one but two broken achievements slip by. I still think there's more than 10 broken games but I'm to lazy to go thru them all and check. Still as long as it takes to get certified this is crazy.

Red Stripe Deals are becoming more sh***y every week!Instead of making intresting DEALS!

My girlfriend is going to be traveling quite a bit this summer so I took it as an excuse to get Flightradar24. :D

Games with UNOBTAINABLE achievements should not be able to be included in these deals!!

Flightradar24 is the best It's really amazing, dont miss the campaign!

Hi Paul! The store link is for Cradle to the Grave free version. Pls correct it... I'm using WPCentral app for wp7.8.

It's a pity that so many of you are completely writing off Let's Golf because of 1 broken achievement. Do you all seriously have 100% completion ratios, and this one achievement is going to ruin that?

You can still earn 19 of the 20 achievements, 190 gamerscore, and play a really fun game. I'm a big fan of achievements, but this is an eye-opening example of how they are bad for gaming.

It is sad, but don't blame the Achievements. They make games better for a lot of people. It's when a minority of individuals take things too far and forget why we play games in the first place that a problem arises... But that's the addicts' fault, not the Achievements.

Exactly. I know someone who refuses to play a game without an achievement guide so he can get all the achievements as fast as possible, irregardless of whether the guide ruins the story or the fun.

@Paul: do you recommend Let's Golf 2 for $2 over Tiger Woods for $3? I'm debating which to get and would appreciate your opinion.

Tough question! I haven't played Tiger Woods a lot yet. I think it will be a longer and deeper game, what with the better character customization and greater variety of events. But Let's Golf 2's looks and swinging mechanic appeal to me more, so that's what I'd choose if I was only going to buy one.

After trying them both out, I'm inclined to agree with you. I think I'll buy LG2. Thanks for your reply. :)

I purchased Lets Golf 2 and have to say even though I am not a big golf fan, this is a very fun game so far. My 2 favorite video game golfing sims are Mario Golf and Hot Shots golf, so if you like either, you won't be disappointed!