Save up to 35% on ASUS mesh networking and gaming routers with this Amazon UK sale!
By Rich Edmonds published
Connect (almost) everything for less.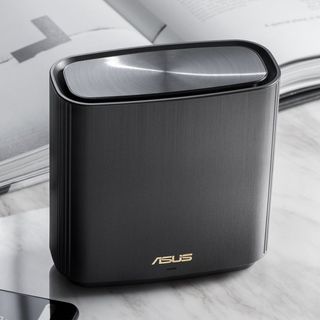 (Image credit: ASUS)
Using the router supplied by your service provided is usually enough to get one started, but once you include multiple desktop PCs, more phones that you know what to do with, and guests coming to stay for the long weekend, the sudden influx in traffic can overcome more basic networking equipment.
This is where aftermarket solutions come into play. The more you have to budget for a router or mesh system, the more powerful it'll be with advanced features. ASUS is best known for its laptops and ROG branded PC components, but the company also makes some great routers and other networking devices.
The company is currently running a sale on Amazon UK, seeing up to 35% discounted across its portfolio of hardware. We've rounded up some of the deals below.
A mesh system is great for combating Wi-Fi dead zones at home or in the office. The ZenWiFi XT8 comes with two access points that link together to create one seamless network for all your wireless hardware. It's capable of handling up to 6600 Mbps and comes with Wi-Fi 6 capabilities (OFDMA and MU-MIMO, ZenWiFi AX).
The XD6 is a little more affordable, but less capable version of the XT8. This two-unit mesh networking solution still comes with the capability to hit speeds of 5400Mbps and supports Wi-Fi 6 (802.11ax) and 160MHz channels. You'll also be able to enjoy other ASUS features like parental controls to keep everyone safe online.
ASUS ZenWiFi Mini XD4 | 14% off

The Mini XD4 from ASUS is perfect for the home with only a few wireless devices online at a given time. It's capable of hitting speeds of up to 1800 Mbps and has three units to be placed throughout. for maximum coverage. Whether you're needing better connectivity inside or out, the XD4 is a great place to start.
The ZenWiFi XP4 from ASUS is perfect if you don't require much from your home network. With speeds of up to 1300 Mbps, the two units included in this mesh networking kit will happily run a LAN with maximum coverage throughout the home. It's easy to set up and you've got full support for Wi-Fi 6.
ASUS Zenwifi Mini CD6 | 35% off

The most affordable mesh kit in this ASUS UK sale is the ZenWiFi Mini CD6. There's no support for Wi-Fi 6 and some other more advanced features are absent, but this is a great kit (with three units!) for homes with a few people needing to connect their smartphones to the LAN.
The RT-AX86S is a sound router from ASUS with full support for Wi-Fi 6. This thing will be able to handle speeds of up to 5700 Mbps with 802.11ax and 160MHz channels. If you do a little gaming on your phone or other portable devices, the Mobile Gaming Mode will help minimize online gameplay lag. A wired 2.5Gb LAN port is also great for hooking up your gaming desktop PC to a fast LAN.
ASUS TUF Gaming AX5400 | 19% off

The ASUS TUF Gaming AX5400 is a little less capable than the RT-AX86S, but it's still Wi-Fi 6-certified and can hit speeds of up to 5400 Mbps. ASUS even added a dedicated gaming port that will prioritize traffic to and from this device. If you're not too technical and just want something to plug in and enjoy using, the TUF Gaming AX5400 is a good pick.
ASUS ROG Strix GS-AX5400 | 20% off

If you want a router that looks as good as it performs, the ASUS ROG Strix GS-AX5400 is one you should consider. Being a Wi-Fi 6 router, you can expect to enjoy speeds of up to 4804 Mbps for connected wireless devices. There's even ASUS AURA RGB lighting, being a ROG product, and you can wire up desktop PCs for best performance.
ASUS ROG Strix GS-AX3000 | 24% off

Finally, we've got the ASUS ROG Strix GS-AX3000. There's a lot to love about this router, including the price. Being a ROG device from ASUS, you've got AURA RGB lighting, as well as full support for Wi-Fi 6. It's capable of hitting speeds of up to 3000 Mbps, making it ideal if you do a lot of console or mobile gaming throughout the home.
If you're wanting to take advantage of this sale and pick up some new networking equipment, I'd recommend you act soon as the promotion will end on Amazon UK in two days.
Rich Edmonds is a word conjurer at Windows Central, covering everything related to Windows, gaming, and hardware. He's been involved in technology for more than a decade and knows a thing or two about the magic inside a device chassis. You can follow him over on Twitter at @RichEdmonds.
Windows Central Newsletter
Get the best of Windows Central in in your inbox, every day!
Thank you for signing up to Windows Central. You will receive a verification email shortly.
There was a problem. Please refresh the page and try again.