Shovel Knight is digging its way onto your Xbox One next week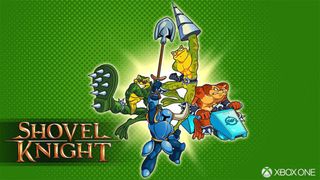 One that next-gen gamers have been looking forward to since last year, is the 2D platforming game, Shovel Knight. Both Phil Spencer and Major Nelson from the Xbox team took to Twitter today to announce that the wait will soon be over for Xbox One owners.
It first started with a simple tweet from Phil Spencer that the game passed certification earlier today.
Then a short time later, Major Nelson reached out to say that the game would be coming to Xbox One this week which was then later corrected to next week.
Last year, Shovel Knight took the world by storm due to its nostalgic yet modern gameplay. It also received tons of nominations for game of the year in the process, although it was only available on PC, Nintendo 3DS, and Wii U.
In Shovel Knight, you play as a knight who carries a shovel for a variety of reasons. The shovel can be used to jump around on, dig up treasure, or most importantly attack enemies. Speaking of enemies, Shovel Knight is said to be extremely hard and is also nicknamed the 2D Dark Souls.
Back at GDC last month, it was announced that the game would heading to Windows 10 as well as the Xbox One. That brings me to a point, let's not forget that the game will be cross-buy compatible for Windows 10. That means if you buy it for the Xbox One you will have it available on your PC at no additional charge once Windows 10 becomes publicly available.
Also, the game is said to exclusively feature the Battletoads on the Xbox One version, but it isn't exactly clear how they will be incorporated. So keep an eye out for Shovel Knight, as it should be available sometime next week for $15.
I hope it includes the entire NES battletoads game included as a bonus. That would be incredible. Oh, and I'm definitely buying this.

I'll wait til it gets free with gold.

Is this related to "Battle Toads"?

I wish Shovel Knight wins the Smash Bros Fighter Ballot :)
Windows Central Newsletter
Thank you for signing up to Windows Central. You will receive a verification email shortly.
There was a problem. Please refresh the page and try again.