Guns, dinosaurs and time travel come to Xbox One with Super Time Force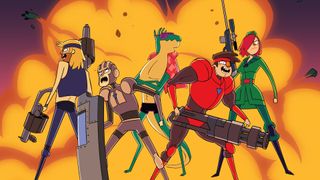 This game looks amazing. It's called Super Time Force and it's now out for the Xbox One and Xbox 360. Last week we told you guys and gals to look out for this game. Today is the 14th and now it's available for you to download and play.
Early review for Super Time Force are very positive. So far it's averaging a solid 81 Metascore on Metacritic. This is the third game to come out of the ID@Xbox program for indie devs. It looks so freaking fun.
Super Time Force is a side-scrolling shooter game from Capybara Games. You take control of a time-traveling military organization that goes back to prehistoric times to save the dinosaurs. Action is frantic and complete mayhem. We can't wait to wrap up a day of Windows Phone news and fire up the Xbox One to play this.
Super Time Force is $15 and available in the Xbox Games Store.
Get the Xbox One version (opens in new tab).
Get the Xbox 360 version (opens in new tab).
Windows Central Newsletter
Get the best of Windows Central in your inbox, every day!
This game is effing awesome.

I don't have anything against indie games but can you imagine bringing someone from the late 80s and showing them games like this?

They probably would enjoy it... The game is a lot of fun, and does a lot of things the NES and SUper NES could never do (despite using pixel art).

I resisted buying this because I was peeved it didn't have co-op, didn't have a demo on X1, and seemed pricey at $15. Last night I finally caved in and holy crap this game is awesome!

Co-op would have been rad, but it probably would have required some major changes to the way the game works (since the levels are built for like 30 heroes fighting and not just a few). Glad you like the game!

You're right bro! I like indie games but they're getting carried away with the pixelated stuff.

i need this for windows phone / pc now

Are demos a last gen idea or what? Can someone ask MS or the devs about this?

Demos nowadays are a rare thing for sure. Microsoft does allot on game promotions, even this game has been promoted allot expecting people wont need a demo to buy it. And believe me its an awesome game. But I get the point people still want to try out a demo before buying.. So I've reached out to one of my fellow Microsoftees a few months ago when someone asked me about a Titanfall demo. Answer: " it is a request thing. games will eventually get a demo release, depending on the developer., what they want to showcase or think if its needed for their game to release a demo. so it takes time. 2nd. After-demo releases on a Xbox console will show up on the dashboard in less to 3 weeks to 6 months"..

I hear you. Perhaps the fact that they have ramped up the Gold privileges will mean we all get to try more games. Got my fingers crossed for Peggle and Garden Warfare as freebies.

They would be good games as freebies. I don't see a reason that wont happen fast and they get in Games with gold after June 9. unless they end up in the unannounced feature. :P

Well they have announced Games with Gold is coming, and they only have a small pot to draw from, so fingers crossed. Really starting to wish the One had a bigger hard drive.....

That they did. And as far we have been updated thru mail. Xbox one will get external storage support soon. The announcements from Microsoft are far from over.

I believe the 360 version has a demo. Sadly, Microsoft doesn't require downloadable Xbox One games to have demos.

Looks nice. Might get it later. By the way, it's my birthday today.. Yey..

Got it this morning. Can't wait to play it!

This article is pretty disappointing. I expected to read that with Xbox One time-traveling would become reality. And no beaming or holodeck features? I am sad now.

The Xbox One is such a crappy device... look how pixelated the graphics are. #Xbox720

No PC versión yet? Seriously disappointed.

$15.00 is ridiculous... I'm sorry

$15 for a nintendo game? um ok.

I'm starting to feel jipped. I spent $500 on a Day One console and still no next (next) gen games outside a couple shooters.