Surface Duo 2 drops to $999 for the first time at Microsoft, Amazon, and Best Buy
Microsoft's dual-screen Android phone is now just $999 instead of $1,499 marking its lowest price yet.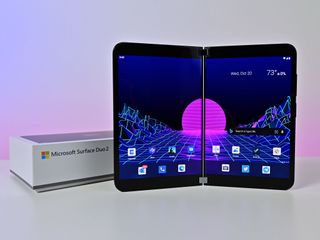 (Image credit: Daniel Rubino / Windows Central)
What you need to know
The Surface Duo 2 is now just $999 (128GB) and $1,099 (256GB) at Best Buy, Amazon, and Microsoft.com, a savings of $500 off the original price.
This new price is the lowest yet since the Surface Duo 2's launch in October 2021.
It's not clear if this is another temporary sale or a new permanent price.
Microsoft is listening to some of its critics who admire Surface Duo 2 but feel the $1,499 starting price is just too high. The Microsoft Store, Amazon, and Best Buy are now offering Surface Duo 2 for just $999 for the 128GB model, while the 256GB version is just $1,099. That's a substantial $500 off the original price.
Customers could save up to $700 more of that $999 price at Best Buy if they trade in their existing phone, making the Surface Duo 2 a viable option for those curious about a dual-screen experience.
Both Microsoft and Best Buy recently had a temporary sale on Surface Duo 2, knocking down the price to $1,250, but that ended two weeks ago.
While some may see this as a sign of an impending Surface Duo "3," our sources suggest that Microsoft won't refresh this hardware until sometime in 2023.
Save on Surface Duo 2
(opens in new tab)
The Surface Duo 2 is a unique foldable with two displays. It can run apps side-by-side or span apps across both screens. The second-generation Duo improves upon its predecessor in several key areas, including having better cameras, displays, and software. Later this year, the Duo 2 should receive an update to Android 12L, which is optimized for tablets and foldables.
While Surface Duo 2 had a difficult launch, Microsoft has since delivered three substantial updates that have significantly improved the device. We recently reexamined the topic a few weeks ago, noting that all of the major gripes and bugs of Surface Duo 2 have been addressed making it much easier to recommend to those wanting to try something new.
Our colleague MrMobile (aka Michael Fisher) also did a 13-minute long-term review, where he also noted that Surface Duo 2 has substantially improved since its initial launch.
Interestingly, one of Fisher's complaints about the device was the price, noting that "… $999 is a better price point for a device with this many compromises," referring to the mid-range camera. Today's price drop at least knocks the criticism off the table.
Of course, Microsoft could still do more with Surface Duo 2. Enhancements to the Glance Bar to allow access to third-party app notifications is one area (something that we hear is in the works), improvements to the camera software are never a bad thing, and more abilities for the optional Surface Slim Pen 2 for inking is welcomed. It'd also be good to see advancements with typing (SwiftKey) and Microsoft Launcher (more customizations).
Extending the longevity of Surface Duo 2 is Android 12L, which is expected "later this year" according to Google. That OS update should refine the dual-screen experience while also letting app developers easily optimize apps for spanning across both displays.
Either way, if you were eyeing Surface Duo 2, heading down to your local Best Buy to try one out for $999 seems like a no-brainer if the design piques your interest. If you're uncertain about committing, ordering through Microsoft also gives you a generous 60-day return policy. And don't forget to pick up the best Surface Duo 2 accessories to complete the experience.
Windows Central Newsletter
Get the best of Windows Central in your inbox, every day!
Daniel Rubino is the Editor-in-chief of Windows Central, head reviewer, podcast co-host, and analyst. He has been covering Microsoft since 2007 when this site was called WMExperts (and later Windows Phone Central). His interests include Windows, laptops, next-gen computing, and for some reason, watches. Before all this tech stuff, he worked on a Ph.D. in linguistics, watched people sleep (for medical purposes!), and ran the projectors at movie theaters because it was fun.
This deal is still valid, as far as I know https://tradein.bestbuy.com/client/#/current-promotions

I tried the the duo a year ago but Verizon would not allow Wi-Fi calling. I was wonder if that is the case currently I would love to take advantage of the new deal. I really need Wi-Fi calling at home and at the office. Thanks

Unfortunately, Verizon's policy of not supporting Wi-Fi calling on phones they don't directly sell seems to be still in place. T-Mobile/Mint have no issues.

Google Voice is an option, if your carrier doesn't support it (or even if it does).

That was a problem for me too, on both Duo and Duo 2. Fortunately, I've worked around that in other ways (added Verizon Network Extenders in the places I had previously needed Wi-Fi calling, which I was able to get Verizon to provide for free), but if you absolutely need Wi-Fi calling on Verizon, neither Duo will be able to provide that particular feature.

I hope Microsoft can get 12L to the Duo 2 by mid-year at the latest. If they can't deliver it before Android 13 arrives they might as well wait for that. The caveat being if Google does with with a regular release and an L release that are staggered.

That wouldn't be a good decision for MS. It's supposed to be released latter this year. If MS already has something worked out with Google to push out to the Duo series, it needs to happen. Customers can tolerate that, instead of foregoing what was already promised. Microsoft cannot afford to break that promise, with the hopes of getting Android 13/L.

There is always going to be a delay. Waiting for 13 doesn't mean it would be ready as soon as it's released.

Once 12L is available for my SD2, I'd consider waiting for a drop in price like this before buying the SD3. But this is encouraging for an addtl uptick in the overall user base. And at a price this low, I could probably just use Microsoft Rewards points with no cash out of pocket...

You must have a ridiculous amount of reward points. I've only managed to get two $100 gift cards over the last few years. Lol

While I think this is a good move, I still question what MSFT's ultimate plan for this device is. When they pushed the original Surface RT and ultimately the Surface Pro 3, you saw the advertisement and marketing capital to back up the message...."The tablet that can replace your laptop." I've seen one commercial for the Duo and that was over a year ago. Most of the Best Buy stores I've been to has the Duo 2 displayed in between the mobile department and the Microsoft department. You'd walk right past it if you weren't really looking for it. I really enjoy the Duo 2, and like the original Duo whenever I'm using it everyone asks me what is it, and why haven't they heard about. Most think it's a Z Fold. MSFT can drop the price to $100's but if nobody knows about it what difference will it make? If they are intending this to be for enterprise users, that's one thing, but it appears at least from what I've seen that MSFT is intending this to be a multitasking device for anyone and everyone who feels more productive in a two screen environment.

Microsoft is basically doing what is called a soft launch for this product. So there are no TV commercials, ads, etc. besides on its YT channel and Twitter. It's also only available in 7 countries (versus the nearly 50 for Surface in general). The device is, basically, in open development. With Duo 3, we're more confident you'll see a hard push/sell for it with a bigger media campaign as well as it being available in more countries/markets.

That makes sense. I'm excited to see what the Duo 3 offers. Thanks.

Such strategy did not play very well for the Zune though...

How does Microsoft expect Duo 3 to compete with the Fold 5 and all the other folding devices that are likely going to launch next year? Are they going to price it as the budget form factor it is? Are they going to fix the awkward aspect ratio? It is more likely they will cancel the whole line, right?

Now ask how Surface Laptop competes against the Dell XPS 13, HP Spectre x360, Samsung Galaxy Book2 Pro, or Razer Book 13. It doesn't. Microsoft and Surface don't "compete" against other devices. They are meant to serve as drivers in innovation and design for people who want a particular premium (and sometimes, unique) experience. They're meant to change the conversation and bring about the best of Microsoft for work and creativity. Surfaces are literally showcase devices for Microsoft, similar to concept cars at trade shows. Surface PCs don't even crack the top 8 in the PC market. Never have and likely never will. Acer, ASUS, Razer, Dell, Lenovo, and HP are all far ahead of Surface, and I bet LG even sells more than Microsoft. You continue to have a fundamental misunderstanding of what Surface is supposed to be and do in the world of tech.

MSFT sells to the enterprise not the consumer. Surface is something entirely different. I think Surface generates $2 billion a quarter or $8 billion a year. MSFT generated $168 billion last year. Surface has minimal impact on MSFT revenues and has almost no impact on profits Bleached, MSFT has no financial reason to produce the Surface line of devices. It has low margins and low sales growth. Rubino has tried to explain the rationale for years. Just accept it and quit banging the same drum over and over. The Surface team makes money, is growing the business and helps MSFT focus on how people use hardware to access their software and services.

Sure, when Surface is driving Windows, that makes sense. Why do they want to drive Android? To help it compete against Windows in the future?

I don't think Surface is driving Windows or Android. Windows had established itself long before Surface was scribbled on the back of a napkin. I think you're confusing driving a concept and trying to integrate two concepts together to provide a better user experience and gain interest from non-windows users.

I think it comes down to a simpler concept. The Surface Team allows MSFT to keep their hands dirty doing the work one would expect of a competent person. It simply helps MSFT be a better provider of goods and services to their customers. I am an aerospace engineer by training. I worked for the US Army Missile Command and Marshall Space Flight Center. I left that career and got into real estate. Essentially, I took all the engineering experience and training and converted into owning and operating real estate. I spend 4 hours a day 3 days a week fixing and improving things. Could I hire people to do the work? Sure, and I do hire a lot of people to do the work. But at the end of the day, I like to work with my hands to keep me focused and aware of the cost and time to fix a problem. I also remember the time when the Aerospace Engineering Department was looking to hire a new professor. The favored candidate had a woodworking hobby. My professor said to me, "I think a person that works with his hands is a more competent person." As long as the Surface team is profitable and growing the business, MSFT will keep providing some capital. MSFT does not want to compete with the OEMs. But MSFT does want to show the OEMs they are competent at designing, manufacturing and selling computers. If they can build a bridge between your android smartphone and your Surface Pro and customers find this bridge valuable, then the OEMs can also use the bridge to improve the overall user experience. Does this mean the Android ecosystem and the WinTel ecosystem merge? Maybe. That would not be a bad thing.

Dan, I completely agree with you on their marketing approach, the purpose of Surface line for PC's, and bleached's antagonistic ignorance on these matters. He just posts here to lob grenades and troll for the annoyed responses. However, I don't see how the logic for Surface as an innovation driver for PC's, where MS wants to inspire its OEMs while protecting their margins, applies to phones. I don't see any benefit to MS in inspiring phone makers with an aspirational design, unless that somehow results in more Microsoft 365 subscriptions (no evidence of that, is there?). Seems to me, if MS wants to have a foothold in Android with a device that helps support its ecosystem, it needs to compete for that space in a way that, as you rightly point out, is NOT their intent in the PC space. A $999 price point for the Duo seems like a solid step in doing just that.

Duo is a bit of an oddity for Microsoft, but you're right that it is meant as a device for them to experiment on with Android. That team, as you know, has now turned into an official silo within Microsoft as the company works to expand its services and features in that OS, as well as integrate it more closely with Windows. I wouldn't be surprised if Duo eventually becomes more like Samsung phones as a the "premier" Android and Windows experience device.

No, I understand it, but there is a huge difference with Duo you are ignoring. It runs Android and not Windows. If it catches on, it strengthens Google's platform, not Microsoft's. The only thing Microsoft gets out of Duo is hardware sales. They absolutely compete with other Android OEMs.

"They absolutely compete with other Android OEMs."

How so? What makes you think the goal of Duo is to beat Samsung rather than act as a showcase for Microsoft's apps, services, and vision for modern productivity? Microsoft gives Samsung a first-class seat with Android and Windows. Yet you think they're competing with them? They're partners. Again, Surface, all of them, is not about competition. It's about design, innovation, and driving new form factors. The OS has little to do with it especially as Microsoft becomes more about computing and less about Windows. Microsoft can't beat

any

Android OEM. It doesn't even have the production, marketing, or distribution capabilities to compete with Samsung or even OnePlus.

Ok, I see. Microsoft's vision of "modern productivity" is a failed 10 year old Kyocera form factor. Dumb when folding screens exist.

What makes the Duo 2 a budget phone? Changing the aspect ratio would make it useless, as a dual screen device. Pricing it less than what they charged at launch would be ridiculous, considering it's not really meant to directly compete with the Fold series. These two devices aren't necessarily meant for the same types of customers.

It is a budget foldable as it uses ancient technology instead of the new folding screen technology. When on the shelf next to the Folds, it is a budget device, but with this ridiculous price. The aspect ratio is terrible. You ever wonder why there are zero phones available with that aspect ratio? It is awkward, hard to use one handed, and doesn't really bring any benefits. Everyone else figured this out but Microsoft. They just haven't updated the design that started in like 2016.

You sure do ask a lot of questions most people already know the answer to. Even worse, you contradict yourself by acknowledging the fact there will be a SDV3 by asking about Microsoft's plans for it when you "believe" there will be no SDV3. Confused? 🤔

They killed the 2022 version, who knows if there will be a 2023. I highly doubt it. They don't sell and they review terribly. There are a few things Microsoft could to do help it, but I doubt they will. They need to make it like a normal phone. Fold it all the way and it is no different than an iPhone, but you have the second screen in the rare times you need it. That means a normal aspect ratio. There is a reason there are no wide phones in 2022, they are awkward and don't increase productivity. Microsoft is stuck in 2016 with that design. They need to bring the price in line with the market. A Pixel starts at what, $599? There is no reason adding a second screen and a hinge should cost more than $400. It could definitely launch at $999. Get all that done, making the second screen an added benefit (instead of an annoyance as it is now), and it could catch on.

You gotta realize that you are literally beta testing and giving MS feedback for a future version of Duo that they plan to push towards the average consumer.

Consider yourself fortunate that your Best Buys even has Duo 2 on display. It's been 6 months and my Best Buy has never even put up a display or has any in the store........ I'm Still rocking the original Duo, which I've had for less than a year. Performance is still great on it. With the exception of an outside camera, I see no point in getting a duo 2 unless it drops to a fire-sale price.

"… I see no point in getting a duo 2 unless it drops to a fire-sale price." It will. Remember, the first price drop for the Duo 1 was also to $999. Two months later it was $799. It ended up at $499 a few months later. That's what happens to products that aren't selling. You don't see Samsung Galaxy phones doing this. You don't see iPhones doing this.

Buying from best buy with a trade in is definitely the way to go. I wonder why MS doesn't do trade ins?

Agreed. And I assume logistically it's a bigger investment that requires a certain value prop and trade volume that doesn't exist for Microsoft. For Best Buy, they're one of the top sellers of smartphones, so it behooves them to have such a system in place where the cost for paying out matches what is brought in (I'm sure the margins there are slim). After all, in the US, and besides carrier stores, where else do you buy a smartphone, PC, or tablet?

Microsoft still has the trade-in program but it's not easy to find. Their allowances are not as generous as they were last year but neither is Best Buy's. https://microsoft.cexchange.com/online/home/index.rails

I think the best answer to that question can be found by asking yourself "if I made Surface Duo 1 would I want it back?" 😅😅😅

Trade-in was an option at initial launch for both SD1 and SD2 - and I made use of it in both cases. Don't know why it isn't a better known option...

wondering who buys surface duo.
doesn't make any sense to me.
It's a dead platform

There is nothing "virtual" about your "enigma", it's as real as it gets. Android is hardly a dead platform.

"I don't get something, ergo, it makes sense for no one else" - Some guy on the internet today

You're in a chat forum with a few Duo owners right now.

Daniel or anyone really, what is the trade in value for the original Duo at Best buy if I apply it towards the Duo 2?

It was like $400 a few weeks ago but is now only around $90 last I heard. It changed right around the time of this sale/price adjustment.

Holding a Duo 2. Really looking forward to the Duo v3. If I have to wait until 2023, MS please make the wait worth it. Such a large discount is useful for promoting this device, but it does cause some pain for previous purchasers, like me.

Guess sales are low low. Oh well,the cheaper ,the better for the potential customers.

Every Surface goes on sale at some point and they all, comparatively, have low sales (which is why Surface is not a top 10 PC seller). By comparison, the Samsung Galaxy S22 series went on sale (-$100) 45 days after its release. It took 5 months for Duo 2 to get its first sale (-$250) and 6 months to hit -$500.

Giving the Duo 2 another try!