Surface USB-C to HDMI adapter is pricey but works well for Windows Mixed Reality
The world is slowly shifting to an all USB Type-C world, and that port can handle everything from data to external displays. The Surface Book 2 finally got on board with this emerging technology dropping the DisplayPort from the previous generation.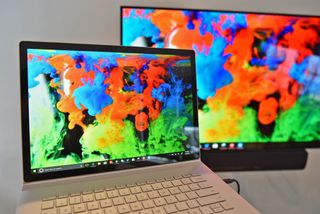 (Image credit: Windows Central)
One issue, however, is the new Surface Book 2 needs an HDMI adapter for the current generation of Windows Mixed Reality (WMR) headsets. Microsoft now has a solution on the market with the Surface USB-C to HDMI adapter. Selling for a massive $39.99, it is not cheap.
Perfect for your Surface
(opens in new tab)
Surface USB-C to HDMI adapter
Bottom line:
The Surface Type-C adapter works very well for the Surface Book 2, including for Windows Mixed Reality, but the price is nearly double that of non-Microsoft branded adapters with similar specifications.
Pros:
Supports HDMI 2.0.Active format adapter.Decent size and feature set.
Cons:
Expensive.Not clear on all supported specifications.
In the box and specifications
The Microsoft Surface USB-C to HDMI adapter is straightforward. On one end is the USB-C plug, the other a female HDMI adapter. The cord connecting the two ends is six inches (15.2 cm) in length, which is long enough for most scenarios including WMR.
Microsoft's dongle is HDMI 2.0 compatible and 4K-ready. More interestingly, the company notes that it is "an active-format adapter" that supports AMD Eyefinity and NVIDIA.
This reference to active format adapter is essential and one of the reasons why it may cost so much. Active format adapters make up for sources that do not support dual-mode DisplayPort (also known as DP++). The adapters have extra hardware on them to do the DP++ conversion, making them more robust and compatible regardless of the systems being connected. That also can drive up the price.
AMD Eyefinity and NVIDIA support ties into those company's own and often proprietary optimization for multi-display setup, which this adapter evidently allows.
Unfortunately, I have not been able to determine if the adapter supports the newer HDCP 2.2 security standard for 4K UHD streaming content. While all HDCP 2.2 adapters support HDMI 2.0, not all HDMI 2.0 parts support HDCP 2.2. I've reached out to Microsoft to ask about support and will update this review accordingly.
Update 1/4/18: Microsoft has now confirmed that the USB-C adapter does support HDCP 2.2.
Finally, it should be evident that being HDMI 2.0 ipso facto means the forthcoming HDMI 2.1 modification is not here either. That revision won't start seeing consumer applications until sometime in 2018, though.
Windows Mixed Reality works beautifully
During my review of the Surface Book 2, I noted that support for WMR seemed like an afterthought for Microsoft.
The reason for the claim was port choice and placement. Would a full HDMI port have been warranted? Probably not, but it would have helped since WMR headsets exclusively use HDMI adapters for the current generation. I expect to see that shift over the next few years with USB-C connections instead.
Placement is problematic, too, since the secondary USB-A plug needed for power delivery to the WMR headset is on the opposite side of the USB-C port. That means the cable needs to split and have enough slack to hit both sides of the Surface Book 2, which is larger on the 15-inch model.
Additionally, I experienced a flickering issue when I ran WMR with the Surface Book 2 at first. At the time, all I had was an HP USB-C to HDMI converter, but Microsoft assured me that it was likely the converter not the laptop causing the problem.
Luckily, the Microsoft Surface USB-C to HDMI adapter had no such problems. I ran a Dell WMR headset, and the experience was fantastic. Scenes were crisp with no odd image pulsing. Combined with the power of the NVIDIA GTX 1060 video card on the Surface Book 2 15, the whole experience was outstanding.
While I still don't love the split-port setup, overall, running WMR on the Surface Book 2 with this adapter is great.
Converting to mixed reality isn't cheap
The Microsoft Surface USB-C to HDMI adapter connected to my 4K OLED LG TV just fine with sound. Running UHD YouTube videos or content from Microsoft Movies & TV went without a hitch, with excellent color reproduction and full audio. The same goes for external displays.
The big issue with the Microsoft Surface USB-C to HDMI adapter comes down to price. At $40, it is easily one of the most expensive adapters you can buy for this functionality. This pricing is not out of the ordinary for Microsoft, which charges the same $39.99 for all its Surface-branded adapters.
Image 1 of 2
The good news is if you do plunk down your money, Microsoft guarantees this will work with the Surface Book 2 (of course, it should work with any PC that supports USB-C). But between it being tested for Surface Book 2 and it working well with Windows Mixed Reality, the price for peace of mind is worth it for some.
For half the price, Amazon sells a very well-reviewed adapter (opens in new tab) that also includes support for HDCP 2.2. I'll be reviewing that adapter with Surface Book 2, but it seems unlikely that it will have negatives compared to the Microsoft-branded version. Nonetheless, HDMI and adapters are tricky, so buyer beware.
See at Microsoft (opens in new tab)
Get the Windows Central Newsletter
All the latest news, reviews, and guides for Windows and Xbox diehards.
Daniel Rubino is the Editor-in-chief of Windows Central, head reviewer, podcast co-host, and analyst. He has been covering Microsoft since 2007 when this site was called WMExperts (and later Windows Phone Central). His interests include Windows, laptops, next-gen computing, and for some reason, watches. Before all this tech stuff, he worked on a Ph.D. in linguistics, watched people sleep (for medical purposes!), and ran the projectors at movie theaters because it was fun.
"""Unfortunately, I have not been able to determine if the adapter supports the newer HDCP 2.2 security standard that is coming"""
There's no revision to HDCP on HDMI 2.1.
It remains the same version it was on HDMI 2.0

Hey, Daniel, great article!!!
The WMR was on the ultra settings?
Just want to check this out. Cause i want a SB2 with that new Samsung VR that you guys showed.
And need a SB2 for that powerful CPU to decode HEVC movies.
So, do you recommend SB2 on Ultra Settings of WMR?
=)

I don't think you really have a choice between Ultra and non-Ultra; that is, if the system meets minimum requirement for Ultra it just uses that. Anything with a proper GPU does Ultra. And yes, SB2-15 does WMR at very high settings for games/apps, etc.

Thanks a lot, Daniel!!! =D


Save yourself the money and the headache. I used the MS adapter with the Samsung Odyssey and I thought they USB-C port didn't have the banwidth for VR it was laggy and had ghosting present. Before returning the the thing I saw a youtuber using a Mokin USB-C to HDMI on youtube running WMR on the 13" model which left me baffled. I ended up ordering the Mokin and it was lag free and no more ghosting with the Samsung Odyssey, so unless there was a driver or a firmware update it was the MS USB to HDMI converter. Can you confirm that yours works with the Samsung Odyseey Daniel?

I'll look into it, but last I checked my Odyssey has a busted HDMI plug. On my list to get fixed :-/

I haven't had the problems you're experiencing.

Which one of the 4 Mokin usb-c to HDMI adapters did you get? I picked up an Acell adapter to try and resolve the hell I am in with my Inspiron 15 7577 not working anymore with WMR after a bios update and the only recommendation I'm getting from MS is to try a usb-c adpater. Using the notebook onboard hdmi port I get just black in my heaset but WMR thinks it's working fine(I turn on preview in the portal and can interact all I want). Using the Acell adapter the whole machine will freeze for 10 seconds or so, then run for 5, then freeze for 10, but will never finish loading, but it at least turns on the backlights on the headset. The headset works on a different notebook, the headset worked previously on this notebook before a Dell bios update. There's some issue with the 1060 MaxQ/Intel crap where it's not piping out through the onboard hdmi port(yes, I've set the NVidia drivers to force rendering on the 1060). I have to use the Dell intel drivers as trying to force the newer version from Intel results in a code 43 in device manager. It's a waiting game and other people have resolved this with a usb-c to hdmi adapter and my first attempt at blowing money on one has failed so I want to get the specific model of someone who's gotten it to work.

Can a Lumia 950 display dock be used for this (usb-c to HDMI for WMR)? I use one as a docking station for my usb-c laptop and it works fine...

It should work, but I have not tested it yet.

Any news on the Surface COnnect -> Usb-c adapter? I'm anxiously awaiting one, as it will allow me to charge the tablet portion of my Surface Book from a usb-c battery without a need for the keyboard base. Of course, they said it would be out last year...

I bought one for my 15" SB2 just for the HP VR set that Best Buy included free with purchase. Before I bought the adapter, I got home and was all excited to hook up the VR to my new SB2. Oops, you can't without buying this overpriced adapter. Even with the adapter, the HP's VR cables are stretches to either side of the SB. I'm out, returning the adapter and selling the VR set. It's a gimmick. Also, I'm still and always will be pissed at no Thunderbolt 3. I dropped over $3k on this machine and love everything else about it though.

You really should try out wmr before returning the device. It's really amazing! Even just getting Space pirate trainer will show you how huge the vr tech is, and how much it will change gaming in the next few years.

If you are buying a Surface Book, I highly doubt you care about shelling out $39.99 for this adapter, yes this is stereotypic but at least I am up front about it 😀

Out of curiosity, wouldn't a USB-C Hub do the trick without having to reach the splitter across to the USB-A ports on the opposite side of the laptop? For example, I have this Choetech USB-C hub, but I don't have a WMR headset to test it against. Data rates and power delivery are excellent with it, so I'd imagine that I could use this for both the USB-A plug and the HDMI and get the full experience without having to reach the cable all the way to the left side of my SB2...

I got excited when I read "Surface USB-C" but then realised that it wasn't the USB-C adapter for the Surface Connect port. They seem in no hurry with that.

Tried the adapter that you recommend in the article. No video to the headset. WMR recognizes the headset, but there is nothing in the display. Suspecting the adapter, so returning and getting the Surface branded adapter. I really hope the headset isn't broken because I stuck my neck out to get my employer to get one for work. Too many initial issues and he will kill my experiment.