These are the five biggest changes with the Xbox One Summer Update
Shaken up by the new Xbox One Summer Update? Here's what changed!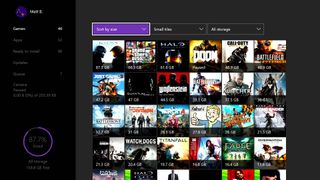 With the arrival of the Xbox One Summer Update, a number of significant changes have made their way to the console. Arriving shortly ahead of the Windows 10 Anniversary Update for PC and Mobile, the Summer Update continues to unify the Xbox One with the overarching Windows ecosystem.
Alterations have been made to numerous aspects of the Xbox One experience, with a focus on media consumption and refined accessibility. While these changes can be seen system-wide, we've picked the five biggest changes you'll see after upgrading to the latest version of the operating system.
One Size Fits All
Universal apps and the new Store
One of the biggest features to hit the Xbox One with the Summer Update is support for Windows Universal apps, which have become a growing focus with Windows 10. Simply put, developers are able to design applications for the Universal Windows Platform and with only a few minimal changes, the application can run on any Windows 10 device. This rebuilds the experience around the device in use while maintaining a majority of its original functionality.
While this hasn't proven to be an entirely seamless process on Microsoft's closed console, a number of functional apps are now on the Store. As of right now only a select range of apps have made their way to the Xbox One, with more to come in the near future. Apps currently available on Xbox One include video services such as Netflix and Hulu and social apps such as Baconit.
Here are all the Universal apps launching with the Xbox One Summer Update
Hidden Tunes
Background Audio support
Since the launch of the Xbox One back in 2013, a major criticism of the platform has been its inability to play music in the background. As a console that initially pushed itself as a universal hub for entertainment, playing background music became a highly demanded feature.
The Xbox One Summer Update has finally delivered on this promise, allowing any supporting app to play audio in the background. As long as the feature is enabled, Universal Windows apps can now be taken off-screen while still providing audio to the console. This isn't limited to music apps either, with any applications able to take advantage of this functionality.
Background audio can be controlled via an easy-to-use interface on the Xbox Guide, with standard media controls and a volume slider on offer. As of right now only a limited number of apps support the feature, however, more are scheduled to arrive in the coming weeks. One of the first to arrive will be Microsoft's Groove music service, based on its original Windows 10 counterpart.
How to control background audio on Xbox One
She's here to help
Cortana's arrival on Xbox One
The Xbox One Summer Update also brings a major change to navigation and accessibility, with the introduction of Microsoft's digital assistant, Cortana. As a somewhat modified version of the PC and Mobile equivalent, Cortana for the Xbox One integrates directly with a connected Microsoft account. While traditional voice commands and shortcuts still remain, they've been altered for more natural interaction. Instead of using fixed 'Xbox' commands, voice shortcuts now combine natural language and the 'Hey Cortana' phrase.
While this will supposedly create a more streamlined and flexible solution, Cortana's implementation on the console still has its flaws. Due to this, reverting to the original Xbox commands is still possible, through the console settings.
How to turn Cortana on the Xbox One off and on
More Games, Less Fodder
Improvements to 'My Games & apps'
While the Xbox One games library continues to grow, the 'My Games & apps' interface has remained mostly unchanged since launch. In an attempt to deliver improved efficiency, the new application introduces enhanced menu navigation and filtering.
The My Games & apps interface has also seen a significant facelift, including a new vertical scroll and reworked distribution of apps across the screen. Tiles for games can also be altered, to change the amount of information displayed on-screen at a single time.
New tabs have also been added to sort items ready to install, pending updates and ongoing downloads. This distributes the game and application management across multiple tabs, to create an information-rich, yet intuitive experience.
How to use the new Games & Apps section
Around the globe
Independent Language and Location settings
For folk located outside of the United States or the United Kingdom, one of the biggest changes with the latest update the introduction of isolated language and locale options. Previously language and location were coupled together, which restricted language choices for those living in many countries.
With these changes the console's language and location can be changed independently, allowing users to access their country's store and feature set while choosing a language of their choice. This removes the previously controversial barrier between content and preferred languages.
This can also be used to access Cortana on the Xbox One, who is currently restricted to the English language. By changing your native language to English (United States) or English (United Kingdom), Cortana can be accessed from unsupported countries.
How to unlink and set your language, region, and keyboard settings on Xbox One
Need more?
Check out our other articles for more info on the Xbox One Summer Update.
Windows Central Newsletter
Get the best of Windows Central in your inbox, every day!
Matt Brown was formerly a Windows Central's Senior Editor, Xbox & PC, at Future. Following over seven years of professional consumer technology and gaming coverage, he's focused on the world of Microsoft's gaming efforts. You can follow him on Twitter @mattjbrown.
Loving the update but my god was I glad to see the facelift to the Games&Apps section when it was introduced in the preview. Loving most of the direction that the X1 updates are going. Keep up the work MS.

A lil bit off but did anyone get an increase in their tenure? Mine got a year added. Makes me think if their are counting silver account time spent.

Yeah same here, mine had just went up to 8 about a month or 2 ago and now it's at 9cant believe I had a year of silver!

It was the other way around. Change region to access feature unavailable in your region and/or buy games instead of changing language and leaving region untouched.

The background music thing cracks me up. Just another example of something we had gotten use to and love...and Microsoft took away. But at least this time it came back.

Well, not really. Not yet. The feature is back but you have no way to use it because there's no music app available (well, at least outside the USA). Yup. We can now also complain about the lack of apps on the Xbox. Great.

You have Groove Music on XBox.

AFAIK it needs to be a UWP app to support background music, and last I tried the Groove app said the UWP is coming soon and to use the "legacy" app for now. Hopefully that changes soon - I also hope we'll see music video support come to other platforms now rather than losing it in the move to UWP.

I don't get why Cortana is not available in all regions and languages that are already on phone and PC.

I don't get why Cortana can't set reminders on Xbox. Like wut

Love the update it seems strange using Cortana and quite amusing when you say hey Cortana and Xbox,phone and tablet all answer at once. The store layout is better and i like the games and apps section it's much more fluid to use.

I thought there'd be a lot more UWP apps available at launch. I know, "they're coming", but that's disappointing to me.

I thought the same about Windows 10 for PC and mobile, yet there isn't that much one year after release.

There's actually a better selection of Continuum apps than I honestly expected, but that's why I thought we'd have more than Cast and Daily Motion launch day for the new Store.

Yeah, I've found pretty much every recent Win10 app supports Continuum. Its like it sorts itself out without much if any actual work needed.

Yay So my daily updates are over?

Love the new UI, all good changes but it's also a little slower than before, particulary in the new store app. I feel MS could be more aggressive with optimizations, it's clearly loading in large data sets with all the cover art for games with no blank/now loading sections of artwork, other media library systems like Emby and Plex are much faster in this area even with very large artwork laden libaries on infeiror hardware to the Xbox One.

It is much slower then before.

Microsoft tends to bring true performance increases with new hardware only, I doubt the now "old" original console will see much improvement now they have their new favorite in the One S.

The One S has the same performance levels as the Xbox One, there's no advantage/difference to in this regard.

Most of the apps I try to use are stuck on the loading screen, I've been waiting on MSN weather to load for over 15 minutes. They still have bugs to work out.

Same here, much slower than before. Hopefully, it improves. Gave up on xbox fitness trying to load this morning. I do like the new layout and options though.

I encourage all new Cortana users to stick with it for awhile. although its cloud based, vice the prior local implementation, Cortana does FAR more than the old commands did. Also--you don't need to pause after saying "Hey Cortana"-- just say the whole sentence, and she'll understand. The continuity with the whole MS ecosystem is pretty brilliant.

Agreed. You don't have to learn specific phrases or commands, that's awesome. Although my laptop and phone all try to respond when I say l, "Hey Cortana".

Yeah, I'd like to rename Cortana to Pandora. I renamed my Xbox to Pandora's Box, so it seems fitting.

I think it's worth sticking with too - It was a bumpy ride through the preview but they've genuinely made huge improvements to Cortana on Xbox and I think that will continue. I want to see the Game DVR commands come to PC next with the Xbox App. One thing that would be great to sort on Xbox One is the delay after pressing the Guide button to go home. I see a huge delay after doing this, but if I'm streaming then the on screen button responds instantly, it's like the delay is specific to the hardware button on the controllers and not directly a software issue.

Everything seems to be working except the apps. I can see the MSN Weather App but there does not seem to be anyway to download and install it.

I am STILL waiting on the wireless display app. Any updates there?

If your talking about the app that let's you stream your pc or smartphone to your Xbox, it's still in preview. To be honest, I'm not sure why, it works really well. I stream my surface pro to Xbox nightly, and rarely have any issues. It also works fine with my android (although there is a much more noticeable delay on the smartphone end)

I recently joined the preview program and the "extend your screen" quest is no longer available, do you know if there's any way I can still get the wireless display app since I'm part of the program? Thanks in advance

What's amazing is l can't find them and I've been running and are running the latest. Sometimes l see mobile apps in the search results. Seems like its full of bugs in the store. Why not have a category for them??

I'm not able to browse games,apps, or movies. The MSN weather app worked fine in beta but doesn't work at all now.

Finally independent language selection! Posted via the Windows Central App for Android

Am I the only one having trouble with the apps and store failing to launch?

I STILL haven't gotten the update. Every time I restart the console, it says I have an update, but when I click on it, it says 'no update available'. I guess I just have to be more patient...lol.

What did it for me was to disable auto updates, reboot, them enable, reboot. Voila, it started the download. Cheers

Hulu works but I have to reenter my info every single time I launch the app. I tried using the code activation and still have the same issue.

I cleared the cache and reinstalled all my apps, everything is working fine now. If anyone encounters the same problems Hulu, Netflix, or the store failing to launch, just try that and hopefully it will fix it for you.

Not too keen on how the console now makes the turn on/off noise even when powering on/off via the controller - it used to be silent this way, which was a lot better late at night and when other people were sleeping....

Great update, so glade they made Groove background playable 1st!

The update is not showing up on my XBox One. Checked it all weekend. Is this for all XBox users or just the preview users?