These are the most exciting Windows laptops of 2018
Forget the best, here are our favorite laptops that pushed the category forward this year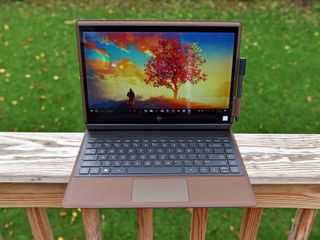 While it's pretty easy to pick out the best laptops of 2018 that doesn't necessarily make them the most exciting or interesting.
Instead, we have this list of some of the most intriguing devices that I have used in the last 12 months. Some are the best ones out there, but others are ones that push the boundaries on what we consider to be a PC. While they may not be for everyone they're getting a chance to shine here for being bold and pushing the PC category forward.
Nouveaux 2-in-1
#1. HP Spectre Folio
HP really thought outside the box with the Spectre Folio merging metal with leather to make a very exciting laptop. The Folio lets you shift with easy between laptop, video-viewing mode and full tablet without lifting it from your lap. Toss in a new 1-watt ultra-low-power display, optional Intel 4G Gigabit LTE, excellent inking experience and outstanding battery life it's hard to not love this 2-in-1. Now if HP can only start using Microsoft Precision drivers in its consumer laptops.
See at HP (opens in new tab)
ultimate convertible, killer sound
#2. Lenovo Yoga C930
We reviewed this amazing PC a few weeks back and now I'm using the 4K version as my main laptop. Excellent build quality, a solid display, built-in Wacom pen for inking, and a genius usage of the hinge for a Dolby Atmos sound bar makes this one of the best laptops on the market. It's the perfect PC for those who work and need good battery life, but also want to enjoy a movie with a Dolby Vision display and what is likely the best sound on any laptop.
See at Best Buy (opens in new tab)
so teeny, so fun
#3.Microsoft Surface Go
The Microsoft Surface Go is the 10-inch Surface many of us have been wanting ever since the original Surface 3 faded away. Now with Windows Hello, optional LTE (see our recent review), a really good keyboard, and Surface Pro-level inking, it's hard to not love this little guy. Too bad the processor is merely OK only matched by the mediocre battery life and slightly thick bezels. But it's clear Microsoft is on to a good idea here, they just need a better solution for that processor. Here's looking to Surface Go 2.
See at Microsoft (opens in new tab)
craziest PC of the year?
#4. Lenovo Yoga Book C930
Sure, the Yoga Book C930 is a weird device that also looks super cool, but it's the beginning of what many companies see as the future: dual-display devices. While the Yoga Book C930 is far from perfect you have to give Lenovo some credit for releasing it knowing it probably was going to be too niche for a lot of sales. We're still appreciative of the clever use of a touchscreen and E-Ink, that excellent main touch display, the focus on pen use and the overall ingenuity that went into the Yoga Book C930. It's hard to think of a PC that pushed us to reimagine what a computer can be in 2018 and for that Lenovo gets credit.
See at Lenovo (opens in new tab)
ARM is here to stay
#5. Samsung Galaxy Book2
Qualcomm is still pushing hard with its Snapdragon ARM processors and it was Samsung's return with the sequel to the Galaxy Book that turned heads. The Samsung Galaxy Book2 is in many ways a Surface Pro clone but features Samsung's excellent S Pen technology, 4G LTE and that ARM processor for battery life going past ten hours. We also loved that AMOLED display and build quality. Consider this the first real Qualcomm-based PC to hit the market making a milestone in the history of PCs.
See at Microsoft (opens in new tab)
Other notable mentions go the Huawei MateBook X Pro for doing so much on only their second laptop. Amazing display, battery life, performance, and audio made it one of the best-priced premium laptops around - even if it looks just like a MacBook.
Likewise for HP Spectre 13T, which is just a stunner of a laptop making it one of the most elegant looking devices around (and thinnest!) thanks to that new hinge style. We also dig the white styling.
Finally, the Dell XPS 15 9575 deserves a mention for being "the most powerful 15-inch 2-in-1" around. It also has that crazy MagLev keyboard and a stunning 4K display.
Which laptop did you see in 2018 that you thought was the most exciting, game-changing, or boundary-pushing? Let us know if we missed anything in comments and what you hope for in 2019.
Daniel Rubino is the Editor-in-chief of Windows Central, head reviewer, podcast co-host, and analyst. He has been here covering Microsoft since 2007 when this site was called WMExperts (and later Windows Phone Central). His interests include Windows, Microsoft Surface, laptops, next-gen computing, and for some reason, watches. Before all this tech stuff, he worked on a Ph.D. in linguistics and ran the projectors at movie theaters, which has done absolutely nothing for his career.
No mention of the hp Spectre x360 or Dell XPS with the 8705G? Most interesting machines of the year for me.

HP has yet to send us the Spectre x360 (new), so I can't say it's the most interesting/exciting that I've used since I have not used it ;) Dell XPS 15 (9575) - that I'll give you and I'll add in the mentions. Pretty exciting device, but the battery life was subpar. Design though was innovative so yeah, that could easily be a #6.

It's a shame hp didn't send a review unit. I actually bought the Spectre over the XPS due to the more robust port selection, better keyboard (I appreciate the ingenuity of that maglev keyboard but ingenuity doesn't necessarily make a good typing experience, and I appreciate a numpad), a stylus in the box, better price and (subjectively) better look. And I'm very happy with it. It definitely shares a mediocre battery though. It seems anything with Vega is really thirsty, even when the GPU is not in active use... I probably would've taken 1080p if given the choice. It's been a good year for cool laptops.

Yeah, I think they got busy with CES and a few other reviews. They did said we'll get 'em but not until January/after CES - seems to be the case for most sites too at this point. I'm sure they're going to be great, but I'm also sure I'll whine about no Precision drivers lol.

I bought the new gem cut spectre x360 15 with the 1050 Q Max and had to return it. It's a beautiful machine but the track pad does not have precision drivers. But the main reason I returned it was that the fans had coil wine and were always on full blast and loud without doing anything. Still looking at other options. Was also looking at the Lenovo C930 but I think I'll just wait for CES.

The Surface Go is a fantastic device. It should not be your main device, but is a great compliment. I have the 4GB version and it works great. I use it for school and work. It's a great first generation product(even though Surface has already been out).

Today I noticed the place where I get my haircut switched from an iPad to a Surface Go for their reservations system. I think the key thing was the keyboard the a tiny form factor. I am a former Surface 3 owner and I definitely appreciate the tiny dynamo that is the Surface Go (even if it's too small and slow for my present needs).

Completely agree the Spectre Folio is 2018's #1. And really hope other OEMs are taking note of this beautifully crafted machine. The leather is genius. Gives it such a professional feel. BTW a 10 inch tablet-first version with an 8cx Qualcomm and an eSIM would be perfect in this form factor, and would lighten it up even more, making it the ultimate ACPC. I could easily see taking such a device everywhere! Hope HP or one of the other OEMs consider it.

Nobody about LG Gram?15.6" less1kg👌 and 17" with 1.3kg😍

I never reviewed or used it, so there's that. I also don't find "super light" all that innovative. It's up there with being super thin. It's cool, it's nice, but it's not really something that pushed the boundaries for the concept of the PC imo.

What about surface laptop 2,Asus zenbook 13?

Surface Laptop 2 was held back by lack of a USB C Thunderbolt Port in addition to the USB A it already has. If they add that, would put on this list.

Laptop 2 and Pro 6 are great devices, maybe even the best. How are they the most exciting? What have they done in 2018 to push the concept of a PC category forward? They haven't because they're refreshes from 2017. That's the point of this article/video.

I just picked up the Lenovo Yoga C930 at Best Buy before Christmas. I was also looking at the HP Spectre Folio (which IS a beautiful and innovative device), but the Lenovo Yoga C930's keyboard and soundbar were more appealing to me. Also, the C930 didn't feel as hot to the touch due to the way it vents through the hinge.

I bought an HP zBook for work with 64gb ram and 1tb drive so I could build a portable tech lab. Unfortunately it had a pension for blue screening multiple times a day (it blue screened more in the first week that I owned it than my Surface Pro 4 did in THREE years). Recently received it back from their repair depot with the following : replaced system board, memory, reinstalled OS and drivers. Um, ok...curious to see if it's corrected when I power it up this week. So right now, the award for least innovative goes to...

I fail to see the relationship between your comment and the article. Did I miss something?

https://youtu.be/g7TVwiQTQls Late 2018 HP 15 Spectre x360 with 6 core i7-8750 convertible. I would have bought it if the information regarding the RAM and SSD is transparently clear. Single 32GB sodimm RAM is out, yet all reviews on this site failed to discuss which notebook is compatible with this RAM. The only notebook class with focus marketing that is compatible with this class of RAM is Lenovo thinkpad series: p52, P1, and X1 extreme. A search for P1 in YouTube will reveal that P1 is the standard recommended notebook for computer science students at a reputable US university. If u are casual gamer, x1 extreme is your choice. If u want to be at the bleeding edge of computation, P1 or P52. If u want to be included in important top executive business decision meetings, u need to walk in with a thinkpad (source:an interesting popular YouTube hardware review) I have not seen any HP or Dell notebook claims that their notebooks are compatible with single 32GB sodimm ram. I wish to be wrong...

How on earth can a laptop be exciting, unless you are a child and it is your first laptop.
Anyway, what people call laptops these days are not laptops, they would fall off a lap.

If you don't understand how laptops and computers can be exciting, I think you might be on the wrong website...

I like to see what is going on, but I don't think I have been excited about a computer since I got my first Pc in 1997 and I would not really say I was that excited.
When I got my ZX81 that was a bit different, but then It was my first computer, Computers are more or less all the say these days,, just some have a bit more power than others.

How is a Surface Pro the same as e.g. an Elitebook laptop? Your comment doesn't make much sense. Even new generations of the same product can make a big difference; e.g. quad core of 8gen Intel vs dual core of 7gen Intel and earlier, or hexacore vs quadcore if workhorse laptops are more your thing. For multicore that is respectively double the increase in speed for the former and the latter a 50% increase. Other improvements are in pen tech (tilt support etc), improvements in battery life, sometimes big improvements in gpu's, weight decrease by using other materials, smaller screen bezels, other hinge designs, other coatings, faster ssd's, faster usb, better speakers etc.

These are what I find exciting ;) It's that simple. Whether you find laptops exciting or not is actually inconsequential to this video and article.

How on earth can you not understand that people can be exiting about possible big changes to devices that many people use every day several hours and are possible even mandatory for doing their work?
Also I can perfectly fine use a Surface Pro 1 on my lap, the newer/bigger Surface-like devices should be even better in that regard, but why would you buy a Surface-like device if you plan on using it on your lap all the time? Most people use their devices on a table or desk or such.

oh, this is more pathetic than i thought...
lenovo rocks, about everything else, you know kinda sucks (read big time)
are you guys for real?!? i did not think so

What exactly is "pathetic" about this? These are unquestionably the top 5 laptops to make us rethink what a laptop can be... of 2018. Each one of them perfectly placed. How can you possibly deny that a premium leather laptop with all day battery life, LTE, and a completely rethought way of making a 2 in 1 hinge doesn't belong at #1? I for one think it's probably the best "best of" articles I've read on any site period.

Are there any landline telephones you'd like reviewed as well?

Listen, I'm not taking any comment from "JohnDoe333" - esteemed member of this site for 3 days 20 min - seriously. I'd consider your comment if you could actually make a counter-argument (you don't). More inclined to believe you're an astro-turfer than someone real.
Windows Central Newsletter
Thank you for signing up to Windows Central. You will receive a verification email shortly.
There was a problem. Please refresh the page and try again.