Lenovo ThinkPad X13 Yoga review: Not much new in the successor to the X390 Yoga
The ThinkPad X13 Yoga sits somewhere between the budget L13 Yoga and the premium X1 Yoga; is it a worthwhile addition to the ThinkPad lineup?
The "first-gen" ThinkPad X13 Yoga is actually the successor to the ThinkPad X390 Yoga, and it continues to fill a gap in Lenovo's business suite. It's designed for users who need a compact 13-inch convertible device somewhere between the affordable ThinkPad L13 Yoga and premium ThinkPad X1 Yoga, in terms of both price and feature set. I've been using the X13 Yoga for about a week to see what it's all about and if it's a smarter buy than those alternatives.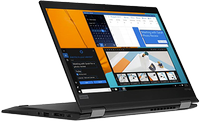 (opens in new tab)
Lenovo ThinkPad X13 Yoga (Intel) (opens in new tab)

Bottom line: Lenovo's Intel-based ThinkPad X13 Yoga is a rather ordinary convertible mid-range option. It's altogether a well-rounded business laptop, but you might want to consider moving up to the X1 Yoga for better features or down to the L13 Yoga for better pricing.
ThinkPad X13 Yoga at a glance
Lenovo supplied Windows Central with a review unit of the ThinkPad X13 Yoga. It has a 10th Gen Intel Core i5-10310U processor (CPU) with four cores and eight threads, 16GB of DDR4-2666MHz RAM that is soldered, a 256GB M.2 PCIe NVMe solid-state drive (SSD), and a 13.3-inch touch display. There are myriad configurations and customization options available, ranging from non-vPro Core i5 and Core i7 CPUs, four different displays including 4K OLED, up to 1TB of storage, and LTE-A connectivity. This exact model costs about $2,230, though regular Lenovo discounts have it down to about $1,338 (opens in new tab).
An introductory model with Core i5-10210U CPU, Windows 10 Home, 8GB RAM, 128GB SSD, and no IR camera or LTE costs closer to about $972 (opens in new tab). Going all out with a Core i7-10610U CPU, Windows 10 Pro, 16GB RAM, 1TB SSD, LTE connectivity, and 4K OLED touch display costs closer to about $1,577 (opens in new tab) after some big Lenovo coupon codes.
Here's a look at the exact specs found in the model I was sent for review.
Swipe to scroll horizontally
Category
Spec
OS
Windows 10 Pro
Processor
10th Gen Intel
Core i5-10310U
4 cores, 8 threads
Up to 4.40GHz
RAM
16GB DDR4-2666MHz
Soldered
Graphics
Intel UHD Graphics
Integrated
Storage
256GB M.2 PCIe NVMe SSD
Upgradeable
Display
13.3 inches
Touch, IPS
Anti-reflection
Anti-smudge
300 nits
Ports
Thunderbolt 3
USB-C 3.2
Two USB-A 3.2
HDMI 1.4b
Ethernet extension adapter
3.5mm audio
microSD card reader
Audio
Dual 2W speakers
Dolby Audio
Wireless
Intel AX201 Wi-Fi 6
Bluetooth 5.1
Camera
Front-facing 720p
ThinkShutter
Security
IR camera (optional)
Fingerprint reader
dTPM 2.0
Kensington lock slot
PrivacyGuard (optional)
Battery
50Wh
65W AC adapter
Dimensions
12.2 x 8.6 x 0.63 inches
(310.4mm x 219mm x 15.95mm)
Weight
From 2.76 pounds (1.25kg)
Color
Black
Just like the X390 Yoga
ThinkPad X13 Yoga design and features
The X13 Yoga is sized the exact same as the older X390 Yoga, though it does start at a slightly lesser weight. As far as I can tell, this is physically the same laptop as the older model. It's still a carbon-fiber hybrid and magnesium chassis that's been certified for above-average durability, and it still weighs less than three pounds. That makes it just a bit thinner than the L13 Yoga and slightly thicker than the X1 Yoga. In any case, the X13 Yoga is a laptop you can easily slip into a laptop bag or backpack and not have it take up much space. The black finish is still a fingerprint magnet, and you'll no doubt want to wipe it down often, especially if you work in a public space.
Like the non-convertible ThinkPad X13 that I also reviewed, it would be nice to see a bit of a design change for a "first-gen" product. Lenovo has stuck with what's proven to work, and that's fine, but anyone who wants to go with more style over function might be pushed toward the X1 Yoga's premium look and feel.
Image 1 of 2
The bottom of the laptop has dual 2W down-firing speakers, and they're now tuned with Dolby Audio. The sound gets decently loud for listening to music or movies, and jumping into calls without a headset shouldn't be an issue. Lenovo has adjusted the keyboard to make this easier, adding dedicated call keys to the top row. And if you're adding video to the meeting, the front-facing 720p camera will suffice. It's a tad blurry, but unless you're looking for one of the best webcam for Windows PCs, the picture will do for Skype calls and general meetings.
The X13 Yoga review unit includes an IR camera for Windows Hello facial recognition, though it's completely optional. All models have a fingerprint reader built into the palm rest, so the camera isn't necessary. In my testing, both biometric methods worked without issue. And for some extra privacy, a tiny webcam shutter is built into the lid. No more tape is required.
If you add accessories to boost productivity — like a webcam or laptop docking station — the X13 Yoga's port selection is accommodating. The left side includes USB-C (also for charging), Thunderbolt 3, an Ethernet extension port for Lenovo's proprietary adapter (opens in new tab), USB-A, and 3.5mm audio. The right side has another USB-A, HDMI, and a combination MicroSD card reader and Nano-SIM slot for those who decide to add 4G LTE capabilities at checkout. A recessed power button also lives on the right side, out of the way of accidental presses when in tablet mode.
The keyboard, as expected from ThinkPads, is outstanding. When I say it would be nice to see a bit of a change to a first-gen product, the keyboard is excluded. Cupped keys, perfect travel, and ideal spacing all contribute to a comfortable typing experience that remains mostly unmatched. If your job requires a lot of typing, the ThinkPad keyboard remains a top choice. The backlight adds some visibility when working in low-light conditions.
The touchpad also remains unchanged. It's using Precision drivers for a great pointing experience, and I just wish it was a bit larger. We're seeing Ultrabooks with enormous touchpads — a trend I love — and the size that ThinkPads are using seems outdated at this point. Some of its potential space is reserved for the TrackPoint system, including a red pointing nub and three physical buttons, but there is some depth and width that seems to be going to waste.
Rounding out the features are Wi-Fi 6 and 4G LTE connectivity. If you're in range of a compatible Wi-Fi 6 router, you'll have fast, stable internet, and you can stay connected everywhere if you decide to pop a Nano-SIM into the reader. Note that the latter feature tacks on about a $200 premium.
Up to 4K OLED
ThinkPad X13 Yoga display and inking
Whereas the X390 Yoga was limited in terms of touch display, the X13 Yoga has four 13.3-inch options that vary quite slightly depending on your needs. All have an anti-reflective and anti-smudge finish, and all have a 16:9 aspect ratio. The least expensive option — and the one used in my review unit — is rated at 300 nits brightness and has a 1920x1080 resolution. Moving up a step, you get a low-power FHD display rated at 400 nits. If you're often working with sensitive data, a display with a privacy filter is available, rated at 500 nits. And if you're going all in, 4K OLED with 100% DCI-P3 color reproduction and 400 nits brightness rounds out the options.
Focusing on the standard FHD touch display, I tested color and brightness (opens in new tab) with a Datacolor SpyderX Pro colorimeter. The display managed 100% sRGB, 77% AdobeRGB, and 80% DCI-P3 color reproduction, results that are quite respectable. As for brightness, I saw a maximum of 335 nits and a minimum of 5.4 nits. The display still has a bit of trouble working in direct sunlight, but that's expected. The anti-reflective finish helps a lot and maintains the sleek finish.
I love an active pen to pair with a touch laptop, but I hate keeping track of it. For that reason, Lenovo's built-in silo solution gets top marks. The pen itself isn't quite as comfortable as, say, the Surface Pen due to its thinness, but it's still a solid pen with 2,048 levels of pressure sensitivity and a couple of buttons for quick control. Serious artists will want something more advanced, but flipping the display around for tablet or stand mode and jotting down some notes feels natural.
Runs on the hot side
ThinkPad X13 Yoga performance and battery
Unlike the non-convertible ThinkPad X13, the X13 Yoga isn't available in both Intel and AMD configurations. So far, the Yoga version only has 10th Gen Intel Core hardware, which is a bit of a letdown considering what we've seen with other laptops sporting AMD's Ryzen 4000 mobile CPUs. In general, you're going to pay more for Intel and receive less performance. That seems to remain true here, though the upside is that you get Thunderbolt 3 and vPro management. And if you absolutely want to go with AMD and don't mind losing the convertible function, the AMD-powered ThinkPad X13 is worth checking out.
The X13 Yoga review unit is packing a 10th Gen Intel Core i5-10310U vPro CPU, 16GB of soldered DDR4 RAM, and a 256GB M.2 PCIe SSD. I ran some synthetic benchmarks to see how this hardware compares to that of other laptops recently reviewed.
Geekbench 5
Geekbench 5.0 (CPU) (Higher is better)
Swipe to scroll horizontally
| Device | CPU | Single core | Multi core |
| --- | --- | --- | --- |
| Lenovo ThinkPad X13 Yoga (Intel) | i5-10310U | 1,036 | 3,311 |
| Lenovo ThinkPad X13 (AMD) | Ryzen 5 PRO 4650U | 1,102 | 4,780 |
| Lenovo ThinkPad X1 Yoga (Gen 5) | i7-10610U | 1,194 | 4,008 |
| Lenovo ThinkPad T14s (AMD) | Ryzen 7 4750U | 1,135 | 5,782 |
| Lenovo ThinkPad T14s (Intel) | i5-10310U | 1,143 | 3,734 |
| Acer Swift 3 (Intel) | i7-1065G7 | 1,302 | 3,891 |
| Acer Swift 3 (AMD) | Ryzen 7 4700U | 1,131 | 4,860 |
| Acer Spin 3 (SP314-54N) | i5-1035G1 | 1,185 | 3,524 |
| HP ENVY x360 | Ryzen 5 4500U | 1,100 | 4,564 |
| Lenovo IdeaPad Flex 5 14 | Ryzen 5 4500U | 1,087 | 4,570 |
| Surface Laptop 3 15 | Ryzen 5 3580U | 769 | 2,720 |
| Lenovo ThinkPad L13 Yoga | i5-10210U | 1,069 | 3,754 |
| Lenovo Yoga C640 | i3-10110U | 1,015 | 2,111 |
| Lenovo Yoga C740 14 | i5-10210U | 1,094 | 3,767 |
| Samsung Galaxy Book Flex | i7-1065G7 | 1,317 | 4,780 |
| Dell XPS 13 (9300) | i7-1065G7 | 1,284 | 4,848 |
| Surface Laptop 3 15 | i7-1065G7 | 1,336 | 4,893 |
| HP Elite Dragonfly | i7-8665U | 1,125 | 2,942 |
| Surface Laptop 3 13.5 | i5-1035G7 | 1,177 | 4,413 |
| HP Spectre x360 13 | i7-1065G7 | 1,006 | 3,402 |
Compared to the Ryzen 5 PRO 4650U CPU in the standard ThinkPad X13, the Core i5 chip falls behind. Surprisingly, it even falls behind in the single-core score. Intel's CPU still made short work of all productivity work I threw its way, but it doesn't compete with Ryzen. That's especially true if you're using software that relies on the integrated GPU. Radeon Vega is far more powerful than Intel UHD.
PCMark
PCMark 10
Swipe to scroll horizontally