Titanfall and Dark Souls 2 have landed on Xbox consoles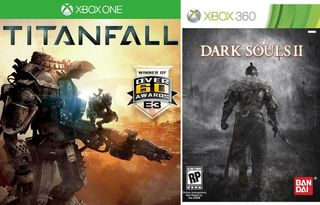 The Xbox One didn't get any new games last week, but that was just the calm before the storm. This week, the highly anticipated Titanfall has finally landed in North America (the European release will follow on Friday). Possibly the most advanced first-person shooter to date, Titanfall has the potential to move Xbox One consoles like no game before it. Check out our "Everything you need to know for the Titanfall launch" article for more details.
The Xbox 360 still has to wait two weeks for Titanfall, which is exclusive to Xbox consoles and PC. But the 360 gets a heavy hitter of its own this week: Dark Souls II from Namco Bandai. Players who crave a challenge will be busy with Dark Souls II for a very long time. Head past the break for screenshots, trailers, and Store links for both games!
Titanfall (Xbox One)
The first game from ReSpawn Entertainment (the studio founded by the creators of the Call of Duty series) is finally upon us! This online-only first-person shooter allows players to take part in large-scale matches against both other players and CPU-controlled bots. The result is a multiplayer experience that also feels like a single-player game, complete with story sequences during the multiplayer campaign.
Besides great graphics (regardless of the 792p native resolution) and the development team's pedigree, Titanfall also offers compelling and unique features like gigantic player-controlled robots called Titans. Even outside of the Titans, players still have tons of freedom thanks to jetpacks, ziplines, and a wall-jumping ability.
Titanfall is also available in an Xbox One console bundle, with a Titanfall-themed controller available separately. The Xbox 360 version will follow on March 25 in the US and March 28 in Europe. Will the Xbox 360 version live up to its next-gen brother? We'll find out in two weeks.
Dark Souls II (Xbox 360)
Spiritual successors to Demon's Souls on Playstation 3, the Dark Souls games from From Software and Namco Bandai are some of the most challenging action-RPGs on the market. Early word from reviews is that Dark Souls II is just as difficult and rigorous as its predecessors, with deadly enemies and traps aplenty and precious little guidance compared to most modern games. That's all part of the fun, series fans would say.
Death proves even more punishing in part II, as each death reduces your maximum HP until it reaches 50 percent of the original total. Only a rare item will restore a player's humanity and maximum HP limit. Other changes include a new leveling up system, the ability to fast travel between bonfires at will, and an improved lock-on ability during combat.
To be honest, the Dark Souls series is way too hardcore for me. But I can see why people with more free time and/or masochistic tendencies are drawn to the series' beautiful universe and deep gameplay.
Xbox Live Arcade
Rayman Fiesta Run for Windows Phone and Windows 8
It doesn't look like we get a new downloadable Xbox Live Arcade game this week, but I'm sure another will come along soon. At least Rayman Fiesta Run just launched (for real this time) on Windows Phone 8 and Windows 8, so none of us should go through downloadable Xbox game withdrawal.
Coming up next week
Most game publishers have wisely chosen to avoid launching titles this week that would drown in the Titanfall and Dark Souls II hype. But another big game does loom on the horizon! Next week, Konami will release Metal Gear Solid V: Ground Zeroes for Xbox One, 360, and Playstation consoles. Yes, that is a stupid subtitle.
Ground Zeroes serves as a value-priced prequel for the true Metal Gear Solid V that remains in development. Players once again take on the role of Snake, who must infiltrate a prison camp in order to perform a daring rescue. The game's environments are now much more open than before, allowing Snake to solve problems and handle enemy encounters with a variety of solutions. He can even drive vehicles.
The Xbox One and 360 versions of Ground Zeroes feature an exclusive mission called "Jamais Vu." The bad news is you play as Raiden during the mission. As for the Playstation versions, they get a different mission starring the Metal Gear Solid 1 version of Solid Snake. Do any of you guys want the extra missions badly enough to pick the game up on both Microsoft and Sony platforms?
Metal Gear Solid V: Ground Zeroes – Xbox One – $39.99 – Amazon Link
Metal Gear Solid V: Ground Zeroes – Xbox 360 – $29.99 – Amazon Link
Get the Windows Central Newsletter
All the latest news, reviews, and guides for Windows and Xbox diehards.
Paul Acevedo is the Games Editor at Windows Central. A lifelong gamer, he has written about videogames for over 15 years and reviewed over 350 games for our site. Follow him on Twitter @PaulRAcevedo. Don't hate. Appreciate!