This Week in Xbox One News - New games for backward compatibility, Randy Pitchford defends Aliens: Colonial Marines (again), and more! (July 19 2015)
This week, we're looking at Killer Instinct merchandise, new games for backwards compatibility, Randy Pitchford's Aliens: Colonial Marines comments and more!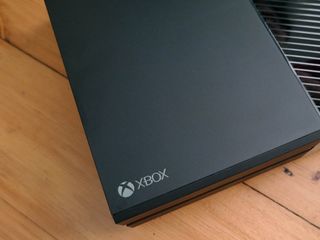 Welcome to our weekly ICYMI for Xbox news!
We'll still be posting major Xbox announcements in the main feed, but I'll be collecting some of the more nuanced news, rumours and talking points into one handy post every weekend!
So without further ado, here's our latest edition of This Week in Xbox One News.
NeoGAF outs four new games for backward compatibility
Image 1 of 4
A series of images first posted on NeoGAF before making their way to reddit appear to show four upcoming backward compatible titles for Xbox One. The pictures include Geometry Wars 2, Mirror's Edge, Shadow Complex and Worms 2 Armageddon.
They're certainly not Red Dead Redemption, but if true, it's a good indicator that we'll see an expanded backwards compatibility line-up announced at Gamescom 2015. Mirror's Edge comes as no surprise as EA were among the first publishers to get on board, and Shadow Complex's Chair Games were asking fans to vote for the game to join backward compatibility previously.
Xbox app for Windows 10 updated with new features, game streaming goes live
Major Nelson detailed a ton of new features heading to the Windows 10 Xbox app, ahead of Windows 10's general availability on July 29th. The update brings game streaming out of preview as well, allowing anyone with a Windows 10 device to stream Xbox One games over your home WiFi.
The Xbox app will become more 'Steam-like', curating Windows Store games in addition to PC games downloaded elsewhere in the 'My Games' section. This will happen automatically for the most part, but you can also add games manually if the game hasn't yet been added to Microsoft's database.
You can now party chat between Windows 10 and Xbox One using the Xbox app. The feature is current in beta, but will serve to further unite gamers across Microsoft systems. Phil Spencer recently announced that they're working on bringing Xbox 360 party chat into the fold as well.
For the full list of features, click here.
Killer Instinct figurines in development
Microsoft headed out to EVO to discuss Killer Instinct's future, announcing a wide array of Killer Instinct merchandise in the process. K.I. t-shirts are in development (from EightySix), in addition to highly detailed collectable figurines.
Image 1 of 6
Microsoft also announced Shadow Jago's unique move-set, as the playable version is currently a re-skin of regular Jago. Shadow Jago was a reward of purchasing the Day One Edition 12-month Xbox Live subscription. Shadow Jago's moves will be familiar for those acquainted with Jago, but will mimic the boss version move-set from Season 1's Arcade Mode. KillerInstinctCentral.com compiled the PowerPoint slides on Shadow Jago as follows:
Shadow Surge
Shadow Jago has a special combat trait, called Shadow Surge.
When you perform a special move, simply press the same button again quickly to spend a small amount of Shadow Meter to enhance the attack.
Shendokuken
Just like Jago, Shago can throw a horizontal fireball, but he can also do it in the air!
If you Surge this move, Shago tosses a 2nd fireball at an angle!
Dark Fury
Shago's uppercut spins vertically with no forward movement, hitting multiple times.
If you Surge this move, Shago teleports back to the ground for a 2nd follow-up attack!
Dark Fury is a very anti-cross up
Dark Slide
Boss Shago's signature Ninja Slide attack.
If you Surge this move, Shago teleports behind the opponent and attacks crossup, but it is unsafe!
Dark Stalking
Boss Shago's signatures Dive kick!
Performing this from the ground causes Shago to flip into the air a set of distance first.
Bounces off on hit or block.
If you Surge this move, it will repeatedly hit like a drill and land safely on block, or open a combo on hit.
You can use it as a linker too!
Dark Dashing
Shago's dash and backdash go much farther than Jago's but take longer.
During travel, Shago phases out and is briefly invulnerable and can pass through opponents.
You can Throw, Dark Fury uppercut, or Dark Stalking dive kick-leap to cancel to dash early.
Instinct Mode?
It's killer. Look forward to it!
Gearbox studio head comments on Aliens: Colonial Marines criticism
There's opening a can of worms, and there's blowing up the dam that contains a reservoir of worms. Gearbox's Randy Pitchford could be accused of doing the latter this week when he asked Twitter to submit questions to him with the hashtag #AskRandy. Naturally, users still sore over the universally reviled Aliens: Colonial Marines took Randy to task.
For those who don't know, Aliens: CM was a joint project between Borderlands' Gearbox Software and SEGA. The game became the subject of a lawsuit for advertising that allegedly misrepresented the final product in the extreme. Aliens: CM is notorious for being terrible, from crippling bugs to simply being dull, but the gaming community takes a particularly dim view of the way the game was advertised.
Randy's responses re-ignited the debate over how games are marketed, generating a huge reddit thread and a ton of angry tweets.
Speaking with The Guardian, Pitchford described some critics as 'sadists':
They say there's no such thing as bad publicity, but Pitchford's defensiveness over Aliens: CM seems to have left a particular bad taste. Reddit user DeedTheInky summed up the general sentiment succinctly:
I've picked up Aliens: Colonial Marines for Xbox 360 (for a whopping £4) in a bout of morbid curiosity. I'll be streaming the game next week on our official Twitch channel, like some kind of gaming masochist.
Fallout 4 gameplay footage from E3 appears on YouTube
Bethesda revealed Fallout 4 just before E3 2015 to a fanfare matched only by Xbox One's backward compatibility. Studio head Todd Howard guided us through the Boston wasteland during the event, and Bethesda have now uploaded that footage to YouTube without Howard's voice-over.
Fallout 4 is likely to be among the biggest selling games of 2015, bringing with it expansive features like dynamic settlement building, over 10,000 lines of voiced dialogue and several hundred hours of gameplay. Hopefully, we'll be able to give you a closer look at Gamescom 2015.
ICYMI - Some of Windows Central's biggest Xbox articles of the week
Xbox One sales up 51% in June, Playstation 4 maintains overall U.S. lead
Microsoft taking pre-orders for the Xbox One Elite Controller in Europe
Trials Fusion: The Awesome Max Edition brings tons of platforming motocross fun to the Xbox One
Prototype Biohazard Bundle now available on Xbox One
New Xbox One game releases for the week ending July 17th, 2015
SlashDash - Other - Nevernaut Games
"For 2-4 Players. SlashDash is an adorable ninja party playground for up to 4 players. Shoot, teleport, slash, and, of course, dash your way to glory across beautiful play fields in 4 inventive game modes."
No Time To Explain - Action Adventure - tinyBuild GAMES
"No Time To Explain is a game about shooting the ground, putting on weight and setting your body on fire. Blast yourself through time and alternate realities to rescue your future-self from a giant crab sent by your evil time-twin from another dimension!"
So Many Me - Action Adventure - Extend Studio
"A charming puzzle platformer starring Filo and his band of misfit clones as they attempt to save a world threatened by an ancient, malevolent evil. Using their combined powers, Filo and his fellow Me must puzzle their way through a land of exotic creatures, devious traps and evil minions."
The Fall - Action Adventure - Over The Moon
"Experience the first story in a mind bending trilogy! The Fall was recently awarded Game of the Year for Best Story from Giant Bomb."
Tachyon Project - Shooter - Eclipse Games
"Tachyon Project is an action-packed dual-stick shooter driven by a story. Through the story mode, you'll progressively unlock all the weapons, secondary weapons and perks available to configure your ship."
EA SPORTS™ Rory McIlroy PGA TOUR® - Sports - Tiburon / EA
"Golf without limits in EA SPORTS Rory McIlroy PGA TOUR. Usher in the next generation of golf with the power of the Frostbite 3 engine and play the most beautiful sports game to date."
Prototype® Biohazard Bundle - Action Adventure - Activision
"Bundle includes Prototype® and Prototype®2 with DLC! PROTOTYPE Discover what lies beyond the edge of evolution. Play as Alex Mercer, a genetically mutated shape-shifter with no memory of his past hell-bent on solving the mystery of his existence as he tears through a densely populated New York City."
Trials Fusion: The Awesome Max Edition - Racing - Ubisoft
"This edition of Trials Fusion includes: Trials Fusion main game The Season Pass featuring 6 DLC packs."
And that's a wrap!
I've been away from my Xbox for over a week (complete with withdrawal symptoms), but I'm looking forward to giving some of the recent ID@Xbox releases a try. As mentioned earlier, I've picked up Aliens: Colonial Marines for the Xbox 360, as the game managed to completely pass me by until the drama this week. What have you guys been playing? Hit the comments!
Get the Windows Central Newsletter
All the latest news, reviews, and guides for Windows and Xbox diehards.
Jez Corden a Managing Editor at Windows Central, focusing primarily on all things Xbox and gaming. Jez is known for breaking exclusive news and analysis as relates to the Microsoft ecosystem while being powered by caffeine. Follow on Twitter @JezCorden and listen to his Xbox Two podcast, all about, you guessed it, Xbox!