Here are some issues that users are experiencing on Windows 10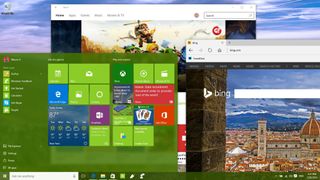 Windows 10 is complete. Well, sort of. As you know, Microsoft is changing the way software is built with its new operating system, and it's moving forward to offer "Windows as a Service." From now on, Windows will never be considered technically done.
It's been an interesting several months for Windows Insiders, as we have seen many preview builds, countless tweaks, and some new features. A lot of things have changed since Windows 8. In the development process, we went through good and bad moments, but the software maker has been proactively involved trying to fix bugs and features to make Windows 10 a great operating system that fixes most of the shortcomings with Windows 8.
Although, there are many indications that things are going to be very different this time around, I've been digging through our reader's comments, Windows Feedback app, and around the web to get an idea of any remaining issues and what's not working for users in Windows 10. The result was quite interesting.
Automatic updates
One of the biggest concerns happening around Windows 10 is the Microsoft's new approach on updates. If you ever read the Windows 10 EULA, you'll find a line that reads "automatic updates without any additional notice." It basically says that when you're installing Windows 10, you agree to mandatory automatic updates regardless if you want them or not.
Clearly, there are many benefits using automatic update. As the company can ensure that computers are always up to date with the latest features, there are fewer risks of security issues, and supporting the operating system gets a more simplified. However, there are inevitable side effects such as a recent problem with NVidia graphics drivers where a number of systems stopped working properly because of a bug in the software.
Although Microsoft will continue to test new updates internally and with Windows Insiders, there could be bugs that could escape, affecting even a bigger number of users. It's a real concern among users that Microsoft should try to address quickly to minimize future problems. It's understandable that automatic updates are a good thing, but users should have more control on how updates get applied to their systems. Having said that, we also have to consider that there are more chances of problems with software that are out of date, than from issues on new updates.
The following comments were made by concerned users through the Windows Feedback app:
Drivers
Another related issue that users are having with Windows 10 is with drivers. While the operating system has yet to receive the biggest test in the coming weeks, many users have been reporting problems trying to get Bluetooth and Wi-Fi working correctly. Various third-party companies have yet to get many of their hardware working correctly with Windows 10, but of course, there is always the chance that the problem is within the operating system.
Another user explains:
He also notes to check for new updates, which is always a good thing to do.
On the Windows Feedback app, users are also reporting issues with Wi-Fi connectivity:
These are just a few examples and comments from real users, but there are more reports about the same issues and other such as problems with Intel and AMD, audio, and mouse touchpad drivers. While we've not heard of any official reports from Microsoft about any serious problems with hardware compatibility, these are still problems for many users.
Microsoft Edge
Microsoft Edge is perhaps one of the features in Windows 10 where users feel more concern. As you know with Windows 10, Microsoft is introducing a new web browser that replaces Internet Explorer. While Edge is the new default web browser for Windows 10 devices, Internet Explorer will remain shipping with the operating system to offer legacy support. However, some users feel that the new browser still has to mature to compete head-to-head with its big rivals: Google Chrome and Mozilla Firefox. As I have been reading from many commenters, Internet, and on the Windows Feedback app, many users feel optimistic, but at the same time they note their frustrations in the current stage.
For example, in the Windows Feedback app, users are saying:
Microsoft has been doing significant advances on rendering speeds in recent builds of Windows 10, but I have also noticed the same concerns when I'm using the browser.
Furthermore, some people point out that that some features are still missing:
Commenters in Windows Central say:
Windows 10 features
In Windows 10, users still find some features that are not working correctly and need more refinements. For example, some users have submitted their feedback to Microsoft reporting that several of its apps such as Photos, People, Weather, Windows Store, and other apps will simply crash or won't open. I have also read many users still complaining about the Start menu crashing, and other users are reporting that the Start menu won't appear after installing certain drivers. While the number of users making their voice heard is small, the problems seem to be there.
There are many other users who believe parts of Windows 10 should be improved:
Through the Windows Feedback app, some people suggested that showing your email address in the Lock screen could be a security issue.
Other users find that search in Cortana should work a little different:
In this one, I have to agree. Most of the time, I find myself doing file, setting, or app search with Cortana. When I need to search something online, I simply open the web browser. Perhaps the new finder should look for apps and files. When there are no local results, Internet searches should be displayed.
There are also the problems with OneDrive, where some users keep asking Microsoft to bring back placeholders for OneDrive. Previously in Windows 8.1, OneDrive offer placeholders to allow users to save storage space locally, by simply offering a preview of a file. Many users started to have trouble identifying what files were available offline. Now, in Windows 10, Microsoft is implementing selective sync that forces users to select what files and folder to sync on a particular computer, but it seems that not everyone agrees with the decision.
In Windows 10, the software maker is introducing a new feature known as Continuum. This is a new feature that allows hybrid devices to move from a mouse and keyboard environment to a touch-centric operating system. However, some users don't seem too excited about the feature:
On the Windows Feedback app, you can find feedback with mixed reactions:
On the Microsoft forums recently, a community member PaoloCardelli pointed out various bugs and features that aren't working flawlessly.
On our site, cool8man says,
Muitosabao follows up,
Quetherosar says,
Windows Media Center is another topic of interests for users, as Microsoft has previously stated that those users upgrading to Windows 10 will be losing this functionality. And some feel really unhappy about the news.
Microsoft is also trying to make Windows 10 the easiest operating system to upgrade to, but things aren't working as expected – at least for a number of users. After the software giant announced that Windows 10 will be a free upgrade for Windows 7 and Windows 8 users, the company rolled out the "Get Windows 10" app, which is a simple app that let users reserve a free copy of the operating system.
The main idea with the Get Windows 10 app was to have a quick and easy way to reserve and upgrade to Windows 10, but since the app rolled out there have been a few misunderstandings and issues.
Many users have been reporting that the app isn't working, or they simply won't see it. So, something that was supposed to be quick and easy, for some people it turned out to be a difficult task. That's because those who didn't see the app needed to troubleshoot their PCs by making sure that things like Windows Update were enabled. They needed to check if the necessary updates (KB3035583 and KB2952664) were properly installed. They also needed to do an extensive troubleshooting process such as this one from the Microsoft community with the hope they will see the app to reserve a copy of Windows 10.
It's worth pointing out is that systems that don't meet the requirements won't see the update notification. This situation confused some users as they didn't know for sure if the app wasn't working for them.
Wrapping things up
While the next version of Microsoft's operating system is aiming to be the next best version of Windows, it's still far from complete. The software maker is moving towards "Windows as a Service" and new updates and features will release as soon the company considers them ready.
Recently we heard that Windows 10 won't have an RTM version because the operating system is an ongoing project that will never be done. It will always be evolving. However, for those people wondering, Windows 10 build 10240 is what we can consider as RTM. It's the build that manufacturers and the general public will get on at launch, but new updates and hotfixes are expected to bring the operating system to the most stable version.
Windows is an operating system that is broadly used on many different kinds of hardware. There are always going to be problems. If you encounter a problem using Windows 10, you can always use the Windows Central forums to ask questions as it's likely that someone else might have gone through the same problem. There are also many people in the forums who will try to help you out.
You can also refer to my previous how-to guides to prepare your computer for Windows 10, and how to upgrade to the next version of the operating system.
Do you see any problems with Windows 10? Let us know what you think in the comments below.
More Resources
Remember that we have many other articles on Windows 10, if you need help you always check these other resources:
Mauro Huculak is technical writer for WindowsCentral.com. His primary focus is to write comprehensive how-tos to help users get the most out of Windows 10 and its many related technologies. He has an IT background with professional certifications from Microsoft, Cisco, and CompTIA, and he's a recognized member of the Microsoft MVP community.
I have problems activating my installation, error 0xc004f034. There are many other people having the same issue, hope they fix it.

I have the same error with my BootCamp Win 8.1 x64 pro upgrade. It also doesn't have the Bluetooth drivers installed either.

Bootcamp and Parrallels do not support Windows 10.

Did not try Bootcamp yet, but Parallels definitely supports Win10 - I have two VMs - W10 tech preview and W10 upgraded from W8.1. Start menu in Coherence mode needs some work, but otherwise I have no issues.

I Bootcamp Windows 10, have done since early in the preview.

I have Windows 10 on Bootcamp. Function keys are not working (volume, brightness, backlit, etc.) Is yours working?

While booted up into OS X, go to boot camp assistant download the latest boot camp drivers on a flash drive, now reboot your computer into windows 10 and install the drivers from the flash drive... Function keys and bluetooth should work...

While booted up into OS X, go to boot camp assistant download the latest boot camp drivers on a flash drive, now reboot your computer into windows 10 and install the drivers from the flash drive... Function keys and bluetooth should work...

Ok quick question will that fix the problem with GPU drivers? Because I have an iMac 5k and it does not find the AMD R9 290 which is supposed to be supported, I will update the bootcamp

works absolutely fine with vmware fusion 7, to get things working i merely ensure all updates in win7 vm were applied rebooted then upgraded to windows 10 no problems at all. However this using a Intel Iris Pro 1536 MB GFX card and via vmware using svga vmware gfx

try google ATK Hotkey ACPI for your laptop brand such as asus, lenovo, download and install it ... :)

how man? i use parrallels 10 and when itry to update to windows 10 with my windows 8.1 its shows that parralles display adapter (WDDM) isnt made compatible with Windows 10? did u get this message? if yes how to bypass it. thanks phill

Weird that everything else worked but activation and bluetooth. What source tells you that Bootcamp doesn't work with 10?

I've been using Win 10 with Parallels since January (can't even remember what build number, but it was one of the first), and Parallels had full Win 10 support from day 1. Literally, when you installed and asks you what OS, it had a "Windows 10" button.

Same here. Cant activate after the ISO install and I cant install apps from the store either

did you upgrade or did you make clean installation?

I upgraded and then clean installed it. Still having the issue, although the store is working fine now..

I was just on the phone with a MS rep and he said there is a gtlobal issue right now and to wait 24 to 48 hours and my windows will activate. I did a clean Install and he said it will work with my Win 7 key... Can't wait to see that! That would mean no more upgrade then clean install. Time will tell!

My ISO install wouldn't activate straight away either. Said my code was blocked and no activate button. My Win8 key wasn't accepted either (This was all after an activated upgrade). I ran Windows update and installed what was there then seemed to activate itself. Make sure you have the PC as trusted and you are signed into your MS account properly too.

Hopefully your issue was solved already, but Microsoft was having issues with their activation servers early. Keep trying. For the store issue, they have a quick fix that you can run. Look at the pinned items on the Windows 10 forums at Microsoft Answers.

i can't find the fix for the store issue. link please?

I would like to know this as well.

try deleting the windows.old file....windows.old won't be deleted completely but thats ok.....it worked for me so it should work for you too....

try deleting the windows.old file....then the store should work...

Had the same problem with my Macbook Air with boot camp. Just download the boot camp drivers for your hardware from apple and reinstall (mine was 5.1.5640, MacBook air mid/late 2014). Worked great. Bluetooth up and running again and activation completed. Good luck. /Chris

Mac BootCamp user here, download the boot camp assistant from apple's website (Google Boot Camp Drivers). Do not install the package, extract AppleBluetoothBroadcom64 from -dollar-WinPEDriver-dollar-, run DPInst.exe or install via device manager. Works fine, but bluetooth does disable every now and again. Install BootCamp/Drivers/Apple/AppleWirelessMouse64.exe if you use a magic mouse for scrolling.

Thankfully I don't have any issues with 10 on desktop pc, laptop and surface 2 I can't believe half of the issues found on here everything works for me no lag or faults. I even tried a iso download and reinstall, strangely I can't input 8.1 pro upgrade key in, but skip key ref and auto registers due to it being installed before

Same thing here except one mysterious issue. On my laptop (Fujitsu t904 tablet PC), my tray notification icons are spaced much further apart than on my desktop. Scaling is different because the laptop has this gorgeous 2560x1440 resolution. But the icon sizes seem fine. Just the spacing between them is different and on my laptop, my 8 tray icons I like to have visible all the time take up 1/3 of my entire taskbar.

Try to temporarily disable antivirus protection. I had same issues and after disabling Eset Antivirus, activation was sucessful. Maybe just a coincidence, but worth a try.

Be sure to remove your antivirus software before upgrading from Windows 8.1 to Windows 10.

Oh god I didn't do this what do I do

I didnt do this either. Im having a multitude of problems. For 1 on bootup, the lockscreen is completely black, i found my way through this, then my next set of problems began where i cant open a select amount of apps. Apps that wont open: Windows Edge, Norton(my av), Sticky notes, settings, Control panel, command prompt... however google chrome and steam work as well as file explorer. ive tried powershell fix but as i try to run as admin the screen goes blank. nor will that app apear regularly. I figured windows 10 would be stable enough to at least go to a save state, but im stuck. could this have been caused by not disabling av or is this just a freak set of bugs..?

My screen goes completely black as well. I can't get windows to even boot up! How do you get past this? Any ideas?

I too had the same problem. My screen was totally black.....no Desktop......no start menu. I read somewhere in this forum that you should try connecting to an ethernet. Immediately after I connected to my companys ethernet, my desktop popped up with all of my icons stil in place. I went from Windows 7 directly to Windows 10. Hope this helps.

How did you get through it? I've got the same issue going on. Black screen, grim outlook...

If you havent already figured it out, theres a bug that wont show your graphics card. Probably not a bug, but doesnt show old drivers for a card. My solution was to use cpu moniter port to show the default screen when building a computer. Itll let you log in and show on both screens. Then you just need to get the new drivers for your card. Kinda dumb i know. Also i think you can just type your password and hit +enter+ 3 times to get through the new operating system stuff. it might take a couple minutes to show up.

Having the very same issues. Edge won't launch. Start button doesn't respond. Notifications Panel wont respond. Coonectivity is pre-dial up slow!! Task Manager is useless so I cant shut down programs that stick on launch. Windows crashes when something very intense and draining like a screen saver launches. Its a mess. A big beautiful useless mess!!! How do I get any of this to work again? I have been on the phone, in que for so long now. I dont expect they will be answering anytime soon. Meanwhile, my work, and by consequence, my income, is suffering.

windows 10 is a dud it crashes your computer dont update

I have the same issue! new laptop and now it crashes when doing nothing at all!!!

I have that exact same issue, were you able to fix it? can you share if you find a solution plz?

Can I ask how you solved the lock screen issues? I'm completely at loss. Mine is blank and displays dates in the wrong locale...

you can refresh the device but you will lose your installed applications, e.g. Office.

How do I go about refreshing my device? I'm also stuck with a blank screen on my laptop and I can't log in

It told me before I even installed that my version of Symantec Endpoint Protection was "NOT SUPPORTED" and to update it prior to installing .. did it state this for you and you just clicked through it?

I almost never comment on forums but I have to now. You Sir, are a genius. ​​Thanks for the tip (:

In my Surface Pro 2, I encounter this problem... I was using my Surface as Desktop. Unplug the keyboard... Turn Table mode on... Try activation once more time .... and works! Just by turning Table Mode On!

Try this : Activation.bat (Run as admin) @echo off
:loop
cscript /nologo slmgr.vbs /ato
if errorlevel 0 goto end
goto loop
:end
echo Activation was successful. Press any key to close this window.
pause>nul
exit

I had this same issue on my desktop. After clicking it 10 times or so the activation worked, on a machine that went from OEM 7 Home Premium to 8 Pro. This was after doing solely the upgrade, no ISO. I'm wary of doing the ISO in case I'm asked to enter a code. My OEM and 8 Pro codes didn't take when I tried entering them prior to realizing the servers are probably overloaded with authentication requests and the simple, repetitive Authenticate clicking worked.

Had this issue as well, a third reboot fixed it somehow. I suppose the activation server is having a hard time right now?

Keep trying to activate. It worked here after a few tries. If apps don't want to update, stop it by clicking on the cross and then try to install again. Try the update tool if the regular update doesn't work.

Microsoft has released a website with error codes and fixes. I posted it in forums under the tailgate party. I don't have it handy right now. But some of the install troubleshooting I find funny. People who have to search that they have certain patches installed. This is exactly what microsoft is trying to solve with mandatory patching. If every system is the way it should be troubleshooting becomes easier. I find it so odd that so many people are having issues and yet everyone i know has had nothing but a fluid experience. Yes some of the apps are a bit problematic, but the install and general usage is perfect. I know 14 people who have had no issues with install and usage. So i assume it's perfect as they all have various setups and such. I guess most of them have relatively new hardware. My laptop is pretty old though and it runs great with no issues. The hard drive is a bit slow on it so loading times are bad, but they were bad on windows 8.1 as well.

Windows 10 wont complete installation process. I downloaded it, scheduled to install later... came back when ready, clicked Continue which it said would take about 10 seconds to get going with registration etc, and it has a little Working on it animation, and then the screen dissapears, and the installation update process stops dead in its tracks before it even really began. Not promission results when the software cannot even install itself on a totally standard Windows 7 PC. I am really dissapointed, but hey, its typical Windows... What should I expect, for it to work??? NO WAY. That would be rediculous for me to actually assume it works. .... I give up, if it cannot even install iteself, there is no way it is any good. Im sticking to 7.

I have the same thing happening.

Try using a ethernet cable if you are using wifi, my windows 10 won't let update/use microsoft apps when i'm connected to wifi for some reason..

The same thing is happening to me and I'm hard wired with an ethernet cable.

I cant activate windosw 10. I have windows 8.1 activated and upraded to 10 ant after dont activate. Please help.

I can't do it either - you're not alone. I sent it to Windows Feedback already, and one of the trending topics on the Windows 10 support page is "Why can't I activate?" You can try phone activation: In an elevated command prompt run "slui 4" without quotes. Follow the prompts, but be prepared to talk to an agent. I didn't have the time to talk to the agent, but I probably need to soon!

Same issue. Errors when trying to activate

Did people upgrade or did they just use ISO, I'm sire I read somewhere you have to upgrade before you clean install to make your previous windows key legit with 10

Thats what i did, and i still cant activate it..

Did you do the bit where you have to skip the steps when it asks for the serial while you are in the installation stage? After that it should activate automatically.when you get into Windows.

No, sadly I entered the key at that point instead of later on. Just how the hell is it different v_v

You need to upgrade first. My path was format > Windows 8 > upgrade to 10 + activate (keep hammering that activate button takes a while) > ISO clean install, windows update and eventual activation.

I'm not sure if you guys notice that after upgrade from w8.1 to w10, the key has changed? If you haven't do a clean install after upgrade, try use a keyfinder to grab the key. Well, at least in my case, the key was different. :(

Go to my youtube for the fix.... Here ---> watch?v=o9-7tXAZnts This video should clear up anything with activation or windows 10 not installing. I'm working on the black screen issue as we speak. Hope this helps. Much love! -Abell2744

I'm having no problems so far except for the Store is not loading and apps won't download.

Been having the same issue since Sunday.

Downloaded and can't even install......... Thanks but no thanks. Ima wait

You're not alone on this one. The bundled apps (Solitaire, Weather Xbox etc.) have all been fine to download updates, but anything new e.g Facebook, is stuck in the download section. I have read that this could be due to bandwitdth issues from so many people hammering the servers to download Win10. How true that is, I don't know. But if it's not resolved within a week, then I will be concerned.

I am having a slightly similar problem. My apps for example edge... Will show up as running, Yet wont open on my screen. hovering over app reveals a working app yet wont maximize. this goes for settings and command prompt too. so wierd

Are you getting error code: 0x80072efd? I got that so I went back to Windows 8 and reinstalled 10. I got the same error for the Windows store.

Me to. I can't open Store it keeps loading and won't load

Don't get the issues with tablet mode. You can still swipe, but instead of giving you a random app from behind it gives you a view of all your apps. Swipe and tap.

The issue isn't because it doesn't work, the issue is that the animations in Task View on Tablet mode became amateurish looking, it only fades now instead of same animation in Desktop mode.
I want to add that animations on snapping from Snap Assist is missing just like from this video. https://m.youtube.com/watch?v=NCKJ0fINC-k

Windows 10 has basically made one of my computers unusable. Was always gonna do a clean ISO install afterwards, but annoyed that the upgrade has made that a complete necessity. Not a pleasant first experience.

Clean installs typically yield a better experience than upgrades. So far I haven't had any big issues on my Surface 3. Occasionally the app store windows will "crash" but the store is still runing. I'm thinking of doing a clean install, but I don't have the need to right now like you do. I hope the install works out for you.

With every article, review and forum post I read, it seems more and more like the best thing to do is to hold on upgrading to Windows 10 for a while until all the issues are sorted. The "Windows as a service" is starting to look like an excuse for releasing unfinished softare to be fixed up later during its lifetime, instead of releasing a solid product right away. And don't even get me started on the stupid exclusion of WMC which in effect means I will never upgrade some of my PC's that use WMC on daily basis for TV watching and recording.

Agreed. Win 10 doesn't feel ready to me either.

And sites like this hyping it up like its the best thing since sliced bread was a concept on a napkin doesnt help when they gloss over issues, this is the first honest overview of the OS of all the reviews published anywhere.

On many tech "news" sites its becoming harder and harder to tell whether they are actual news sites with proper objective reporting or whether you are reading a fan site that highlight just the positives or just negatives depending or the sites focus towards particular entities. It's good to see that some decent articles are making their way to windowscentral.

I think MS didnt want to miss back to school sales and so they rushed things. But than again windows 8 felt unfinished until 8.1 was released.

What modern computer or mobile OS has ever been completely finished on release? If anyone can tell me that, I'll eat my hat, and I actually have a pretty nasty one on right now XD . No, but seriously, even people who hold up Apple as the shining standard of OS releases, for example, would have to admit that the initial release of iOS 8 was a disaster, until patches were released to fix major major issues that were caused even in their current phones and tablets. So don't hold Microsoft to some standard that not even it's competitors can match up to.

I am matching it up to the last release of a non-controvertial Windows OS, which was Windows 7, as for what others like Apple or Google do with mobile OS's I don't really care, Windows is still first and foremost a desktop OS as that is what majority of users will use it on, including enterprise customers, so comparing it with iOS or other mobile OS is irrelevant.

So far this rollout seems to be far messier than expected. Personally, it does feel like windows 10 isn't really out of it's testing fase just yet.

I'm staying with Windows 8.1 on my home Dell Inspiron 15R for the time being. I like how Windows 10 works and looks on a test computer at work. But the things ordinary people are saying on Update Day July 29 make me too nervous to update my home computer.

Problem: Can't activate Windows 10 due to it says: Connect to the internet (while im typing this in Edge haha). Also when I click: Change Product Key, Settings just freezes. That's only my problem i have so far.

When clicking change product key the screen freezes so just hover ur mouse on the setting icon on the taskbar and ill see a promt then use hardware arrow keys to select and press enter, viola , worked for me

Windows 10 is what I would describe as "half baked." Lots of promise, but just not very good, yet. The absolute biggest grievances have got be the horrible regressions in OneDrive and touch usability. Inexcusable, really.

The touch thing will piss me off. They sold us all on touch screen PC's. No more of this Microsoft sell me on shit then dump it. I'll go back to pen and paper if they f' me again.

Can't install any app from windows store! Error code 0x803F7003 :(

Yup - was just about to post the same thing.

I've been able to update 30 out of 33 apps, but I get the same error with 3 updates and one app I'm trying to install.

Same here, there is no workarounds at this time

Did you happen to change your region in order to be able to use Cortana? I had this exact same error. I'm in Canada, so I don't have Cortana yet, so I changed my region to the United States. After getting this error for anything I tried to download from the store, I -- out of curiosity -- changed my region back to the original (Canada), and now everything downloads and installs perfectly fine.

Well, I'm in Bangladesh & I keep US region setting always for better experience. BTW some now some apps are installing & some are not. Will wait few days to see what hapens. Thanks for replying.

I can't even open up the store. I'm getting error code" 0x80072efd

After upgrading to 10 sometimes my screen goes black totally n I hv to restart that's d only issue wid me till now

How about the Critical Error on Start Up with Cortana and the Start Menu that's been around for ages? http://answers.microsoft.com/en-us/search/search?SearchTerm=critical+err...

I haven't had any start up errors on my Surface 3. I think MS pushed out an update a couple days ago that might have fixed that issue, but I'm not sure.

Mine downloaded and is just sitting in the BT folder. It wont kick the install in. I get it is a rolling push out, but that is to stop their servers from being blasted. If I already have the files it should just launch it.

You can start the update from the command promt.

I can agree with the comment that using Windows 10 on my Surface 3 is a disappointing experience. Desktop mode was noticibly given more attention than tablet mode. I like 10 on my old laptop, but I'm not as excited to use it on my Surface 3. Overall I'm happy with where the OS is at launch.

I actually disagree. I have it on my SP3 and it runs flawlessly. No noticeable major problems other than a slight delay when clicking "All Apps" in the start menu.

I like it too! Altough I agree the table mode format is kind of ugly, with the big spaces between groups and the scroll up/down, instead of left/right. What I did was stick to the desktop mode and just prettied up and widend the tiles placeholder in the Start Menu.

I'm Insider Preview registered user and a fresh installation of Build 10240 (Final) isn't activate.
Mine Windows 8.1 Pro activation key isn't work either.

Glad I'll be sticking with Windows 8.1 for a while! I like my PC the way it's been running the past 2 years. Never an issue and I don't have the patience or time to deal with these half assed BS issues. Same goes for Mobile!

My thoughts exactly. I have a touchscreen Dell Inspiron that shipped with Windows 8.0 and it was a nightmare updating it to Windows 8.1 back in April 2014. And I was hardly the only one.

Don't upgrade to 10 - it will kill your touchscreen and then kill your computer when you try to fix the touchscreen. Two days now with Dell suppport trying to even get my computer to turn on correctly.

I upgraded to windows 10 (I have a lenovo g500s touch notebook) and though the touchscreen registers contact, it does nto do anything. I'm really frustrated with windows right now.

Same here. I love my Windows 8.1. Windows 10 is on track to be a pile of shit.

I have a store problem 0x803F7003, some people have it too, there are some post on reddit about it, but there is no fix at the moment

This video shows how to fix that https://www.youtube.com/watch?v=i_fWvhJxJNM

I dont have sound on my laptop after I installed Windows 10 either......

No sound here either. I do have some ccrappy old speakers but they still at least worked before. I have also tried both "fixes" I found on the Microsoft site. Neither worked.

I didnt like lack of charms bar and dlna play from any app. And one drive on windows 10 have no smart files system.

Edge Brower location is not working properly. It shows that I am 50 miles away. On Firefox and Chrome, it gives me the proper location. On items like Bing maps and other websites.I am loving Windows 10, but this is the only thing that is on the list.

Same my location is for a town about 30 40 miles away in Edge and all other microsoft app like weather and so on.

I just noticed that Cortana is using the wrong location also. It keeps telling me about news and events 40 miles away. While FireFox and Chrome shows me the correct location for websites like Weather.com and Bing Maps. I hope a solution is out there. I have one person say it was my internet provider, but when I checked it with "http://whatismyipaddress.com" using Edge it show the correct city.

Hmmm, that's honestly strange, If I were you I'd check if the results that your'e getting are from your ISP. if you can find that out, I'd appreciate it if you'd reply :)

I already spoke to them yesterday. They have no idea. On there system I am on the same headend cluster for the last 3 months (which is not located 50 miles away). They even had me run a trace to make sure nothing has bridged onto my system (nope). ABL

Cortana should not search locally first. That's what file explorer search is for, and has been around for a long time. It should just search everything all the time and have tabs like it sorta does now.

Cortanna says it is not available in my region, I am from the UK and all my language settings are set to UK, how do I solve this.

set your location as US and use the US version of language as well. It worked for me. Am from Turkey

And have horrible US spellings? No thanks. I want English to be spelled correctly thankyou. I'd rather not have Cortana.

For all those with activation issues, Paul Thurrott says sometimes it may take a while to get the activation, maybe even a couple days, so don't fret quite yet.

I understand server loads .... software bugs (written too many myself), but why the flipping heck would it take a couple of days ---- that's just so wrong on so many levels for a software company that knew this was coming.

i didnt do clean install. Wifi and Bluetooth work properly.booting speed was slower then win8.1 but now it is as good as win8.1 my problem is taskbar icons.their resolution is bad. İs anyone notice that ?

I had problems activating, but this solved it for my (on two PCs):
1. First of all launch Command Prompt as Administrator. 2. Type slmgr /skms kms.xspace.in and then Enter. Wait for a message box to appear. 3. Type slmgr /ato and Enter. Wait for the message box, and you're done.

Don't rely on that KMS server too much - activation is only good for 120 days (?) before your PC has to "touch" that KMS server again. I'm betting it disappears after 8/1 when Pro/Enterprise versions are available to VL customers.

Thanks. Didn't know there was a time limit on it.

NP - that server was put up by someone as a bandage. When build 10240 (final build) was released there were no more activation keys for Enterprise versions (not sure about Pro) - adding a KMS server to the Internet allowed ENT versions to activate long enough for entitled owners to use thier own MAK/KMS keys.

Absolutely no wireless connections, Bluetooth or wifi, working on my Vaio Duo 13. Reverting back to 8.1 right now.

You have drivers issue. Ur drivers are surely not working with windows 10 . Contact ur laptops manifacturer to get driver support for windows 10. Ty

I have an issue with wifi. my connection is very bad, too slow, and ofthen interrupted.

if you check Vaio Care, you'll see that sony issued a statement that the special drivers for any device that was originally windows 8 won't be available until at least september, more likely october. You COULD try reinstalling the sony drivers in compatibility mode, but I wouldn't count on that working.

why didnt MS fix these edge issues, they are there since forever. Too few resources? All these users will say goodbye to edge on day 1 and never turn back. MS didnt learn from mistakes it appears.

No kidding...Edge has been nothing but problematic and have given up on it until they work out the issues with it.

I'm using edge as main browser with no issues, explain yourselves please

did you not read the article? also explain how you are not facing any issues?

I installed Windows 10 on my Lenova and it all went smoothly except I too am having problems with Edge - on many (but not all sites) it will only load part of a page, says it is not responding, or doesn't let me interact with the page whether I use touch or keyboard/mouse. Cortana also doesn't seem to be functioning well . . . certainly does not respond to voice commands (although it did the first few minutes) and its search function, if I ask anything does not seem to be functioning.

This post makes me sad :(

Ik Posted via the Windows Central App for Android

Yup, to many issues. I will be waiting for a bit to claim my free upgrade. 8.1 pro is working wonderfully for me. The biggest concern I have is people with wifi issues. Can't go without that. Ironically I get faster speeds on my ac1900 Asus router than I do hardwired in. My plan is 50 down. 5 up. Wifi gets me pretty close to that. Hardwire drops speeds in half. And yes I've tried 4 different cables now. And various drivers.

Thankfully I don't have any issues with 10 on desktop pc, laptop and surface 2 I can't believe half of the issues found on here everything works for me no lag or faults. I even tried a iso download and reinstall, strangely I can't input 8.1 pro upgrade key in, but skip key ref and auto registers due to it being installed before :)

Surface pro 3 here. Haven't found any issue's as such. Only problem I had was after update it couldn't find WiFi connection, but I simply powered off with long hold and back on then working fine.

I found out was not using bios key, they would of worked during install, non the less I'm believe half the people out there are forcing their installs, let the update roll naturally!

I can't understand all the problems people are having... I've never had any problems on the TP or the RTM. Might be a lack of experience causing a few issues???? Who knows....

Maybe people with different hardware than you? Maybe if you took time to think before posting? YOU not having issues doesn't mean nobody will have issues.

Maybe people with different hardware than you no better about what they are doing? Maybe if you took the time before posting as well?
YOU having issues doesn't mean that everybody will have issues.

He didn't say everybody would have problems. In fact he said the opposite, that some may have problems and some may not, and that there may be reasons other than user error that determine which category you are in. The laptop where I installed Win10 is having issues that are most definitely hardware dependent.

What is strange about this is the number of people with issues say on a surface 3 when others don't I suspect some are doing complete reinstalls, others doing upgrades, possible some doing forced upgrades before there time with half done ISO, who knows? I suspect considering I am insider I got update on a healthy bandwidth two weeks ago, might be an update during install got missed on some.

I actually think it's good that the Home edition is updated automatically, that way my mom's PC would always be on the latest version, same as mine, and easy to support her if she needs any help. I haven't heard anyone complain about the auto updates in Chrome/firefox (althrough I did hear people complain about IE not doing the same). While Windows udpates can be a bigger issue than a browser update, they're also more important. What bothers me is that with the latest Windows 10 bits, update restart scheduling doesn't work. I don't get notified to scedule a restart and if I schedule a restart for a later time it still uses the suggested restart time anyway (and it's usually in the middle of the night, so you have no way of cancling out of that). That's a pretty big issue

Can't open mail app (crashes everytime), MS store wont open either. Feels like a rough beta. Tablet mode needs some tweaking too.

Well done Mauro. My issue with 240 is Edge and Cities: Skylines. Edge needs protection from the ravages of internet ads and my Cities: Skylines game doesn't play. So until that is resolved, NO update of my 8,1 partition to version 10. Not gonna happen.

I was right, all along. Windows 10 is horrible.

WiFi has been terrible on hp spectre 360 the entire beta, plenty of insider reports from me!

You have drivers issue. Ur drivers are surely not working with windows 10 . Contact ur laptops manifacturer to get driver support for windows 10. Ty

My problem is kinda serious... I did a clean install from an ISO, everything went smooth.. once windows finished installing and it started, i can't open the settings app.. I just can't.. when i click on it it just does not show.. i tried clicking on "all settings" in the action center, same thing happens.. anyone got this?

Same problem here. I called microsoft and they had me reinstall win 10 and that didn't help I'm waiting on hold to talk with them again.

Here's the fix It worked for me (Can't post links here so replace the spaces with periods) answers microsoft com/en-us/windows/forum/windows_10-other_settings/settings-doesnt-launch-or-launches-the-store/ec439819-7ee4-4b4d-abdd-35d82e04c55f

Awesome! This worked for me too! Thank you very much!

I'm bummed I can't upgrde 8.1 Enterprise to 10 without doing a full install. When it comes up with install options, I can only select the a fresh intsall-- no upgrades. Anyone figure out a way around this?

My problem on my PC was that the HD screen I had connected it to via HDMI wasn't displaying properly. There would be bits cut off. And yes I tried to change the resolution but that didn't help the 'cutting off' of the screen. Took me ages to find the adjust screen size option in the NVIDIA settings. Apart from that, really enjoying it so far!

same problem here, Nvidia Geforce 970

Windows 10 update screwed with my video driver settings, the same might have happened to you. I installed the latest nvidia driver and everything went back to sensible options without tweaking. This particular case sounds like overscan, and can probably also be fixed in the screen's settings For example, on my Samsung monitor it's Menu -> Picture -> Screen settings -> 16:9 overscan

I also see many people on other websites such as Yahoo and MSN complaining. I find this frightening and being a paranoid person I feel like Windows 10 will fail. Posted via the Windows Central App for Android

Lots of problems. The system is unfinished , I mean , they released a product that still have many, many points to be corrected. I did the upgrade of 8.1 to 10 , and these are the problems I encountered : - The system takes too long to start ; - After start, the system is slow (I have a great notebook, Core i5); - Apps do not start ; - Cortana is slow to search if the web search is enabled ( the problem is fixed by disabling the search for the web) ; - Problems with the UI , such as the title bar ( size of the buttons ); - The fonts (look at the adress bar of Edge) looks like they havent anti-aliasing ( it seems that ClearType does not exist! ) ; - If you click on SHARE 's Edge button, it will open a bar that looks like coming Windows 8! Horrible! Anyway, these are just some - of many - system problems.

Have these issues come with a clean install? Starting fresh?

For me no.it work pretty well after a clean

Started downloading WIn10 this morning on my Surface Pro 3 and I'm stuck at 43% since at least four hours. Either it's hung itself or MS's servers are clogged. My internet stream is fine BTW, I am browsing/emailing fine.

Neither the store ... It says "servers are pretty fuccced up right now. Come back with a hammer"

I am currently stuck at 43% too. Did your download ever finish? I checked taskmanager and nothing is using up bandwidth at the moment (I made sure no programs were running on that computer to be absolutely certain that the Windows 10 downloader could have all resources available)

Cant login with groove and Xbox. Anyone with this issue??

groove music works fine here (also with my xbox music pass subscription)

My laptop is stuck at preparing for installation from past 1hour after downloading windows 10. The bar is not filling up.. Any help?

Mine took around 10 hours to install completely and it is a horrible experience. Sometimes it start sometimes not hell of a experience

its been working great for me, except for sound. the sound coming out of my PC with Win10, is awful. It sounds like way too much base. just awful sound. I know Speakers are working great, since it was running awesome on Win8.1 with no issues with crystal clear sound. Other than that, NOTHING and perfect.

I was having the same issue with sound and the mix not hearing me. I went into Device Manager and updated the drivers from there. Might or might not help but worth a try.

Updating the driver as you indicated help me. Thanks!

You have drivers issue. Ur drivers are surely not working with windows 10 . Contact ur laptops manifacturer to get driver support for windows 10. Ty

Try reinstalling the sound drivers. Download from oem for the latest drivers. If it was good before, then it should still be good.

Crap now i'm having second thoughs about installing windows 10 on my SP3, since it's my main work device. I'm specially worried about the photos app and the bugs when using the device in tablet mode. Anyone with windows 10 on a sp3 care to comment on the experience with those two items? Thanks in advance

SP3 on W10 here. All the things you mentioned are working fine for me. I had a few glitches in tabet mode where it wouln't open the touch keyboard. Another thing I noticed while writing this, that my Surface Keyboard seems to miss a few keys here and there. This is quite annoying.

I have a problem with the Nvidia Drivers for my Geforce 970... drivers were installed with an error. After restart it seemed it worked, but some stuff in the nvidia control panel is not working (like 2nd screen resizing) Also mpc-hc (Media Player Classic - Home Cinema) is not working for me

Try running the media player classic under compatibility mode.

i got the exact same problem with the GPU drivers... it fails to install the Windows Update version, it's so damn annoying. i have the same GPU

MPC is working for me. It could be your video drivers. Try reinstalling the drivers or change the video settings in MPC.

WIndows 10 does not seem to have the option to select multiple desktop wallpapers for a slideshow. At least I could not find it in the themes. The new wallpaper selection page on 10 is horrible. I won't be upgrading my SP3 for almost a year, or until tablet mode is as good as Windows 8.1. Upgraded my Laptop (Non touch) and I like the experience on a non touch system better than in Windows 8.1.

It has the option: go to All Settings > Personalization > Background and on the pane, under "Background", choose "Slideshow". Now you can browse for a directory.

That works great, thank you! It still feels disjointed, coming from Windows 7 but at least it works.

"Microsoft Edge takes too long to load graphic intensive websites." "Edge won't let me scroll down on a webpage until the web page has downloaded." THIS ! + After reset I lose all my bookmarks and they are all the same. Strange bug.

Upgrade failed and then rollback failed.
Time to clean installation.

Loving Windows 10, forums with junk ads like Windows Central forums video ads that freeze Edge have made me not to happy with the browser till extensions come.

W10 locked me out of my PC. Won't recognize my local password I set up during the upgrade.

I'm locked out too on one of the two I upgraded. It's a Yoga Pro 2. Tried resetting my password on the working one but it didn't help.

Nothing is error free at launch :P.

Why you do Like this Microsoft.... Why? The hype is strong is why I am going to proceed with my upgrade... But gaddamit Man!!

Everything is working ok for me (a desktop PC and a SP3). I'm really happy with Windows 10, though it sometimes feels a bit "unfinished". Edge is still really rough (I so miss the sync of bookmarks/history between devices). To block ads, you can add entries to your host file (take a look here https://www.youtube.com/watch?v=rKF-fucs8J0). Works pretty well. Still, waiting for addons really hard... Last thing I'm unhappy with, the photo app. Crap.

So all these problems because a bunch of whinny babies couldn't move past a modified start menu? Thanks, idiots.

It runs ten times slower than Windows 8, seems half baked, has been a pain to install, and has made a mess out of my hard drives. But hey, you got a different looking start menu that does nothing more than the old charms did.

After upgrading to windows 10 i cant open windows store from store prebuilt app. Only with microsoft edge or browser i can explore app from windows store.

Well honestly, I like Windows 10 more thean 8.1 on my Dell non touch laptop. Makes me like that laptop again which I hated with 8.1 which IMO is not that great on non touch devices.. However, I fell thay have taken a step back on the touch interface. Reason for me to not upgrade my Surface Pro 3 yet. 8.1 is great for touch devices. Given the continuous feature update approach, I would be upgrading the SP3 when it becomes better for touch devices.

Win 10 actually has a "Tablet-Mode" that you are propmted to enter or exit depending on whether the keyboard is attached to your Surface Pro. The tablet-mode provides a continous interface that is flawless on touch devices. I think Win10 is the right OS for your surface Pro.

Apparently it also glitches out the start menu if you have over 512 things installed. http://www.theregister.co.uk/2015/07/29/windows_10_bug_alert_start_menu_breaks_512_entries/

Microsoft edge stopped working in less than a day. Now it doesnt open any website, looks like it keeps refreshing the browser at all times unable to open the site at all. So far a big disappointment. Windows 10 is ok, nothing really new from Win 8 since cortana is not availabe in my language. As i though from the beginning, this is Windows 8.2

My only problem with my Acer aspire 5755g is the Dolby driver.even the Sony Vegas is working with the NVIDIA driver installed.didn't worked in 7 or 8.1.edge is running smoothly I don't have issues with the location or anything till now.no wifi issues no bt issues.my girlfriend had problems with the sumscung but I did a fresh install without drivers with 8.1 and did the 10 upgrade now it runs perfect with no problems.

This is the exact reason why I wanted my custom laptop as purely Intel as possible. Close partnership and reliable drivers.

This is the exact reason why I wanted my custom laptop as purely Intel as possible. Close partnership and reliable drivers.

I let it install overnight on one of my laptops. Issues I discovered this morning, in the order I care about them: I can't get "tap to click" to work with the laptop's touchpad. I've turned the option on and off several times to see if that helps, but it doesn't. Really REALLY annoying. The touchscreen gets coordinates wrong with full screen (RT) apps. Candy crush isn't so fun when it doesn't swap what I touch, it swaps the row below. I verified that it gets the coordinates right in desktop apps. It's only wrong for RT apps, consistently off by about 50 pixels. It thinks I've got an external monitor plugged in at all times. The laptop's screen was on but blank when I checked on it this morning - I thought the update failed. Rebooting made the hard drive spin, but still no display. I was just about to restore the original OS when I thought to plug in a monitor to see if I could see anything. Sure enough, everything was fine except where it was sending the display. After multiple reboots and attempts at tweaking settings, it still thinks I'm always using an external monitor. I can only see something on the laptop itself if I set it to duplicate my screen to the secondary display. My first impression is that I like the design changes, but the bugs sure temper my enthusiasm.

for coordinates issue (which is strange to sneak in for a production) - usually it helps to zoom in, out (or default zoom) - where applicable, kind of resets things, and scale/coordinates is tightly related.

Millions of testers and there are still issues on launch day. Maybe someday people will realize that an operating system is very complex. So complex that it litterally takes years to address all of the issues. Thank you to all the early adopters for helping flush out those issues. Not something to complain about, but something to add to the list of things to do. Meanwhile, my Surface Pro 3 seems to have downloaded the package (3.8GB) 10 hours ago but refuses to let me know that it is ready to perform the upgrade. Waiting.... waiting... Can I just run the Setup.exe myself?

i had the GPU driver bug.. i already had the last NVIDIA driver for Windows 10 x64 on a GTX 970, but for the damn automatic update via Windows Update the OS uninstalled my driver and tried to install the Windows update version, but i got an error and my pc stucked with Windows Basic Display driver and just screwed my gaming rig... that was annonying as hell, but i found the solution.

Hi Mate, Had the same problem. How did you fix it? Gary

I've been waiting to do my install tonight when I get home but I have to say all these comments have kinda killed most of my excitement. Right now my system is running butter smooth on 8.1 and I feel the chances of things working out perfectly or most things working perfectly are slim. Maybe it's a good time WCentral did a poll? Then we can see how many people experiened no major issues vs. those that have.

I'd wait. I upgraded a laptop last night to see if it would be worth upgrading my other 5 windows machines. The upgrade itself was actually pretty smooth, but there are some thing that aren't working quite right, just enough that I decided to hold off a month or two on the other computers. Wait for a few more kinks to work themselves out.

Guys who are having activation error:0xC004F034 Try this : create a file filename.bat (Run as admin) @echo off
:loop
cscript /nologo slmgr.vbs /ato
if errorlevel 0 goto end
goto loop
:end
echo Activation was successful. Press any key to close this window.
pause>nul
exit

http://www.microsoft.com/en-us/windows/Windows-10-specifications Under "Feature deprecation" is says this:
If you have Windows 7 Home Premium, Windows 7 Professional, Windows 7 Ultimate, Windows 8 Pro with Media Center, or Windows 8.1 Pro with Media Center and you install Windows 10, Windows Media Center will be removed. For a limited time (the "eligible period"), on systems upgraded to Windows 10 from one of these older versions of Windows (a "qualified system"), a DVD playback app ("windows DVD player") will be installed. Note: the Windows DVD Player may not be installed immediately; it will be installed after the first successful Windows Update.

Anyone found a way to sideload WMC (Media Center) onto W10 yet? I was one of those hoping for a last minute announcement/replacement, but clearly nothing planned... so two systems in our household will be forever stuck on 8.1 until a suitable replacement/alternative is available. (Before posting suggestions to alternatives, we need something stable with full LiveTV, a reliable guide and PVR functionality that doesn't fall apart every two minutes (e.g. XMBC, ServerWMC, etc.)... while being intuitive and easy-to-use (some say "wife" or "family" -friendly).

Run your old OS with WMC in a virtual machine?

Upgrade error Kernel Auto Boost Lock Acquisition With Raised IRQL... Anyone knows what to do?!

Same problem here, this error message, failed to restart automatically so I powered off after 30 minutes waiting, now fails to load either W10 or original W7 - just a black screen and a hanging system. Unbelievable! Unable to work and now having to pay a technician to try to at least revert back to W7...

Oh dear... am I alone..? Windows Insider here, having used Windows 10 Tech Preview for months with minimal (near zero) issues... Along comes Launch Day, with the big update... and my WiFI is dead every minute or two! WHAT HAPPENED? New users - I promise W10 was fine until today!!

What WiFi adapter do you have? My Netgear WNDA 4100 does that after every upgrade. They default it to the wrong driver and you have to dig down and do it manually (select from list). Submitted it every time in feedback with screen shots and all.

I had the same issue since I installed the latest version. Try this (it was my solution) 1. Open CMD with administrator privileges. 2. Type this netsh int ip reset C:\resetlog.txt 3. Restart to finish I hope that works for you too!

Only problem I have is the store one.. else it was a smooth 10ish minute upgrade. Did a full wipe and installed via ISO afterwards on a new SSD without any problems as well.. just had to get the new key via "other means" from the upgraded version. Still need to test some games, steam and so on, but so far so good. On my ASUS laptop everything is working as well.. including WIFI. Not sure why some people are having some of these problems.. they sound "odd" some of them.

I was able to load and install Win 10 using the Media Center tool. All worked smoothly. My problem is that I cannot open any MS Office attachments that I receive in emails or documents from the Web. This is essential for my work and now I'm stuck not being able to open critical documents. "Word experienced an error trying to open the file." I could always open files in Win7. Anyone else experience this or have a solution?

I have a huuuge problem: i upgraded from windows7 a 64bit and my windows is now stuck on a black screen with a pointer, without a explorer.exe, anyone,knows how to bypass this problem please help...

Common geniuses anyone please

I too experienced this problem. If you are like me it would be at the lockscreen just a black screen with a pointer? i bypassed this by first: Clicking the screen to "unlock the screen" Click ctrl once to toggle onto the password bar then type your password and hit enter. let me know how this works. let me know as well if you have trouble opening some apps. im also experiencing this.

I can bypass the lock screen, but the issue is that explorer.exe is not responding, I can put a new task from task manager like (explorer.exe) a few seconds is Ok and then crashes and not responding anymore, like windows is not allowing explorer, like it seems of it like a virus, interesting right! I tried some tricks from internet worth no luck

I couldn't even get to the lock screen. I have Windows 7 on a HP Pavilion g6 with AMD Chip. CNTL+ALT+Delete did nothing. So, I did what you're not supposed to do...I just held the power button down until the thing rebooted. About 10 minutes later, I was finally in. All seems to be working.

I had the black screen problem upgrading from Win8.1 to Win10. My Dell Alienware X51 has two video outs DVI and HDMI and shipped with Win8. I only use DVI since I have a 2560x1440 monitor. As a last resort, I connected an HDMI cable and bingo! there was the Win10 logon screen. Win 10 had configured itself for dual monitor and defaulted to the unused HDMI port. I was then able to change the monitor settings to use the DVI by going to Settings - Advanced Display Options - Multiple Displays (Show only on 1). It now boots OK but I had to keep the HDMI connected since it occasionally still bots to black screen with only a mouse pointer showing. Hope this helps. My impression so far is that Win10 is the same old pig with a very thin vaneer of lipstick. As you work through various set-up options you are taken on a magical mistery tour of Win8, Win7, Vista, XP and earlier windows with clunky inconsistent presentations and behaviours. I really hoped Microsoft had learned its lessons and put effort into fixing the fundamentals. Sadly, I have yet to see any evidence of this.

Hmmm I prefer to get a new PC with W10 already installed

I get blue screen of death every ten min and restarts. Oooft. What a headache

Me too, I have a Dell laptop, I get INTERNAL POWER ERROR and blue screen restarts my PC about 20 to 30 seconds after I log-in

No sound here. I don't feel like using or exploring Windows 10 at all because the basic function is not working. Why did it say my device was compatible while it was not?

Something happened. Posted via the Windows Central App for Android

No dramas on pc amd surface pro 3. Winning :)

Only amusing thing on my Surface Pro 3 was that after the upgrade, the (Microsoft Brand) type cover wasn't working and the SP3 didn't seem to know it was there (despite it being attached before and during the upgrade.) I removed the type-cover and re-attached, then it "found" the device and downloaded a driver for it. Even then, it didn't work until I rebooted. All normal now, but really, Microsoft -- you really should put the driver for your own type-cover in there. I don't know what percentage of SP3 users use the official type-cover, but I would guess it's pretty high. While the type-cover was not working I got a window asking for feedback on how my upgrade went.....of course I couldn't easily type a withering response with no keyboard (and I was too frustrated to bring up the on-screen). Now that it's working I haven't gotten that feedback request again! It's like they know....

is anyone else having directx11 instead of directx12 on windows 10??

Holy hell. Where is the 'Play To' other device options with the apps now? Are you kidding me? STOP REMOVING STUFF ON ALL YOUR UPDATES, FOR CHRIST SAKE.

1. Internet connection is unstable.
2. Pin to start and unpin from start doesn't work right away. Only after restarting the changes are visible.
3. I cannot send emails with Outlook 2013
4. I cannot download new apps from the store.
5. Cortana doesn't work. I get the message "something went wrong, try again later".
6. Long delay before the lock screen opens.
7. Long delay when opening Excel. Other office programs work fine.
8. Edge is slow. I couldn't browse through Windows Central at one point. My windows 10 mobile TP has less bugs then Windows 10.

exact same issues others are having!..especially long boot time.

The only problem I have is I'm not able to send emails using Outlook 2013. I've tried everything I can think of but nothing works apart from being able to send microsoft test emails when re-entering my details, but normal emails still do not send. The main message I get is that the error states outlook 2013 is not corrected, but I can receive emails fine. Anyone one else with this problem?

Now I'm not able to install any apps, I now get error message try that again something went wrong!!

i am facing the same problem. any way you can counter this?

Same problem, but no solution I am afraid. Like you, I have tried everything I can think of but to no avail.

As far as Edge scrolling goes, it works with touch screen but is very slow with mouse. IE has been this way for a long time but Edge is even more pronounced. Windows Central is the perfect website to test this on. If we can have smooth scrooling for touch than it should work for the mouse. However, it's been this way since the release of 8.0.

This morning windows 10 update failed with error code 80200056 after failing to update the kb3055343 beforw. So right now im still on notify me when update is ready.

All of you are fucking disaster ... this is unbelievable amateur ...
so many error codes??!!! ... what is wrong with you? !!?

Just finished upgrading my one and only Windows machine to Windows 10. After installing 1 app I get this message: 'It looks like you've reached your device limit for installing apps and games from the Store on your Windows 10 device'. WTF?! I know you can only have 10 devices but I only have one!

Same problem here! Now I can't open any defaut app such as Calculator, Mail, Calendar, Photos and even the Store app!!! Any ideas, someone?

There will always be issues

I have a problem as I only see Bluetooth option when I right click a file and select send to... All other options are missing... How can I restore the other options???

Win Phon 8.1 Lumia won't connect. However, my Win 10 Mob Insider Prev Lumia 1020 will.

I've been installing Windows 10 for about four hours and for the last hour it's been stuck on 91%. Anybody any ideas what I should do? Posted via the Windows Central App for Android

my audio isn't working... that's my only issue right now.. trying to redownload my realtek audio driver

On Surface 3 - Tablet Mode is poor; I bought the surface 3 to use as a tablet. At present it's pretty useless without a keyboard. Touch gestures have gone (they worked well in 8.1) and the tiles are awkward to move around - it's a step backwards, maybe two steps, given the experience feels very much like one of those sluggish Windows 7 tablets from 2010. It's pretty unsophisticated next to the iPad UI. Also, Windows 8.1 was really responsive and smooth on the Surface 3, while Windows 10 is sluggish, unresponsive and not enjoyable to use. I do like the new desktop start menu, but the whole thing looks and feels like an early beta version. Also, switching out of Tablet Mode is just horrible if you had apps open as they layer themselves on the desktop in a really ungraceful way. My tablet now feels like a laptop without a keyboard and that's not why I bought it - I wanted a tablet to be a tablet but Windows 10 is not for users who want a largely touch experience. I hope they fix it but until they do I'm restoring 8.1. Disappointing...really disappointing. OH...they've messed around with syncing a Windows Phones too! The Modern UI App worked just fine in 8.1, just plug in and let it do its thing...now we're back to manually moving photos and videos around. Really?

I find windows 10 more responsive than 8/1

After upgrading my Win8.1 install the screen started to flash uncontrollably and I could hear beeping when moving around with the mouse. Did a clean reinstall from an USB media created by the Windows tool, mostly works fine, except I can't use my Win8.1 key to activate any more... Gonna give the support guys a call & a piece of my mind... They're not gonna like it.

"select what files and folder to sync on a particular computer" This is incorrect. You can only selectively sync entire folders, not files. This is in fact part of the issue with missing placeholders; Selective sync for individual files was a key component introduced as part of placeholders.

Windows 10 tablet mode is a garbage compared to 8.1

I agree the table mode format is kind of ugly, with the big spaces between groups and the scroll up/down, instead of left/right. What I did was stick to the desktop mode and just prettied up and widend the tiles placeholder in the Start Menu. And it looks quite good! I like it now!

Can anyone help me out? i seemed to have encountered a pretty major issue. Everytime i try to open any kind of settings window it instantly opens and closes, so frustrating. Looks good but so far i wish i stayed with 7 lol.

Same problem here. I"m on hold with microsoft now, hoping for a solution.

here's the fix (replace spaces with periods) answers microsoft com/en-us/windows/forum/windows_10-other_settings/settings-doesnt-launch-or-launches-the-store/ec439819-7ee4-4b4d-abdd-35d82e04c55f

Here's the fix It worked for me (Can't post links here so replace the spaces with periods) answers microsoft com/en-us/windows/forum/windows_10-other_settings/settings-doesnt-launch-or-launches-the-store/ec439819-7ee4-4b4d-abdd-35d82e04c55f

I am having the exact same issue after uprgrading to windows 10 earlier today. I have spent several hours online trying to find a solution for this issue with no luck. If you find a solution that works please share and I will do the same.

same issue here! everything else works fine, the settings menu does not.. windows + I, the window appears for half a second and closes down.. i read somewhere that it was recommended to disable your antivirus before upgrading to windows 10.. i did not and it messed up my antivirus installation (ad-aware free antivirus).. it said it was installed but most of the files were gone and it wouldn't load.. i had to uninstall and install again.. i have searched around and it doesnt seem to be a common issue.. waiting for a fix for the bug

I am not able to unpin tiles from teh start menu on Surface 3. Anyone has the same issue?

Error downloading windows10 update. Code 80240020.anyone here?

Start screen & tile layout sync. Option of allowing multiple device installation of the same app.

The biggest gripe I have is the quality of drivers, everything on the workstation works out of box apart from the Quadra K4000, it just doesn't like dual screen rigs. It crashes the WDDM, reverts to single display and/or ping pongs between them. Considering this is an old card, and it works find under Win 8.1 it's pretty unacceptable for a top tier manufacturer to screw up so badly. Win 10 works fine on other rigs I've test it on, but I'll have to revert this rig back to Win 8.1 for the foreseeable future.

It's restricting my access to my User folder on my Surface Pro 3. Edge can download files to my Downloads folder, but if I try to directly copy a file to Documents or Pictures or try to delete a file I get the Administrator prompt asking me if I want to continue. If I try to save to one of those folders from an application, it tells me that I don't have permission to save there and to ask the administrator (I'm the administrator). Files in my OneDrive folder open as read-only.

I hate to say it but 8.1 was much smoother and more organized than 10.10 is also much slower than 8.1 it seems like I downgraded instead of upgraded.. I will not upgrade my other desktop until they get a better handle on the situation.

Clearly Windows 10 is a serious downgrade, On my computer Corina and Microsoft Edge are not able to access the internet. I believe this means that I am not getting updates. Google Chrome and Firefod are fine.

Easy fix for WiFi limited connectivity issues when starting up or waking from sleep. Go to WiFi adapter properties in device manager and disable the option for allowing Windows to put the adapter to sleep. That has solved my issues requiring a reboot to get WiFi connected.

Don't show this to Rubino. He'll have a heart attack.

I just downloaded Windows 10 to my PC. All went well except it's stuck on Airplane mode . The only option in Airplane mode is On! I can reboot and I get wifi back but then goes back to Airplane mode again. Anyone having this problem?

that sounds like wifi issue everyone is talking about (cause?). Someone mentioned the sleep mode (few posts above) just fyi.

I have problem whit the game Wargame:Red dragon. It's always crashes after 20-30 min....

The video card makers will need to go through a few driver revisions before gaming is smooth unfortunately. That's why I'm holding off my main rig upgrade for now.

I have a problem with system stuck on restart. Every time I have to hold the power button to reboot.

I have this problem too :(

a pair of surface pro 2's here that won't fall or stay asleep...

Odd. I used my surface 3 without the keyboard for a few hours today and had a good experience. Gestures work, it's smooth, the touch interface is solid. I prefer this over 8.1..

you seem to be the lone gunman here. I'm still weighing whether to put my VAIO through upgrade.

How do you share content of apps, play-to and open the settings?

First reserved it and I deserved it... Yesterday full night into the windows 10 updating . Finally got it. Iam in Qatar so please friends I need my Cortana assistant in to my laptop so how to activate it please help me friends!!!!!... Waiting for ur kind reply.......

http://windows.microsoft.com/en-us/windows-10/cortana-is-not-available-i...

This sucks... Surface Pro 3 upgraded and I can't log on to the Internet or see any Bluetooth devices... Any fixes for this...

So far.so good here, 3 machines upgraded.. Surface pro3, z220 hp, hp envy.. No issues right now, still early but very promising.

I found it had both UK and Usa installed check again, remove usa

My only complaint is how edge works in touch mode, not as good as IE was.

I can't Install an application because everytime the UAC Prompt pops up an error message comes up. I can't even run Command Prompt as admin because of this. Error message is -1073741819

All fine on my install although it took a while. I had trouble activating Windows at first but after I did 2 new security updates it activated. Not seen that many issues yet although there does seem to be one where it's a little slow going into some settings and it keeps saying the words "working on it". I like Groove Music it found all my music fast and added album art. Overall I like it and a nice new look

Does anyone have any ideas as to why my taskbar is unresponsive? I have tried restarting Windows Explorer and it doesn't work. I have also tried signing out and then back in and then it works only temporary please I need help.

Im having issues with the taskbar and start menu they don't respond at all Need Help ASAP

Same and I have no clue how to get it to work I might restart, but it will probably be the same result

I have the same issues. Please help!

I tried to restart as well and also tried to reset taskbar from task manager and no positive results

Blue screen, little white dots going round and round. That's as far as it'll go. It'll only start up in safe mode. Been this way for almost 12 hours. I'm lost, Microsoft told me to call back in 24 hrs if it wasn't fixed.

After upgrading my HP to Win 10 I noticed the desktop background is the same as my Asus laptop. It shows a picture of 2 laptops back to back in the middle and says "Asus X Series" in the left corner. What's up with this?

I have error for the upgrade process though Windows Update. Is this because of increased traffic at the current time of the upgrading process going global? I am in Australia, is there a better time in the world to try the upgrade process thru Windows Update? I will just keep hitting the try again button till i get it. Or maybe, as I'm now thinking to just download it thru bit torrent and then install it

I've upgraded 3 laptops one of them 7 years old, and 3 tablets, all different models and have had no issues other than installing a few drivers afterward. Most of the issues that everyone is describing can be avoided by reading the information that Microsoft provides on their site for compatibility and support. You also have the option to take it into a Staples store or a Microsoft store if there is one in your area and have them perform the upgrade for you free. Alot of these issues can be resolved quickly. Alternatively, there is the option to revert back to the previous OS.

I am loving Windows 10. Yes there are issues, but WTF guys it is just a new OS. Wait for 2 or 3 updates. Windows 10 is awesome,,,

My problem on Win10 is that my notebook (ASUS G53SW with Core i7 x2920) is ALWAYS in 100% in use. Even when I just perform a clean installation. I guess it happen because my chipset is out-of-date and I can't update via Intel Site and WU doesn't show any update.

I just found a trick for the taskbar issue, try to reboot in safe mode and that should fix that but looks like apps are disabled

I don't like the personalization settings, the colors to select ate too limited and there isn't my favorite one: Between yellow and green, also bright. I had to use one theme that I had saved through the control panel. We need to have the same level of control of personalization like we had in Windows 7!!!!!!!!!!!!!!!!!

How to enable guest account? I cant find it.

I think that may have changed to "Other users", in control panel, go to user accounts-manage another account-add a new user in pc settings. hope this helps :)

ok you guys, after some messing around i finally found a cause for a) blank lock screen b) missing icons on desktop c) apps not popping up. so aparently windows 10 wants to think your on a split monitor setup. To sign in youd have to pretend you see the screen and just type in the passsword etc. By hooking up an hdi i found out that my monitor was in the other monitor space, which explains why my icons were gone, they were just on another screen. as for the apps not popping up they were just on the other "screen". Hope this helps some of you guys having problems. My recomendation would to move all your icons to the preffered screen then go into screen setting and only broadcast that screen, thats the only way i could fix this bug.

Think the battery life on my SP3 has been reduced to nearly 4hrs. Not good.

Help me!!!! I upgraded to Windows 10 and I was happy, When I went to log into my user on my PC I got a error message saying "The User Profile Service service failed the sign-in" "User profile cannot be loaded". What the heck?? I now have almost no access to my user profile. Please HELP!!!!!!

Anyone else got Avast 2015 working? I had the issue in the preview and now in the live OS that the firewall cannot start

My Dell laptop with Windows 8.1 Pro boots up, I click the screen to unlock it, type in my password and press Enter. Then I get a black screen with a cursor and explorer.exe running in the Task Manager, along with AVG and other processes. BUT I don't see anything else. I didn't know that we had to disable Antivirus software prior to updating to Windows 10. And I didn't think about disabling my Antivirus, as AVG said that it is the most compatible antivirus in Windows 10. Do you think my problem is related to the antivirus not being disabled?? Or some other reasons? I can see that some people had this black screen problems in the past, but what brings me here is that it is happening for the 1st time for me and I already reserved my Windows 10 long ago. What do you think guys??? And What can I do for my black screen problems pls? - Cedric.

Microsoft also forgot to mention that if you had 8.1 media center installed or the old Windows mobile software, its 8.1 update system would download and prepare w10 but then throw a warning of attention needed, hitting the provided check now button just closed the update window, opening and checking for updates then just showed... You are ready to install updates automatically?? W10 install would just vanish leaving the user confused

Will win 10 will work on my laptop configured 500gb HD, 1.8 gh processor, 6 GB ram or would it make my system slower?

Look i can get pass the boot it tellin me me logfile srt srttrail.txt . I had window7 starter i got the windows 10 now im noy makin pass auto repairing

My Bluetooth Started working after installing W10. It was dead as a toenail before.

I cant use the apps on my windows 10. It closes before I even open it. :(

I still havent got Windows 10.

NO NETWORK CAPABILITIES - NO WIFI PAGE, NO BLUETOOTH on SURFACE PRO 3 ===================================================================== I ran and updated windows today and received the Upgrade To Windows 10 prompt which I clicked, after about 20 minutes of installation the installer completed and I received the login to windows screen. So far so good but I have NO NETWORK CONNECTIONS: - Under Device Manager, Wireless Network Interface is showing as installed and working correctly - NO WIFI page under internet settings page hence no WIFI - No Ethernet connection - No Bluetooth - Windows not activated I went out and purchased a separate wifi usb dongle, and a USB ethernet connector and neither form of connection gave me internet connectivity, this is a disgrace, had no choice but to rollback to windows 8.1

I'm having problems upgrading. All the installion files have been downloaded. I checked the Get Windows 10 App "Check you PC" part and there was a message asking me that I need to uninstall the HP ProtectTools Security Manager during the upgrade.

So I went for the upgrade, had windows 7 pro on my desktop. Not trusting MS , I cloned my disk first so then the fun begins, it loads ok , takes forever. BUT now 1. I can not change the screen resolution , it is greyed out at 1024x768. my monitor is 2560 x 1600 nice on 30 inch monitor NOT wtf. 2. It wont recognise my 2nd monitor (40 inch 4k monitor - 3840 x 2160 ) did the reload wipe out my nvidia drivers ? 3. I get a message that says my network card is set wrong do I want to fix it, gee what if I say no . so I say yes and my network connectivity is now non functional, no internet , no nothing. cant download a nvidia driver in case thats the issue with the monitors So I say forget it and clone myself back to windows 7 to get working again, what crap, spend 3 hours on this junk for nothing , typical MS not ready for prime time.

3 irritating issues within minutes of launching W10. 1) Very difficult to download anything from the store. Keep getting "Try again" message. 2) When I try to "Get social apps" to the people app, the store tells me Your search for " " had no results. 3) After finally downloading FB and Twitter, neither appear in the people app as options to integrate the contacts.

Agree...with each release, Windows is becoming more junk. OS written by rookies. Sorry...have instructed my IT guys not to upgrade any of our pc. I'll fire them if they do cause we can't afford our pc to be down & disrupt productivity when they are working perfectly now.

Windows 8.1 is very stable, I agree that this upgrade is really buggy, specially in my case since I'm getting Blue screen than restarts my PC with error INTERNAL POWER ERROR.

The only way to fix any issues after upgrading is reset your pc to uninstall all programs and apps. That worked for me, fortunately I have all the installation files to re-install everything

Please help. I downloaded WINDOWS 10. I now cannot open or use Google Chrome. What do I do? Very upset.

I had the same issue, i uninstalled chrome, then reinstalled, then went to default programmes and made chrome my default search engine..now works fine :)

Windows 10 was not ready for launch, I upgraded a new 2015 Dell laptop and I got a Blue screen telling INTERNAL POWER ERROR and my PC rebooted, my laptop is bricked now, I don't know what to do.

I completed the upgrade and discovered that I don't have Edge at all. The browser is Internet Explorer 11...

I am having problems with the start menu and the task bar. When I am in Settings app doing something, it crashes. and then after that I cannot open the start menu, cannot access the Action Center, Clikcing on volume icon in taskbar does nothing, clicking on date does nothing. right click on any open windows in task bar does nothing. Am really stuck with this crappy unfinished Windows version.

When I search it shows my stuff first then the web. Maybe you have to give it time to index your computer.

I have installed the leaked version i.e. Build 10176, how should i update it to official one.

Videos not playing in microsoft edge. Have sound. Videos playing fine using chrome or firefox. How do I fix this?

Decided yesterday to stick with Windows 7 for time being. Looks like it was a good decision.

I have windows 7 still waiting

I have only been able to try a few things on my Nextbook Flexx 11 since the upgrade finished at about 11:50 last night (just barely snuck in on the "10 Day" action) but I did make sure internet worked, sound worked, screen rotation and tablet mode worked, the store and Edge work, the desktop only versions of Outlook and Excel 13 work, desktop background slideshow works, Croasy Road works. Bluetooth seems to work but the device I tried to use was basically dead. I'll have to try again later with something conclusive. I am seeing a lot of people saying they've had problems downloading apps or integrating social media into the people app. I have not tried either of these yet, so maybe I'll run into problems there. Who knows? I also like how there are less trackpad gestures now. There were sooooo many weird gesture things in 8 that with that little tiny trackpad on my Flexx, I was CONSTANTLY activating things I didn't want to, leaving apps accidentally, pulling up menus, and all kinds of unwelcome chaos. 10 makes this thing faaaar more useful! ...so far, the ONLY thing I have found to actually be misbehaving w 10 on the Flexx is the coloration of the start/task/note center: It's supposed to pick a prominent color from the desktop, and then change colors as the background changes. Well, when you first set the feature, it DOES choose a color from the background....but then it DOESN'T change as the background changes. If you want to change the color, you have to go in, disable the feature, and re-enable the feature, at which point it's still not fixed, it just changes itself to match whatever other desktop is present at the time, and then sticks on that color instead. Also, the color choices it makes are different (and worse) than the choices my old HP junker on Insider Preview build 10240 makes with the same background. For instance, the background with the bright green tent against the night sky with just a tinge of burnt amber on the horizon: on the HP, it chooses a rather lovely vibrant green theme to match the tent that's prominent in the pic. On the Flexx, it chooses that weird, unappealing burnt amber color that's barely even there. I noticed the Flexx also making less likely color choices back when it was on 8.1, but assumed it was an OS thing, rather than a device thing: Now, I'm not so sure. Weird. I would love to know how to fix this as the aesthetics of a properly working Win 10 are a HUGE part of why I like it so much. My Flexx may "work" right, but it doesn't really "look" right, and that's a big bummer. Nevertheless, I know that compared to the kinds of problems others out there are having, I know I'm still SUPER blessed to be in the spot that I'm in. Still, that doesn't mean that I still don't seriously want this one fixed. I did dabble with tablet mode in the HP, but since it was a non-touchscreen with a traditional mouse, there wasn't much benefit to my being there, so I didn't spend enough time with it to notice it's hugest problem: I'm perfectly okay with them switching the orientation of the start screen slide from horizontal to vertical...but we SERIOUSLY need an unlimited slide with unlimited number of tiles on the start screen a la Windows 8. That is a huge wet blanket! The fixed cluster of three is no bueno!!! Edge needs to be able to go full screen too! Posted via the Windows Phone Central App for Android

I want to know if anyone else airplane mode is stuck. I cannot turn on my WiFi at all because I cannot turn off my airplane mode.

Yes, I do! I don't have an Off Option in airplane mode, very frustrating. The only way to get wifi back is to restart the computer. I've been checking all over the Internet and you are the first person who has this same problem. Wifi stayed on for awhile after I did that, but then went off again.

BTW, just turned in my PC on and I'm online. I tried to turn airplane mode on and I can't do that either, weird.

Installation onto my Win7 laptop was a breeze. Now, though there are problems with 1: HERE maps not showing properly 2: the NEW Bing maps says I don't have an up to date browser, so that is a no go too 3: OneNote from the store is useless.... other than that, I like it

I have to PCs that I am upgrading from 8.1 On one PC everything is good except that when you go to Youtube the ads will play but not the video I select to watch. It errors. Anyone know how to fix this? On PC two I an trying a reinstall cause I can not access the PC Settings. Has anyone else experienced this?

Since I upgraded to Win 10, and installed a frimware update, I have no sound on myu SP3. Windows says that there are no devices installed. Has anyone else had this issue?

I'm not able to load Windows 10 on a high-end Dell XPS because it tells me I need to uninstall Cypress TrackPad. I'm reluctant to do that since that's essentially how I mostly use the laptop. And when I tried, the laptop tells me I can't uninstall it. This seems to be an issue that a lot of XPS users have faced not just with Windows 10 but with Windows 8 too. Does anyone know a way around it? The Windows 10 upgrade won't advance without it and there's no way to bypass that screen.

If you suffer with the black screen with the pointer only as i did on an Alienware well capable of running anything hit F10 while booting revert to previous version so you will have your computer back working as it was....hopefully they will be able to fix that and other problems...

Im having issues updating to windows 10. I think my S.T.R.I.K.E 7 keyboard or my USB driver for my motherboard could be causing the issue. Also the first issue I had was with my Razer Ouroboros gaming mouse with razers driver update software. It required me to have an active ethernet connection but after I updated to the latest software before the install the problem went away. S.T.R.I.K.E 7 keyboard does not have any supporting drivers as far as i know. :(

is there a way to pin specific websites to te taskbar like in internet explorer? I just find the pin to start menu option but not to the taskbar.

It's killed all my interest based media, BBC iplayer, Netflix app, Netflix on browser all black screen but with sound, live streaming is a green screen and YouTube works sometimes. I love the look and layout of Windows 10 but it's made my laptop redundant for what I general use it for. And because I reinstalled windows 10 to help address the problem I can no longer go back to the awful 8.1 but at least it bloody worked!

The keyboard does not show up in Word 2013 and Continuum does not work automatically on Acer iconia w510

I had problems with activation but apparently it just needed time (or disactivation of antivirus protection). Now everything works great, except i can't open file explorer normally and everytime i rightclick on a file within file explorer the entire UI freezes and the taskbar disappears and restarts. The only way i can use file explorer really is to open it up to some kind of shortcut and then use it with caution. Anyone else have this problem/know a fix?

Can someone please tell me why my brank new 2 month old computer, is flicking on and off after I installed windows 10? I can't do anything with it and I don't have any knowledge about computers. Thanks and pissed off!

HEY PEOPLE,DONT YOU UNDERSTAND?NOW WE ALL ARE TESTERS,AND I DONT LIKE IT,DOWNGRADE TO 8.1,MORE STABLE,MORE CPMFORTABLE FOR TABLETS,I DISSOPOINTED,REALLY...

I feel the same, I feel like I'm a beta tester of a product that was rushed to market and worst of all is I don't get paid for testing Windows 10. After my PC rebooted so many times with a blue screen, I decided it was fine to rollback to Windows 8.1, I finally rolled back and I'm not upgrading until AMD and Microsoft fix their crappy INTERNAL POWER ERROR issue.

I don't know if it is just me but does your YouTube work properly? Cause my YouTube is not loading the video right

Hello, Musicfreak4327 (I'm a music freak, too). I upgraded from Win 8.1 to Win 10 this afternoon, and YouTube videos played in half-speed with strange crackling audio. Since I had just completed the upgrade (and a DVD's "extra features" played back perfectly but MP3s through VLC and Windows media centers would only play that weird noise), I restarted the computer. I then had to force a hard shut down three times because the computer appeared to have gone temporarily insane in its attempt to start. Finally, I got to the Start Menu, went to YouTube and VLC and now audio and vido playback is fine. I hope you've found a solution; hearing from someone... anyone here can be of some solace, I hope.

Live Tiles: The live tile function does not seem to be working for email or people (contacts).

Hopefully someone has a solution for my desktop not booting up at all. After attempting to upgrade from 7 to 10, went to bed, this morning It was making a weird high pitched beeping noise but never booted, so I did a hard shut down. Same thing happened several more times. Last hard shut down, no noise, was hoping it worked it self out, but still never booted. Can't get anything on my monitor but black, so I can't work on it from any menu. Wish I would have held off or read the boards prior to upgrading. Afraid it fried my desktop.


I upgraded a ssd win8.1 pro via the icon and immediately reverted it back. These were my issues 1 graphics messed up screen size on screen so manually find new screen driver 2 kaspersky wiped from machine along with my 12 month subscription 3 had to install classic shell start menu as windows 10 does not make sense, more clicks to get to where you got to with windows 7 and 8.1 with one click 4 slow boot slow shut down even after hours of trying to source the culprits 5 generally the system was slower and less responsive that windows 7 or 8.1, even with tweaked settings 6 i tried this on a ssd and spinning drive, one upgrade for win 8.1 and the otehr for 7 7 when i tried upgrade with windows 7 it was not there so i had to go and get it manually as a stand alone 8 lastly, i like windows, i liked 8 when everyone trashed it, because i could work around its faults, but windows 10, if i cannot get my win 7 drive that i put the new win 10 to work at least as fast, i am going back to win 7 with that one as well 9 bad on you kaspersky, and bad on you microsoft, as an insidder i was expecting more, but so far you have failed me dismally

I suppose Windows 10 was rushed out so OEMs can put it on new PC's, but is bad for consumers which already had Windows 8.1 This is bad news, since looks like the only people having nice Windows 10 experience is all those who will buy a new device.

I read somewhere that the poicy editor GPEDIT.MSC can be used to configure Windows 10 so that downloads are user controlled. Might help with the Nvidia problem. Plus it sure would be nice to decide for yourself which features to allow.

Is there anybody who is having problems sending e-mails from outlook after upgrading to 10. I receive all right, and teh accounts test ok, but i cannot send. Any ideas? thanks

My surface pro 3 upgrade successfully. After i use new windows 10 for 30 mins i decide to roll back. That sucks. My one drive continues tell me cant log in based on no interenet. it is funny that i try to go to microsft web page to find answers. Yeah i find some solutions on google, but when i click into it it show can not display the web pages. detail shows interenet problems. I can not even open this web page. Now i leave a comment here that means i roll back to windows 8.1 pro. I there anyone have same problems on viewing some websites. login problems after upgrade to windows 10 like me?

Tried multiple times to upgrade Surface Pro 3 (The flagship tablet - and my main work computer)... After the upgrade was completed the network did not work (wireless or lan line)... Device Manager see the hardware but can not get any network connectivity. Went right to Microsoft Store and they asked me to leave the Surface for a few days while they figure out a solution (again my work computer)... Microsoft Technician told me it will take a few hours to role back to 8.1 (which is a GREAT feature and a life saver since the days past and it only took 10 minutes to get my 8.1 back...) Tried again 2 more times as I saw different things to mitigated on the web but no luck... Back to 8.1 I go... It is a shame though that their own hardware is not capable of working.... (oh yeah the install forces you to uninstall virus protection which was interesting (Symantec) so I know that can't be the cause of it)...

i cant use my laptop keyboad in windows 10. i am using on screen keyboad to write this !!! please help me

When I go to watch a movie on Firefox I only get the sound and a scrambled green background. Any solutions?


Painful experience. Wouldnt recognize Nvidia GTX560 craphics card until I forced the driver from NVIDIA site using 8.1 version then updated it to Win10 version. Dell P2414T monitor not recognized until graphics card resolved. Have lost Bluetooth WIDCOMM 365 that came with my Dell 8300 system. Cant get it back. Outlook 2010 is also refusing to send anything on either Hotmail or GMAIL. MS Money wants me to install IE6! Very frustrating when using MS Mail, if drafting an email and new email comes in, you are automatically shown the new email whilst what you were drafting goes to DRAFT folder! MS Mail needs unified inbox. Desktop upgraded through Windows Update but failed on my Dell XPS13, now trying using the media creator tool.. let's see......

I waited enthusiastically for the final building that officially was launched on 29th this month, but sadly I can't sign into anything that needs Microsoft account -this includes cortana-. I tried to reset my account password, restart the pc like a century times since I upgraded from my win7. Don't know what to do now.

I cannot accessthe settings app. It quickly flashes then closes. Any suggestions?

wut the wut ????
My TOUCH SCREEN lap top is no longer a touch screen after Windows 10. How on earth did this happen and how do I change is?


I was wondering if Microsoft remove the touchscreen feature on Google Chrome because I can't use it, I just upgraded to WINDOWS 10. I hope you could help me. Thanks :)

Upgraded to Win 10 on July 29 from Win 8.1. Currently my biggest problem is that the Edge browser does not work, Cannot go to any site that I enter. Chrome and Firefox work fine. Internet Explorer is still on the computer and it works. Cortana works when I change browsers - does not work with Edge, I am using a HP laptop with a AMD A8 type processor.

Guys the solution is simpler than you think,when you do the upgrade and if you want to clean install,just download the Magical Jellybean Keyfinder,write down the CD key,and when you reinstall clean,enter the key you wrote down,it works like a charm,the windows 8.1 key is useless after the upgrade........

I have an Acer Aspire E 15 E5-511-POGC, a relatively new unit that worked perfectly in the Windows 8.1 environment. This afternoon, I upgraded to Windows 10. Then I played the special features to a DVD, a documentary using VLC medi player; picture and sound worked perfectly. Then I wanted to listen to music, but all I can hear is crackling audio. I've tried listening to MP3s through VLC and Windows media center, but no luck. Then I went to YouTube where I discovered that video playback at that site is now in slow motion with crackling audio. Waa! What have you done to my PC, Windows 10? I don't dare try calling anyone with Google Voice. Please fix this! Fred

Update: After a friend suggested I restart the computer, I had to force a computer shut down manually three times before I could actually get to the Start menu. The audio and video problems appear, thankfully, to have corrected themselves.

Windows 10 Hell: I updated to Windows 10 yesterday; when the audio/visual didn't work (with crackling audio and half-speed video at YouTube), a friend suggested I restart the computer. This fixed the a/v problem, but only after forcing a hard shut down three times in a row. After a good night's sleep, however, my poor Acer Aspire E 15 needed a hard shut down three times in a row after I turned the computer on this morning. With each hard shut down came a different scenario: 1. First, I saw the Acer "Welcome" screen, and then a black screen... and nothing;
2. Secondly, I saw the Acer "Welcome" screen, followed by a greenish blue screen... and nothing.
3. Then, I saw the Acer "Welcome" screen, and then the little circle with dots appeared, indicating that the computer was thinking... and then nothing;
4. Next, I saw the Acer "Welcome" screen, followed by a choice given by Windows to "Resart" the computer or, I think, "Recover." I've spent over fifteen minutes this morning hoping and praying that I would arrive at the "Start" screen. Finally, the computer turned on, here I am, and while I've been typing this, messages have popped up in the lower right-hand corner of the screen, obviously a new Windows 10 feature: the first pop-up appeared half-assed, meaning that the last line sat too low on the screen, and I couldn't read the whole message. In fact, both messages appeared and quickly disappeared, not giving me enough time (without super human eyes) to read them. Windows, Wherefore Art Thou?

After 75% installation, i got blank screen. What am i supposed to do. Please help me. For the time being, i resatarted my pc, and it was revovered to win7. I am re downloading win 10. Will try again. Please suggest, what should i do if i encounter that problem again ??

Is anyone else having trouble connecting their Samsung Galaxy Note 4 to the PC? I have tried USB cable and bluetooth. Also Smart Switch and Kies 3. Any Suggestions? Thanks.

From India. On 29th July 2015, night I got installed Windows 10. (1) Goolge chrome is not working. I have uninstalled fully the Google Chrome I used in Windows8.1. Reinstalled from site latest Google Chrome. Still it gets open. But nothing work. It does not browse / surf. Settings / extension do not get open. (2) In windows explorer (Internet Explorer) edge with windows 10, there is no option to change the location of download. These are my initial trouble shoots.

My problem was that when I installed.Minecraft Windows 10 Edition the store crashed then uninstalled. XD

Store not Working in the last build

Please help! I did not have problems downloading and installing windows 10 but my laptop became gaga after the installation. The first thing I noticed was that the start menu doesn't work. I click on the icon or on my keyboard but nothing happened, so I restarted my computer. An error suddenly popped up saying that i had some sort of error( i forgot the name of the error, ERROR_BLAH_BLAH of some sort ), they reviewed everything and said that after reviewing, my computer should restart. When it reached a 100%, w/c means the review or whatever the heck they were doing were complete, my computer did not restart. I waited for about an hour but it still didn't, so I forced shut down. (I turned on my laptop and it did the same thing again, so I forced shut down again). On my third attempt, the errors stopped but more problems arose when I turned my laptop on, The task bar app icons were gone and when I hover my mouse over there, it was loading. I waited for a while but it still loads and my laptop became really slow. The start menu still doesn't work. Please if you have any advice or suggestions, please do reply. I badly need to use my laptop. Thank you and sorry for the long post. PS my laptop is an HP envy 15-j102AX

I had a similar problem, and posted what happened above. Please don't apologize "for the long post"; Windows needs all the information it can get in order to fix these problems..

I hope they are reading this, though. Sigh. Were you able to find any solutions to the problem? I badly need to use my laptop.

Update: After days of rebooting and hard shut downs, all other problems went away. My laptop is now working just fine but the start menu still doesn't respond :( The taskbar seems to be working fine now, though. I would appreciate any help. Thanks!

My major problem is: On our Dell XPS L502X, it does not wake from sleep when you open the lid. No mouse click or key press will wake it. Have to do a hard shutdown from the power button. Worked fine in Windows 7.

To the author, just so that you know, you can deactivate online search in the Windows Search settings which applys to Cortana.

I'm having a big problem with VPN. I have a WiTopia acct and con'e log in using either a dedicated client or by using windows VPN. Might have something to do with device drivers(Connection say "unavailable - device missing"), I'm still working on it.

for some reason after i installed windows 109, google chrome won't load any more web pages while microsoft edge. This is extremely frustrating because i use google chrome on a daily basis and i use the bookmarks feature often. If anyone knows why this is happening, please HELp and let me know. it would be apppreciated.

I cannot play any of my videos on any player

Have you tried VLC media player? as thats the only one i can get to play my video's!

I guess we will be waiting for Windows 13 next, as every version of Windows seems to be worse. I restored Windows 7 after about 24 hours of agony. First the automatic download wouldn't install, and it automatically restored Windows 7. Then it started downloading again, and did install. However, there must be something wrong with the NVIDIA video board controller, as the screen resolution kept jumping all over the place instead of staying at the recommeded 1240 x 1024. Through this, I was also upset that the Settings were not complete, and various parts of the Control Panel were submerged in the interface. I also didn't like that the colors of the drag bars in the windows couldn't be adjusted, the taskbar wasn't transparent, and the tiles on the Start Menu didn't make sense to me. I certainly had no reason for Cortana to hog half the taskbar, but there didn't seem a way to remove it. Fortunately, the Restore worked a second time, with minimal disruptions, except for a Westlaw Drafting Tools addin that installed the first time I ran Windows 10, but wouldn't uninstall properly without technical support.

I am having some minor issues including the new virtual desktop feature not working correctly. I'll open a few apps on desktop #1 and switch to desktop #2 and open a few then when I go back to #1 the apps I had previously opened are now closed? I also signed up for a MS Office 365 subscription after installing W10 and am unable to activate any of the MS Suite apps on my pc? Get error 0x8004FC12 when trying to activate using the activation wizard via internet option? Other then that a few games wont open but the OS is alright so far.

Practically NONE of my hardware was working - well, at least the important stuff. My wireless mouse didn't work, my wifi usb card wasn't working - even the SOUND wasn't working! It was a mess!

Guys I have a problem with the start menu.When I go to "All Apps" it doesnt show all the apps as it did in windows 7.Another problem connected to that is that when I search for a programm such as skype(which it doesnt show it the apps tab) it cant find it instead it tells me to look it on the web. PLz guys it irritattes me so much..

After Windows 10 upgrade all my Document files ar Read Only, Even as administrator I can't correct the problem. How do I corret this?

I have problem with the driver NVIDIA V. 341.74 stopped working often.

Problems with NVIDIA (8.15.11) not being able to hold screen resolution impelled me to uninstall Win 10.

I am not able to install apps from the new Windows Store. Whenever I click on a app the store closes and the system returns to the start screen. Anyone else having this issue?

whenever I touch the screen it automaticlly right clicks, please help

Upgraded to Windows 10 from Windows 7 two days ago. The download of windows 10 took nearly 5-6 hours (I'm in Australia so that's probably one of the reasons as our internet speed even though its cable is really slow). Install appeared to go well. Windows 10 seemed sluggish when I first began using it and some of the apps froze on first use. iTunes and Steam didn't recognise my computer on first log on, so I had to reauthorise my computer and my firewal and virus programme completely disappeared, so I had to reinstall it. Nearly everything else seems fine accept I'm on a LAN ethernet and less than 24 hours after install began to experience intermittent connection problems similar to what wifi users are having. We have other devices using the same Internet and they are still working fine on WIFI so the issue is the computer. Usually happens when trying to watch Netflex (either in Chrome or using the app), but I've also experienced connectivity issues when using other apps too, its just usually more annoying when on Netflix. I've attempted varioius things to fix but the problem is persisting. Hoping there will be a solution soon as I've noticed other users also have this issue over at windows support.

Yeah there is some of the problems that i've experienced after upgrading to Windows 10 which is : Can't open InPrivate Browsing Window in Microsoft Edge Can't use Fingerprint to sign in to Windows and no Windows Hello ( and fingerprint) option in the Sign In Options in the settings Local Family Safety was removed... Have to use online Microsoft Family settings to monitor and set time/curfew etc at http://accounts.microsoft.com While there is also, upgrade problems such as , Install process always failed on one of my PC... need to use ISO file created using Windows mediacreationtool to upgrade...

The scrolling side of my trackpad has stopped scrolling. It was working mere moments before the update, and wasn't afterwards. I've reset the trackpad and diddled with the driver, but still no scrolling. This is, frankly, effecting everything I need to do in a very serious way. Suggestions, please?

I'm having some problems with my bluetooth. At startup it would work properly, but after a while it would just drop the connection to my bluetooth headphones. It will still detect them but no sound after that, it sends it over to laptops speakers even if i default the playback device to my headphones.

Windows 10 will open Google Chrome but doesn't load any webpages on it!!!

I uploaded 10 today and all was well until I tried to open some of my bookmarked sites. Site name appears but nothing will load. If I can't talk to my dog rescue people, 10 is gone tomorrow.

Has anyone with an ASUS had an issue with their mouse? I have a TouchPad and I can't get my mouse to work even after a restart.

Upgraded, can't open Facebook, YouTube and a few others. Could open on W7 before, can open using Edge, just not Firefox. I prefer Firefox because it syncs my settings and handles auto-fill the way I like. Not to mention I have a bookmarks bar. But either way, still can't open Facebook or YouTube in Firefox since I upgraded to 10. Really like 10 BTW, no plans on changing, but it would be nice to either fix this or get some of the features I like from Firefox on Edge. Like sometimes I'll be logged into something on Edge and when I tab back over, I have to log in again, and the auto-fill isn't populating when you try.

Gday Guys, I have a toshiba notebook, I have downloaded the windows 10, it isnt compatable for the tablet software.
My problem is, I started up the laptop and my mouse is there on the log on screen but then once logged in, it dissapears and i'm unable to use either of the buttons.
I tried going through the mouse settings and even tried enabling "ELAN", that got my mouse pad working but not the buttons.
Plugging in a mouse worked but as soon as I take it out, the problem occurs. Any ideas guys? Thanks

I have moved from Windows 7 to Windows 10 and not used to the new Start menu. I downloaded a program I want to use but cannot find it to open the darned thing. Help!

Installed. All seemed good. Then noticed then buried noticed can't change brightness. It's stuck on high. Then noticed my part plans except balanced disappeared. With the inability to change brightness my surface would run out of battery in a couple hours. Had to uninstall back to 8.1. That wasn't without issue. After uninstall the mail app and a few others would not load, and one note. Had to uninstall and reinstall them. Seems good now on 8.1.

Hey guys, I noticed there are some people have problem about Limited Wifi. I encountered this problem from previous builds and this is how I fixed it:
Go to modem setting using you modem IP adress Go to Wireless settting and change encryption from TKIP/AES to TKIP. This works for me. This problem has drived me crazy for days and I have no idea why encryption is the reason.

I cannot get past the welcome back screen. I have waited over an hour and still the same window.

Bluetooth and speakers not working on Dell Inspiron 15 after the update... So disappointing...

Yep. That's why, as much as I'm looking forward to 10 over 8.1, I'm going to wait at least a month before I get the upgrade. Hopefully, most of these issues will be worked out by then.

My windows store app will open then close within a few seconds. Can anyone help me?

i can connect with the other browsers to the internet but i think Cortana should not auto identify with edge for now as edge doesnt even say connected to the internet. I've checked all my settings..router and ethernet card and i am not sure what to do it says connected but in windows 7 i also had the problem where the icon shows no connection but yet i can connect via other browsers.

Windows 10 Install won't complete, wont even start. After downloading , I come back ready to go, I click the OK Lets Continue button... (which says should take abnout 10 seconds to prep your device and then review the license agreement, and schedule upgrade.) and another screen pops up with Working on it animation.... about 20 seconds goes by and then the screen just dissapears, nothing else. NADA. Thats it. Thats all there is to Windows 10, is a broken install. If they cannot even get the install process to start, should I have confidence that the operating system will even work, let alone be any good? I guess I will be sticking to Windwos 7.... until they can prove they can even install their own software on a perfectly normal Windows 7 system. So dissapointed... but hey that is Windows motto right? Doenst work, period. Dont hope your windows product will actually work- becuase there is a reallly good chance it wont. That is typical Microsoft. That is their MO.

hello all! i just bought a new computer today with windows 10 already pre installed. When i use my microsoft edge browser i cant download anything. For an example, i wanted to download itunes to my computer. When i click to download it says thanks for downloading your download should start and nothing ever pops up. Says i have no downloads. Ive tried downloading multiple things. Then when i use google chrome or internet explorer everything comes up and prompts for the download. Anyone else having this issue?

I have a Dell Inspiron 3420 laptop that doesn't work ever since I installed windows 10. I started the installation process last friday evening and left home for a couple of hours. When I came back, my laptop was turned off and now it won't turn on. When I press the power button only the power light and the disc tray light activate, but the laptop doesn't make any internal sounds as it normally would when turned on and the screen shows no image whatsoever as if it was still off. If I wait about 30 seconds a beeping sound starts and it won't go off unless I press the power button again. Please help. I carelessly never made any backups for my files and would be glad to keep them and to get my laptop working again.

When I click Windows Button it scrolls down to the bottom. I cant use the browser properly. I am using Asus X Series. Most of Asus users are having the same problem. Please help me.

When I click on Cortana or any other app it asks me to log in. When I try to log in then a black screen comes and goes and then nothing happens. I am unable to log in and so that I am unable to use apps.Plz help............

I get why win 10 was free now... its like we r their ginnea pig to test their program, so they get to save on testing it for months with real techs... we r doing the job for free but we dont have a final product at all... but if its the way for microsoft to test run their program, why not !? Its a good idea but while its still being tested we cannot enjoy properly our device...

All of a sudden, I'm having problems playing 720 and 1080 HD files? This arrived with windows 10. I have a hd monitor on my Lenovo laptop. Geforce driver.

I updated form windows 8.1 to windows 10 on my HP 2-in-1 and ever since my computer has been running SLOW... I can't even play my videos (I have some downloaded for my college courses) on windows media player and if they try to play it runs super slow. Plus Skype constantly tries to open on my computer and my internet browser cant handle more than 3 tabs open at a time without shutting down... Is ANYONE else experiencing problems like these???

I updated from windows 8.1 to windows 10 and ever since my computer has been running SLOW... I can't even open my videos (I have some downloaded for my college courses) to windows media player. Plus Skype constantly tries to open on my computer and my internet browser cant handle more than 3 tabs open at a time... Is ANYONE else experiencing problems like these???

I am about to uninstall and go back to windows 8.1

I upgraded to windows 10 yesterday and having fits with it...my spacebar; F keys; numbers 1, 2, 3, 4; and characters above the numbers do not work on their own. I have to use the FN key at the same time with the above keys. Can't seem to find a fix....has anyone else had this problem? If so how did you fix it? I have a Toshiba Satellite laptop.

i downloaded the windows 10 and now my videos wont play. it wont play any facebook videos, i just keeps buffering. any suggestions cause im ready to uninstall 10 and go back to my previous version.

Sound, but no video on Netflix app. No video ,or sound on Facebook videos. Other than that so far so good. I expected to have some issues, especially with apps. It's free, and it's optional. What more can I say?

Since upgrading to Windows 10 I keep getting randomly logged out of my 123reg webmail account. Sometimes the email I am working on is saved in drafts when I log back in and sometimes not. It is getting quite annoying! Does anyone have this problem or a solution to it?

I can't use Cortans as I've forgotten my password, but my new one has been accepted....my other issue is that when I click my phto's it loads for about 2 seconds and then goes away....any ideas.?.

Anybody having the same problem I got? everytime I start my Laptop, All of my desktop shortcuts that I created disappears and even the programs that I pinned in the taskbar. And some of my programs are, missing too. anybody got a fix to this? Im using windows 10 on my Lenovo z50-70

ALL MY DRAFT EMAILS ARE GONE AFTER THE 10 UPGRADE. YOU SCREWED ME AGAIN MICROSOFT!!!!!!!!!!!!!!!!!!!!!!!!!!!!!!!!!!!!!!!!!!!!!!!!!!!!!!!!!!!!!!!!!!!!!!!!!!!!!!!!!!!!!!!!!!!!!!!!!!!!!!!!!!

HELP HOW DO I UNDO THIS UPDATE AND GO BACK TO WHERE i WAS YESTERDAY?????????????????????????????? PLEASE HELP

Somewhere under settings there is RESTORE and an option to restore to what you previously had (Win 7 or 8.1). You have to do it within 30 days of the install, or it deletes the windows.old directory.

My Upgrade to Windows 10 from Windows 7 was smooth except two issue(s). #1) Run DLL issue that informed about sysmenu.dll module was not found during startup. Used autorun to identify and resolved it manually. #2) a Error that is popping up at the startup "Dell Stage requires Windows 7" - not sure how to resolve this issue. I also faced Wifi issue, however the new update resolve this issue completely ! Cortana is sweet, Edge is powerful , However it is still young, When I visit Parse.com, could not add a condition to search my core data through Microsoft Edge browser. But I should mention "Good Job Microsoft team" Thank you for bringing the Operating System to the next generation !".


I just followed the prompts received while installing regular Windows updates and now I'm stuck. It installed. I think. I got all of the messages on the blue screen saying Windows 10 is installing this and that and finally, "This is taking a bit longer than expected" but then NOTHING. I have rebooted several times and I can get as far as logging in and seeing my wallpaper, but there is nothing on the screen. There are a couple of things in the toolbar but when I move my cursor there it just spins around and around. We've tried letting it sit like this for more than 6 hours and nothing changes. I can control, alt, delete to get a task manager but it doesn't tell me anything that I can relate to. I'm getting no error messages but I have absolutely no use of my computer, a Dell Lattitude just one-year-old. This was going from Windows 7 to 10. My husband has spent hours trying to figure it out. HELP!!!

Wondering if anyone else is having issues with "manmade" keyboard shortcuts. For example, I created CTRL-ALT-N to open notepad and that's worked since XP... but it doesn't it 10. Is that just me?

My window 10 won't load right it keeps blacking out ever couple of seconds.

I have had a total nightmare with Windows 10 on my two desktops. One was running Windows 7 and one 8.1. I tried the update on the W7 box and managed to get Windows 10 working. So I moved to the second newer box based on Nvidia nforce chipsets. I have tried a total of 11 times (using all the methods available) to get a stable working Windows 10. I won't relate all the failures as it would take too long, but now have a box that crashes inside 10 minutes and my product key appears to be locked out due to all the activity on that single machine. So I gave that on that box which is now useless and tried to boot the first box. It is clearly starting but nothing but a few random pixels on the display. Nvidia driver issues I assume. So now I have wasted two whole days and have no working Windows PCs. Back to my Mac with a headache. A pity as from what I saw Windows 10 has promise.

Windows 10 SUCKS!! It crashed not one of my computers but 2. I have 2 computers that are dead, wont boot up, stuck in a continous loop, system restore failed. So much for this upgrade being "free" years of information lost, 2 grand down the drain. Both computers are gateways. Both have this error message upon trying to start up DRIVER_IRQL_NOT_LESS_OR_EQUAL (epfwwfp.sys) Also get this C:\Windows\system32\logfiles\srt\srttrail.txt and also ive recieved this message 0X8000ffff both computers wont boot, both wont even go into safe mode. Any ideas would be appreciated. If not I will be continuing my migration into the apple community.

The issue i am having is with the store. I can browse the apps and everthing but when i click on an app the whole store dissapeears like i wasnt even there and im back to the desktop it wont load after i click an app. I click an app and the program shuts down. PLEASE HELP

As far as I am concerned Microsoft can take there windows 10 and do one.. Ihttp://www.tomshardware.co.uk/windows-10-revert-os,news-50897.html

As far as am concerned Microsoft can take there windows 10 and do one http://www.tomshardware.co.uk/windows-10-revert-os,news-50897.html

I am having problems with sending email from my existing outlook acount. I can recieve but cannot send, why?

Store, Mail app, Photo and other native applications aren't working on my notebook. I click on them and the icon moves a bit bum nothing happens. What can I do?

I am having trouble installing Windows 10. I get the notice to upgrade, I start the process, it tells me the download is complete at that it will run in the background. Then I get a notice to restart the computer, which I do. and the whole process starts all over again. This has been going on for four hours now. I went to the Windows help desk, and after sitting there indefiniately with no results, I signed up for a phone call. I got the phone call about five minutes later, but all I could hear was static after the recording said it would connect me. I NEED HELP!

Anyone else having audio problems when playing H264/H265 videos on the default video player? I had to install Media Player Classic to get sound.

I have an issue with file explorer, every time I run the program, it take almost 90% resources of RAM and processor, (mine i5 4670 and 8GB RAM), anyone know how to solve the problem???

Downloaded windows 10 a few days ago on our desktop pc, and it is stuck on a screen that asks
"Choose your keyboard layout" it is NOT a touchscreen and the mouse will not hover over an option. HELP!!!!!

it seemed to install fine, but when I restarted it later, I can get to my onscreen keyboard on my Surface Pro. what do I do to be able to use my tablet?

Mine installed no problem, dont like windows edge so made google my default, Windows media player & Movies & Tv would only play 1 of my video's, luckily i had already installed VLC Media player which plays them all, the only other thing i have noticed is since the upgrade I can no longer watch video's on Facebook other than those with a direct link from You tube! any idea's on that one?

I want to switch my local account to microsoft account to activate my cortana but the sign in into microsoft account is not responding? need help! :(

windows 10 has slowed down my system preceptively on many different levels .. even typing sometimes there are delays to the keystokes showing on the screen (my computer was upgraded to top end 6 months ago) Windows edge as of this moment won't even open (i will have to restart the OS to get it to start as this has happened before). Then there is the way the OS is so incredibly slow at openning and YET on installing it deleted many of my 3rd party software (like my maleware detectors) on install (can't find spybot anywhere on the computer). On install it failed to install or initialize my Nvidia GeForce video card and the same with my sound card (I had to self install them and the force initiallization) playing EQ1 it often locks up (this is a 15 year old game) BUT i believe this is occurring due to the automatic updates (you can't turn them off and yet the updates don't care how many resources are in use prior to attempting to install causing lock ups that will lock up whatever you are doing as well as the desktop/OS itself forcing you to hard reboot- no 3 finger salute to microsoft the one button salute to the designers and releasers of this incredibly buggy software) It feels like the shaft we all got going to windows 3.11 to windows (yuck) 95 and 95 to 98 top it off I couldn't even roll back to my old OS (I had windows 8 and hated it as well as I don't need my damned computer to look like a cell phone) since windows 10 seems to now believe I was running windows 7 This is a prebeta beta

Guys, please help to fix this problem (in this link - the picture) Thanks. http://1drv.ms/1KSTlOO My Windows Store got problem, like corrupt installation. :(

Since I downloaded and installed Windows 10 some of the videos in Facebook no longer run. Any Ideas?

Apparently there is no Recent Places option in the Save As menu. I thought that was a very useful in Windows 7.

I'm having an issue with my wifes' laptop. It had Windows 7 on it before I upgraded it yesterday. As it was upgrading yesterday a message came up saying "Something went wrong". It went through the process still and now I can't get the laptop to work. It boots up and gets to the main screen where the wallpaper is black and my mouse freezes up and I can't do anything. Does anybody have an idea of what I can do to fix this? Or at least get it back to a useable laptop? Thanks!

I installed Windows 10 yesterday by way of an invite from Microsoft months ago and I went on a waiting list. The installation was smooth but took about 2 hours (maybe a bit less) When it had finished the screen was a very dark contrast and I had dreadful trouble reading anything or operating the computer. I closed it down thinking I'd have to get someone out today but when I turned the computer on the screen was bright and everything was clear. I have an HP Pavilion 20 computer. I went shopping and put the computer in sleep mode as I was going to be gone for a while and when I came home and tapped the screen to bring the picture up again it was dark like last night. I restarted the computer and whilst that took a while too (updates I think) the screen upon completion was once again bright and clear. My question is this - do I have to continually restart every time I leave the computer for more than the time it takes for it to go into sleep mode? I cannot find anything in the menu in the bottom right hand corner (which is great just like XP and not that awful thing on the side) that will allow me to tell it to stay the same danged brightness. Any ideas or help please? I would be most grateful.

I NEED HELP. I downloaded the new version, and everything is fine up to signing in to my computer. But when I sign in and it goes to my desktop, all my screen does is flicker continuously and my cursor has the loading circle next to it. This has been going on for a solid 20 minutes, and nothing is working. I need answers now.

I downloaded the free upgrade to Windows 10 and have spent the remiander of the afternoon and evening in chat support. First, my touchscreen capability on my Inspiron laptop stopped working, then trying to fix that resulted in my laptop going to a "No Boot Device" screen. Over three hours later of assessments and test modes, no fixes have been made. Dell tells me that Microsoft has not responded to their high volume of calls. I really wish that someone told me that Windows 10 is unstable. I need my computer to work and now, nothing works.

Just upgraded to Windows 10, and up until now everything was working as expected. No noticeable glitches or bugs, so far. Just tried watching an online video on Viooz and the video wont show up, but audio is there. Tried installing latest version of Flash, to no avail. Youtube vids work OK, which is weird. Just not ones on Viooz. Any suggestions?? Thanks in advance.

Upgrading to windows 10 made my bluetooth mouse does not work as it did in windows 7. Things like the scroll button doesn't scroll the screen. I remove the mouse and then can not add bluetooth mouse with Add new device function. This is a very basic function for windows and MS did not make it right after so many releases which is very bad. I had to take the painful task to roll back to windows 7. Microsoft, how many times people wake you before you wake up? Be a leader for God's sake.

For me I have a weird issue (well it's just cosmetic right now) where clicking on the start icon in Desktop mode reneders the start window transparent with no color. You can see the icons but nothing else. Closing and reopening usually fixes it. Not an everytime occurence but it does happen often. But the MAJOR problem I am having is with permissions on some folders. Namely my OneDrive Documents folder and my user Documents folder. I can not save to them from any application as I get the do not have permission error. Now in Explorer I can drag and drop, copy and paste, files to those locations. But I'm prompted to verify my adminsitrator credentials. And yes my account is an administrator. I've tried deleting the folder and restoring from a backup. Which worked for a few days, then the problem popped back up. Is anyone else seeing this behavior? I'm tired of trying to get the problem fixed through Windows support as they seem to be reading from a script and offer no help. I was on the preview program since early june.

I do not know if this is related to Windows 10 or not but since installing I have been unable to type the keys beside the x and shift on left and the 'question mark' key or the arrow keys Have tried many different things and have yet to resolve. Help!

For anyone suffering from issues with Nvidia display drivers not working or installing properly, I've written an article on a couple of easy fixes for these problems. Hope this helps! :-)
https://techinfostation.wordpress.com/2015/08/07/how-to-fix-windows-10-nvidia-driver-issues/

I am having issues running Windows 10 on Chrome, specifically any time I try to view any videos on virtually any news or social media site. The computer seems to slow to a crawl, sometimes freezes for short periods, and most of the time, the video will never begin. This never happened with Windows 8 or 8.1. Anyone else experiencing something similar? I am not the most computer literate person, so there may be an easy fix to this issue. Thanks in advance.

I wanted to revert back to 8.1 because several things are not working that I want. I tried going back to 8.1. It said I had to delete the administrator account I had created in Win 10. There is no way to do that where I can see in settings. It does not show an administrator in my users. Been trying for 3 days to contact MS at their so called answer desk, but can't get through. I have things that don't work that are a deal breaker for me.

I have the problem where none of the apps show up and windows won't let me connect to any source of wifi. The tab just freezes when I try to open up the wifi page.

Question, do you experience a problem setting the default search engine? I have problems setting it. I already used several search engines as default, but it does not work when I use it. It seems that only Bing is the one working. Do you have any alternate solutions? Thanks!

Windows 10 was great for me. Everything worked perfectly, until I decided to use my fingerprint sensor. Now what happens is that when I turn it on, there is a gray screen with a loading wheel in the middle. After a few seconds, the screen turns black for a split second and then the loading wheel starts again. The screen keeps flickering in this way and I have no clue what to do. In my Hp Elitebook 8460p bios, I have disabled the fingerprint sensor, but it still happens. I cannot login or go to the desktop. SEND HELP PLS!

START wont open in windows 10 preview. i tried all methods POWERSHELL and WINDOWS EXPLORER but nothing SOLVE the problem!!!!! PLEASE HELP PLEASE

I have problems with restarting my PC since I upgraded to Windows 10. I have to turn off the PC at the wall and then turn back on otherwise all I get is a black screeen.

I have been experiencing some issues since upgrading my HP Envy X360 TouchSmart laptop. The most significant problems I have noticed are with the touchpad drivers and the power. My mouse and touchpad settings will not save, and every time I restart the computer I have to go in and reset the settings to the way that I want them. I have tried deleting the driver and reinstalling it, but that did not fix the problem. I have also had problems with the computer getting stuck in sleep mode since upgrading. Every time it goes into sleep mode, I have to use the power button to turn it off and back on because it will not come out of sleep mode. And when I shut it down at night with a charged battery, I wake up to the battery being dead even though the computer was powered down. I tried reverting back to Windows 8.1 and then resetting my computer to factory settings. Then I reinstalled Windows 10. That did not help, and I have been noticing even more problems since doing that. I really hope Microsoft comes out with some updates real soon!!!

I am new to this forum and ended up registering in windowscentral. Has anybody faced/noticed issue of bluetooth remaining turned on even it is turned off? I have sony vaio vpceh28fn (old machine though) and the most werid thing is I have switch for wireless even then bluetooth remains turned on. It worked on 7 fine and flawlessly but 10 is just behaving werid. Please help as this is the only issue I have found in my windows 10. Else everything works fine.

Has anybody having problem of bluetooth not turning off in windows 10? My laptop is vaio vpceh28fn (preety old) and bluetooth was working well in windows 7. Seems bluetooth is disloyal in windows 10.

If certain apps cant connect to the internet usingn windows 10 read my post this should fix it! :D http://forums.windowscentral.com/windows-10/374140-windows-10-cant-conne...

For anyone having an issue with Windows 10 updates failing to install, here is a detailed guide on how to fix this issue - https://techinfostation.wordpress.com/2015/08/09/how-to-fix-windows-10-failed-update-and-endless-crash-loop/

Has anybody facing an issue of windows not letting to turn off bluetooth? When this issue persisted, i updated my bluetooth driver (it was of 8.1) it did turned off but would rather disable the driver and removes the bluetooth option from action center. The most werid thing is it would remin turned on even i switch off the physical key for wireless(my device comes with wireless switch). The wifi works fine. It is very frustating since it worked great in windows 7. My laptop is vaio vpceh28fn and seems I should take a u turn if this problem does not solves for me. If anybody has solution then please help. Windows 10 is slower than 7 but is preety good os.

My Touch has stopped working on my HP Envy TouchSmart Laptop. Someone please help me. This is vey annoying.

i've been having problems with my touch screen laptop since i upgraded to 8.1, and it still isn't working. What should I do ?

Before the launch of Windows 10, both my desktop and laptop were running 8.1. I got the Windows 10 invite on the desktop and upgraded the desktop to 10. The invite has not shown up on the laptop. I do use the same gmail account on both computers. Maybe it's irrelevent, but I have noticed that when I change the slideshow on the 8.1 laptop, my Windows 10 desktop plays the same slidehow as the laptop automatically. Same slideshow, but not the same photos at the same time. Do either of those things have anything to do with not getting the Windows 10 upgrade on the laptop. One more thing, the desktop is wired to the router, the laptop is wireless to the same router. Any comments or suggestions will be appreciated.

Having a nightmare playing you tube videos in windows 10 the edge and explorer,in some cases it takes about 5 efforts to get the video on with annoying messages An error occurred please try again later. it goes to an old version of you tube..built in flash player not that good

I've just upgraded from Windows 7 to 10 on my laptop. Cortana is not available. I get the message "Cortana isn't available in the region and language you've selected.". When I click "Why?" I get this: Why isn't Cortana in my region or language? Cortana is available in the following countries/regions: China, France, Germany, Italy, Spain, United Kingdom, and United States. Cortana is available in these languages: Chinese (Simplified), English (U.K.), English (U.S.), French, Italian, German, and Spanish To use Cortana, all these settings must be set to the same language:
Languages (this is your device language) Speech language (language pack must be installed) Country or region Note: If you change your region, you might not be able to shop at Store, or use things you've purchased, like memberships and subscriptions, games, movies, TV, and music. However I can confirm that I am in the UK and have set my language to English UK. The only thing I can think of is the Speech language, not having ever used speech on my laptop, but surely it should be set up to English by default??

Faced sooo many problems that had to downgrade an hour later! That one hour was spent tapping every key on the keyboard llike penguins of madagascar just trying get my trackpad and pointer back! No scroll either. Even the task manager, wifi, brightness control, volume control were defunct. Even external mouse didn't work. After going through articles on my phone on how to downgrade, I finally managed to do so using the tab and arrow keys (which requires high-scale brains!). What a relief! I even had to fill in the reason as to why I was downgrading which was a pain too, but had to because otherwise the NEXT button on downgrading window was not highlighted. I told the windows people to at least try their OS on their PCs once before releasing next time!!!

AND......windows 10 is soooooo SLOW!!! every menu and sub menu opens with the green bar on top loading....loading....and loading.....sloooowly. u just sit and stare

Ive just upgraded to Windows10 & my cursor now sticks, i cannot get into any apps or even settings to recover my computer, wishing i had never gone ahead with this

hi! i updated my laptop from windows 8 to 10. since the installation was done, keyboard stopped working. any idea how to enable it?

My right side of the keyboard only works if I hold fown function key. Was fine before WINDOWS 10 downloaded.

Now that I have gone to Windows 10 my wired xbox one controller hasn't been working properly. Whenever I use the left and right bumpers whatever it is supposed to do, it does twice. For exapmle, i was playing Next Car Game and whenever I try and shift, the action is done twice, so i go up or down 2 gears instead of 1. Also the triggers don't seem to active fully whenever i pull them all the way in. like it doesn't go past half throttle. If anyone knows how to fix this, please let me know.

Since downloading Windows 10, my emails on my Yahoo account have disappeared. It is showing as no emails in the inbox. Also, the scrolling feature by 2 fingers on the touchpad is gone. Also, access to features from the corners of the desktop screen is gone. Help please.

No sound. Windows 10 keeps changing default sound device to HDMI every reboot. I have latest Realtek drivers. Sleep issues. Sleep doesn't work properly, sometimes computer reboots instead of waking, smetimes it wakes up but with blank display. AMD r9 270x. Have to disable sleep altogether to keep computer alive.

I upgraded to windows 10 from windows 7, after after playing on it I closed it down and the next day when I booted it I get black screen with endless "Loading Operating System......" How/where can I make a windows 10 recovery or boot flash drive/disk. Or do you have any other ideas on how to get my pc back up and running..Please

Just upgraded my New Lenovo to Windows 10 it was working without problem until update by Windows now will not boot fully when attached to mains but on battery no problem. To boot on mains whenit goes from lenovo screen to black screen need to press on off switch once then light on switch flashes and on pushing this switch again it boots. As I say on battery no problem. Help please

When I turn on my computer and go to the sign in screen and I try to enter my password it will not take it all and I have to restart my computer in order for it to take my password!!!!! This has happened every since I installed windows (10)!!! I would like to know what happened to my status bar and my command bar and my menu bar???? I also like to know why I cannot use internet explorer as my search engine????

I just installed Windows 10 on my Asus computer. However, when I logged in, i received a pop up saying "We're updating your touchpad driver in the background. Please don't restart your computer, this may take some time to complete." So currently I have no mouse, I can't even hit "OK" for the Pop up. It's been 24 hours and I'm not sure if I should still wait, if it's even working or what I should do.

I installed Windows 10 from USB and it was horrible - I had black screens, crashes, wouldn't wake from sleep. Finally, it starts and I tried Edge and I didn't like it at all, I prefer the way IE or Chrome works - I like my toolbars at the top, I like the page setup the way I want it. I also don't like that they took away my full screen of apps - I had customised that with every app I used and I could click onto that page and click or touch an app with my eyes shut, but now there is this tiny blue box with just a few apps on it that they seemed to think I wanted, but though I may use these apps a lot, they are not important. All in all so far I find this to be a HUGE fail for me and I reverted back to Windows 8.1 already, with the option to update to Windows 10 in the future if I want to and maybe I'll wait until the final month for the free upgrade and check out how it's working by then, because for me the reservation process worked fine, but the Windows update failed, so then I had to manually install, and the install took forever and then messed up my graphics and slowed my laptop (which is a couple of months old!), down to snails pace, add to that Edge being very blah, I'm like where's the upgrade in this? I know a few people who don't use their computers much who say it is OK and is working OK, but I don't hear anyone raving about it.I use my computer ALL the time for blogging, writing, MS Office, video editing - but the speed issue caused by Windows 10 and the graphics issue, makes all those things so much harder.

I reverted back to Windows 8.1 as I was unable to access the internet on Windows 10. Thinking about trying it again though.

Lenovo Thinkpad R500 - Touchpad scroll works in Edge, Internet Explorer, Firefox, File Explorer, Device manager, Help and som other places, but it does not work in Start menu or any menu under Control panel or Windows Store - no matter what I have tried it simply will not Scroll - There is no doubt this a BUG.

Since I upgrade to windows 10 my mouse and Wi-Fi doesn't work this is very annoying.

I have now installed Windows 10 on several computers, using the "reserve your copy" option. It is my experience that all the machines upgrading from Windows 8.1 received CORTANA with the upgrade and those from Windows 7 did not. Why is this ? The error message says CORTANA is not available because the language and region etc. do not match, but this is not true. In all cases the region is London and language English (UK). Please suggest a method of correcting this.

I have problem with playing my mp3 files with groove. it is saying as REMOTE PROCRDURE CALL FAILED. And with vlc media player it is saying that THE MEDIA CANNOT BE READ. Groove music player entirely crashes within 2 sec when i open it. Except this all things are going safe and sound. But i want solution for this please help me...... thnx in advance.

My touchscreen computer which had 8.1 said it was eligible for an upgrade. I upgraded last night and now the touch screen capability is gone. Is there a way to remedy this or should I just revert to my previous installation?

Hello! My Windows 10 display is enlarged and set at the lowest setting which is 100%. Everything is distorted, I do not like this new look! My photos are all distorted due to this enlarged display. My Windows 7 was not this way. How does this get fixed? Our others having this same issue? Wow! amazing! Just by typing the enlarged issue here in this comment, the problem has been automatically corrected. So very COOOLLLL!!!!! No more distortion! Thank you, Shelly

I finally got my xp programs to work with windows 8 but when I updated to 10 they don't work. Is their a utility that adjust em for compatiblaty

I had several issues right off the bat: 1) Active network was changed from private to public
2) Office 2010 was uninstalled
3) Could not log into the router wirelessly or wired
4) Bluetooth functionality that came with the laptop no longer exists. I have to use my Rocketfish Micro Bluetooth USB Adapter to connect bluetooth devices to laptop. Also, I can no longer open a bluetooth device in Control Panel to manually connect it to the USB adapter. But my biggest issue with bluetooth is the fact that, in Windows 8.1, if I used bluetooth that came with the laptop and not the USB adapter AND tried to connect a device (bluetooth headset) that I also shared with my Galaxy SIII, no issue with the initial setup of the device on my laptop, but was unable to re-pair to the laptop if it had been paired to another device like my phone. I would have to remove the bluetooth headset from my laptop and set up like a new device. That was the reason I started using the bluetooth USB adapter on my laptop. Now with Windows 10,I don't have bluetooth functionality unless I use the USB adapter but now the adapter behaves as previously stated in Windows 8.1.
5) Using the Windows start key to get to apps or power options sporadically works. Seems to be tied to the number of tabs opened in Google Chrome.
.

Re Windows 10 ugrade from Windows 8.1: All my .PPT files have been re-labelled as Adobe files. The result is that I can no longer open them by simply clicking on their folder entry. I can now only open these 'Adobe' files from within PowerPoint.