Here are some issues that users are experiencing on Windows 10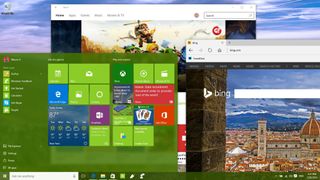 Windows 10 is complete. Well, sort of. As you know, Microsoft is changing the way software is built with its new operating system, and it's moving forward to offer "Windows as a Service." From now on, Windows will never be considered technically done.
It's been an interesting several months for Windows Insiders, as we have seen many preview builds, countless tweaks, and some new features. A lot of things have changed since Windows 8. In the development process, we went through good and bad moments, but the software maker has been proactively involved trying to fix bugs and features to make Windows 10 a great operating system that fixes most of the shortcomings with Windows 8.
Although, there are many indications that things are going to be very different this time around, I've been digging through our reader's comments, Windows Feedback app, and around the web to get an idea of any remaining issues and what's not working for users in Windows 10. The result was quite interesting.
Automatic updates
One of the biggest concerns happening around Windows 10 is the Microsoft's new approach on updates. If you ever read the Windows 10 EULA, you'll find a line that reads "automatic updates without any additional notice." It basically says that when you're installing Windows 10, you agree to mandatory automatic updates regardless if you want them or not.
Clearly, there are many benefits using automatic update. As the company can ensure that computers are always up to date with the latest features, there are fewer risks of security issues, and supporting the operating system gets a more simplified. However, there are inevitable side effects such as a recent problem with NVidia graphics drivers where a number of systems stopped working properly because of a bug in the software.
Although Microsoft will continue to test new updates internally and with Windows Insiders, there could be bugs that could escape, affecting even a bigger number of users. It's a real concern among users that Microsoft should try to address quickly to minimize future problems. It's understandable that automatic updates are a good thing, but users should have more control on how updates get applied to their systems. Having said that, we also have to consider that there are more chances of problems with software that are out of date, than from issues on new updates.
The following comments were made by concerned users through the Windows Feedback app:
Drivers
Another related issue that users are having with Windows 10 is with drivers. While the operating system has yet to receive the biggest test in the coming weeks, many users have been reporting problems trying to get Bluetooth and Wi-Fi working correctly. Various third-party companies have yet to get many of their hardware working correctly with Windows 10, but of course, there is always the chance that the problem is within the operating system.
Another user explains:
He also notes to check for new updates, which is always a good thing to do.
On the Windows Feedback app, users are also reporting issues with Wi-Fi connectivity:
These are just a few examples and comments from real users, but there are more reports about the same issues and other such as problems with Intel and AMD, audio, and mouse touchpad drivers. While we've not heard of any official reports from Microsoft about any serious problems with hardware compatibility, these are still problems for many users.
Microsoft Edge
Microsoft Edge is perhaps one of the features in Windows 10 where users feel more concern. As you know with Windows 10, Microsoft is introducing a new web browser that replaces Internet Explorer. While Edge is the new default web browser for Windows 10 devices, Internet Explorer will remain shipping with the operating system to offer legacy support. However, some users feel that the new browser still has to mature to compete head-to-head with its big rivals: Google Chrome and Mozilla Firefox. As I have been reading from many commenters, Internet, and on the Windows Feedback app, many users feel optimistic, but at the same time they note their frustrations in the current stage.
For example, in the Windows Feedback app, users are saying:
Microsoft has been doing significant advances on rendering speeds in recent builds of Windows 10, but I have also noticed the same concerns when I'm using the browser.
Furthermore, some people point out that that some features are still missing:
Commenters in Windows Central say:
Windows 10 features
In Windows 10, users still find some features that are not working correctly and need more refinements. For example, some users have submitted their feedback to Microsoft reporting that several of its apps such as Photos, People, Weather, Windows Store, and other apps will simply crash or won't open. I have also read many users still complaining about the Start menu crashing, and other users are reporting that the Start menu won't appear after installing certain drivers. While the number of users making their voice heard is small, the problems seem to be there.
There are many other users who believe parts of Windows 10 should be improved:
Through the Windows Feedback app, some people suggested that showing your email address in the Lock screen could be a security issue.
Other users find that search in Cortana should work a little different:
In this one, I have to agree. Most of the time, I find myself doing file, setting, or app search with Cortana. When I need to search something online, I simply open the web browser. Perhaps the new finder should look for apps and files. When there are no local results, Internet searches should be displayed.
There are also the problems with OneDrive, where some users keep asking Microsoft to bring back placeholders for OneDrive. Previously in Windows 8.1, OneDrive offer placeholders to allow users to save storage space locally, by simply offering a preview of a file. Many users started to have trouble identifying what files were available offline. Now, in Windows 10, Microsoft is implementing selective sync that forces users to select what files and folder to sync on a particular computer, but it seems that not everyone agrees with the decision.
In Windows 10, the software maker is introducing a new feature known as Continuum. This is a new feature that allows hybrid devices to move from a mouse and keyboard environment to a touch-centric operating system. However, some users don't seem too excited about the feature:
On the Windows Feedback app, you can find feedback with mixed reactions:
On the Microsoft forums recently, a community member PaoloCardelli pointed out various bugs and features that aren't working flawlessly.
On our site, cool8man says,
Muitosabao follows up,
Quetherosar says,
Windows Media Center is another topic of interests for users, as Microsoft has previously stated that those users upgrading to Windows 10 will be losing this functionality. And some feel really unhappy about the news.
Microsoft is also trying to make Windows 10 the easiest operating system to upgrade to, but things aren't working as expected – at least for a number of users. After the software giant announced that Windows 10 will be a free upgrade for Windows 7 and Windows 8 users, the company rolled out the "Get Windows 10" app, which is a simple app that let users reserve a free copy of the operating system.
The main idea with the Get Windows 10 app was to have a quick and easy way to reserve and upgrade to Windows 10, but since the app rolled out there have been a few misunderstandings and issues.
Many users have been reporting that the app isn't working, or they simply won't see it. So, something that was supposed to be quick and easy, for some people it turned out to be a difficult task. That's because those who didn't see the app needed to troubleshoot their PCs by making sure that things like Windows Update were enabled. They needed to check if the necessary updates (KB3035583 and KB2952664) were properly installed. They also needed to do an extensive troubleshooting process such as this one from the Microsoft community with the hope they will see the app to reserve a copy of Windows 10.
It's worth pointing out is that systems that don't meet the requirements won't see the update notification. This situation confused some users as they didn't know for sure if the app wasn't working for them.
Wrapping things up
While the next version of Microsoft's operating system is aiming to be the next best version of Windows, it's still far from complete. The software maker is moving towards "Windows as a Service" and new updates and features will release as soon the company considers them ready.
Recently we heard that Windows 10 won't have an RTM version because the operating system is an ongoing project that will never be done. It will always be evolving. However, for those people wondering, Windows 10 build 10240 is what we can consider as RTM. It's the build that manufacturers and the general public will get on at launch, but new updates and hotfixes are expected to bring the operating system to the most stable version.
Windows is an operating system that is broadly used on many different kinds of hardware. There are always going to be problems. If you encounter a problem using Windows 10, you can always use the Windows Central forums to ask questions as it's likely that someone else might have gone through the same problem. There are also many people in the forums who will try to help you out.
You can also refer to my previous how-to guides to prepare your computer for Windows 10, and how to upgrade to the next version of the operating system.
Do you see any problems with Windows 10? Let us know what you think in the comments below.
More Resources
Remember that we have many other articles on Windows 10, if you need help you always check these other resources:
Get the Windows Central Newsletter
All the latest news, reviews, and guides for Windows and Xbox diehards.
Mauro Huculak is technical writer for WindowsCentral.com. His primary focus is to write comprehensive how-tos to help users get the most out of Windows 10 and its many related technologies. He has an IT background with professional certifications from Microsoft, Cisco, and CompTIA, and he's a recognized member of the Microsoft MVP community.