Here are some issues that users are experiencing on Windows 10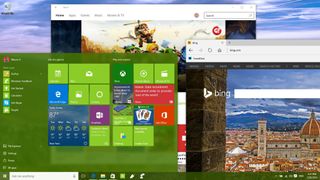 Windows 10 is complete. Well, sort of. As you know, Microsoft is changing the way software is built with its new operating system, and it's moving forward to offer "Windows as a Service." From now on, Windows will never be considered technically done.
It's been an interesting several months for Windows Insiders, as we have seen many preview builds, countless tweaks, and some new features. A lot of things have changed since Windows 8. In the development process, we went through good and bad moments, but the software maker has been proactively involved trying to fix bugs and features to make Windows 10 a great operating system that fixes most of the shortcomings with Windows 8.
Although, there are many indications that things are going to be very different this time around, I've been digging through our reader's comments, Windows Feedback app, and around the web to get an idea of any remaining issues and what's not working for users in Windows 10. The result was quite interesting.
Automatic updates
One of the biggest concerns happening around Windows 10 is the Microsoft's new approach on updates. If you ever read the Windows 10 EULA, you'll find a line that reads "automatic updates without any additional notice." It basically says that when you're installing Windows 10, you agree to mandatory automatic updates regardless if you want them or not.
Clearly, there are many benefits using automatic update. As the company can ensure that computers are always up to date with the latest features, there are fewer risks of security issues, and supporting the operating system gets a more simplified. However, there are inevitable side effects such as a recent problem with NVidia graphics drivers where a number of systems stopped working properly because of a bug in the software.
Although Microsoft will continue to test new updates internally and with Windows Insiders, there could be bugs that could escape, affecting even a bigger number of users. It's a real concern among users that Microsoft should try to address quickly to minimize future problems. It's understandable that automatic updates are a good thing, but users should have more control on how updates get applied to their systems. Having said that, we also have to consider that there are more chances of problems with software that are out of date, than from issues on new updates.
The following comments were made by concerned users through the Windows Feedback app:
Drivers
Another related issue that users are having with Windows 10 is with drivers. While the operating system has yet to receive the biggest test in the coming weeks, many users have been reporting problems trying to get Bluetooth and Wi-Fi working correctly. Various third-party companies have yet to get many of their hardware working correctly with Windows 10, but of course, there is always the chance that the problem is within the operating system.
Another user explains:
He also notes to check for new updates, which is always a good thing to do.
On the Windows Feedback app, users are also reporting issues with Wi-Fi connectivity:
These are just a few examples and comments from real users, but there are more reports about the same issues and other such as problems with Intel and AMD, audio, and mouse touchpad drivers. While we've not heard of any official reports from Microsoft about any serious problems with hardware compatibility, these are still problems for many users.
Microsoft Edge
Microsoft Edge is perhaps one of the features in Windows 10 where users feel more concern. As you know with Windows 10, Microsoft is introducing a new web browser that replaces Internet Explorer. While Edge is the new default web browser for Windows 10 devices, Internet Explorer will remain shipping with the operating system to offer legacy support. However, some users feel that the new browser still has to mature to compete head-to-head with its big rivals: Google Chrome and Mozilla Firefox. As I have been reading from many commenters, Internet, and on the Windows Feedback app, many users feel optimistic, but at the same time they note their frustrations in the current stage.
For example, in the Windows Feedback app, users are saying:
Microsoft has been doing significant advances on rendering speeds in recent builds of Windows 10, but I have also noticed the same concerns when I'm using the browser.
Furthermore, some people point out that that some features are still missing:
Commenters in Windows Central say:
Windows 10 features
In Windows 10, users still find some features that are not working correctly and need more refinements. For example, some users have submitted their feedback to Microsoft reporting that several of its apps such as Photos, People, Weather, Windows Store, and other apps will simply crash or won't open. I have also read many users still complaining about the Start menu crashing, and other users are reporting that the Start menu won't appear after installing certain drivers. While the number of users making their voice heard is small, the problems seem to be there.
There are many other users who believe parts of Windows 10 should be improved:
Through the Windows Feedback app, some people suggested that showing your email address in the Lock screen could be a security issue.
Other users find that search in Cortana should work a little different:
In this one, I have to agree. Most of the time, I find myself doing file, setting, or app search with Cortana. When I need to search something online, I simply open the web browser. Perhaps the new finder should look for apps and files. When there are no local results, Internet searches should be displayed.
There are also the problems with OneDrive, where some users keep asking Microsoft to bring back placeholders for OneDrive. Previously in Windows 8.1, OneDrive offer placeholders to allow users to save storage space locally, by simply offering a preview of a file. Many users started to have trouble identifying what files were available offline. Now, in Windows 10, Microsoft is implementing selective sync that forces users to select what files and folder to sync on a particular computer, but it seems that not everyone agrees with the decision.
In Windows 10, the software maker is introducing a new feature known as Continuum. This is a new feature that allows hybrid devices to move from a mouse and keyboard environment to a touch-centric operating system. However, some users don't seem too excited about the feature:
On the Windows Feedback app, you can find feedback with mixed reactions:
On the Microsoft forums (opens in new tab) recently, a community member PaoloCardelli pointed out various bugs and features that aren't working flawlessly.
On our site, cool8man says,
Muitosabao follows up,
Quetherosar says,
Windows Media Center is another topic of interests for users, as Microsoft has previously stated that those users upgrading to Windows 10 will be losing this functionality. And some feel really unhappy about the news.
Microsoft is also trying to make Windows 10 the easiest operating system to upgrade to, but things aren't working as expected – at least for a number of users. After the software giant announced that Windows 10 will be a free upgrade for Windows 7 and Windows 8 users, the company rolled out the "Get Windows 10" app, which is a simple app that let users reserve a free copy of the operating system.
The main idea with the Get Windows 10 app was to have a quick and easy way to reserve and upgrade to Windows 10, but since the app rolled out there have been a few misunderstandings and issues.
Many users have been reporting that the app isn't working, or they simply won't see it. So, something that was supposed to be quick and easy, for some people it turned out to be a difficult task. That's because those who didn't see the app needed to troubleshoot their PCs by making sure that things like Windows Update were enabled. They needed to check if the necessary updates (KB3035583 and KB2952664) were properly installed. They also needed to do an extensive troubleshooting process such as this one from the Microsoft community (opens in new tab) with the hope they will see the app to reserve a copy of Windows 10.
It's worth pointing out is that systems that don't meet the requirements won't see the update notification. This situation confused some users as they didn't know for sure if the app wasn't working for them.
Wrapping things up
While the next version of Microsoft's operating system is aiming to be the next best version of Windows, it's still far from complete. The software maker is moving towards "Windows as a Service" and new updates and features will release as soon the company considers them ready.
Recently we heard that Windows 10 won't have an RTM version because the operating system is an ongoing project that will never be done. It will always be evolving. However, for those people wondering, Windows 10 build 10240 is what we can consider as RTM. It's the build that manufacturers and the general public will get on at launch, but new updates and hotfixes are expected to bring the operating system to the most stable version.
Windows is an operating system that is broadly used on many different kinds of hardware. There are always going to be problems. If you encounter a problem using Windows 10, you can always use the Windows Central forums to ask questions as it's likely that someone else might have gone through the same problem. There are also many people in the forums who will try to help you out.
You can also refer to my previous how-to guides to prepare your computer for Windows 10, and how to upgrade to the next version of the operating system.
Do you see any problems with Windows 10? Let us know what you think in the comments below.
More Resources
Remember that we have many other articles on Windows 10, if you need help you always check these other resources:
Mauro Huculak is technical writer for WindowsCentral.com. His primary focus is to write comprehensive how-tos to help users get the most out of Windows 10 and its many related technologies. He has an IT background with professional certifications from Microsoft, Cisco, and CompTIA, and he's a recognized member of the Microsoft MVP community.
I have problems activating my installation, error 0xc004f034. There are many other people having the same issue, hope they fix it.

I have the same error with my BootCamp Win 8.1 x64 pro upgrade. It also doesn't have the Bluetooth drivers installed either.

Bootcamp and Parrallels do not support Windows 10.

Did not try Bootcamp yet, but Parallels definitely supports Win10 - I have two VMs - W10 tech preview and W10 upgraded from W8.1. Start menu in Coherence mode needs some work, but otherwise I have no issues.

I Bootcamp Windows 10, have done since early in the preview.

I have Windows 10 on Bootcamp. Function keys are not working (volume, brightness, backlit, etc.) Is yours working?

While booted up into OS X, go to boot camp assistant download the latest boot camp drivers on a flash drive, now reboot your computer into windows 10 and install the drivers from the flash drive... Function keys and bluetooth should work...

While booted up into OS X, go to boot camp assistant download the latest boot camp drivers on a flash drive, now reboot your computer into windows 10 and install the drivers from the flash drive... Function keys and bluetooth should work...

Ok quick question will that fix the problem with GPU drivers? Because I have an iMac 5k and it does not find the AMD R9 290 which is supposed to be supported, I will update the bootcamp

works absolutely fine with vmware fusion 7, to get things working i merely ensure all updates in win7 vm were applied rebooted then upgraded to windows 10 no problems at all. However this using a Intel Iris Pro 1536 MB GFX card and via vmware using svga vmware gfx

try google ATK Hotkey ACPI for your laptop brand such as asus, lenovo, download and install it ... :)

how man? i use parrallels 10 and when itry to update to windows 10 with my windows 8.1 its shows that parralles display adapter (WDDM) isnt made compatible with Windows 10? did u get this message? if yes how to bypass it. thanks phill

Weird that everything else worked but activation and bluetooth. What source tells you that Bootcamp doesn't work with 10?

I've been using Win 10 with Parallels since January (can't even remember what build number, but it was one of the first), and Parallels had full Win 10 support from day 1. Literally, when you installed and asks you what OS, it had a "Windows 10" button.

Same here. Cant activate after the ISO install and I cant install apps from the store either

did you upgrade or did you make clean installation?

I upgraded and then clean installed it. Still having the issue, although the store is working fine now..

I was just on the phone with a MS rep and he said there is a gtlobal issue right now and to wait 24 to 48 hours and my windows will activate. I did a clean Install and he said it will work with my Win 7 key... Can't wait to see that! That would mean no more upgrade then clean install. Time will tell!

My ISO install wouldn't activate straight away either. Said my code was blocked and no activate button. My Win8 key wasn't accepted either (This was all after an activated upgrade). I ran Windows update and installed what was there then seemed to activate itself. Make sure you have the PC as trusted and you are signed into your MS account properly too.

Hopefully your issue was solved already, but Microsoft was having issues with their activation servers early. Keep trying. For the store issue, they have a quick fix that you can run. Look at the pinned items on the Windows 10 forums at Microsoft Answers.

i can't find the fix for the store issue. link please?

I would like to know this as well.

try deleting the windows.old file....windows.old won't be deleted completely but thats ok.....it worked for me so it should work for you too....

try deleting the windows.old file....then the store should work...

Had the same problem with my Macbook Air with boot camp. Just download the boot camp drivers for your hardware from apple and reinstall (mine was 5.1.5640, MacBook air mid/late 2014). Worked great. Bluetooth up and running again and activation completed. Good luck. /Chris

Mac BootCamp user here, download the boot camp assistant from apple's website (Google Boot Camp Drivers). Do not install the package, extract AppleBluetoothBroadcom64 from -dollar-WinPEDriver-dollar-, run DPInst.exe or install via device manager. Works fine, but bluetooth does disable every now and again. Install BootCamp/Drivers/Apple/AppleWirelessMouse64.exe if you use a magic mouse for scrolling.

Thankfully I don't have any issues with 10 on desktop pc, laptop and surface 2 I can't believe half of the issues found on here everything works for me no lag or faults. I even tried a iso download and reinstall, strangely I can't input 8.1 pro upgrade key in, but skip key ref and auto registers due to it being installed before

Same thing here except one mysterious issue. On my laptop (Fujitsu t904 tablet PC), my tray notification icons are spaced much further apart than on my desktop. Scaling is different because the laptop has this gorgeous 2560x1440 resolution. But the icon sizes seem fine. Just the spacing between them is different and on my laptop, my 8 tray icons I like to have visible all the time take up 1/3 of my entire taskbar.

Try to temporarily disable antivirus protection. I had same issues and after disabling Eset Antivirus, activation was sucessful. Maybe just a coincidence, but worth a try.

Be sure to remove your antivirus software before upgrading from Windows 8.1 to Windows 10.

Oh god I didn't do this what do I do

I didnt do this either. Im having a multitude of problems. For 1 on bootup, the lockscreen is completely black, i found my way through this, then my next set of problems began where i cant open a select amount of apps. Apps that wont open: Windows Edge, Norton(my av), Sticky notes, settings, Control panel, command prompt... however google chrome and steam work as well as file explorer. ive tried powershell fix but as i try to run as admin the screen goes blank. nor will that app apear regularly. I figured windows 10 would be stable enough to at least go to a save state, but im stuck. could this have been caused by not disabling av or is this just a freak set of bugs..?

My screen goes completely black as well. I can't get windows to even boot up! How do you get past this? Any ideas?

I too had the same problem. My screen was totally black.....no Desktop......no start menu. I read somewhere in this forum that you should try connecting to an ethernet. Immediately after I connected to my companys ethernet, my desktop popped up with all of my icons stil in place. I went from Windows 7 directly to Windows 10. Hope this helps.

How did you get through it? I've got the same issue going on. Black screen, grim outlook...

If you havent already figured it out, theres a bug that wont show your graphics card. Probably not a bug, but doesnt show old drivers for a card. My solution was to use cpu moniter port to show the default screen when building a computer. Itll let you log in and show on both screens. Then you just need to get the new drivers for your card. Kinda dumb i know. Also i think you can just type your password and hit +enter+ 3 times to get through the new operating system stuff. it might take a couple minutes to show up.

Having the very same issues. Edge won't launch. Start button doesn't respond. Notifications Panel wont respond. Coonectivity is pre-dial up slow!! Task Manager is useless so I cant shut down programs that stick on launch. Windows crashes when something very intense and draining like a screen saver launches. Its a mess. A big beautiful useless mess!!! How do I get any of this to work again? I have been on the phone, in que for so long now. I dont expect they will be answering anytime soon. Meanwhile, my work, and by consequence, my income, is suffering.

windows 10 is a dud it crashes your computer dont update

I have the same issue! new laptop and now it crashes when doing nothing at all!!!

I have that exact same issue, were you able to fix it? can you share if you find a solution plz?

Can I ask how you solved the lock screen issues? I'm completely at loss. Mine is blank and displays dates in the wrong locale...

you can refresh the device but you will lose your installed applications, e.g. Office.

How do I go about refreshing my device? I'm also stuck with a blank screen on my laptop and I can't log in

It told me before I even installed that my version of Symantec Endpoint Protection was "NOT SUPPORTED" and to update it prior to installing .. did it state this for you and you just clicked through it?

I almost never comment on forums but I have to now. You Sir, are a genius. ​​Thanks for the tip (:

In my Surface Pro 2, I encounter this problem... I was using my Surface as Desktop. Unplug the keyboard... Turn Table mode on... Try activation once more time .... and works! Just by turning Table Mode On!

Try this : Activation.bat (Run as admin) @echo off
:loop
cscript /nologo slmgr.vbs /ato
if errorlevel 0 goto end
goto loop
:end
echo Activation was successful. Press any key to close this window.
pause>nul
exit

I had this same issue on my desktop. After clicking it 10 times or so the activation worked, on a machine that went from OEM 7 Home Premium to 8 Pro. This was after doing solely the upgrade, no ISO. I'm wary of doing the ISO in case I'm asked to enter a code. My OEM and 8 Pro codes didn't take when I tried entering them prior to realizing the servers are probably overloaded with authentication requests and the simple, repetitive Authenticate clicking worked.

Had this issue as well, a third reboot fixed it somehow. I suppose the activation server is having a hard time right now?

Keep trying to activate. It worked here after a few tries. If apps don't want to update, stop it by clicking on the cross and then try to install again. Try the update tool if the regular update doesn't work.

Microsoft has released a website with error codes and fixes. I posted it in forums under the tailgate party. I don't have it handy right now. But some of the install troubleshooting I find funny. People who have to search that they have certain patches installed. This is exactly what microsoft is trying to solve with mandatory patching. If every system is the way it should be troubleshooting becomes easier. I find it so odd that so many people are having issues and yet everyone i know has had nothing but a fluid experience. Yes some of the apps are a bit problematic, but the install and general usage is perfect. I know 14 people who have had no issues with install and usage. So i assume it's perfect as they all have various setups and such. I guess most of them have relatively new hardware. My laptop is pretty old though and it runs great with no issues. The hard drive is a bit slow on it so loading times are bad, but they were bad on windows 8.1 as well.

Windows 10 wont complete installation process. I downloaded it, scheduled to install later... came back when ready, clicked Continue which it said would take about 10 seconds to get going with registration etc, and it has a little Working on it animation, and then the screen dissapears, and the installation update process stops dead in its tracks before it even really began. Not promission results when the software cannot even install itself on a totally standard Windows 7 PC. I am really dissapointed, but hey, its typical Windows... What should I expect, for it to work??? NO WAY. That would be rediculous for me to actually assume it works. .... I give up, if it cannot even install iteself, there is no way it is any good. Im sticking to 7.

I have the same thing happening.

Try using a ethernet cable if you are using wifi, my windows 10 won't let update/use microsoft apps when i'm connected to wifi for some reason..

The same thing is happening to me and I'm hard wired with an ethernet cable.

I cant activate windosw 10. I have windows 8.1 activated and upraded to 10 ant after dont activate. Please help.

I can't do it either - you're not alone. I sent it to Windows Feedback already, and one of the trending topics on the Windows 10 support page is "Why can't I activate?" You can try phone activation: In an elevated command prompt run "slui 4" without quotes. Follow the prompts, but be prepared to talk to an agent. I didn't have the time to talk to the agent, but I probably need to soon!

Same issue. Errors when trying to activate

Did people upgrade or did they just use ISO, I'm sire I read somewhere you have to upgrade before you clean install to make your previous windows key legit with 10

Thats what i did, and i still cant activate it..

Did you do the bit where you have to skip the steps when it asks for the serial while you are in the installation stage? After that it should activate automatically.when you get into Windows.

No, sadly I entered the key at that point instead of later on. Just how the hell is it different v_v

You need to upgrade first. My path was format > Windows 8 > upgrade to 10 + activate (keep hammering that activate button takes a while) > ISO clean install, windows update and eventual activation.

I'm not sure if you guys notice that after upgrade from w8.1 to w10, the key has changed? If you haven't do a clean install after upgrade, try use a keyfinder to grab the key. Well, at least in my case, the key was different. :(

Go to my youtube for the fix.... Here ---> watch?v=o9-7tXAZnts This video should clear up anything with activation or windows 10 not installing. I'm working on the black screen issue as we speak. Hope this helps. Much love! -Abell2744

I'm having no problems so far except for the Store is not loading and apps won't download.

Been having the same issue since Sunday.

Downloaded and can't even install......... Thanks but no thanks. Ima wait

You're not alone on this one. The bundled apps (Solitaire, Weather Xbox etc.) have all been fine to download updates, but anything new e.g Facebook, is stuck in the download section. I have read that this could be due to bandwitdth issues from so many people hammering the servers to download Win10. How true that is, I don't know. But if it's not resolved within a week, then I will be concerned.

I am having a slightly similar problem. My apps for example edge... Will show up as running, Yet wont open on my screen. hovering over app reveals a working app yet wont maximize. this goes for settings and command prompt too. so wierd

Are you getting error code: 0x80072efd? I got that so I went back to Windows 8 and reinstalled 10. I got the same error for the Windows store.

Me to. I can't open Store it keeps loading and won't load

Don't get the issues with tablet mode. You can still swipe, but instead of giving you a random app from behind it gives you a view of all your apps. Swipe and tap.

The issue isn't because it doesn't work, the issue is that the animations in Task View on Tablet mode became amateurish looking, it only fades now instead of same animation in Desktop mode.
I want to add that animations on snapping from Snap Assist is missing just like from this video. https://m.youtube.com/watch?v=NCKJ0fINC-k

Windows 10 has basically made one of my computers unusable. Was always gonna do a clean ISO install afterwards, but annoyed that the upgrade has made that a complete necessity. Not a pleasant first experience.

Clean installs typically yield a better experience than upgrades. So far I haven't had any big issues on my Surface 3. Occasionally the app store windows will "crash" but the store is still runing. I'm thinking of doing a clean install, but I don't have the need to right now like you do. I hope the install works out for you.

With every article, review and forum post I read, it seems more and more like the best thing to do is to hold on upgrading to Windows 10 for a while until all the issues are sorted. The "Windows as a service" is starting to look like an excuse for releasing unfinished softare to be fixed up later during its lifetime, instead of releasing a solid product right away. And don't even get me started on the stupid exclusion of WMC which in effect means I will never upgrade some of my PC's that use WMC on daily basis for TV watching and recording.

Agreed. Win 10 doesn't feel ready to me either.

And sites like this hyping it up like its the best thing since sliced bread was a concept on a napkin doesnt help when they gloss over issues, this is the first honest overview of the OS of all the reviews published anywhere.

On many tech "news" sites its becoming harder and harder to tell whether they are actual news sites with proper objective reporting or whether you are reading a fan site that highlight just the positives or just negatives depending or the sites focus towards particular entities. It's good to see that some decent articles are making their way to windowscentral.

I think MS didnt want to miss back to school sales and so they rushed things. But than again windows 8 felt unfinished until 8.1 was released.

What modern computer or mobile OS has ever been completely finished on release? If anyone can tell me that, I'll eat my hat, and I actually have a pretty nasty one on right now XD . No, but seriously, even people who hold up Apple as the shining standard of OS releases, for example, would have to admit that the initial release of iOS 8 was a disaster, until patches were released to fix major major issues that were caused even in their current phones and tablets. So don't hold Microsoft to some standard that not even it's competitors can match up to.

I am matching it up to the last release of a non-controvertial Windows OS, which was Windows 7, as for what others like Apple or Google do with mobile OS's I don't really care, Windows is still first and foremost a desktop OS as that is what majority of users will use it on, including enterprise customers, so comparing it with iOS or other mobile OS is irrelevant.

So far this rollout seems to be far messier than expected. Personally, it does feel like windows 10 isn't really out of it's testing fase just yet.