Windows Central Best of Computex 2017 Awards
Check out our top picks from Taipei.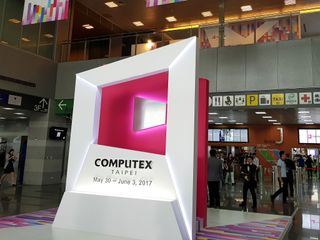 With Computex 2017 now wrapped up, it's time to look back on our favorite gadgets of the show. This year was laptop-heavy, with a particular focus on high-end gaming rigs. And thanks to new tech from NVIDIA, ASUS and others, many of those powerful gaming laptops were slimmer and more portable than ever.
Let's jump in — in no particular order, these are our Windows Central top picks from Computex 2017!
ASUS ROG Zephyrus
Perhaps the most impressive notebook of the show overall, the ROG Zephyrus from ASUS's Republic of Gamers brand packs an NVIDIA GeForce GTX 1080 into a shockingly thin chassis, thanks to a unique design which dedicates the entire top portion of the laptop chassis to cooling.
There's a gamer-friendly 120Hz, 15.6-inch 1080p panel lurking inside, alongside the standard backlit keyboard, and a trackpad which doubles as a numeric keypad. But the most striking thing about the Zephyrus is how it looks sharp, but not completely over-the-top. All that power is contained in a subtle, stylish device.
More: ASUS ROG Zephyrus hands-on
ASUS ZenBook Pro
ASUS itself brought us a bevy of new laptops this year, and the star of the show was the ZenBook Pro — the company's highest-specced mainstream notebook. The ZenBook Pro packs the latest seventh-generation Core i5 and i7 chips from Intel and discrete graphics in the form of an NVIDIA GeForce GTX 1050Ti GPU — an upgrade on the regular 1050 found in many other machines.
Combine that with a slim chassis and a 4K touchscreen, up to 1TB of PCIe 3.0 SSD storage and 16GB of DDR4 RAM, and you've got one hell of a laptop.
More: ASUS ZenBook Pro hands-on
ASUS ZenBook Flip S
For those who value portability, there's the ZenBook Flip S, which has been hailed as the world's thinnest convertible Ultrabook. It's running U-series Core i5 and i7 processors, and the same maximum 16GB/1TB RAM/storage config as the ZenBook Pro, but with integrated graphics and a smaller 13.3-inch 4K touch panel.
That gorgeous display takes up 80% of the screen area, and can be used with the ASUS Pen for even more precise drawing and note-taking.
More: ASUS ZenBook Flip S hands-on
ASUS ZenBook 3 Deluxe
First seen at CES, but now (finally) ready to go on sale, the ASUS ZenBook 3 Deluxe is a balanced 14-inch notebook that takes the best parts of the ZenBook 3 and blows them up into a larger form factor. There's a larger 14-inch Full HD display, with a large 84% screen-to-body ratio. It's constructed out of aerospace-grade aluminum, and is the first notebook to feature Corning Gorilla Glass 5 protection.
Acer Nitro 5
Acer's new gaming laptop, shown publicly for the first time at Computex 2017, provides gaming-grade performance at a price point that won't break the bank. Starting at just $799, you can choose from Intel + NVIDIA or AMD configurations for the Nitro 5, and you'll get a chassis that looks the part too, with a sharp angular design and customizable lighting.
Acer Predator Triton 700
Acer's other gaming laptop is a 3DMark benchmark champion that's powerful and good-looking, measuring in at just 18.7mm thin. In addition to a 15.6-inch 1080p IPS LCD display, there are H-series Intel Core i5 and i7 processors powering this beast, and it's available with 16GB of RAM, upgradeable to 32GB.
More: Acer Predator Triton 700 hands-on
Dell Inspiron 27 7000
Dell's new all-in-one PC is a thing of beauty, with an almost borderless 27-inch display thanks to the manufacturer's InfinityEdge design process. And it's no slouch when it comes to performance too, which spec configurations including Ryzen 5 and 7 processors, up to a 4K display, and up to Radeon RX580 graphics.
Should you want to step down in terms of specs and price, there's also a 24-inch model — the Inspiron 24 5000 — which comes with a 1080p touch panel.
More: Dell Inspiron 27 7000 hands-on
MSI GT75VR Titan
MSI's new Titan gaming laptop certainly lives up to its name. It's unapologetically big and bold, and suitably powerful to boot. Alongside H-series Intel Core i7 processors — overclockable to an eye-watering 4GHz — you get your choice of single NVIDIA GeForce GTX 1080 or 1070, or two 1070s in SLI if you want to go completely wild. Still not crazy enough? How about up to 64GB of RAM, and storage options combining a single HDD and up to two SSDs in MSI's "Super RAID 4" config.
It won't be cheap, but the MSI GT75VR Titan was undoubtedly the most beastly gaming laptop we saw at Computex this year.
More: Hands-on with MSI's new gaming laptops at Computex
MSI GE63VR/GE73VR Raider
If you want a powerful MSI gaming laptop in a less extravagant form factor, the new "Raider" models — GE63VR and GE73VR, with 15- and 17-inch displays respectively — may be for you. You get an NVIDIA GTX 1070 GPU with a trimmed-down version of the cooling system from the Titan. These models also feature MSI's bold new "Giant Speaker" system, which promises 2-3X larger integrated cans, and a 50% improvement in audio quality. (Important for louder explosions!)
More: Hands-on with MSI's new gaming laptops at Computex
Gigabyte Aorus series
Gigabyte brought a trio of new Aorus laptops to Computex this year, but the star of the show was the high-end Aorus X5 MD. This high-end machine puts the power of NVIDIA Max-Q and a GTX 1080 into a laptop which previously maxed out at a 1070. The Aorus line also looks sharp, with an angular design and customizable keyboard lighting, and supercharges its performance thanks to 16GB of RAM, and an overclocked seventh-gen Intel Core i7-7820HK processor.
Get the Windows Central Newsletter
All the latest news, reviews, and guides for Windows and Xbox diehards.