Windows Central Podcast 42: RTM is here
This week on the Windows Central Podcast: We talk new the Windows 10 Creators Update RTM, Redstone 3 wish list, Windows 10 Mobile job listings and more.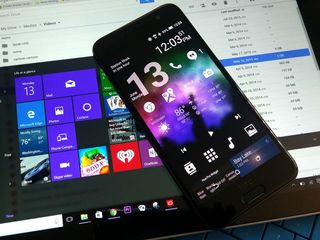 As it turns out, Microsoft does care about Windows 10 Mobile. If they didn't, why are they still hiring people to work on Windows 10 Mobile itself? Also this week, we talk the Windows 10 Creators Update RTM, Skype exiting preview, our Redstone 3 wish list and a whole lot more.
Help us make this show the best Microsoft podcast in the world. Tell your friends, share it on social media using the hashtag #wcpodcast, and give us a five-star rating wherever you download your podcasts! Thank you so much for listening!
We've got two options for you, either the video podcast or the audio podcast, both featuring the same content.
Show Notes
Subscribe to the podcast
Hosts
Make this show great by participating!
Send in your comments, questions, and feedback to:
Windows Central Newsletter
Get the best of Windows Central in your inbox, every day!
Zac Bowden is a Senior Editor at Windows Central. Bringing you exclusive coverage into the world of Windows on PCs, tablets, phones, and more. Also an avid collector of rare Microsoft prototype devices! Keep in touch on Twitter: @zacbowden.
Is it officially RTM? Seriously haven't heard anything from Microsoft stating this is RTM. All I know is we legacy fans refer to it a lot.

Microsoft will never confirm a Windows 10 build as RTM.

So why are we confirming for them? Any hints?

because it's rumored to go G.A. next week.

Honestly? Because the watermark isn't there anymore, which usually means RTM status.

The watermark has been gone on previous builds too. I'm currently using 15042, and it has no watermark.

Someone just saw that the latest official (leaked) version of Upgrade Assistant download the 15063 as new update for Windows. So this build is supposed to be the one that will be officially released on next weeks.

One top of it too, they've released the ability to straight up install from RedStone to the final build of RedStone 2. Also its been tagged with Final Release when you do this. Everything points to this being the RTM build.

Out of topic "Don't you think it's time that ms and Samsung work together on smart phone with Samsung release few limited windows 10 edition of smart phone on It's Galaxy note line.." What are you guys thinking?

Why would Samsung waste the money and time to do that?

Because they need to decrease their reliance on Google.

So instead they should be 100% reliant on Microsoft? With Google/Android, they can change the OS to fit their design language, and it already has an established customer base and application store. Samsung would know since they make the most money of Android manufacturer. Windows 10 Mobile doesn't let them change the OS to add new features or make it fit their design language, and it has a horrendously low customer base and empty app store. What's the advantage for Samsung?

Samsung is VERY interested in Continuum. They have their own implementation that they're rumored to release soon, but it doesn't offer "real" apps.

The Lumia Collection in Windows Phone 8.1 Store.

Damn the fanbois are downvoting you in full force. Your question still stands though. Why would Samsung waste RnD cash on a dead OS?
It's more important for them to regain Android customers trust at this point. A 1,5% market share means nothing to them.
Maybe HTC might be interested.

Samsung has been working on their own mobile OS, Tizen. Which is also open source...

And doesn't have an established customer base and app ecosystem. They've released a few Tizen phones and they've been awful.

Man, the windows central w10m app is so much better than the android version...

You are kidding? Right? This thing is a mess. Live tile has NEVER worked. Hitting notifications to go to a response in the comment section makes the scrolling go all wonky. To many articles need to be read from browser. So on, so on.

Sarcasm acknowledged and appreciated. God that app is terrible.

This is a new update or what?? This update is available in Microsoft Lumia 640 XL ??

If you're in the Insiders program, it just hit the Slow ring. The rest of us have to wait a bit.

So if it's RTM, time to leave the fast ring for 6 months or so?

yeah unless you are happy with bugs and errors :)

I wish MS bring all the feature of RS2 to RTM. Last time they did not!

what app is that windows 10 mobile in the picture? its so clean.

It's an Android phone using the SquareHome launcher

Never tried it, is it a good launcher? I like the MS one, but I'm open to change.

Worked great the last time I used it

That looks tempting if it works just as good as it looks.

Hi All, just noticed that in Australia, Telstra is now offering the HP on a plan for business/enterprise - can be sole traders: https://www.telstra.com.au/small-business/mobile-phones/mobiles-on-a-pla...

I believe that OPTUS is going to offer the HP in their business plans as well.

Why is there an HTC in the main image?

Sorry guys, to me it looks just like my 930.

Especially with that HTC logo on the front

What htc model is on the main image?

The HTC A9, an Android phone using the SquareHome launcher

Is the Skype update only to preview members? I still have the preview app on my production build phone, havent checked the PC yet.

It's still for Insiders, yes.

They've actually went backwards on live tiles... Do you guys remember the original music and Xbox Music tile?

The next phone from Microsoft should be called the Phoenix as it will rise from the ashes of windows mobile and be more powerful than anything imagined.

Appropriate since it's mythical. That means it doesn't exist.

I'm sorry, I don't spend as much time in WM forums anymore.
What hiring in the mobile division took place? 2016 was full of retrenchments of thousands of employees. How many people have been hired in the Mobile division?

Ahahahahahaha! You mean this, "As it turns out, Microsoft does care about Windows 10 Mobile. If they didn't, why are they still hiring people to work on Windows 10 Mobile itself?" is a statement based off of the hiring of two workers after all the retrenchments? For all we know it could just be Satya and Dona hiring their nephews and nieces to get some experience before the division is shut down. Some people are deluded.
These writers are going to make me drink in the morning.

Did they actually give us a number?

Yeah, on their site, Microsoft careers :)

It's because they fired half of Finland and don't have anyone to keep the still 10 million users circus 🎪. Running. Not because they care about mobile... Well, at least Nadella...

One more thing...
I've noticed that any comment critical of Microsoft garners a lot of downvotes without any response as to why someone disagrees. This place is becoming pitiful it seems. There used to be discussion and debate. But I guess those days re gone now.
*sighs* Only rabid fanbois left here now.
*wipes a tear from his eye*

Just try to ignore cause you won't see answers :P

They DON T CARE, three hirings ? McDonald's here just hired 5 peoples.
They must support the latest 950 for one more year by contact, they still need some people.
If they really care, they MUST immediately remove the old a d untouched 30% royalties for EVERY APP they are asking to the developers/company who would evaluate investing in wp.
While this outdated 30% fee remains, it means they absolutely don't care a thing about WP (and uwp).

About the Skype App and ending preview: I actually really like it. I had some call problems during the preview but since it exited preview it totally works fine! I am very happy with it. I like the app very much. Design is totally fine. I just miss one thing: filtering skype only contacts vs all contacts from the people app.

I caught the exact same Skype bug that Zac did today. Now I have to reconnect my two PCs for SMS relay. This is still the preview version BTW.