Windows Central Podcast 93: Does Cortana have a future?
This week on the Windows Central Podcast: Dell's secret foldable dual-screen device, Microsoft To-Do becomes useful, and what's in store for Cortana?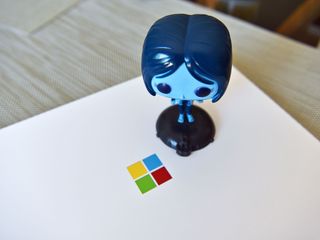 (Image credit: Windows Central)
We're back with another exciting episode of the Window Central Podcast. This week, editors Daniel Rubino and Zac Bowden talk about Dells' secret foldable Windows 10 device with dual-displays that sounds awfully similar to Microsoft's secret Andromeda device. Also this week, we talk about new builds, Microsoft's To-Do app, the death of Groove on iOS and Android, and the future of Cortana. What's next for Cortana? All that, and more, in this weeks episode.
Help us make this show the best Microsoft podcast in the world. Tell your friends, share it on social media using the hashtag #wcpodcast, and give us a five-star rating wherever you download your podcasts! Thank you so much for listening!
Show Notes
Subscribe to the podcast
Hosts
Make this show great by participating!
Send in your comments, questions, and feedback to:
Windows Central Newsletter
Get the best of Windows Central in your inbox, every day!
Zac Bowden is a Senior Editor at Windows Central. Bringing you exclusive coverage into the world of Windows on PCs, tablets, phones, and more. Also an avid collector of rare Microsoft prototype devices! Keep in touch on Twitter: @zacbowden.
A very limited one.. On the Xbox alexa/google news, i no longer need to kept cortana around. id rather have one VA that does it all. I can now build some stuff I previously was waiting on with Cortana. HEY Cortana, so long..

We're very happy that you finally found someone else. Congrats to the both of you :P

700 million devices, zero traction. Gives you that uncomfortable feeling when you see someone embarrass themselves, you know? What a waste.

What's sad (and pisses me off) is that in 2018 we shouldn't be asking this damn question..... Again

Yeah... it's short sightedness then again for almost everyone hindsight is 20/20. The only thing I would say is that there is finally someone in charge of Growth and Ecosystem - Charlotte Yarkoni. This VP post was created less than a year ago so time will be needed to see what materialises from this division.

Why aren't podcasts uploaded to YouTube anymore?

They don't do it anymore
you can watch it on their mixer channel or you can wait for the podcast to be released

As a conversation AI developer, ACPC will drive Cortana ussage.

This feels like Westworld with the foldable tablets. Would be a good plug by *fill-in-the-blank* company

2018 Q4, we will see TWO NOT one new categories of Andromeda OS devices. Both are foldable. Microsoft and Dell. However, the one from Dell is a foldable device that is detachable into 2 mobile units (tile like Surface hub2). Is this a new category of 2 in 1??? No!!! How do u define a new category where on one hand u use one unit like a phone next to your ear, with the other unit u use like a screen with video massaging. Why would u want to do this!! When u are on the go, without a headset? U need to call while using the other screen - video conferencing or GPS navigating while walking. Just check Microsoft 2009 future vision YouTube video Microsoft - deliver the vision after 10 years??? Persevered continual innovation through billions (US) of failures, OS iterations(Win8, WinRT, W10M) and years after years of serial consumer disappointment. Let us re-visit this next year.

I could imagine now 4 in 1, in a few more months 5 in 1 and on and on... What is 4 in 1? Mobile phone, tablet, notebook = 3 in 1
The fourth? One hand as phone calling, the other hand as phone while not calling e.g. taking photo, video, navigating, video conferencing... All on the Go!!!! TWO HANDS ON THE Go is the 4th in 1

With 4th in One, do people still want to use iPhone????? While Android and Microsoft pushing foldable mobile.

Cortana will definitely still have the future, not so sure for Siri

Still think it's a mistake to relegate Cortana to be "assistive" only. So she's not as good an assistant as Alexa or Google Assistant. Okay fine. It's okay to be 3rd place sometimes. You don't always have to be "better than others" in order to have value. Just be the best assistant YOU can be Cortana. I for one really loved Cortana as an "assistant" that I could call up when I needed her. Especially on a mobile device. But even on a laptop. In fact it's sort of irritating to have her piping up all the time uninvited in Edge and in Notifications. Some people may like that, and I'm not saying take that away from them, but I hope there's at least a kill switch for those of us that want to turn the nag-fest off. I hope Microsoft reverses this assistive-only course at least to some degree, especially with all the really cool devices being dreamt up at Computex. It would be a shame not to have our wonderful "assistant" Cortana back in action and better than ever, and as available as ever in markets around the planet. They could start by making her able to tell what song is playing again. I don't really care if it's only on laptops for the present. I see lots of laptops in coffee shops, where the new music is playing. Nevertheless Computex is proving that some day a mobile Windows will be back. So keep improving her as an "opt in" assistant rather than relegate her to an "opt out" assistive.

Cortana's package tracking Works again on the PC so for me yes

I wish it would work on my phone..

@rodneyej you can now
I don't think it stopped working on Windows 10 mobile😏. It's working again on iOS and Android notebook/manage skills

Microsoft can't even get Cortana on Xbox! Heads should roll at Microsoft just for that reason alone! Instead Cortana's head will roll right off that bobble head . . .

Because beyond a attached MIC there isn't anyway to get a always on mic added to the console, without causing the people throw a fit that Microsoft is spying on them lol. The kinect could have served as an interaction point between the user and Cortana....

Still is on my Day One edition.

I would like to see Cortana continue and give Google Assistant and Amazon Alexa a run for their money.

Well, besides corny trolls, who wouldn't?

Not happening, Microsoft dropped the ball big time here. When Cortana was first introduced they had the monetum but... a few years on nothing, nada... still limited to a few markets and still feature locked to the US.

Once Cortana even work outside the US it might have a future but since the rest of the assistants go for the global market and Microsoft is not they will forever fall behind.

I don't know who's more behind Microsoft with Cortana or Apple with Siri. I don't use either one for anything anymore.

If Cortana and all it's AI and services is limited to 13 markets, then no Cortana does not have a future. I still believe language support the crux limiting factor that will make or break Cortana.