Wrap-up on today's MIX11 keynote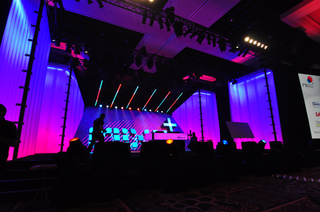 Today was a superb day for both the Windows Phone 7 platform and the development community behind the 13,000 Marketplace apps. Luckily we were at the front (literally) of the action in Las Vegas and laying our hawk eyes on the live stream to bring you the best coverage of the keynote from a variety of angles. Not only were we live blogging the entire session, we are also bringing you the latest bulletins covering the Angry Birds release date, IMDb working with Bing, Kik Messenger coming to WP7 and more.
Follow the break for a snappy list breaking down the important topics covered in the keynote along with an in-depth summary.
Joe Belfoire explains the update process, why it took so long and how they've learned from the feedback received
Nearing 13,000 apps and developers are constantly producing quality over quantity
Improving developer opportunities through scale of user base and predictions of greatness by 2015 with market share
Nokia makes a brief appearance building excitement for joining the WP7 regime
16 more languages will be supported in Mango, increasing the number countries you can submit apps to the Marketplace from (to be 38) and where you can download apps (16 to 35)
Big changes to the app list in Mango with adding a letter jump list, search feature with live filtering and Marketplace search integration
Podcast support coming to US in the fall of 2011
Installing free apps from the Marketplace now only requires one click and download progress for all apps are shown in the app list
Built-in multitasking is shown with holding down the back button, and more 3rd party apps are being included in hubs
Search feature heavily improved with Bing integration with movies used as an example, info card are displayed just like restaurant searching
IE9 will be powering the web experience in Mango, bringing the same code base and rendering engine used on desktop (hardware acceleration etc.)
HTML5 speed reading on Mango out-sped both Android and iOS in a live comparison
A plethora of introduced capabilities for native apps to get richer and better integration through use of sensors, multiple live tiles, background updates, SQL, data access and more
Gyroscope and compass support is added
Skype is announced and a demo presented with contacts and socket support
Personalized ringtones is displayed, adding new files with ease
Amazon's app demo uses sensors and can scan bar codes using the built-in camera through search to bring up products (a book was used as an example)
Live tiles can now be "deep-linked" into an app - example being the Amazon app scanner, one click from the home screen compared to opening the app, hitting search and then opening the scanner
Motion sensor introduced, combining both the compass and the gyroscope
Implementation of fast-app switching with apps being put to sleep and then re-awakened (demo with multitasking while Angry Birds was running)
As well as introducing multitasking with background functions (music, downloads, alarms etc.), battery life was sought to be improved in Mango
Live Agents allow developers to balance the problem in running background code while allowing users to maintain good battery life and not to run processes manually
Qantas app shown off with multiple live tiles present on the home screen with seperate animation, content and deep-links, with background alarm management and GPS location along with processing calculations without user input
Joe Belfoire states the developer tools will be released next month (May)
Visual Studio 2010 demo is ran by Scott Guthrie displaying the capabilities of the device emulator running the game Mobile Maze
WP7 emulator is improved with gyroscope, accelerometer, GPS and multiple locations support along with multiple pre-built gestures (shake device to refresh/reload etc.)
Debugging is much easier, troubleshooting performance issues and problems with apps in VS through GPU, CPU and execution measurements etc.
Mango performance increase is shown with a demo of a two WP7 devices (one without Mango) running the same apps and the same code
1500+ APIs coming to Mango and WP7 developers
Kik Messenger is headed to Windows Phone 7
Let us kick off the summary by opening old (and in some cases still new) wounds surrounding the February NoDo update. While the update is still causing concern for AT&T customers among others who still haven't received the notification to update yet, Joe Belfiore apologized for his previous post regarding his comment that "majority of users have the update", which later required him to state that he was mistaken.
Hats off to Joe though, he went on to explain that they located issues with devices that were being shipped from manufacturers with characteristics not originally present in earlier models. Microsoft also patched the Zune PC client and OS X Windows Phone 7 connector many times for the February update leading to more steps being taken to safe guard the update process.
Microsoft released the updates for carriers almost simultaneously -- however -- larger carriers (o2, Vodafone, AT&T, Verizon etc.) will take more time with their updates being rolled out to end-users due to the rigorous testing they carry out ensuring the update will not cause problems resulting in a larger volume of support required by customers. Joe also wanted to point out that,
The Where's my update page (opens in new tab) will be continuously updated throughout future updates.
Moving (swiftly) onto the state of the Marketplace, which is something Microsoft is extremely proud of. Almost 13,000 apps have been submitted within 6 months, and the majority of apps that pass the approval process are of high quality and include ESPN, New York Time among other big brands. Kudos where it's due. We covered -- not so long ago -- that Gartner predicted the WP7 platform would become 2nd in held marketshare by 2015, and so this obviously caught Microsoft's attention and was mentioned that the OS will enable developers reach a larger audience with the ecosystem supporting an audience on a huge scale.
Apps on the Marketplace will have improved information pages with pivots separating reviews, screenshots and a "related apps" feature. Something magical - free apps will only require one click to install and all download progress bars will be displayed on the installed app list.
Nokia made a brief appearance, pretty much only saying "hello" and "goodbye", Marco Argenti (head of developer experience at Nokia) mentioned how excited the team are in building and developing for the WP7 platform. One of their aims is to bring tremendous scale to the platform and explained that developers using their application environment (Qt) would allow development for both WP7 and Symbian.
Next up is increased language support and country deployment, this allows developers in 38 countries will be able to submit apps to the Marketplace, while the number of countries that can download apps from the Marketplace will be pushed up to 35. Don't forget that a total of 16 languages are being added in. This is all great news for users who have experienced issues when attempting to access the Marketplace.
Joe displays his new toy to the audience, an ASUS device running the latest build of Mango. The top features that caught everyone's attention were the changes to the app list adjacent to the home screen. Letter jump list is implemented (just like in People hub etc.) as well as search to allow live filtering of installed apps, not to mention the ability to search the Marketplace directly. Staying on search for a while longer - the Marketplace has received a revamp in results with added panes separating apps, music, podcasts (US support coming late 2011) and more. Built-in app multitasking was shown by holding down the back button to bring up a sort-of presentation of apps currently active.
The search function is heavily improved allowing Bing integration with location, reviews and more (which is already present with some searches such as for restaurants). Joe ran an example with searching for the film Source Code and selected the result powered by Bing which brought up an information card showing reviews, show times and also a list of apps installed that support films - in this case: IMDb. By clicking on the app listed you are deep-linked to the content in that selected app. Clicking on IMDB brought us to the film summary page of Source Code, without any further clicking or searching. Saves a helluva lot of clicking and app-switching.
Internet Explorer 9 will be included in Mango, bringing with it the same code base and rendering engine used on desktop platforms. Hardware acceleration is a well-known advantage and the mobile IE will surely make use of the WP7 hardware. What's more is the markup on both the mobile devices and desktops running IE will be the same, less for developers to alter in code to accommodate multiple platforms. HTML5 speed reading was compared live on stage between WP7, iOS and Android showing the FPS (frames per second) that was maintained. IE9 on Mango scored an impressive victory with completing first and reaching 20FPS, while Android lagged behind on 11FPS and iOS was only starting with 2FPS. This was all thanks to the hardware acceleration and HTML standard space native browsing from IE on the PC.
Platform capabilities for native apps to become richer and more functional in Mango with phone integration were introduced, enabling developers to use sensors and and date on the device. User experience enhancements, improved panorama views, enabling multiple live tiles per app with separate animation, background updates without push, ringtone(s) push, built in SQL Db, more launchers and data access to contacts & calendar. Mango will prove to be a huge step up for developers and apps will have the space to become much more feature rich, especially with the additional support for gyroscope and compass. Skype was presented in demo, which requires both contacts (address book) and network support - it's definitely coming to WP7.
A highly requested feature by the community is personalized ringtones. This is something that will be addressed in Mango and was demoed by Joe with downloading an audio file and using the API to add it to the ringtone list and/or apply it as the device ringtone.
Naming the increase in capabilities and functionality would mean little without an app demonstration that took advantage. Out comes the Amazon app using sensors on the device, namely the camera. Instead of searching for a product using text via the on-screen (or hardware) keyboard, one can use the camera as a bar code scanner to take a picture of a book (for example) and search Amazon for that book or other products. Deep-links (as mentioned somewhere above) also allows one to pin this bar code scanner within the Amazon app to their home screen for instant access. Really neat.
Motion Sensor was next to be introduced by Joe, which makes apps that use the gyroscope and compass easier to develop for developers (an example was demonstrated using the Layers app). Angry Birds was the next app used for Joe's pleasure aiding his explanation to the audience about fast application switching and multitasking. With multitasking processes like background music (Spotify coming to WP7!), downloads and alarms normally comes a compromise in battery life, Joe stated that the team is working hard to combat this with Live Agents. Developers will be able to use Live Agents to balance the problem of running background code and allowing users to maintain good battery life. The Qantas app was used for showing off the implementation and usage of Live Agents, showing flight time and status in multiple live tiles, showing an alarm about that flight and the Live Agent is checking GPS location, calculating the time required to catch the flight and then providing related flights should it detect that you'll miss the boarding time.
Mr Belfiore then finished with a note that Windows Phone 7 will help developers bring apps to their users faster and further develop the experience. Developer tools will be released next month (May), available for download.
Battling hard onto gaming development (still awake reading this? Nearly finished), Scott Guthrie took the stage to walk us through improvements that have been applied to Visual Studio 2010 Express for Windows Phone. He kick-starts the Mobile Maze game in the emulator bundled with VS, which requires the accelerometer. The emulator now included support for not only the accelerometer, but for pre-built gestures too (shake device to refresh/reload etc.). Don't think for a second they have forgotten GPS and location support because this is all included through a demonstration using Jeff Wilcox's 4th & Mayor app in the emulator.
Staying within VS but moving off from the emulator, Scott takes us through improvements made to the coding side of the software that helps developers easily identify problems through dialogues and clever measurements ran by VS when testing applications. GPU, CPU and execution time can be measured against set inputs, and tracking how many bytes of memory is generated along with CPU usage and more is a breeze with clear graphs showing second-by-second break downs.
Scott loves us and leaves us with a video comparing the speed of pre-Mango with Mango through running applications and games with only back end code altered - no code changes are required to be carried out by developers. The huge increase of performance for Mango is mostly down to the UI thread being free for user input/output, loading images via network no longer blocks the UI thread and loads images as they're fetched rather than waiting until ready to begin rolling out. This ensures that there is next-to-no 'lag' when browsing around lists and panes. Less memory usage when using apps (along with more efficient allocation), garbage collection clears up used RAM when possible and Mango (as a whole) feels much more "buttery".
Finishing off, Scott re-announces 1500+ APIs will be made available for developers, including database manipulation with SQL CE management. This will bring the much requested database search to the table that wasn't feasible before due to not being able to parse the code/files. As mentioned already, network sockets are now available (Skype) and an IRC conversation was presented on stage. Oh, and Kik Messenger is coming!
So, after reading all of the above and probably wishing you had stuck to the quick bullet point list, what do you think about the keynote? Did it answer questions that were raised in your mind, or are there things you still want to see/hear from Microsoft?
Windows Central Newsletter
Get the best of Windows Central in in your inbox, every day!
Rich Edmonds was formerly a Senior Editor of PC hardware at Windows Central, covering everything related to PC components and NAS. He's been involved in technology for more than a decade and knows a thing or two about the magic inside a PC chassis. You can follow him on Twitter at @RichEdmonds.
Having watched the keynote live and seen some of the opportunities available for developers now, I honestly think that if Mango gets delivered on time, with all of these features, it will have taken WP7 1 year in use to surpass the competition, if we've been playing catch up for that year to become the best platform on 365 days, that'll be an amazing feat for the guys at MS

Wow this is a HUGE post. Excellent coverage guys! I am ridiculously excited for Mango later this year.

Wow! I almost wet myself. If I get all of the above installed to my phone this year, I will.

excellent post guys! Impressive! In two days it will be the middle day of April. A TT MS shows testing to be finished in "early" April. I am still waiting patiently but would like to point out that its not longer "early" April Its mid April now Tick Tock .......!

We have not seen everything yet,they kept making it clear all today's announcements was for developers and that there is still End user stuff to be announced at a later date.MANGO is going to be massive

I think they are waiting for E3 for more gaming news about the platform which makes sense.

none of the other major tech blogs even bothered to cover Mix so I really appreciate the fact that you guys did this. I think the Keynote was good kinda long but they put so much stuff into it that it made up for it. Mango is going to be a amazing update I can't wait.

Yeah I'll echo that, MIX coverage has been outstanding on WPCentral

Thanks for the feedback guys, we're all as excited as you were/are about Mango and the upcoming developer updates. The only way is up and we plan to be at the front every time.

Oops, thanks for pointing that out.

Great coverage. I really appreciate and wondering how you really did that? Did you 1st recorded and latter rewritten them or remember these stuff ? Even you beat CNET's Apple Product coverage. Is Mango the reason, why Iphone 5 got delayed? May be when Nokia will release its 1st WP7.5 Phone, I would be the 1st person who is standing in the Queue.

We were live blogging the event, while taking in-depth notes, I don't think we would be able to remember everything ;) thanks for the positive comments, much appreciated.I'm not sure on iPhone 5, could be and I would bet on it as Apple knows WP7 is a threat (especially with IE in that speed demo lol).

Any word on the lack of a saved state with the camera setting?

Not that I'm aware of, unfortunately. Maybe they wish to keep this 'feature', will keep you all in the loop should we locate anything.

I think this is one of the best features on WP7, I hope they keep it like that until windows phone 8

I didn't see anything in the keynotes, but did anyone there mention Windows Live Messenger coming to WP?

I don't believe so no, I presume this is due to the amount of data it would require and possible strain on the fantastically developed carrier networks.

Great summary of the keynote. It was hard to keep up with all the Twitter posts/individual posts and this was good to get a detailed summary of what to expect. With Mango, this OS is going to match Android and iOS feature-wise... and still beat them in user experience and speed. I cannot wait!

Thank you for the kind words, agreed on every front with your comment.

Nice coverage guys. Very thorough. Just what most people reading it wanted I have no doubt.Yes, I'm really excited for Mango. It truly will get Windows Phone up to speed with other OSes if they do what they say they will when they said they would.Has there been any talk of what version Mango could be considered? WP 7.5 maybe? The number doesn't really mean much compared to the features and efficiencies it corelates to, it's just interesting to know.

It will indeed be 7.5, sir.
Windows Central Newsletter
Thank you for signing up to Windows Central. You will receive a verification email shortly.
There was a problem. Please refresh the page and try again.