X019: Everything Xbox announced in London
There were a lot of wonderful surprises at the event.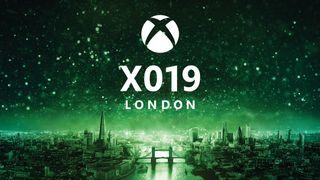 (Image credit: Microsoft)
Every year, Microsoft hosts a celebration of gaming for fans in various regions. This year, X019 brought plenty of surprises like the Yakuza series coming to Xbox One and much more. The show from London was packed with a number of stellar reveals like new games from Rare and Obsidian Entertainment. You can read about all the major announcements below.
Age of Empires II: Definitive Edition
Age of Empires II: Definitive Edition is now available on Xbox Game Pass for PC.
Age of Empires IV gameplay was finally revealed at the event. Fans of the legendary franchise have been waiting years to play the sequel and it looks like the wait won't be too long.
The Artful Escape
The Artful Escape got a new trailer at X019.
Black Friday
Microsoft previewed some Black Friday and Cyber Monday deals that begin next week and end in December. You can get an Xbox One X for $350 and other discounts on controllers and games.
Bleeding Edge, the new multiplayer game from Hellblade: Senua's Sacrifice creators, is coming to Xbox One and PC in March 2020. The closed beta begins in February 2020 so you can test it out before you decide to buy it.
CrossfireX is an incredibly popular PC shooter and a few months ago, it was announced that the game is coming to Xbox One. Today, we got the long-awaited gameplay trailer. Did you know that Remedy Entertainment is writing the story for the game?
Drake Hollow
A game called Drake Hollow is coming to Xbox One which looks like a cartoonish four-player co-op game.
Today, Rare — the team behind Sea of Thieves — revealed Everwild. While we don't know much about the title, it appears to be a role-playing game focused on magic. The short trailer is definitely intriguing.
Flight Simulator
Flight Simulator got an amazing trailer which showcases its gorgeous visuals.
Today, Obsidian Entertainment revealed its latest game called Grounded. The new franchise, slated for 2020, melds first-person co-op survival with a narrative-driven edge. It's being created by a small team at the company and has been in development since before the acquisition by Microsoft. It's coming to Xbox Game Preview in Spring 2020.
At X019, 343 Industries' Brian Jarrard shared the news that Halo: Reach is coming to Halo: The Master Chief Collection on December 3 for both Xbox One and PC. All six Halo games in the collection can be purchased for $40 on the Microsoft Store and Steam. However, it seems like if you just want Halo: Reach, you can buy it for $10.
ID@Xbox
There were a number of ID@Xbox game showcased at the event.
KartRider: Drift
Launched in 2004 on PC, KartRider is a massively popular multiplayer racing franchise that boasts more than 380 million players. KartRider: Drift is the Xbox One and PC version for the West, and will feature cross-play and other features.
Kingdom Hearts
Past Kingdom Hearts games are coming to Xbox One.
Last Stop
Last Stop is the next game from the makers of Virginia.
Minecraft Dungeons
Minecraft Dungeons is coming to Xbox One and PC in April 2020.
At X019, the company revealed the Mobs at the Park event. If you're in New York City, London, or Sydney, you'll be excited to know that life-sized statues of interactive mobs will be popping up starting November 16.
Planet Coaster
In a surprise move, Microsoft said that Planet Coaster, the incredibly popular PC game is coming to Xbox One.
With Google Stadia around the corner, Microsoft had to make a splash with Project xCloud game streaming at X019. The company did exactly that at the event. It was announced that more than 50 new games from 25 partners are being added to the service. You can now play Devil May Cry 5, Madden NFL 20, and even Tekken 7 on the go.
Since Project xCloud launched in October, Microsoft's focus has been on Android phones. However, that's going to change in 2020. The company said, "Next year, we'll bring Project xCloud to Windows 10... and are collaborating with a broad set of partners to make game streaming available on other devices as well." This may include iOS.
Given the fact that there are a lot of controllers on the market now, Microsoft plans to support more Bluetooth devices like Sony's DualShock 4 and accessories from Razer. While Stadia is launching with 12 titles, Microsoft says that "over 3,500 games on Xbox One today and 1,900 games currently in development are already working" on Project xCloud.
Project xCloud will expand to more countries in 2020 like India and Japan. The team will also add game streaming from the cloud to Xbox Game Pass. Lastly, existing games in your Xbox One library will show up on Project xCloud next year.
Rust
Rust is coming to Xbox One in 2020.
Sea of Thieves' next update will arrive on November 20 and include a short Tall Tale campaign called The Seabound Soul. Firebombs will also be added to the game for even deadlier combat.
Star Wars Jedi: Fallen Order
Star Wars Jedi: Fallen Order got an emotional trailer at X019. The game launches on November 15 on Xbox One and other platforms.
Dontnod Entertainment has crafted many amazing games like the Life Is Strange and Vampyr, but now the stellar team is partnering with Xbox Game Studios to make a game called Tell Me Why. Tell Me Why is a true-to-life narrative adventure for Xbox One and Windows 10. It's coming Summer 2020 and focuses on a transgender character.
Wasteland is coming out in May 2020.
West of Dead
West of Dead is a new game coming to Xbox One that looks incredibly unique.
An X019 Flash Sale is going on right now with substantial discounts on games like Borderlands 3 and more.
More than 50 new games coming to Xbox Game Pass were announced at X019. Titles like Remnant: From the Ashes and The Witcher 3: Wild Hunt are the most prominent, but later on in 2020, select games from the Yakuza franchise will be joining the service on Xbox One and PC. Aside from numerous Final Fantasy games coming to Xbox Game Pass, the Yakuza drop will probably be the most memorable.
If you haven't tried Xbox Game Pass Ultimate yet, you can get your first three months for $1. For a limited time, all eligible Xbox Game Pass Ultimate members get a month of EA Access, three months of Discord Nitro, and six months of Spotify Premium included with their subscription.
There were all of the major announcements from X019. What stood out for you the most? Let us know. Since we're massive fans of the Yakuza franchise, the fact that three games from the series are coming to Xbox Game Pass is phenomenal news.
Best of the best
(opens in new tab)
Xbox Game Pass and Xbox Live Gold in one

Xbox Game Pass gives you access to over a hundred games for one monthly fee. Xbox Game Pass Ultimate also adds Xbox Live Gold to the package so you can play online with your friends. Right now, you can purchase a three-month subscription for $45 through Amazon.
Xbox
(opens in new tab)
Main
Asher Madan handles gaming news for Windows Central. Before joining Windows Central in 2017, Asher worked for a number of different gaming outlets. He has a background in medical science and is passionate about all forms of entertainment, cooking, and antiquing.
Also Xbox is running 1909 build number but says 19H1 after it?

Overall I wouldn't say it was a decent show but again I went in with so little expectations. I didn't expect anything new besides some AOE IV news.
While I'm not too sure what to think about the AOE IV news, it was good to see stuff like Grounded and Tell me why. Everwild is another new game they showed and even though it was not for me its still nice to see a new game. ofc we could have hope for reveal of bigger new AAA games, but it's fine because like I said I wasn't expecting much from this.
I'm sure many of those expecting more from the show, will feel disappointed but I don't think many of them will admit it. Other than that it was rather dull. The usual talk about controller, XCloud and game pass... In fact they talked so much of game pass. It looked like the game pass conference. It's things like this that make me think that they can't wait to stop making hardware and go 100% game pass. Oh and there was that weird moment when people starting to boo because they mentioned "Sony Dualshock" on stage. This was not met with the usual cheer and shouting that every other announcement got. I guess this just shows what stupid fanboys are all about. It's not about gaming and providing options for gamers. For some it's about some silly console war. Quite pathetic...

So what's worse, dumb fanboy response from the audience or a fake audience that sounds robotic with responses like we usually get from Inside Xbox? It's really sad that most people don't seem to understand the direction that Microsoft is trying to go by going system agnostic with games and services (and now maybe hardware). As a fan of Xbox this is something that has actually excited me more in recent months than the last 5 years. This only helps gaming in general (while not exactly Xbox directly right away) by allowing more access. I'm really looking forward to the day that I am not limited on a game I can play just because of the hardware that I'm locked in on or choose to play on.

I would rather see these people than last year's crazy audience who didn't know what they were cheering for or what was happening. I think many of us understand MS's strategy and what is potentially their end goal. While you are excited about the future, I'm actually more and more worried. And it goes beyond MS.
When I think about service in gaming, I think more and more companies trying to turn games into services that will generate money.
I think more of games like Battlefront 2, Fallout 76, Anthem and even a game like Gears 5. You know what I think about game pass. I just keep seeing $1 deals with Gamepass. I understand that this is just to get people to try the service so that they can actually pay the full price later...
But now it's been what? 2 years...? and they are still doing these deals. With all of these with I can't seem to figure out how devs are actually making money.
Maybe that's why games maybe designed so that they can make money after initial sale... The ability to play on any hardware is good, but you know what I think about platform owners and their interest of making quality games exclusive to make their platform attractive.
If Google want to make Stadia stand out they'll need to invest more in making games and that should be the same for platform owners.

I think you over estimate the common folk and their knowledge of what corporate strategies are. They just know the system they like and everything else must be bad. If you ever come to the US and see the pathetic fascination with iPhone, you will understand what I mean. 😜 While I do worry like you on Service games, unfortunately this isn't going away. The last episode of the Major Nelson podcast actually had a good explanation of how games have gone there (and will probably now stay there). Give it a listen if you want to grit your teeth. We also can't blame game pass or any of these programs for EA or Bethesda's greed. They are now in full AAA games that aren't on a game program, and this isn't changing. I don't think the price of Game Pass is affecting how much devs get for being in the program, I would imagine that is Microsofts burdon to bear if that strategy doesn't achieve the long run results. At this point though, I think it will work out. Especially if they actually start releasing GAMES and not Crackdown again.
Windows Central Newsletter
Get the best of Windows Central in in your inbox, every day!
Thank you for signing up to Windows Central. You will receive a verification email shortly.
There was a problem. Please refresh the page and try again.