Xbox One Insiders in the Beta ring will receive their first Windows 10 Creators Update build today
Now that the Xbox Insider Program is split into four separate rings, many have been wondering when the Beta group would receive their first build.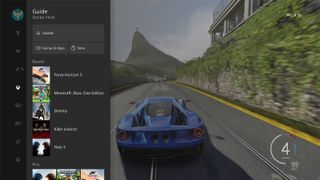 That time is now! The Xbox Insider Program is grouped by participation. Alpha testers have already received the initial Windows 10 Creators Update builds, bringing Cortana improvements, dashboard speed increases, and an all-new Xbox Guide menu.
Microsoft announced that later today, testers in the "Beta" ring will receive their first 1703 build for testing, feedback provision, and super speedy console browsing.
Brad Rossetti from the Xbox Insider team announced that the first Beta ring build will arrive at 6 PM PST. Alpha testers will not receive a new build today. Testers in the third and fourth rings will have to wait a little longer to get their hands on the new features.
If you're familiar with the Windows 10 Insider rings, the closest approximation is: Alpha is the Fast ring, Beta is the Slow ring, and the third and fourth rings are effectively two Release Preview rings. For more information on how the new Xbox Insider Program works, head over here.
Xbox One Insiders - Preview BETA Users prepping your first 1703 build for 6.00pm PST today(2/3). No new build for Alpha today. Stay tuned!Xbox One Insiders - Preview BETA Users prepping your first 1703 build for 6.00pm PST today(2/3). No new build for Alpha today. Stay tuned!— Brad Rossetti (@WorkWombatman) 3 February 20173 February 2017
It seems likely that beta testers will receive the more stable 1703.170128-2057 build that hit the alpha ring a couple of days ago.
If you're in the Beta ring and are receiving a Creators Update build for the first time, see the link below for a list of the update's major changes (so far).
New Xbox Insider Preview build will revamp the Guide, Cortana, and much more
Jez Corden is the Managing Editor for Windows Central, focusing primarily on all things Xbox and gaming. Jez is known for breaking exclusive news and analysis as relates to the Microsoft ecosystem while being powered by caffeine. Follow on Twitter @JezCorden and listen to his Xbox Two podcast, all about, you guessed it, Xbox!
"Dashboard speed increases" have been in every build so far apparently ;-) In this build have they finally sorted the poor performance (on the dashboard) for good? My console was put in the Beta ring so will download tomorrow probably. Using for Plex right now

Yeah, the difference is far more pronounced than our usual "Seems Faster" spiel haha.

I Beta be careful around here.

"Beta believe it"...😂😂😂😂😂😂😂 Nice one.

The speed boost is actually noticeable in this build.

Latest Alpha is much improved generally, but a couple of games don't enjoy loading. Like the new guide, but layout could be tweaked a tad. Last night I had fast ring for phone and Xbox, and general update for my pc, good times. Liking the latest versions of all. Only gripe is the change of fonts on my Xbox. Still readable, just. One downside, my NAT seems to be always strict... Odd. But I have recently got a new hub from Virgin. Perhaps that is the cause. Any advice is very welcome.

I've always found Virgin Hubs to be a bit tetchy. I always buy a better router and stick the hub into "Modem only" mode.

Then I need a new router though, is that right. Apparently the superhub 3 is easy to use as modem, so always a possibility.

Port forward! Go here, and find the part about port forwarding: http://www.windowscentral.com/top-tips-new-xbox-one-owners I did it on VM hub at home too.

Thanks, I'll give it a go. Still got the old router, so I may be able to use it still. Wi-Fi signal is a little choppy too on the new one. But they did me all the TV, including BT Sport (not Sky though) + 200 meg internet for £35pm. Can't complain at that.

Or port triggering kind of avoids setting static on Xbox

Also a heads up, sometimes you may need to also port forward your modem too. This seems to be less likely but I've had this issue on a Comcast Modem before and was so happy when I replaced that junk. Having to port forward both the modem and router was the least of the troubles I've had with it.

How can I get this insiders preview....im already signed up fir win 10

Download the Xbox Insider Hub app in the Xbox Store.

Thanks.....but that App is not in the store....dangit ☹

Well, the muppets have thrown my replacement console into "pending" enrollment status so I'm unable to participate in these latest builds. Cheers Microsoft.

Mine just went to pending too. I was enrolled in the previous version.

Yea it used to say enrolled and you could go and see it as enrolled for nxoe or unenroll and now it just says pending

Just saw this so pending means you will not get it soon?

still nothing grr...I must be in the shitbox ring

1703? So does that cement that the Creator's Update is due sometime next month? Or is it only for the X1 portion of things?

I was about to make a similar comment, don't be surprised if an upcoming Windows build has this version number. With the anniversary update the version changed to 1607 about a month before final release

Has anyone gotten the atmos apps to work yet

The headphone one won't load for me and the home cinema one is 'unavailable'. Any news on its availability in the U.K.?

Mine says pending. Not sure if that means I am in beta or not?

Got the update last night. I def notice a speed increase when opening the sidebar. Still haven't noticed a big difference in launching apps though. Dashboard itself though is much faster. However, I really wish they would use the "Xbox" buttom as the home button and the two squares button (I don't remember the actual name for this) as a way to pull up the sidebar and multitask. I still feel like the two square button has almost no use in the system.

I love the new guide home. I miss the old home. But I can still access it for now 😏

Loving the new home button and dash speed has definitely increased, only issue i have come accross is font being a bit messed up and when in the games and apps section that first few seconds when the games load there seems to be an input delay.

This update throughly confused me while watching the SuperBowl from my Xbox One yesterday. The home screen change and the action from pressing the Home button thru me off. I'm gonna have a closer look at it....it does seem faster.
Windows Central Newsletter
Thank you for signing up to Windows Central. You will receive a verification email shortly.
There was a problem. Please refresh the page and try again.