See our Zombie Driver: Ultimate Edition Twitch stream contest winners!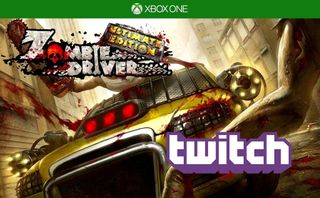 Every weekend, Windows Central streams an Xbox One game on Twitch for one hour and gives out free games to the cool people who join us during the stream. Last week, we streamed Stick it to the Man and dished out codes to ten lucky viewers.
Tonight we'll be gearing up for Halloween by playing Zombie Driver: Ultimate Edition from Exor Studios. We want you guys there, chatting along. So we're giving out five Xbox One codes for Zombie Driver: Ultimate Edition, plus two Steam codes! Even our unfortunate non-Xbox One owning brethren are welcome. Just follow me on Twitch.tv/Eastxtwitch, watch along, and participate in chat for your chance to win. You can also watch the event right here live or after the fact.
Update: We had some technical issues but the show went on and prizes were awarded. Thanks to everyone who stuck with us!
Watch live video from EastXTwitch on www.twitch.tv
Zombie Driver: Ultimate Edition
Zombie Driver is a top-down driving game similar to Grand Theft Auto 1 and 2, only with a level-based structure and much more combat thrown into the mix. Players get to drive a number of vehicles, from taxis to buses to bulldozers across a zombie-infested city while completing objectives for a shadowy military organization.
Much of the game's fun comes from plowing through huge hordes of zombies of all shapes and sizes. But players also get several guns with which to blast the undead back into oblivion, including flamethrowers and rocket launchers. The gameplay doesn't vary too much, but there are several different kinds of levels and some challenging fights against gigantic mutated bosses.
The Ultimate Edition includes all of the content from the XBLA game, including the endless Slaughter mode and very challenging Blood Race mode. Whereas the 360 game suffered from various technical issues, the Xbox One version runs at 60 frames per second with twice the number of zombies per level and many new graphical effects. It also includes all previously released DLC, new car skins, and both "retro" and static camera options.
Zombie Driver: Ultimate Edition – Xbox One – 1.63 GB – $14.99 – Xbox.com Store Link

(opens in new tab)
The Contest
We'll be streaming Zombie Driver for one hour tonight, starting at 8pm Central (9pm Eastern, 6pm Pacific). During that time, we'll be giving out a total of 10 game codes:
5 Zombie Driver: Ultimate Edition for Xbox One
2 Zombie Driver: Complete Edition for Steam
To enter, just follow me at Twitch.tv/Eastxtwitch and tune in during the stream. You can watch the stream right here in this post, but you need to actually participate in the stream chat to have a chance at winning. We'll deliver codes to the winners via Twitch message (PM) during the stream. No code begging!
What's the best way to experience Twitch? If you don't have a PC, you can get the Xbox One or Xbox 360 Twitch app and watch from the comfort of your couch. Or grab the unofficial app Livegaming for Windows Phone. It has plenty of great features, including the ability to chat along with your fellow viewers. Unfortunately you'll have to add our channel to your favorites from the Twitch website , outside of the app.
I'll be available for a few minutes after the stream if you have any questions or just want to say hi. If you enjoy the stream, please tune in to future streams. For now, we'll do one every weekend, with a few contest and non-contest streams throughout the week.
Download LiveGaming for Windows Phone (free)
Contest schedule
Want to know what's next for Windows Central's weekly Twitch streaming contests? Here's the schedule for the rest of the month:
October 25 : Zombie Driver: Ultimate Edition from Exor Studios
October 28 : Sunset Overdrive (Play with the Windows Central staff! See details.)
October 29 : Halo: the Master Chief Collection (Halo and Halo 2. See details.)
October 30 : Halo: the Master Chief Collection (Halo 3 and Halo 4. See details.)
November 1 : Another World from The Digital Lounge
Mark your calendar and tune in those days for your chance to win each game on Xbox One (and sometimes other platforms)!
Winners
Xbox One
758Gaming
lamgreeneye
gomezz34
royalbob5
halfblackcanadian
Steam
Get the Windows Central Newsletter
All the latest news, reviews, and guides for Windows and Xbox diehards.
Paul Acevedo is the Games Editor at Windows Central. A lifelong gamer, he has written about videogames for over 15 years and reviewed over 350 games for our site. Follow him on Twitter @PaulRAcevedo. Don't hate. Appreciate!
Just beat this game. Worth the sale price of $7.50, but not worth the regular $15 price tag.

I had steam it was fun. Paid 15 without thought or regret. Game is awesome.

Awesome, but I'm out getting tanked. Have fun all.

How are you feeling this morning? I am not hung over but feel it considering I am watching the Detroit Lions game.

Ha!I woke up thankfully(5 am Sunday) will be there! :D

I'm going to stay up and watch this early as well :) we should get extra points for chucking our sleep out :D

Awesome! -- I'll be there, the game looks cool.

Still trying to hook up my Xbox one. Damn HDMI pass thru. Got no audio. Do you guys suggest optical audio cables?

What are you connecting to? I was using a monitor. I just got this thing: http://www.takealot.com/hama-hdmi-converter-for-vga/PLID32843592. Was R220 or about $20. Played for a few weeks until I managed to find a nice HDMI screen. There should be a few converters or splitters out there.

You guys should do a review or something on twitch apps for WP or W8... There are a few out there. It would be great to get an app that has notifications of live streams starting.

Umm... Can't seem to find your channel. Been over 20 minutes. What am I doing wrong? ​ ​

What device were you searching from?

I was using Twitch from my Xbox One.

Weird. Try adding it to your favorites on the website, and then the Xbox One app should be able to find it.

Already got you saved. Looking forward to your streams this week. Hopefully, I'll have better luck, TY.

I hope so too! Appreciate you making the effort. :-D

I can't join. Said error now it says its over.

I got in its so choppy I had to stop. Maybe stream at a lower quality next time to improve performance. Also reset router and modem do a speed test to make sure it is all working right. :)

The game stream was pretty cool, if it wasn't for the lag but yeah, it was quite fun overall, the chat going on is really cool as well, all of you guys really should join in this Tuesday, Wednesday and Saturday :D Congrats to all the winners, see you next Saturday! :D

Thanks man! You'll really love it when we get one working right.

Plz bring this game to windows phone!!:)

6am in the morning!
Can't you guys arrange it a bit late.

you must be on the other side of the earth hehehe it starts 6pm for me

Hehe,I'm guessing you live in Pakistan,right?Because I do and the stream did start at 6am in Pakistan ;) Woke up at 5:00am,prayed Fajar and then game on,baby!Trust me,try putting an alarm on,wake early,watch the stream till 7:00,possibly win the game for free on XBox One or steam and go to sleep or study as I do ;) That's what I do every Sunday to watch the stream,best solution for me ;)

You are absolutely right bro, I do love in Karachi, Pakistan.
Thanks for the tip will try to do next Sunday. Hope I win a steam game.

So for Europe its 3pm then ? Getting confused with eastern and pazific xD
---
Please write down the mid European time as well ;) would make things easier haha

Follow them on twitch you get an email when he broadcasts......

I was one of the winners (royalbob5). Thanks again. Played a few missions and it is a lot harder than Paul made it look. He's a pro. Hope to catch a few more of the streams later this week and hopefully they will work better.

Sry to ask...Is this only for US people or all over the world...?

Twitch is open to all, and our contests are often open to all as well. Xbox One game codes are not region locked.

Website dedicated to gamers live streaming themselves and their gameplay.

I want actual game on my phone