The 10 biggest Xbox games releasing in fall and holiday 2021
There are still a ton of games on the horizon.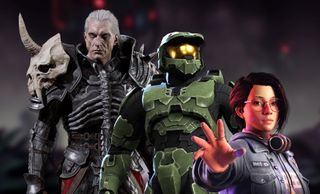 (Image credit: Windows Central)
Even with just a few months left in the year, there are still plenty of games on the horizon feeding our excitement. While there are undoubtedly a ton of amazing games we don't have time to touch on, we'll be focusing on a selection of the ten biggest and most anticipated titles heading to Xbox in the fall and winter of 2021. They follow below in chronological order, listed by scheduled release dates, dictating when you can get hands-on at launch. Check out our featured video below for our complete list with gameplay!
Life is Strange: True Colors (September 10, 2021)
First up is the next chapter in the critically acclaimed narrative-driven adventure series Life is Strange. In Life is Strange: True Colors, players take control of Alex Chen, who can use her supernatural abilities to absorb and manipulate the emotions of others. Set in the gorgeous Colorado mountain town of Haven Springs, this title promises both emotional and scenic beauty. Fans of the series can look forward to experiencing this new story on Sept. 10, 2021.
Diablo II: Resurrected (September 23, 2021)
Diablo II is easily one of the most beloved action RPGs of all time. For over 20 years, this nightmarish dungeon-crawler was tied exclusively to PC. However, on Sept. 23, 2021, a whole new generation of players can enjoy this masterpiece on PC and console with Diablo II: Resurrected. This incredible remaster hosts a suite of remarkable quality-of-life changes as well as dramatically improved graphics with widescreen support. Descending into hell should look better than ever.
Back 4 Blood (October 12, 2021)
Serving as a spiritual reimagining of the iconic zombie-shooter Left 4 Dead, the aptly named Back 4 Blood aims to reinvigorate the undead formula originally popularized by Turtle Rock Studios. With the addition of a compelling deck-building mechanic for characters and some rogue-lite elements, Back 4 Blood promises more playability than ever before. Fans of horror co-op shooters can prepare to slay hordes of Ridden on Oct. 12, 2021. Just in time for Halloween!
Battlefield 2042 (October 22, 2021)
The long-running military shooter franchise is taking fans back to the future with Battlefield 2042. After an impressive initial reveal showcasing extreme weather events, wingsuits, and the biggest maps to date, players are eager to engage in large-scale combat. Battlefield 2042 may be ditching the traditional campaign this time around. However, the team seems all-in on delivering an incredible multiplayer experience. Prepare for all-out warfare on Oct. 22, 2021.
Call of Duty: Vanguard (November 5, 2021)
While Battlefield 2042 promotes warfare in a fictional near-future setting, Call of Duty: Vanguard takes a slightly different approach. Getting back to the franchise's roots, this upcoming first-person shooter is revisiting World War II. Call of Duty: Vanguard explores unique stories in legendary settings through the lens of various factions. With epic battlefields and legendary weaponry from decades past, classic Call of Duty fans are likely excited for Nov. 5, 2021.
Forza Horizon 5 (November 9, 2021)
Forza Horizon 5 looks absolutely stunning. The gorgeous and diverse locations of Mexico showcased in the game's trailers so far have painted a vivid picture of what players can expect from the latest entry from the team at Playground Games. Featuring the most extensive map in the series' history and photorealistic environments, there's no question that Forza Horizon will be a significant hit for Xbox when it launches on Nov. 9, 2021. And if that's too long to wait, players who pre-order the Premium Edition can play on Nov. 5.
Dying Light 2: Stay Human (December 7, 2021)
Set 20 years after the original game's events, Dying Light 2: Stay Human follows the story of a wanderer struggling to survive in the modern dark ages. Wield makeshift weapons to combat zombies as well as rival human factions. With drastically improved mobility and melee combat, Dying Light 2: Stay Human looks to deliver far more flexibility and customization than its predecessor. Get your zombie-parkour fix when this ambitious sequel drops on Dec. 7, 2021.
Halo Infinite (December 8, 2021)
343 Industries did it. They finally gave us a release date for the highly anticipated next chapter in Master Chief's story. Halo Infinite is launching on Dec. 8, 2021. With this serving as a spiritual reboot for the franchise, many fans are eager to see what's in store for the game's campaign. Halo Infinite will still be shipping both the campaign and the free-to-play multiplayer suite this holiday despite a few feature delays. Here's to hoping Halo Infinite will be well worth the wait.
CrossfireX (2021)
CrossfireX is an upcoming competitive first-person shooter that combines classic elements of Counter-Strike with the modern sensibilities of games like Call of Duty. In addition to an impressive array of online multiplayer game modes, CrossfireX will also feature a full-fledged campaign by Remedy Entertainment, best known as the studio behind Alan Wake and Control. We don't have a release date right now, but an update from Gamescom ensures players that the game will be 'coming soon'.
The Gunk (December 2021)
The Gunk takes the final spot on our list, which stands firmly as one of the most exciting exclusives for Xbox in 2021. Stranded on an alien planet covered with a mysterious ooze, players use their bionic arm to reallocate this liquid and platform across hostile environments. The art direction and fascinating mystery make this a title watch. While we don't have a firm release date for Image and Form's upcoming puzzle-platformer, players should get a chance to experience The Gunk for themselves sometime this December.
Share your thoughts
Which of these games are you most excited to play this year? Would any you be interested in seeing another list with some hidden gems from Xbox as well? Let us know in the comment section below. And if you're looking for something to play while you wait for your most anticipated titles, check out our list of the best games on Xbox Game Pass.
It's also worth noting that two of the games on our list are being published by Activision/Blizzard, currently embroiled in a lawsuit with the state of California. Check out our comprehensive coverage to get a better grasp of the charges and updates pertaining to this developing situation.
(opens in new tab)
Xbox Game Pass Ultimate (1-month membership)
Xbox Game Pass is one of the best ways to play, with access to hundreds of video games for a single monthly fee. The Ultimate-tier subscription is ideal for any avid gamer, geared to Xbox, PC, and mobile, including games, an online membership, and other exclusive perks.
Get the Windows Central Newsletter
All the latest news, reviews, and guides for Windows and Xbox diehards.
Miles Dompier is a Freelance Video Producer for Windows Central, focusing on video content for Windows Central Gaming. In addition to writing or producing news, reviews, and gaming guides, Miles delivers fun, community-focused videos for the Windows Central Gaming YouTube channel. Miles also hosts Xbox Chaturdays every Saturday, which serves as the Windows Central Gaming weekly podcast.