5 intriguing apps for Windows 8.1: December 12, 2014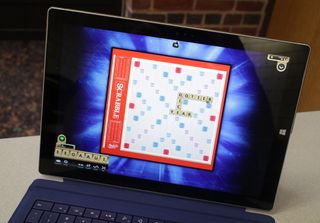 It is time once again to review some apps that caught our eyes this past week. This week, we have a round-up of seven apps that made the news here at Windows Central. Yes, that would be more than the five intriguing apps in the weekly post title, but we have neatly categorized them into five groups.
All I can say is that it is more of a guideline than a rule. If Time can name "Ebola Fighters" Person of the Year, then I can showcase seven apps. Let's get to it.
Foursquare
Number one this week is Foursquare. A few weeks ago, Foursquare for Windows Phone was given a massive overhaul, complete with a blog post detailing the process. This week, Foursquare followed up with an update to their Windows 8.1 app, mimicking the updated look and feel of its Windows Phone counterpart and adding new features.
The new version of Foursquare is truly stunning.
Updated Microsoft apps: Xbox Video and Surface Hub
Microsoft pushed out updates to a couple of their apps that are sure to please some users.
The first was Xbox Video, which among other things, added native support for playing MKV files. This addition was a big surprise, considering most of us thought that we would have to wait for Windows 10 to get it.
In addition to the big news, Xbox Video was also updated with some bug fixes.
As for the Surface Hub app which facilitates in upgrading hardware and software on the Surface Pro 3, artists and note takers alike were thrilled to hear that the update allows them to disable the Windows button.
This potential design flaw has been an ongoing annoyance for heavy users of the Surface Pen because it often led to accidentally hitting it, causing the Start menu to pop up. Now users can disable the Windows button with a simple toggle switch instead of a backdoor workaround. Now you can write or sketch to your heart's content.
Sketchable
Speaking of sketching, the next intriguing app of the week is Sketchable. Sketchable is a journal-style drawing app that is chock full of features. It was recently updated to version 2.0, which added some new functionality.
It has support for layers and PSD, and scales from 7-inch tablets all the way up to 4K monitors. There are nine different drawing tools and the ability to create custom colors, edit photos and switch between touch and keyboard/mouse modes.
You can choose to augment one of the pre-drawn fashion sketches or doodle on your own from scratch on the drawing pad.
And be sure to check out our very own George Ponder's review.
Hasbro board games: Scrabble and Risk
If you don't feel like drawing, perhaps you will want to try out a couple of Hasbro's classic board games that just landed on Windows 8.1. That's right, two old favorites, Scrabble, and Risk are now available on your PC or tablet.
Challenge up to three friends to a game of words with Scrabble. Tactile gameplay and multi-touch support let you pick up and move tiles and hide your letters from your opponents. Choose how the game ends and saves your game progress for later.
In Risk, world domination is at the tip of your fingers. Tactile gameplay lets up to four players roll the dice, draw cards, and move their armies to victory or bitter defeat.
NOW TV
Not in the mood for being social? Check out Sky's NOW TV app that was released for Windows 8.1 earlier this week in the U.K.. With a NOW TV subscription, you can watch popular movies, live sports or your favorite shows right on your computer.
There are three different packages to choose from, all of which are contract-free. C'mon, who doesn't want to know how the 2015 World Darts Championship is going to end?
OK, that's a wrap. Have a great weekend!
Got any apps that you want us to highlight? Send us an email to tips@windowscentral.com with "Must-have apps" in the subject line!
Windows Central Newsletter
Get the best of Windows Central in your inbox, every day!
Sketchable is simply fantastic. The only thing I need now is touch optimized vector drawing software.

That would be fantastic! In my usage, Sketchables and Drawboard! have been the two most well supported apps, and those developers deserve alot of credit for bringing really fantastic, and productive apps to the Windows platform.

Thanks for the positive feedback, funkyGeneral! Glad to hear that Drawboard PDF is a winner for you!

Why Scrabble and Risk isn't available for RT is boggling and idiotic.

How do you know its not on RT?

It says so right in the Store description: "Supported processors: x86, x64" For what it's worth, that same developer also released the "The Game of Life" boardgame as well.

It's not just this devloper. Look at Call of Duty Heroes. No RT support and their support team tries to say the Surface 2 just wasnt powerful enough. Really? Then why do you guys have it running on third gen iPhones? Tired of the lame B.S. excuses as for why they fell short when it came to the Windows ecosystem.

Also think $5 feels a little steep for these games. Maybe $2 or $3.

Adjusting pressure sensitivity of the pen on Surface Hub has never worked for me.

Might have to try sketchable.

Scrabble is the US version only. What about the rest of the world??

There is a bug with the windows store and NOW TV. It is visible on the microsoft store online, but I can't find and download it from the app in windows 8.1. Anyone else running into this issue?