The Alienware Tri-Mode Wireless Gaming Keyboard (AW920K) is a gorgeous bit of kit with great RGB lighting, a solid typing experience, and the ability to connect to up to four devices between 2.4GHz and Bluetooth. It's expensive, though, and it lacks some advanced features in other premium gaming keyboards.
Pros
+

Multi-device connectivity is great to have and works well

+

Customizable, per-key AlienFX RGB lighting is gorgeous

+

CHERRY MX Red switches are consistent and reliable
Cons
-

Alienware Command Center software is mediocre at best

-

No wrist wrest at this price

-

Battery life can be drained very quickly
Why you can trust Windows Central Our expert reviewers spend hours testing and comparing products and services so you can choose the best for you. Find out more about how we test.
The overlap between users that need a great gaming keyboard, a great wireless keyboard, and a keyboard that can connect to multiple devices is small, but it's there. For those people, Alienware has designed the Tri-Mode Wireless Gaming Keyboard (AW920K), a premium wireless keyboard with 2.4GHz, Bluetooth, and wired connection options.
It boasts a lovely design with gorgeously smooth RGB lighting and a handful of unique or nice-to-have features that help justify its admittedly high price tag. There are more impressive and feature-packed gaming keyboards for similar prices, but almost none support up to four wireless connections at a time. It's a good keyboard, and most of its flaws are due to software, not hardware.
Disclaimer: This review was made possible by a review unit provided by Dell. The company did not see the contents of the review before publishing.
Alienware AW920K: Pricing and availability
The Alienware Tri-Mode Wireless Gaming Keyboard (AW920K) has a retail price of $229.99. This isn't the most expensive keyboard you can buy, but it's firmly in the "premium" category and is going toe-to-toe with some of the best gaming keyboards from Razer, SteelSeries, and others. While the AW920K is clearly a flagship keyboard thanks to its per-key RGB lighting, design, and build quality, much of its cost is simply due to its wireless connectivity. Other similarly priced keyboards may require a wire but often have more features or offer a superior gaming experience.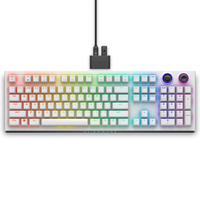 Alienware Tri-Mode Wireless Gaming Keyboard (AW920K)
Alienware's first wireless gaming keyboard is an impressive peripheral with an attractive design and solid typing experience, but you need to want its wireless features to justify the high price tag.
Alienware AW920K: Design and build quality
If you're familiar with Alienware products, then you won't be surprised by the Alienware AW920K's looks. It follows the company's "Legend 3" design language, which means a simple white and black colorway (or all-black, if you prefer) and frequent use of curves. It's a good-looking keyboard constructed entirely of high-quality plastic with a smooth texture.
Alienware AW920K specs
Price: $229.99
Switches: Mechanical, CHERRY MX Red, anti-ghosting
Size: Full-size (100%) with number pad
Connectivity: 2.4GHz wireless via USB Type-C dongle, Bluetooth 5.1 (up to three connections), wired via detachable USB Type-C cable
Battery life: Up to 110 hours (42-46 with RGB lighting)
Extra features: AlienFX RGB lighting, adjustable height, programmable rocker switch and dial, Alien Command Center
Weight: 1.07kg (2.35lbs)
All the keycaps are slightly textured to avoid wear and picking up residuals or oils from your fingertips, and it works. At least on my "Lunar Light" (white) model, I never had to worry about smudges or stains, unlike with my Razer Huntsman Elite, which has been my primary keyboard for some time now. Overall, it's well-constructed and feels like a durable, premium product. Sure, there are no ultra-premium materials like metal alloys, but I agree with Alienware's decision to use plastic to reduce weight; being a wireless keyboard, the Alienware AW920K is designed to be moved around as needed.
However, the little stands used to adjust the keyboard's height feel weirdly cheap and flimsy. Honestly, the stands feel exactly how I remember the endless, cheap keyboards at school feeling. I no longer prop my keyboard up at an angle, so it didn't affect my usage, but it is one sore point in an otherwise fantastic package. Beyond that, I felt that some of the keys felt loose and hollow, namely the left shift and spacebar. Oddly, these two keys (used more than almost any other keys) feel the worst out of the box. Every other key is responsive and consistent in feel.
Alienware's AlienFX RGB lighting is on full display in the AW920K, and it's some of my favorite lighting in any product I've ever used. The RGB lighting is per-key (around the rocker switch and dial, plus in the front-facing Alienware logo) and looks gloriously smooth and even. Transitions are seamless, and the lighting spreads across the white surface of the keyboard like the sun spilling over water. I'm a huge fan of the RGB lighting on this keyboard, and there are endless options to customize it (via various preset zones or each key individually). It's a small thing, but users who love good RGB lighting in their products will be very happy with the Alienware AW920K.
After a minute or so of inactivity, the RGB lighting will automatically dim to preserve battery life, and it looks almost as good at a lower brightness. Unfortunately, there is no way to prevent the RGB lighting from dimming, even when the keyboard is plugged into a power source. I wish Alienware would add an option to keep the lighting always on and another option to have the keyboard dim after activity but to stay in this low-power mode (after a longer period of inactivity, the RGB lighting will turn off completely).
Alienware AW920K: Typing experience
The Alienware Tri-Mode Wireless Gaming Keyboard employs mechanical, CHERRY MX RED switches at its base, topped off with Alienware's custom two-layer PBT keycaps. It's a solid combination, resulting in a reliable typing and gaming experience with great response, actuation, and performance. I quickly grew accustomed to the keyboard and its comfortable, standard full-sized layout.
I usually prefer my switches to have a more tactile response (I like a subtle click), but Alienware's AW920K still feels like a high-quality keyboard. These are not low-profile switches if that's your preference, but the keyboard deck is nice and slim, so the switches aren't too high to be comfortable. However, there's no wrist rest in the box, which I feel is a big miss for Alienware at this price point. It's not a dealbreaker, but it detracts from this keyboard's overall comfort and typing experience.
For gaming, the Alienware AW920K is predictably good. As I said, it's responsive and reliable, with anti-ghosting and N-key rollover features that should be standard in every gaming keyboard. Mechanical switches aren't as performance or durable as newer optical ones, but you get the reassuring feeling of physical action. Overall, though, the mechanical keyboard on the Alienware x16 R1 I'm currently reviewing is comparable in overall enjoyment, if only because I prefer the more tactile response of that keyboard over the softer clack of the AW920K.
For macros and additional keys, you have a programmable rocker switch and dial, which are keyed to track skipping and volume control by default. The former feels a little loose, and its usefulness is dubious, at least for me, but the dial has a fantastic texture and tactile action and feels awesome to use. You can also assign up to 75 macro actions through Alienware Command Center, although I assume most users will assign spare function row keys or reprogram the aforementioned switch and dial.
Unfortunately, you have to be physically plugged in to assign macro actions, which is a disappointing limitation for a wireless keyboard. Once you are plugged in, you can assign many great preset macros to the keyboard, like disabling specific keys, switching apps, and more. You can also create new macros to automatically hit specific keys in order, open an app or program, or paste a text block. Other keyboards have additional programmable macro keys, but it's good that this basic functionality is in the Alienware AW920K.
Alienware AW920K: Connectivity and battery life
The Alienware AW920K is a wireless keyboard, but it does have a few unique tricks or features to help it stand out from the crowd. You have the standard 2.4GHz wireless package in a tiny USB Type-C dongle for your primary connection. However, you can connect to up to three devices via Bluetooth 5.1 and switch between all four connections via a basic button on the rear of the keyboard. It's a little annoying having to cycle through all the connection profiles instead of being able to jump instantly to the one you want, but it's still nice to have the option for multiple connections.
This connection, whether through Bluetooth or 2.4GHz, is very stable with little to no latency. I never had any issues with the keyboard initially connecting or staying connected, and I never experienced any drops or stutters, even when the AW920K ran low on juice. If you need a high-quality wireless keyboard that can easily move between devices, this is a great pick.
Another unique feature of the Alienware Tri-Mode Wireless Gaming Keyboard is its magnetic charging attachment included in the box. You connect a USB Type-A to Type-C cable to your PC, connect the magnetic attachment to this cable, and then connect the 2.4GHz wireless dongle to the magnetic attachment. This keeps the dongle away from the PC, where it may encounter wireless interference, and gives you more flexibility about where you place it. Most importantly, however, it also gives you a quick and seamless way to charge your keyboard.
This magnetic attachment can snap to the Alienware AW920K with a satisfying clack and charges it quickly and effortlessly without needing to fuss about finding the Type-C port and plugging in a cable. I was a little confused by the existence of this attachment at first, failing to see why I wouldn't just plug the keyboard in and leave it plugged in if I was going to have the dongle and magnetic attachment so close anyways, but this provides the flexibility to instantly disconnect the Alienware AW920K whenever you want and take it with you. It works well and is dead simple to use, and it's another reason why this keyboard is most useful if you have multiple devices and plan to move it around a lot.
Alienware quotes up to 110 hours of battery life with the AW920K. If you have RGB lighting enabled, that is very quickly shortened by more than half. Still, over 40 hours of consistent usage would be fine for a wireless keyboard, especially given the ease of charging it, if not for one weakness. Should you forget to turn the Alienware AW920K completely off at the end of your day, it will continue to drain the battery at an alarming rate. I assumed the keyboard would have a low-power state when not connected to a PC, but I was charging the AW920K every other day any time I forgot to turn it off, even if the RGB lighting was completely off for most of that time.
If you can remember to completely power down the Alienware AW920K whenever you're not using it, you can squeeze a lot more life out of the keyboard (RGB lighting is still a big drain on the battery, though). Fast charging is supported, too, making it easy to top off the battery in a pinch. The magnetic charging attachment is satisfying to use when you need it and still preserves the freedom of movement a wireless accessory provides.
Alienware AW920K: Extra features
For the most part, the Alienware Tri-Mode Wireless Gaming Keyboard (AW920K) is a straightforward peripheral. It offers a solid gaming and typing experience, and solid wireless connections, packaged in a premium casing. It's not the most technologically advanced or feature-packed keyboard. There's not a bevy of extra keys, onboard memory for different profiles, a built-in screen, unique or advanced switches, or even a wrist rest. The keycaps are also seemingly not replaceable, or at least not easily so, nor are the switches if you prefer a different style.
You get the programmable rocker switch and dial, which is still nice to have. There's also adjustable height, as shaky as the quality of the stand is. The magnetic charging attachment is fascinating if questionable in its overall necessity. Most of the "extra" in this keyboard comes down to the genuinely fantastic AlienFX RGB lighting and the Alienware Command Center. While the former is a great addition to this premium keyboard, the latter is a compromised experience.
The Alienware Command Center is a confusing morass of different versions and interfaces depending on your devices and accessories. Still, beyond that, it's slow to recognize connected devices, interface parts are confusing and obfuscated, and random bugs, performance issues, and connection requirements hamstring the overall experience. If it all works properly, you can use it to customize the AlienFX lighting and assign up to 75 macro actions of your choosing. Still, there are no additional options to customize the base settings of the Alienware AW920K, namely the power settings.
Alienware AW920K: Competition
There are many incredible gaming keyboards, but your options are more limited if you're looking for a full-sized wireless gaming keyboard. On that front, you have great options from companies like Razer with its Razer DeathStalker V2 Pro, a low-profile, high-performance wireless keyboard with 2.4GHz and Bluetooth connections. It's slimmer than the Alienware AW920K with a gorgeous minimalist design but employs optical switches over more traditional mechanical ones and doesn't support as many Bluetooth connections. You can also consider the Razer BlackWidow V3 Pro, which is often on sale and is just as impressive (if not better than) as the Alienware AW920K.
If you want a wireless gaming keyboard with more post-purchase customization, you could consider the Keychron Q1 Pro. This isn't a full-sized keyboard, but it is wireless and is ready out of the box for custom keycaps and even switches, thanks to its gasket mount system. It's an excellent option for keyboard enthusiasts who aren't satisfied with stock keyboards like the Alienware AW920K.
You have many fantastic options if you don't need a wireless gaming keyboard. The Razer BlackWidow V4 Pro is a nearly perfect high-end gaming keyboard with incredible performance, superb RGB lighting, a comfy wrist rest, and more features than you can count. If you're all about performance, the Razer Huntsman V2 Analog, a successor to my beloved Razer Huntsman Elite, employs unique analog optical switches with adjustable actuation, allowing you to get the exact feel and responsiveness you want from your keyboard.
Outside of Razer, other companies like SteelSeries, Corsair, and Logitech have plenty of options. For example, the SteelSeries Apex Pro is an incredible gaming keyboard and was our top pick for a long time. It even has wireless mini and tenkeyless options. The Logitech G915 Lightspeed is another critically-acclaimed wireless gaming keyboard, and you can now regularly find it on sale for less than the Alienware AW920K.
Alienware AW920K: Should you buy it?
You should buy this if ...
You want a premium, wireless gaming keyboard that can connect to multiple devices
You're willing to pay extra for the RGB lighting and Alienware design
You don't need extra features like keycap or switch customization
You should not buy this if ...
You don't need a wireless keyboard or the multiple connections
You're wanting the best bang for your buck
The Alienware Tri-Mode Wireless Gaming Keyboard (AW920K) is a fine keyboard. More than fine it's beautiful, consistent, and all-around great for typing. It's also expensive and may not match up to more established keyboard players with better performance, more features, and more advanced technology. Still, if you need a full-sized, wireless gaming keyboard with a number pad, a premium design, RGB lighting, and the ability to switch between up to four wireless connections... your options are limited, and this is a fantastic way to tick all those boxes.
Alienware Command Center is messy, and this keyboard's feature set is a little light, but it definitely feels pretty expensive. It's an easy recommendation if you're in the market for this specific blend of capabilities. I've also seen the keyboard go on sale for as low as $169.99, which is a sizeable discount that makes it far more attractive and even easier to recommend. There are other excellent alternatives if you can live with a cable, but Alienware's first wireless gaming keyboard is largely a win. At the very least, it's one of the most beautiful keyboards I've used.
Alienware Tri-Mode Wireless Gaming Keyboard (AW920K)
Alienware has tackled all of the basics with its gorgeously designed AW920K wireless gaming keyboard but doesn't quite go enough beyond them to justify the steep price. With up to four wireless connections, though, it's a fantastic option for those with multiple devices.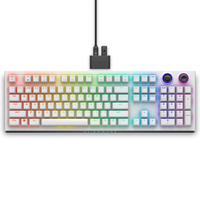 Alienware Tri-Mode Wireless Gaming Keyboard (AW920K)
Alienware's first wireless gaming keyboard is an impressive peripheral with an attractive design and solid typing experience, but you need to want its wireless features to justify the high price tag.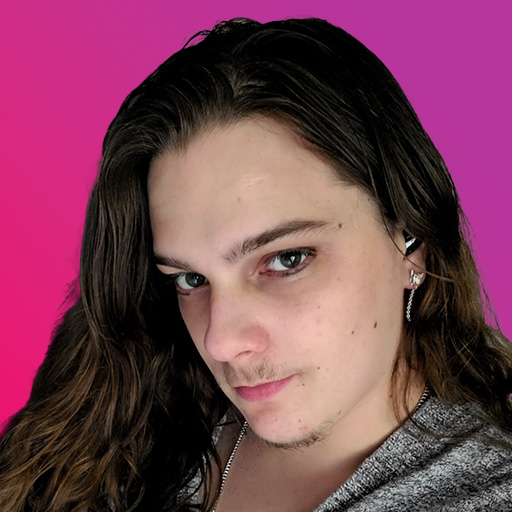 Zachary Boddy (They / Them) is a Staff Writer for Windows Central, primarily focused on covering the latest news in tech and gaming, the best Xbox and PC games, and the most interesting Windows and Xbox hardware. They have been gaming and writing for most of their life starting with the original Xbox, and started out as a freelancer for Windows Central and its sister sites in 2019. Now a full-fledged Staff Writer, Zachary has expanded from only writing about all things Minecraft to covering practically everything on which Windows Central is an expert, especially when it comes to Microsoft. You can find Zachary on Twitter @BoddyZachary.