ArchiTech, Halo: SA and Pocket Sheep are this week's Red Stripe Deals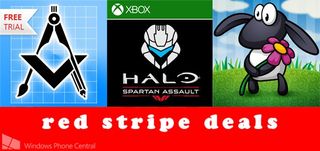 It's Thanksgiving in the US, and with Black Friday just around the corner, what better time to get some Red Stripe Deals action? This week we're seeing ArchiTech, Halo: Spartan Assault and Pocket Sheep have their prices slashed for you to bag a bargain on the Windows Phone Store. Fire on past the break for more details and store links.
ArchiTech
ArchiTech is a CAD and graphics app for Windows Phone, enabling you to create precise geometry objects, including shapes, polygons, text fields, Bezier curves and more. There's literally tons of functionality packed into this solution, providing the ability to plan out architectural and engineering objects such as rooms and openings or even business designs (flyers, posters, charts, etc).
If you're one to dive in and get drawing, ArchiTech will surely lend a helpful hand. You can download ArchiTech from the Windows Phone Store for $0.99 (usually $1.99).
Halo: Spartan Assault
Halo: Spartan Assault is Microsoft's attempt to port its incredibly popular property to Windows Phone (and Windows 8). This action-packed shooter puts the player in charge of Master Chief's co-Spartans (genetically enhanced soldiers). You'll play as either Sarah Palmer (first seen in Halo 4) or newcomer Spartan Davis, depending on the level.
Our review praised the game overall, so you know exactly what you need to do right this second. You can download Halo: Spartan Assault from the Windows Phone Store for $2.99 (usually $6.99). You can also grab the game on Windows 8.
Pocket Sheep
Pocket Sheep is a cute little game that will surely zap some hours from your day. It's an indie puzzle title, which was developed through the App Campus program. We've recently taken a good look at the game and can wholeheartedly recommend the download. If you're a fan of sweet, yet simple gameplay - this is the game for you.
You can download Pocket Sheep from the Windows Phone Store for $0.99 (usually $1.99).
Which games will you be picking up?
Rich Edmonds is a word conjurer at Windows Central, covering everything related to Windows, gaming, and hardware. He's been involved in technology for more than a decade and knows a thing or two about the magic inside a device chassis. You can follow him over on Twitter at @RichEdmonds.
Can I use Halo on my lumia 920 and mu surface 2 or would I have to buy it twice?

Unfortunately you have to buy it twice. Hopefully when RT and WP merge we won't have to buy it again if we've already bought it for one platform.

for us x86 users if we buy it that way could we later on redownload it on rt without repurchase?

Yes. I buy stuff on my Desktop with W8 and also install it on my Surface RT.
You can install it on up to 5 devices, I believe, that run either W8 or W8RT.

You can install on 81 devices "Starting on October 9, Windows Store apps can be installed on up to 81 devices associated with a single Microsoft account. This will apply to all apps in the Store, for both Windows 8 and Windows 8.1." http://blogs.windows.com/windows/b/appbuilder/archive/2013/09/27/increasing-the-app-roaming-limits.aspx

thanks for the confirmation wasnt sure if it was a depends on publisher kind of rule or not since not every app/game is published for both architecture's & ive been interested in that rumored surface 2 lte

You have to buy it twice :(

Saved $4 for halo, and getting that $20 from Nokia sure did help!

Same here, bought Halo and that is my first purchase with my Nokia bucks.

Glad I stuck it out and waited for it to go on sale!

I played the surface version, because it was worth the money for a bigger screen, since I also play it on my desktop. But for my 1020, I thankfully waited.

Same, but instead of 1020, 920 here

Wrong graphic..... was Sesame Street last week? :-)

Fixed, not sure how that got through!

Halo is also on sale this week on the Win8 store ;)

I was waiting for Halo to go on sale. Got it now with no money out of my pocket thanks to Bing Rewards (which really needs to be on WP).

I did the same thing. I agree that Bing Rewards needs to be on WP. I think a better case for this can be made now that we can choose between Bing and Google.

I think they need to release it in more areas before expanding what platforms people can be rewarded on. It still hasn't come to the UK and I've been using Bing for 2.5 years.

Bing is awfully lacking in features outside the US...:( and I have been using bing for a very very long time.

I agree. Can't believe it hasn't launched in Canada yet, and I never use Google unless I absolutely have to.

Spartan Assault is such a great game. Decently challenging achievements too. Hopefully they add more levels.

By the way, as I said on my tip, the Windows 8 version is ALSO ON SALE ;)

I only have $7.50 left in my ms card for apps. Should I get Halo or wait for GTA5 to be released later this year?

It's San Andreas that'll be released, not GTA5

Yeah, you are correct sir. So, if you had to pick between those two which one would you pick?

I've played both and while I love the Halo series I found it to be much more playable on the surface with a controller. So I'd get GTA on the phone and Halo on the tablet.

Halo for £2.29 is much closer to the £2.99 it should have been in the first place, if Microsoft are really serious about driving the Windows Phone platform. Lets hope they see sense and reduce the standard price as well. Its a massive game, but once you mention £5+ people are put off for a mobile phone game, I know I was!!

I think you hit the nail on the head on the $5 price.

Pocket sheep - free in Lithuania region.

Does Halo run on a 520? If it does, how good?

Yes, they released an update shortly after the release. However, I'm not sure as to how good it'll play, sadly.

Perfect been waiting for Halo SA to go on sale, this is perfect!

Woohoo! Was going to buy this at 6.99 or whatever the original price was with my $20 from Nokia...but I decided against it....I will be buying today :)

Awesome. By far one of the best deals so far. Halo is an instant buy!

after a few hour trying to do a clean install(to replace original installation that got corrupted by bad update) got w8 pro running on my usb drive just to pick up the w8 version of Halo:SA. cant wait for the lte surface to come out.

I want to buy Halo:SA on WP8, but my left thumb is was too much of an idiot in the trial version. Maybe W8 version if it has controller support.

How many Free memory Needed to install HALO?

716mb for wp8 & a little over a gb for w8

That's not what I mean... You know about WP Installation "Irregularitie"s don't you?... I have 2.2 gig free but still can't download it.

cant believe what a step backwards windows 8 is on their marketplace it unlike gfwl takes a few days to charge credit card
Windows Central Newsletter
Get the best of Windows Central in in your inbox, every day!
Thank you for signing up to Windows Central. You will receive a verification email shortly.
There was a problem. Please refresh the page and try again.