Windows Phone Central's Back to School Guide 2013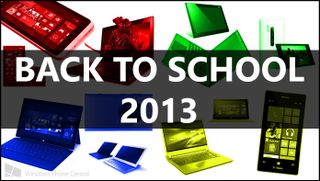 Grab a cup of coffee and that outdated backpack, we are going to get you ready for the first Semester of classes in this special Back to School 2013 Guide. We have broken the guide down by different student types including "The Geek", "The Artist", "The Budgeter", and "The Entrepreneur". Check it out below and let us know what you think. Alright, all board – let's go!
The Geek
You stare at blinking LEDs on the wall, you study Science and Math, and you can't help wishing you had a ticket to this year's Comic-Con – you are the Geek.
Laptop - Lenovo ThinkPad Y510p
With the geek, it is all about coupling power with the latest technology; your gear doesn't have to be wafer thin – it has to get the job done. We recommend Lenovo's IdeaPad Y510p multimedia laptop for getting your AutoCAD drawings finished or for "pwning some noobs" in Team Fortress 2.
The IdeaPad Y510p features up to Intel's latest generation Core i7 quad core processor at 2.4 Ghz, a 15.6 inch 1080p display, an NVidia GeForce GT750M with 2 GB of video memory, 8 GB of 1600 MHz Ram, and a 1 Terabyte hard drive backed by a 24 GB solid state drive for extra speed. One NVidia 750M not enough for you? No problem – expand the machine with an extra graphics card to take advantage of dual graphics power.
The Y510p's insanely awesome internal specs, packed with stylish design, a red backlit keyboard, Dolby Home Theater 4 Audio and a starting price of $819 make it perfect for any geek.
Tablet - Acer Iconia W3
The geek wants a battle station at home, but an easy way to connect from afar; for this, we recommend the Acer Iconia W3 tablet running Windows 8. The Iconia W3 features an Intel Atom Dual-Core processor for up to 8 hours of battery life. At only 1.1 pounds, the Iconia can easily be stored in your backpack for quick use. Those of you geeks who love comics and literature will be able to take your entire digital library on the go with the power of a full Windows 8 tablet.
We are aware that the Acer Iconia W3 has some screen abnormalities, but if you are looking for something portable and the size of a book – the Acer Iconia W3 is your only choice at this time. The screen has what appears to be a "permanent screen protector look" over it, which prevents the image from being as sharp and crisp as it could be; some users don't have an issue, while others do. The tablet now starts at $249, which has made it a very attractive buy. We suggest that before you pick up the unit, you head to a local Staples store to check it out for yourself.
Check out our first impression of the Acer Iconia W3 here.
Phone - Nokia Lumia 920
There is no getting around the idea that Nokia currently owns the Windows Phone market, so be prepared to see a lot of Nokia Lumia devices as we move forward. For the geek, we recommend the Nokia Lumia 920; a great phone packed with features, it is available from AT&T for only $49. The Nokia Lumia 920 sports an incredible PureView camera and display for simply amazing shots and viewing experiences. The 920 also features build in wireless charging that is not only convenient, but will also wow your friends.
Check out our review of the Nokia Lumia 920 here.
The Artist
Do you embrace creativity, breathe in the creations of mankind, and have a desire to capture the world around you? If so, you might just be "The Artist".
Laptop - Sony VAIO DUO 13
You want a portable laptop that works with you and makes getting your creative ideas out of your mind and into the world as easy as possible. To enjoy the ultimate Windows 8 experience, with the ability to jot down every tick of your heart, we recommend Sony's Duo 13 Ultrabook hybrid.
The recently released Sony VAIO Duo 13 is powered by the latest generation Intel Core i7 or i5 processor and sports up to 8 GB of RAM. The ten hours of battery life and optional 256 GB solid state drive aren't even the best part The unit features a Full 1080p HD IPS touchscreen and digitizer stylus pen for sketching, drawing, and more.
The device is carried around flat like a tablet, but with the push of a hinge, slides back and reveals a full physical keyboard to work on. The touchpad is a bit small on this unit, so we recommend an external mouse like Logitech's Anywhere MX if you plan to be doing a lot of work in Photoshop without using the touchscreen.
The unit starts at $1399 on Sony's website, where they also offer additional discounts for students and faculty through their online education store.
Tablet - Microsoft Surface Pro
Artists can't sit still – it is in their nature. You need a tablet that you can take anywhere and still get the job done. For artists, we recommend Microsoft's Surface Pro.
The Surface Pro is a fully powered Windows 8 tablet direct from Microsoft; it houses an Intel 3rd generation Core i5 processor and 4 GB of RAM. The thin half-inch tablet is great for taking on photo-shoots and your next great adventure. With full sized USB 3.0 ports and a MicroSD card slot, you can easily offload photos from your favorite camera onto the unit. Thanks to the powerful i5 processor, digital pen, and full Windows 8 experience, you can then pop open Photoshop and get to work on your next masterpiece.
The tablet weighs around 2 pounds and is made of a durable VaporMg casing. Let's not forget one of the top selling points for the Surface – you can pair the device with a Touch or Type cover and have a more natural typing experience when you are away from your laptop. The Surface Pro starts at $799 and you can demo it at a local Best Buy, Staples, or Microsoft store.
Phone - Nokia Lumia 1020
Moments move fast and for the chance to capture the world around you, your phone has to move fast also. For artists and creative types, we recommend the Nokia Lumia 1020. Nokia's latest masterpiece is without a doubt, the best Windows Phone on the market. While the phone has a stunningly clean design, beautiful 4.5 inch display, and super sensitive touch ability – what truly sells this phone is its 41 megapixel camera. That's correct, if you haven't heard it yet, the Nokia Lumia 1020 features an insane 41 megapixel PureView camera and Xenon flash technology. Turn the shutter speed all the way up as on a professional DSLR and capture the fastest action shots around you. At a concern for your favorite musician and need a closer shot – no problem. Shoot a shot in lowlight then zoom in.
The Nokia Lumia 1020 doesn't come cheap at $299 on AT&T, but there is no better mobile camera experience available out there. Additional accessories like a camera grip and wireless charging cover can also be purchased separately.
Check out our review of the Nokia Lumia 1020 here.
The Entrepreneur
You have brains, the passion of your field, and can spin a business idea around on your finger like the master of the universe. You don't want or need flashy gadgets, you just want the tools to get things done – you are The Entrepreneur.
Laptop - Lenovo ThinkPad T431s
You are mobile and need a way to stay connected. Accepting anything less than the best is not an option. As a laptop for the budding entrepreneur, we recommend a Lenovo ThinkPad T431s – a premium Ultrabook from the award winning ThinkPad business notebook line.
The ThinkPad T431s is tough with its carbon fiber/magnesium notebook shell, roll-cage protection, and steel hinges. When you are running around campus and you need to keep your data safe, there is no better option than a Lenovo ThinkPad with its Military specification testing that pits the notebook against eight challenges including high pressures, humidity, vibration, high temperatures, temperature shocks, low pressure, low temperatures and dust.
The unit can last up to 9 hours on a single charge and includes integrated mobile broadband support, so you can hop on your favorite wireless carrier's network and never be disconnected. The T431s Ultrabook can be configured up to an Intel 3rd Gen Core i7 processor with 12 GB of RAM and a 1 TB HDD or 256 GB SSD – the unit currently starts at $879 on Lenovo's website.
Tablet - Lenovo ThinkPad Tablet 2
You might not need the world's most powerful tablet, but a full Windows 8 tablet with long battery life might just be the perfect solution. For the future businessperson, we recommend another product from Lenovo's ThinkPad line – the ThinkPad Tablet 2.
The original ThinkPad tablet was thick and bulky and ran Google's Android operating system. The second iteration of the military tough business tablet has been redesigned and comes loaded with the full version of Windows 8. With the Intel Atom processor stuffed inside, you won't be blasting Photoshop, but you will enjoy more than 10 hours of productive battery life on one charge.
The unit is thin and light at only 1.3 pounds and packs the optional 4G LTE connectivity option, if you desire to remain without limits even out of Wi-Fi range. Add on the digitizer pen to markup documents, convert handwriting to text, and sketch out flowcharts and you are ready to do business. If you want a real keyboard on the go, you can also pick up Lenovo's ThinkPad Tablet wireless keyboard accessory.
The ThinkPad Tablet 2 starts at $499 for a 64 GB unit and increases up to $679 for an option with Windows 8 Pro and the 4G LTE mobile broadband chip.
Phone - Nokia Lumia 928
You want a phone to make you master of the office, Microsoft Office that is, and can keep you going without worry of damage or malicious software. You might want to run out and pick the Nokia Lumia 928, Verizon's personal version of the Lumia 920. The 928 is a bit more toned down with modern right angle edges and sleek, yet professional, white and black color options.
The Nokia Lumia 928 is currently free with a two year contract from Verizon – take that, expense account!
Check out our first impressions of the Nokia Lumia 928 here.
The Budgeter
For some of us college students, paying the rent on an apartment and trying to payoff tuition are already more than we want to handle. If you want to hop up on some of the latest gear, but without breaking the bank, you just might be a "budgeter".
Laptop - Acer Aspire M5
There was once a day when you had to shell out at least a grand for a touchscreen Windows 8 laptop, today is not that day. Acer's Aspire M5 provides a great way to jump into the next generation of Windows, without making Ramen the dinner of choice for the next few months.
Acer's Aspire M5 is a 15 inch notebook that starts at under $600 and includes an Intel 3rd Generation Core i5 processor, 6 GB of RAM, and a 500 GB HDD. The unit can collect over eight hours of battery life on a single charge and is only an inch thick – you won't be weighed down by this machine.
And who said that a budget notebook has to look cheap? The Aspire M has a beautifully designed chassis and touchpad for use anywhere on campus – even the snooty frat house.
Tablet - Microsoft Surface RT
If you are looking for a full featured tablet, but don't want to throw down $500 then you might want to check out Microsoft's Surface RT, which also comes pre-installed with Office Home and Student 2013.
Sales of Windows RT devices aren't the best in the world, mainly because they cannot run older legacy Windows applications and are restricted to the somewhat underwhelming Windows App Store. That being said, if you are just looking for a tablet to browse the internet, organize your life (Mail, Calendar, and Contacts), and chill back with some tunes or games – Surface RT might be a smart investment.
Right now, you can pick the Surface RT up for $349, but there always seems to be deals and sales popping up for the unit around the web (the latest brought a refurbished edition of the Surface RT down to $199).
So grab that Touch or Type cover keyboard and show off to your friends that you also have a fancy tablet. While you are at it, let them know that your tablet gets over 10 hours of battery life and is much thinner and lighter than its big brother, the Surface Pro.
Phone - Nokia Lumia 521
Anyone else notice that phone plans are just down right expensive? Luckily, T-Mobile has realized that and offers a great pay as you go solution – the Nokia Lumia 521.
The phone will normally cost you around $200, but remember that the device is unlocked and you are not signed onto a contract. The Lumia 521 does run Windows Phone 8 and supports 4G capability. The 5 megapixel camera isn't as amazing as the aforementioned Lumia devices, but there is no denying that it still looks great.
You can check out the device itself and plans on T-Mobile's website – plans for unlimited talk, text, and web start at $2 a day with payment only on the days you use your device.
Check out our review of the Nokia Lumia 521 here.
Do you have your gear for this semester yet – if so, what are you rocking?
Get the Windows Central Newsletter
All the latest news, reviews, and guides for Windows and Xbox diehards.