Best Affordable Mechanical Gaming Keyboards
Here are some of the best affordable mechanical keyboards you can buy today!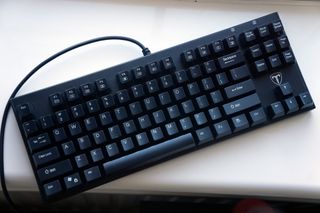 You don't have to spend vast amounts of money to enjoy a solid typing and PC gaming experience. There are mechanical keyboards on that won't decimate your bank balance, and the picks in this round-up use Cherry MX or equivalent switches, so you know you're going to enjoy a quality typing experience, regardless of the price.
Related: Best mechanical keyboards for gaming on Windows 10
So why would you spend more on a mechanical keyboard? The price is usually inflated due to branding, demand, and extra features. The latter can be anything from RGB LED lighting that enables you to alter the ambiance of your room to macro keys that can be configured to achieve various functions with little effort on your part. If you simply want a decent keyboard with solid switches, these affordable options will do just fine.
Razer Blackwidow Tournament Edition
Razer is considered by many of its fans to be one of the best options for mechanical keyboards. But just because it's a big brand that can be expensive, it doesn't mean you absolutely have to spend a fortune when it comes to picking up a basic entry into clicky keys. Cue the Blackwidow Tournament Edition.
Priced at $72 (opens in new tab), the keyboard is slightly more costly than other options on our list, but you're investing in one of the most popular mechanical keyboard ranges in the market. The Blackwidow is known as a trusty companion for gamers and the tournament edition slices off any optional extras for a capable input machine that's super portable.
There are other configurations of the Blackwidow Tournament, including full size (with number pad) and backlighting, but you'll need to shell out more cash for these variants. This particular model features Razer's own Green Switch and is a great entry into the world of mechanical keyboards.
See at Amazon (opens in new tab)
AULA Mechanical Keyboard
The AULA Mechanical keyboard sports Blue Cherry MX switches that are ideal for typing and those long gaming sessions. It's an affordable, no-frills option too — for $48.90 (opens in new tab) you're getting solid switches without macro keys, backlighting, and other optional features. Some consider said extras mandatory when looking at keyboards, but if you're not fussed, you can certainly save some money here.
But that's not to say this particular model doesn't have a few tricks up its sleeve. The molded keycaps are double-shot injected with 100 percent anti-ghosting so you could sit on the keyboard and have each and every key press should register just fine (we don't recommend you do this.) There's even a gold-plated USB connector.
The AULA Mechanical Keyboard offering also comes in white with RGB lighting.
See at Amazon (opens in new tab)
MechanicalEagle Z-77
The MechanicalEagle Z-77 is another compact option for those looking to save money on peripherals. An added bonus of this $34.99 keyboard (opens in new tab) is that the company has thrown backlit keys into the mix, along with Outemu Blue switches that are similar to Cherry MX offerings.
There's full anti-ghosting support and the usual function keys, though like other options in this price range you'll not be able to take advantage of macro keys. You can pick up the Z-77 in black or white, both look rather futuristic by being flush with the backplate to offer increased amounts of ambient lighting.
What makes this keyboard, in particular, interesting is the ability for the switches themselves to be easily abstracted from the board and replaced with compatible parts. This is great for those who wish to throw in another type of switch or replace a faulty/damaged key. Not something one would expect from a keyboard that costs less than $40.
See at Amazon (opens in new tab)
HAVIT HV-KB390L
The Havit HV-KB395L (opens in new tab) comes from a brand that isn't well-known, nor is it considered among giants like Razer, SteelSeries, Ducky, and others. But this keyboard offers a solid typing experience and works wonders in-game, all at a more affordable price.
Havit has released a solid low-profile keyboard with mechanical keys. That's a feat in of itself, but to have such a sound typing experience is icing on the cake. But that's not all, it's all wrapped up in a package that only sets you back $59.99, which is considerably less than more premium alternatives.
See at Amazon (opens in new tab)
Corsair K66
The K66 by Corsair is a mechanical keyboard without all the frills. There aren't any LEDs, the design is simple and everything else takes a backseat in favor of performance. This allows for a tactile feedback typing experience for less than $60 (opens in new tab).
The switches used are Cherry MX Red and Corsair has made sure important features made it through to production, including dedicated multimedia buttons, 100 percent anti-ghosting support, and macro programming.
See at Amazon (opens in new tab)
Have a mechanical keyboard in mind that didn't make our list? Sound off with your affordable options in the comments!
Updated April 04, 2018: We updated the list to offer only the best affordable mechanical keyboards on the market.
Rich Edmonds is Senior Editor of PC hardware at Windows Central, covering everything related to PC components and NAS. He's been involved in technology for more than a decade and knows a thing or two about the magic inside a PC chassis. You can follow him over on Twitter at @RichEdmonds.
Nice roundup, thanks for this, shopping for a mech right now and this was tremendously helpful :) Posted via the Windows Central App for Android

My Razer Blackwidow Ultimate died (ALT button stopped working) and I decided to go as cheap as I could. Went with HCMAN keyboard on amazon, only $26. Definitely not the best, but damn, for $26 it is stellar. Actually can't feel the diff between Razer green and these HCMAN (cherry blue clone) switches. https://www.amazon.com/Gaming-Mechanical-Keyboard-Led-Backlit/dp/B01N57W...

Razer is NOT considered to be amongst the best. See Leopold, Filco, HHKB, Ducky or Vortex instead!

Razor is actually considered a the worst for your money. They are cheap plastics full of bugs and defects. Just overpriced mainstream gadgets for teens.

truth, overpriced, overadvertised, riddled with issues and have had their head in the sand about any feedback\complaints. *cou-razer mamba avagio sensor chip issues-ough* *cou-unfixable latency they know about but kept blaming the users for-ough*

Dude read the sentence. It's considered best by it's fans. That is truth. Honestly it's true even for the worst products, someone likes it for some reason and thinks it's the best.

being popular doesn't mean at all that they are good.
​People only like the "cool" logo and the "cool" shiny lights and because it is a known brand. it is still crap and WindowsCentral should focus on quality, not on popularity if they really want to talk about best.
​So it is silly to mention it only because it has "fans".

Never said it wasn't silly. Only pointed out that it is in fact considered the best by fans as the article states.

Me too, I read that like "one of the best amongst [mech. keyboard] fans. The other way it makes no sense.

I've been surprised by the lack of ducky kbs mentioned in last article about (non budget) mechanical ones

wasd keyboards seems pretty good, completely customizable order, cherry switches, though I don't own one.

Not to sound like a Razer fanboy, but I bought a Blackwidow Tournament Edition Stealth 2 years ago and it's still working just fine.

Checkout the Cherry Built keyboard that monoprice often has on sale. Brown, Red and Blue switches available. I pitched all my membrane keyboards. Unless you really care, the only downside to the monoprice keyboard is there is a generic icon versus a windows logo.

keycaps on ebay or another online store will fix that, just check for well designed double shot if its backlit though, some of the keycaps on ebay dont have the proper design to let the light through, or are clear with horrible lines from the white part. but there are some very nice caps about

please tell me thats bad editing "The molded keycaps are double-shot injected with 100% anti-ghosting" check geekhacks or some other keyboard forum for proper advice, this is payed for advertising, full of poop advice.

Any suggestions for acceptably priced mechanical wireless keyboards?

-Inexpensive -Wireless -Mechanical You can only pick two.

Once again, no mention of Unicomp keyboards - which have the IBM buckling spring keys, because they are the successor to IBM's keyboard division. The can custom build keyboards (the factory is in Kentucky) and also offer a USB Model M with the current Windows logo on it. They're at http://www.pckeyboard.com/ - I've got two of them and they're great for typing (though a bit noisy!)

No mention of those (although I would personally consider them the best mechanical keyboard type, hands down), because they can hardly be considered "affordable". Looks like they were trying to keep the price point under 75$ for this article.

Fair enough, but I suspect a lot of people would gladly invest the extra $15-20 for a buckling spring keyboard if they knew. Unicomp isn't terribly strong when it comes to getting the message out.

A lot of people would also opt for a more expensive unit if they knew 🙂

Great, but not really affordable.

Thermaltake Poseidon Z RGB on Amazon for 49.99 https://www.amazon.com/dp/B018AX3I0C?psc=1&tag=hawk-future-20&ascsubtag=...

I did not realize there are specific mechanical keyboards specifically for Windows 10. I guess I'm doing it wrong with my Steelseries Apex M800.

Any keyboard that can work with windows 10, therefore, is a keyboard for windows 10. Specially if it is a plug'n play.

Oh oh. Every one of these keyboards have these HUGE, IBM style keys from back in the 1940's on it. Only thing missing for these are the big swinging letters and black ribbon ink. Maybe I just don't get it but are these the kinds of keyboard gamers need?

I bought a Corsair mechanical keyboard and I love it. I've been using a 'normal' thinner keyboard for years and years. As a gamer I decided to try a mechanical one since people rave about it; wanted to see what the fuss was about. I love it, it honestly feels so much better typing. It gives a very satisfactory 'clack clack' when you type. Great for games and general computing.

Mechanical keyboards last much longer. Wear down the key? Replace the keycap.
You can get a regular keyboard for 10-20$ and replace it every couple years, or you can get a mechanical keyboard for 50-100$ and use it for many many years. My old IBM buckling spring keyboard survived for nearly 30 years before it got crushed somehow when I was moving. Each key is an actual switch. There are differen't types of switches too.
For instance "blue" has a solid and audible click. "Brown" has the same solid click, but is quiet. "Red" and "Black" are smooth with the black being a lighter touch (easier to press). Since each key has a unique feel to it, it becomes easier to tell when you've made a typo just by feel. I personally find it much easier to type on, higher accuracy at higher speeds. I really can't stand the "dome" keys that are common in the cheaper keyboards. Really try to find one and see for yourself how much of a difference it can make if you game a lot, or just do a lot of typing. [Composed on my RoseWill RK-9000BL]

Ahh, I see. I'm accustomed to the "chicklet" style keys on my keyboard. They make a light "clack" sound when typing on them and when you get a head of steam going, its like Drum Line. I write a lot and with these keys, my hands don't tire as quickly as with the Selectric style keyboards. But thanks for the explanation.

You probably used the old "Buckling Spring" keyboards found in the 70's and early/mid 80's. They had a hard press, but were durable as a tank. You would probably like the "red" or "black" keys. Fairly light touch, but with more travel than the "island" or "chicklet" style keys you're now used to.

And as I mentioned in my comment above, the buckling spring keyboards are still made by Unicomp in Kentucky. http://www.pckeyboard.com/

Last time I checked a couple years ago (when I got my Rosewill keyboard instead) the Buckling Spring keyboards were super expensive, in the 200$+ range. Those have come down quite a bit!!

You might have something there in terms of popularity. I have an older Mac keyboard that several people at my job have expressed interest in. It has that same type of springy keyboard.

I assume you're talking about the Apple Extended Keyboard and the Apple Extended Keyboard II. Great Alps switches and solidly built, and you can still use it with an adapter. https://en.wikipedia.org/wiki/Apple_Extended_Keyboard

Haha. I'll keep that in mind.

The difference is that you need to press all the way down with chiclet or rubber dome keys. On a mech, you will learn to "fly". Which less distressing in the long run. - Plus a ton of fun 🙂

Wow, only 2 of these 5 keyboards have 10-key pads. I still do a lot of work on my desktop keyboard and that often includes a lot of numbers. I'm surprised that this is not important to more folks. I guess mine is an increasingly rare use case...

I'm soon to probably getting a Tomoko mechanical keyboard. Cheap enough, and more than good enough. https://www.amazon.com/TOMOKO-Water-Resistant-Mechanical-Multi-color-Anti-ghosting/dp/B01DBJTZZW/ref=sr_1_3?ie=UTF8&qid=1470454385&sr=8-3&keywords=tomoko+keyboard

Looks funky but the price seems more reasonable.

People spending big money on a keyboard, too funny. $3.99 at Microcenter is all you need.

Not if you type on it for a living. A decent keyboard can increase your typing speed and accuracy and be easier on your fingers, making the investment of around $100 worthwhile.

Too bad they don't support windows 7 I really wanted mechanical keyboard. I already have mechanical mouse

Why won't it support Win7? All the mechanical gaming kbs I've used over the years worked on Vista, 7, 8, AND 10. The article title is misleading.

These look like hardcore or gaming keyboards. Does anybody recommend a nice and sleek desktop keyboard with backlit keys?

I have owned the Razer Ultimate w/ blue keys, CM Storm QK with green keys and Qisan with green keys. The Qisan is my favorite, folowed by the CM Storm. blue keys are way too sensitive.

Do you guys have some legal obligation to put "for Windows 10" in all peripherals reviews? Will these keyboards not work with other versions of Windows or what?

Probably helps their ranking on search engines more than anything else. I guess it gives a time window for these postings as well.

"Affordable" is relative. I'm partial to DASKeyboard.$119-$165 on Amazon (depending on switches and other optional features.)

I use two Cherry MX 3.0. They come arround $60 too, and mine are in use in heavy duty at work and private, still running like charm after several years.

Do they feel like any other mech?

If it does not have to be inexpensive I would have a look at this White Fox keyboard you want Cherry MX switches. I prefer the Topre swithes to anything else, and make sure you get the RealForce version with the highest quality keycaps RealForce with Topre keys

Yup, but the Topre's are still a bit highly priced...

I bought a Logitech G810 yesterday and I love it so far, having never used a mechanical before. The configuration software is pretty good too. £105 from Maplin

I picked up a G610 in Cherry MX Red flavor a couple months ago to replace a 10 YO old G15 membrane with flickering LEDs and am very satisfied. Wanted the 810 with RGB but none in stock at time of want it right now purchase. Was sold on the G602 mouse on sale and figured stay with one piece of peripheral software. Have never truly broken any Logitech hardware. Microcenter is like going in a candy store as a child, but pennies aren't of much use :(

The AULA keyboard's switches are blue, yes, but NOT made by Cherry.

Just rip the bandaid off and get a Leopold FC980C. It's heaven and will last a lifetime.

Leopold are fantastic indeed.
Windows Central Newsletter
Get the best of Windows Central in in your inbox, every day!
Thank you for signing up to Windows Central. You will receive a verification email shortly.
There was a problem. Please refresh the page and try again.