Best Compact Routers in 2022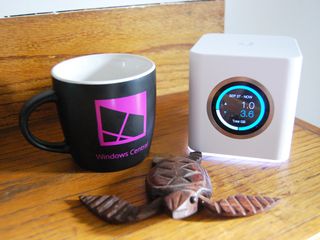 (Image credit: Windows Central)
Improving your Wi-Fi is more important than ever with people adding more to their network all the time, so getting a router that works for you is important. Luckily, there are routers for all types. A good compact router, for example, can provide all the modern features and speed of a full-size router for a smaller living space. The Amplifi HD Mesh Router retains all the features of a traditional router in a sleek and compact form with a vibrant display. All of these routers can also be expanded with a mesh network if your needs grow. We have compared the features of small routers from several manufacturers so we could put them head-to-head so you can find out which one makes the most sense for you.
Best Overall: AmpliFi HD Mesh Router
Why you can trust Windows Central Our expert reviewers spend hours testing and comparing products and services so you can choose the best for you. Find out more about how we test.
AmpliFi HD Mesh Router
The present meets the future
Reasons to buy
+
Sleek and vibrant display
+
Four available gigabit Ethernet ports
+
Trusted Ubiquiti name
+
Modern design looks at home anywhere
Reasons to avoid
-
Black only available in Gamer's Edition
-
No Multi-user, multiple-input, multiple-output technology (MU-MIMO)
The AmpliFi HD Mesh Router from Ubiquiti is one of the most complete compact routers out of the box. It features a proud, bright display to show your connection strength in no uncertain terms. While it touts its mesh abilities in its name, this router is a strong standalone unit with fast Wi-Fi 5 (802.11AC) signal and dual-band antennas.
One feature it lacks is support for multi-user, multiple-input, multiple-output or MU-MIMO, which is a technology that helps the router manage multiple simultaneous requests from multiple devices without creating a large spike in response time. This is really only an issue if there are a lot of people trying to connect at once such as a party but rarely an issue with everyday use.
Many people are not quite ready to go all wireless on their network and the AmpliFi HD Mesh Router has you covered with four gigabit Ethernet ports right on the back available to wired devices. You also have the option to extend the Wi-Fi coverage with MeshPoint add-ons and the setup app.
Regrettably, the black color is only available with the more expensive Gamer's Edition package. That being said, the white version is very sleek and modern with it's boxy but efficient design. This really feels like a premium no-nonsense product that works with any decor and with any set of devices.
Best Value: Google Wifi
Google Wifi
Simple but powerful
Reasons to buy
+
Simple setup
+
Consistent with Google designs
+
Ethernet on every device
+
Small footprint
Reasons to avoid
-
Not the fastest Wi-Fi here
-
No support for MU-MIMO
Google Wifi keeps things simple with identical pucks and a straightforward $99 price tag. It brings a design that would fit next to any of Google's connected devices, while also being non-descript enough so you can hide it in plain sight. You get a very good set of features including Ethernet on every puck, a stylish status light, and most importantly, the confidence that comes with the Google name.
There are some compromises when it comes to this price point such as a lack of MU-MIMO. It does support modern Wi-Fi 5 standards but only pushes data at AC1200 compared to the AmpliFi router that supports AC1750. Google Wifi comes together best when looked at as a complete package. Consistency is the goal with this router and every unit is identical. It doesn't win in every category but never drops the ball either.
Best Mesh Option: TP-Link Deco M9 Plus
TP-Link Deco M9 Plus
Focused on the mesh
Reasons to buy
+
Fast backhaul
+
Fast consistent Wi-Fi
+
Small and easy to conceal
+
Extra pucks are competitively priced
Featuring backhaul capabilities that can reach 1.5Gbps, the Deco M9 Plus from TP-Link is a great starter if you think you may need to expand your network into a mesh in the future. Featuring a competitive price point per puck, expanding your network is as simple as purchasing another unit and adding it in with the Deco App.
This router is small enough to hide on a shelf or table without drawing too much attention. It resembles a smoke detector with its perfectly round body and matte white plastic, although it does little to embrace its Art Deco-inspired name besides having a slight pompadour when viewed from the right angle. It's a little bland comparatively but it has plenty of horsepower when it counts.
Best Premium: Linksys Velop Tri-Band
Linksys Velop Tri-Band
Less compact but tons of features
Reasons to buy
+
Available in black (only in a 2-pack)
+
Very fast Wi-Fi
+
Cables plug into the bottom and can be easily hidden
+
Tri-band speed
When it comes to speed, the Velop router from Linksys stretches its legs with the newest tri-band option. This powerful antenna combined with modern features brings a high price coming in at a suggested retail price of $200, making it higher than others on this list. The only other device on this list that touches that price is the Eero Pro which is also tri-band.
The Velop Tri-Band boasts support for a massive AC2200 connection with three bands and MU-MIMO technology to keep things running fast with guests. Speaking of guests, each guest can be given a unique username and password which is a step forward for security.
The Velop features a fairly standard set of connections, keeping things simple with two Ethernet ports with one used for the uplink. In an all-wireless future, this device tries to make no compromises with all the features that you would expect to find in a box covered in large antennas. However, it's the biggest device on this list, so if subtlety is a priority, you might want to look elsewhere.
Best Looking: Eero Pro
Eero Pro
Beautiful design with no sacrifice
Reasons to buy
+
Great design
+
Small package
+
Easy to mesh
+
Tri-band speed
Reasons to avoid
-
Expensive
-
One free Ethernet port
The Eero Pro manages to look elegant and smart with its simple pillow shaped design. Where it's not simple is with the power inside or the price tag that goes with it. The Eero Pro has all the features you would expect at this price point including powerful tri-band Wi-Fi 5 speeds. It has but one free Ethernet port so you are encouraged to embrace an all wireless future, but if you are willing to go all in for the Eero package with extenders and the available Eero Plus service, you will have all you need.
Amazon now owns Eero, which will likely bring you under the former's umbrella of services as time goes on, but for now, the Eero platform feels very much like its own futuristic place. Eero has quickly gained a great reputation for its Wi-Fi and if the price is something you are willing to swallow, you should be very happy with your new router.
Bottom line
There are a ton of routers that fit all kinds of needs. Most people would be served well by anything on this list but for someone like me that has a ton of older devices with no or bad Wi-Fi, the wired option still needs to be there. The AmpliFi Mesh HD Router (opens in new tab) manages to keep every part of classic routers that I want while moving confidently into the future with its app and mesh abilities.
For most people that only use Wi-Fi, Google provides a great upgrade to anything that you can get from an ISP or your aging Wi-Fi 4 (802.11N) router. Mesh networks are quickly becoming the norm and all of these can be expanded into a strong mesh network if you move to a better space. With that, every router on this list has the power and features to keep you from running out of speed or range for quite a while.
Windows Central Newsletter
Get the best of Windows Central in your inbox, every day!