Best DOCSIS 3.1 modems 2022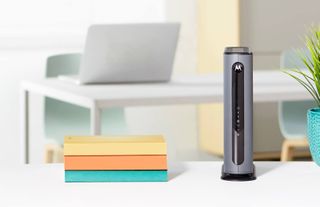 If you're interested in Gigabit internet speeds from your ISP, then you'll need a compatible modem. The DOCSIS 3.1 (data over cable service interface specification) standard supports up to a super-fast 10Gbps, with actual speeds depending on the modem hardware and your internet package. Check out our collection of the best DOCSIS 3.1 modems to avoid rental fees from your ISP and keep your hardware forever.
Choosing the best DOCSIS 3.1 modem
Gigabit packages can reach speeds beyond 1Gbps, meaning connecting your new modem to a router requires some careful consideration. Some of the best Wi-Fi 6 routers offer 2.5G WAN ports and support link aggregation. Be sure to match your modem to a compatible router like the TP-Link Archer GX90 to take full advantage of the fastest Gigabit speeds.
As the best overall modem, the SURFboard SB8200 is compatible with speeds up to 2Gbps using two Ethernet cables in tandem via aggregation or 1Gbps with just one. If you're signing up for a voice package using VoIP, you'll need a modem with RJ11 telephone ports like the ARRIS SURFboard T25 to connect your phone line. Whatever you decide, these modems are yours to keep forever, circumventing hardware rental fees.
Ben Wilson is a Windows Central channel editor with technical expertise and a background in electronics. Fueling a technology and video game obsession with coffee, you can usually find him behind one screen or another.
Windows Central Newsletter
Thank you for signing up to Windows Central. You will receive a verification email shortly.
There was a problem. Please refresh the page and try again.