Best local co-op games on Xbox One
Plenty of us grew up gaming with friends in front of a single television. And thankfully, there are still tons of games that let you continue that tradition!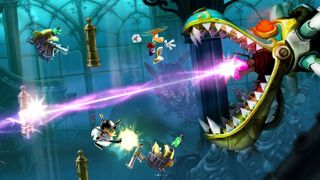 While many things have changed about gaming, the ability to play with your bestie in the same room is still fun for many of us. That's why having access to local co-op on your favorite shooter is so damn important. To make sure you always have something to play together, we've searched out the best local co-op games on Xbox One.
Gears of War 4
Why you can trust Windows Central Our expert reviewers spend hours testing and comparing products and services so you can choose the best for you. Find out more about how we test.
Gears of War has had a dynamic and fantastic co-op system since their first game, and the newest installment won't disappoint. One of the best new shooters of 2016, it takes you back to a world devastated by war. This time you'll be wielding a Lancer, or Gnasher while playing as Marcus Fenix's son; JD. It's time to fight back once again against both an entirely new enemy, and one that will be quite familiar for returning players. You can play through the entire campaign in local split-screen co-op, or jump into Multiplayer matches instead.
See at Microsoft Store (opens in new tab)
Diablo III
The dungeon crawling, sword swinging, magic slinging, loot acquiring fun of Diablo has returned for a third installment. This game is fantastic to play with friends, especially when you can trade gear or strategize as you are running through a dungeon. Diablo has long been geared towards getting a group together to deal with nastier demons that you'll run into, and while it isn't necessary, it does mean playing with friends is even more fun than it might have been otherwise.
See at Microsoft Store (opens in new tab)
Borderlands: The Handsome Collection
Borderlands is a wonderful, manic, explosion filled, bullet swarm of a game, and it's even better when you play with friends. The Handsome Collection includes both Borderlands 2 and the Pre-Sequel which gives you twice as much game to rock out on. Borderlands is one of those games that doesn't take itself quite so seriously, opting instead to make sure that you'll have a laugh or two while blasting your way through Pandora.
See at Microsoft Store (opens in new tab)
Rayman Legends
Platformers have been making a comeback for the last year or two and Rayman Legends has been helping spearhead that renaissance. It's also got an awesome co-op mode where you can play with up to three other friends, all of you bouncing around and wreaking havoc on the multitude of enemies you come upon. With dozens of levels and gorgeous graphics to boot, this is an excellent way to spend the day with friends and family.
See at Microsoft Store (opens in new tab)
Call of Duty: Black Ops III
When it comes to shooters, Call of Duty continues to enjoy a massive following. While playing the main campaign isn't possible for local co-op, you do have access to the mode that really matters; Zombies. You and your bestie can team up to mow through waves of zeds in a desperate attempt to survive. For local co-op players, this is the real reason to play together. Honestly, who wants to try and deal with swarms of the undead with randoms who might not have what it takes?
See at Microsoft Store (opens in new tab)
Rivals of Aether
Games that allow you to beat up your friends, and vice versa, are a time-honored tradition and Rival of Aether brings that to Xbox One. This is a multiplayer fighting game that bears gameplay similarities to Super Smash Bros. You play as one of the several elements, duking it out in a cosmic battle to fling your opponents out of the arena. It's got a retro look, with great music and fun controls. Even better, it supports up to four players locally.
See at Microsoft Store (opens in new tab)
Overcooked
When you think of cooking sim games, you probably don't think of playing with friends, or high stakes. That's where Overcooked wants to prove you wrong. You'll need to chop, dash, and cook your way through complicated menus and irritated customers. It's available for 1-4 players as you run restaurants on glaciers, mountain tops, and above boiling magma. This is one of those games that are easy for anyone to pick up, but difficult to master and as you dodge through crazier environments, working with your teammates becomes truly mandatory.
See on Microsoft Store (opens in new tab)
Rocket League
What happens when Soccer meets Racing? You get Rocket League — an awesome multiplayer game where the aim of the game is to put the ball into your opponent's net, with the aid of impressive rocket-propelled vehicles. You get access to four-person local multiplayer so that you can team up with, or battle against your best friends on a split-screen.
Rocket League comes with several game modes, unlockable car parts, and much more. It's perpetually updated too, which has served to keep the game fresh long after launch. This is essential co-op gaming!
See on Microsoft Store (opens in new tab)
Chariot
In this two-player, physics-based game, you play as a Princess and her Fiance trekking across a whimsical land to bring a King's casket to rest in his tomb. Both players must work together to push and pull a large Chariot across chasms and other barriers that lay between you and your destination. There is also loot to be found, enemies to be tackled, and all sorts of physics-based mayhem to overcome. This is a great 2-player co-op game for anyone who enjoys puzzles or working together with a friend to reach your goal.
See on Microsoft Store (opens in new tab)
Lovers in a Dangerous Spacetime
Lovers in a Dangerous Spacetime is all about protecting the universe from the evils of Anti-love. You and up to three other friends will pilot a spaceship and man lasers, turrets, shields, and thrusters to deal with everything sent your way. You'll have to communicate and work together because every mission requires those four parts to work together as a unit. If you have only two players, you'll need to jump between the unmanned station, although you do have an AI pet that can help you out. There are upgrades to collect, giant alien bosses and adorable creatures to save on your wild romp through the universe.
See at Microsoft Store (opens in new tab)
Divinity Original Sin
This open-world turn-based RPG is made for cooperative gameplay, and this facelifted 2014 classic is as close as you'll get to digital Dungeons and Dragons. It has a great world full to the brim with story, quests, loot, and plenty more. Since this game is involved, it's a great option for couples who are looking for a longer term game to enjoy together. The graphics are gorgeous, and the gameplay is actually party focused, meaning cooperation (and even disagreements) are an integral part of enjoying the story playing out on your screen.
See on Microsoft Store (opens in new tab)
Those are our picks for the greatest local co-op games on Xbox One. If you have any suggestions or think your favorite deserves to be in this list, let us know in the comments, and we might include it in a future update!
Get the Windows Central Newsletter
All the latest news, reviews, and guides for Windows and Xbox diehards.
Plants vs Zombies Garden Warfare 2 has 2 play split screen, and this is useable online too! Pretty solid feature and a very kid friendly game. Never Alone is a really simple game that works for kids too, I played it with my son.

How good is Rocket League?

So good that Chuck Norris uses it for driving lessons.

Very good, my son loves it.

Guacamele should absolutely make this list. My kids and I have had hours and hours of fun with that game, at the expense of Rayman.

Kalmiba is another EXCELLENT coop game!

Another favorite of mine is FRU. A worthy mention should also go to most of the Lego games, which also have local cooperative play, particularly the movie-based ones (Indiana Jones, Star Wars, Jurassic World, etc.)

The Trine trilogy as well.

Tomb Raider, Legend Of Osiris, should get a mention. Pretty nice game.

Playing tomb raider guardian of light with the wife was very fun. Although not sure it's on x1?

rayman origins is also great! And with all the other aforementioned games I think we need a second article on this subject 👍🐱‍👤🎮

The new Power Rangers game. Vintage SNES style beat em up, 4 players. Local only co-op

Thank you for this list! I think also Minecraft is worth mentioning... Maybe a dead giveaway, co-op or fight, build or kill monsters...

I used to love Gauntlet in the arcade; get three friends and as many quarters as you could spare. I can still hear the narrator: "Warrior needs food badly."
Hard to believe it's been thirty years!

Gauntlet is available on Steam.

I wish all Xbox games had local co-op. MS should encourage game developers to put more focus on this feature. It's a great way to promote the Xbox platform as wholesome family entertainment. I play local co-op with my young kids as a way to bond with them, though my wife is still a little skeptical about it. However, I do know quite a few families whose wife/mother play local co-op with other family members. This is a great way to bring more women into video games. Also, last time I had a birthday party for my 9 year-old boy, Skylanders on Xbox was more popular than the piñata and the jumping house. Clearly a win-win situation for MS and they need to put a lot more emphasis on this feature.

Halo Master Chief Collection is pretty good too for the same reason all the old Halo games were extremely popular for splitscreen play.

What about best local multiplayer VS games?