Best Microphones for Streamers in 2022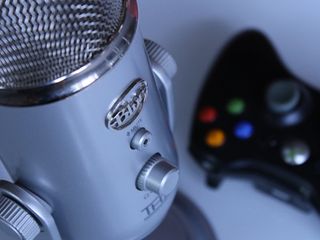 The Blue Yeti (opens in new tab) is often recommended if you're simply playing games and need to communicate with friends and guildmates. It's also a fantastic microphone for streamers too, thanks to included features, sound quality, and ease-of-use. It's also not too expensive.
Best Overall: Blue Yeti
Streaming to an audience requires you to be entertaining to watch, good (or not so good) at games, and a microphone to capture your voice. A cheap headset with a built-in microphone would suffice, but it won't provide the best experience for viewers who tune in. To take your streaming game to the next level, you need to purchase a microphone that offers a far superior sound quality.
The Blue Yeti is one such microphone, and it happens to not cost a small fortune. The excellent sound capture results in crisp audio to allow your audience to hear everything. It's also incredibly easy to use — there's no need to purchase an elaborate sound system thanks to the USB interface. Simply plug and talk.
If you're not a fan of using the included stand, which only raises the microphone slightly off the desk, the Yeti can be hooked up to a microphone mount or arm. This will allow you to configure the microphone in a custom setup. You might also want to pick up a pop filter for even better sound quality.
Whether you're an enthusiastic gamer, part-time streamer, or a "filthy casual" the Blue Yeti is a microphone worth purchasing for the sound quality alone.
Blue Yeti
The best for streamers who don't want any hassle
Reasons to buy
+
Latency-free playback
+
Great sound quality
+
Bi-directional, omnidirectional, and stereo
+
USB interface
+
Compatible with microphone mounts
Premium Sound: Aston Stealth
Aston is a British brand specializing in microphones and audio equipment. The Stealth is the company's attempt at creating a microphone for streamers and gamers, packing in all the advanced features you'd expect from an Aston mic, including profiles that alter more than just EQ values.
Using an XLR interface, you can hook this thing up to your available mixer, and the sleek black design looks great with any PC setup. It's also built like a tank, designed to take a beating or two should you decide to use one in a live stage environment.
Should you be looking out for a new premium condenser microphone, the Stealth is a cracking studio solution that can easily take your audio to the next level. It'll likely be overkill for most gamers and beginner streamers, but when you're ready to move up to premium equipment, the Aston Stealth should be shortlisted.
Aston Stealth
This is one killer studio microphone
Reasons to buy
+
Built-in Class A preamp
+
Excellent audio recording
+
Four switchable voicings
+
Passive and active modes
+
Sleek solid design
Reasons to avoid
-
Large and heavy
-
Expensive
Gamer's Delight: HyperX QuadCast
HyperX is a reliable brand that produces some killer PC accessories and gaming hardware, including some excellent headsets. The company's first attempt at a standalone microphone resulted in the QuadCast, and you should consider it for your gaming setup.
Not only does it look solid and is durable enough for use on the go, but the QuadCast also offers excellent audio recording capabilities, a total of four polar patterns to choose from, and supports most mounts and stands out there, depending on dimensions. The only downside may be the red RGB lighting, which cannot be disabled.
HyperX QuadCast
Almost perfect
Reasons to buy
+
Solid design
+
Headphone output
+
Good sound quality
+
Four polar patterns
+
Support for mounts and stands
Portable Pick: Razer Seiren X
When you find yourself switching locations frequently and need a microphone that can be taken along for the ride, the Razer Seiren X is one you can rely on. Thanks to its built-in shock mount, this microphone can quickly be attached to different mounts without much hassle. It has a super-cardioid pickup pattern which is more focused on your voice and does a solid job of isolating background noise.
Throw in zero-latency monitoring through headphones, and you've got a great package at a great price. Usually, with Razer hardware, you'd expect to pay a small premium, but this microphone is rather affordable. The only things holding this microphone back are the ever-so-slightly lower quality compared to some of the other offerings here, as well as an adapter to attach a boom arm.
Razer Seiren X
Affordable, portable, and packed full of features
Reasons to buy
+
Solid design
+
Great portability
+
Headphone output
+
Built-in shock mount
Reasons to avoid
-
Need an adapter to attach to a boom arm
Value Pick: Fifine Microphone
The Fifine microphone is surprising good. You wouldn't think it would be worth considering at the price, but you'd be wrong. This mic delivers a solid option for streamers who are just getting started and don't have a huge budget for equipment.
The affordable price is matched by an easy-to-use USB interface that lets you simply plug and speak. That's also a highlight if you're just starting out and don't fancy diving into the deep end when it comes to audio equipment. But when you want to get serious with streaming, you'll want to invest in a better microphone.
Fifine Microphone
When you only need a basic mic
Reasons to buy
+
Basic
+
Affordable
+
USB interface
+
Easy to use
Reasons to avoid
-
Not as good as other mics
Bottom line
While every microphone that made our list is a solid investment for streamers looking to up their audio quality, the Blue Yeti (opens in new tab) rises above the competition to deliver a stellar product with fantastic high-quality recording.
This microphone delivers everything you could need in one robust package, and it's an investment that is well worth every penny. It's not a particularly expensive mic, and you get great features that will ensure your viewers can hear every word while you stream. It also features latency-free playback, excellent sound quality, and the ability to plug in and start recording without hassles involved.