Windows Central's Best of CES 2022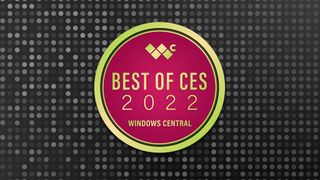 (Image credit: Windows Central)
Despite some challenges, another CES is in the books. The show is always massive, with tons of announcements offering a peek at what's to come for the rest of the year. And luckily, 2022 is already looking great from foldable PCs to new laptop chips and a whole lot more. We've kept a close watch and selected all of our favorite announcements from the show and awarded them for their innovation.
Here are all the winners of our Best of CES 2022 awards!
Best of CES 2022
Why you can trust Windows Central Our expert reviewers spend hours testing and comparing products and services so you can choose the best for you. Find out more about how we test.
Leveling up.

Thanks to the new P- and E-core hybrid architecture, Intel's latest mobile processors look to be a game-changer. With up to 14 cores and 20 threads and chips ranging from big 45W ones to smaller 15W U-series, these CPUs should result in better performance, battery life, thermals, and more. It's our top award simply because most of the other laptops at CES are only possible because of it. Intel still has a lot to prove with its laptop chips, but we like what we see so far.
Beautiful overhaul.

Dell has always wowed us with its premium XPS line, and the new XPS 13 Plus is no exception. The XPS 13 Plus, with its "invisible" haptic trackpad, razor-thin bezels, powerful 28W Intel 12th Gen chip, and new edge-to-edge keyboard, looks like a PC from the year 2025, not 2022. We can't wait to try it out.
Foldable awesome.

PCs with foldable screens are going to be a thing in 2022 thanks to Intel, Samsung, Microsoft, and now ASUS with its jaw-dropping ZenBook Fold 17. With a 17-inch OLED screen, Intel U-series 12th Gen CPU, dual Thunderbolt 4 ports, removable keyboard, and more, we think this could be the first mainstream foldable PC that gets people excited. Will it be a bang or a dud? Let's hope Windows 11 can keep up.
Bigger. Better.

HP is back with its most powerful desktop gaming PC yet. The Omen 45L was not only announced at CES 2022, but we already reviewed it. HP invented a "cryo chamber" that externally houses the CPU cooler so that you can push this PC further than most. With no propriety parts, name-brand components, and super easy upgrades, it's the best pre-built gaming PC you can get. Period.
Razer Enki Pro HyperSense
Feel the game.

Razer likes to push boundaries, and its "concept" Razer Enki Pro HyperSense gaming chair does just that. First teased in 2019, Razer now has a fully working prototype on the cusp of actual production. The chair uses a haptic motor to tilt you and vibrate based on the game you're playing (or movie you're watching) to immerse you in the content. Plus, it has some Chroma RGB because this is Razer. Hopefully, someday we can actually buy it.
Flowing awesome.

Who has not wanted a Surface Pro but with a "real" processor and a GPU? Well, ASUS has the answer with the ROG Flow Z13. It packs a brand-new 12th Gen Intel Core i9 H-series processor (that's the big one) along with an NVIDIA RTX 3050 Ti and still packs a 56WHr battery while only weighing 2.4lbs. And it has a 4K display (60Hz) or a full HD one at 120Hz. Look, it's a bonkers PC, and we're here for it.
Modular gaming.

"Project Sophia" is the computer desk of the future, so says Razer, who unveiled this concept at CES 2022. It has a giant OLED display built into the desk, but the modular components that flip in and out has us intrigued. Sure, we're probably 3 to 5 years out from this thing becoming a reality, but who doesn't want a gaming battle station to feature this beauty front and center?
Lenovo ThinkBook Plus Gen 3
Double the fun.

PCs with foldable screens are fun, but Lenovo's new ThinkBook Plus Gen 3 goes in a different direction: An 8-inch screen in the keyboard deck! Combined with the massive 17-inch 21:10 main display (and 12th Gen Intel), this looks like the perfect laptop for multitasking pros. Snap up to three apps on the main screen and use the 8-inch one to take notes (with the pen) or run a web browser. The possibilities are endless. And starting at $1,399, it's not out of reach.
Lenovo ThinkPad X1 Nano 2nd Gen
Ready for business.

The ThinkPad X1 Nano is a wee version of the X1 Carbon, which is why we love it so much. For Gen 2, Lenovo is slapping in a ripping 28W Intel CPU (instead of the meek 15W one last year), adding a touch display option, faster RAM, an upgraded full HD webcam, optional 4G LTE/5G while weighing just 2.1lbs. It's the perfect laptop for business users who fly a lot.
Silver beauty.

HP's Elite Dragonfly has always been a gorgeous machine, but its cramped 16:9 screen kept us from loving it. Luckily, HP has rectified that in Gen 3 by going to the other extreme of a 13.5-inch 3:2 (that's like the Surface Laptop's screen). With an option for 3K2K OLED, 12th Gen Intel, 4G/5G, and even a huge 68WHr battery, this clamshell laptop still weighs just 2.2lbs. Plus, you can now get it in natural silver.
Thin and fresh.

Dell's Alienware series of laptops have a unique design language to them, and the new x14 has earned a special title: World's thinnest 14-inch gaming laptop. In a recurring theme, it sports Intel's 12th Gen H-series chips, NVIDIA RTX 3050 or 3060 Ti GPU, and puts many of the ports in the rear, so they're out of your way. It's fresh-looking, has an excellent keyboard, and is just under 4lbs. Let's go!
Extreme curves.

Samsung is no stranger to displays, and its just-announced Odyssey Ark is a rare bird: A 55-inch extremely curved 4K 16:9 screen. And because the stand is height-adjustable, it means you can swivel this screen into a vertical orientation. That may sound weird, but it lets you stack three app windows on top of each other for a new way to multitask. Get two of these side by side, and it'll be INSANE. We just need to learn more details like pricing and availability.
Stacked up.

Samsung is not the only one doing odd monitors. The new LG Dual Up is the world's first 16:18 "square double" display that's meant to be used vertically. The concept lets you stack two apps on top of each other, making it an exciting tool for music or video editors. Regular folks can use it for meetings or daily tasks. LG claims you'll move your head less frequently with this display, which could be true. There's also a clamp-stand saving even more space on your desktop. We're intrigued!
Ryzen up.

AMD is doing well in the desktop space against rival Intel, but its new Ryzen 6000 Mobile chips look to hit them in laptops, too. With support for DDR5 RAM, PCIe 4.0, and USB 4.0 (in place of Intel's Thunderbolt spec), these chips with 8 cores and 16 threads are sure to be bangers. In a nice twist for 2022, many laptops will offer "A&A" solutions where AMD provides both the CPU and GPU, which synergistically work to maximize battery life. We can't wait to try it out.
Get the Windows Central Newsletter
All the latest news, reviews, and guides for Windows and Xbox diehards.