Best router for Xfinity 2022
To Xfinity and beyond monthly fees.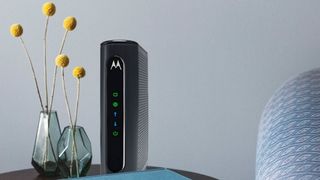 (Image credit: Motorola)
Xfinity is the high-speed broadband service from Comcast, with potential speeds of 3Gbps (3,000Mbps) in select locations. Though it offers some of the fastest internet connections in the business, a monthly rental fee is applied if you use its first-party xFi Gateway routers. Save some cash by choosing from our collection of Xfinity-certified modem router combos and enjoy the speedy service with fewer charges with one of the best routers for Xfinity.
Choosing the best router for Xfinity
Only some of the best Wi-Fi routers comply with the technology required by Xfinity broadband, such as combining a modem with the minimum standard of DOCSIS 3.0. With a minimum contract, renting the xFi Gateway router can cost you upwards of $140. Better to spring for our best overall choice in the Motorola MG7550 at a similar spending price.
If you want the latest technology for your ultra-fast internet, the Nighthawk CAX80 from Netgear has the latest DOCSIS 3.1 modem standard with super-fast Wi-Fi 6 and plenty of connection options for wired devices. The Nighthawk is at the higher end of the budget scale but remains permanently yours with no rental fees.
Ben Wilson is a freelance writer working for Windows Central with technical expertise and a background in electronics retail. Fueling a technology and video game obsession with coffee, you can usually find him behind one screen or another.
Windows Central Newsletter
Get the best of Windows Central in in your inbox, every day!
Thank you for signing up to Windows Central. You will receive a verification email shortly.
There was a problem. Please refresh the page and try again.