Best Xbox One Apps of 2022
The Universal Windows Platform (UWP) has delivered tons of apps to Xbox One, but which are the best? We got you covered, no matter what you want to do.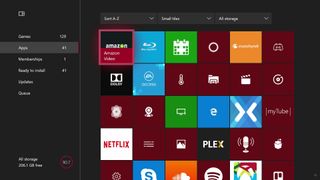 Whether you're interested in music or movies, sports or memes, or even fidget spinners, the Xbox One has an app for you. Usually, we only hear about big name apps, like the recently launched Spotify, and they're awesome, but Xbox has a wealth of lesser-known but equally as powerful UWP programs that extend across the entire Windows 10 device family too.
Here's a list of the best apps on Xbox One today, for every category we can think of!
Video apps and services
Why you can trust Windows Central Our expert reviewers spend hours testing and comparing products and services so you can choose the best for you. Find out more about how we test.
There are dozens and dozens of media apps for Xbox One, and you'll find that most services are supported, including Netflix, Amazon Video, and YouTube. Here are some of the best applications for fans of TV and film.
MyTube!
While the Xbox One does have an official YouTube app, it's pretty weak overall and isn't properly supported by Google, one of Microsoft's most unfriendly competitors. Say hi instead to MyTube! which is a tremendous independent solution for YouTube, and is almost better in every single way.
MyTube! lets you browse YouTube's catalog ad-free, with support for background audio playback, full search, and access to your account for subscriptions, comments, and more.
The only real issue with MyTube! is that the app is ultimately at the mercy of Google, who frequently change their API restrictions and website layout, both of which can quite easily break the app. Thankfully, MyTube!'s developer is extremely diligent, providing in-app messages to notify users of issues, and when to expect fixes. It's a small price to pay for what is quite easily, far superior to the existing official solution.
See at Xbox Store (opens in new tab)
Crunchyroll
Crunchyroll is an essential streaming service for anime fans, featuring hundreds of modern and classic anime shows, as well as Japanese live action dramas.
Crunchyroll comes in both premium and free, ad-supported flavors, and the app's design and layout work extremely well on Xbox One and Windows 10.
Like Netflix, Crunchyroll synchronises your saved shows and playback time across devices, making it easy to jump between your PC and Xbox without having to find your place all over again.
Crunchyroll Premium is incredibly cheap at $4.99, and lets you watch ad-free with HD video. Be sure to check it out!
See at Xbox Store (opens in new tab)
Netflix
No modern app list would be complete without Netflix. Netflix is the ultimate subscription-based streaming service, full of classic and modern TV shows and movies.
On Xbox One, Netflix utilizes intuitive controls designed for gamepads, and can easily be navigated using the Xbox One media remote as well. Scroll through rows and rows of great content, or hit "Y" to search through its vast and persistently evolving library.
You can pick up a Netflix subscription for as little as $7.99 per month, and if you're lucky enough to have an Xbox One S or the upcoming Xbox One X, you'll be able to stream in glorious 4K to a compatible TV set. Netflix works and synchronizes across almost every ecosystem too, including phones, PCs, and tablets.
See at Xbox Store (opens in new tab)
Plex
For those of us who still enjoy having physical media collections, but like the idea of retaining digital copies, apps like Plex are an absolute godsend.
With Plex and a dedicated Plex server, you can set up and maintain a vast collection of digital media for both home network use, and streaming via the cloud with a Plex subscription, network storage, or even via a third-party cloud storage solution like OneDrive.
Plex also draws down metadata from the internet, including artist descriptions, reviews, and even whether a band in your library is currently on tour. Plex is now also offering cord-cutting services and cloud-powered TV DVR for recording and storing shows using digital TV tuners, making it an invaluable solution for those who want to ditch the larger providers and enjoy their media across virtually every device in existence.
Plex is available on Xbox for free, with some features restricted to Plex Premium members. Be sure to check out our full Plex guide over here.
See at Xbox Store (opens in new tab)
Music and audio apps
Xbox has no shortage of dedicated music apps too, with services like Groove Music, Pandora, and now Spotify in the mix. Coupled with Xbox background audio capabilities and you'll never miss a beat. Be sure to check out our larger list of best Xbox music apps over here.
Groove Music
A personal favorite, Groove Music evolved from the relatively obscure Zune platform to Xbox Music, and now to Groove Music, and as far as features and polish go, it's certainly among the best on Xbox One.
With a library featuring millions of songs, OneDrive integration for streaming your own music downloads, thousands of music videos and rich photographical visualizations for TVs, Groove is near unbeatable. And it's always getting better.
Groove is available as part of a subscription service for $9.99 per month, with a free trial for newcomers.
Spotify
Spotify recently hit Xbox One with a port of its HTML-based app for TVs, complete with support for Xbox background audio.
Spotify has the largest library in the world, boasting over 50 million subscribers and rich curated playlists, it is truly a force that has changed the music industry forever, and it's now on Xbox One!
Unlike Groove, Spotify doesn't have music videos or cloud-storage for personal music files, but it does have a free, ad-supported model, and should leave you with no shortage of epic tunes to enjoy. Spotify also enjoys a family plan, something Groove desperately needs.
Soundcloud
Soundcloud might be struggling financially, but it remains a great source of independent music, podcasts, and other types of audio.
It's a shame that the company isn't doing so well, as it has one of the most beautiful and intuitive Xbox One apps on the platform. The controls are well displayed, it's easy to access charts, playlists, your follows, and your profile. And it's easy to search for and discover new music, with background audio support as a bonus.
Soundcloud definitely deserves your patronage, as it's a great service for firing up an audio book or a podcast for grinding those less entertaining achievements, or simply changing the soundscape of a, game. Hopefully Soundcloud survives its business turmoil, because we'd hate to see it disappear!
See at Xbox Store (opens in new tab)
Podcasts (Beta)
If you're in the market for a simple Podcasts app, "Podcasts (Beta)" is your ticket to audio show greatness.
Podcasts (Beta) is a bare bones, but highly functional podcast app, complete with integration for your Microsoft Account. Podcasts you search for and subscribe to will sync across all of your Windows 10 devices, and it will remember your progress through different tracks when you move from one device to the next.
Development on Podcasts hasn't been the fastest in the world, but it's a great and simple solution for podcast fans on the Windows 10 ecosystem.
See at Xbox Store (opens in new tab)
Miscellaneous
Beyond the obvious sorts of apps you'd want on your TV, the Xbox One also has some fun utility apps that not only showcase the platform agnosticism of UWP, but can be useful in certain scenarios.
Weather
Microsoft's stock Weather app for Windows 10 is now available on Xbox One, and it works surprisingly well with a controller.
With up to date forecasts with hourly information, historical patterns, and even overhead maps, Microsoft's Weather app is great for a quick perusal of the skies before putting the controller down and heading out into the great outdoors.
See at Xbox Store (opens in new tab)
Theme My Xbox
Theme My Xbox is a great utility for grabbing custom Xbox backgrounds without following some of the more complex methods.
While the vast majority of the themes on there will no longer match the upcoming Xbox dashboard refresh, it also contains boatloads of non-themed wallpapers ideal for customizing your console.
Whether you want to celebrate your favorite sports team, TV show, or just feature some soothing landscape pictures, Theme My Xbox's vast and evolving library should keep you covered, for free!
See at Xbox Store (opens in new tab)
True Achievements
This is an essential apps for the Gamerscore hounds out there. True Achievements is an excellent community and Xbox news site dedicated to achievement hunters everywhere.
True Achievements has access to the huge, huge library of Xbox achievements out there, and it will not only track your progress, but also show how you stack up against the rest of the community. It also offers solutions and videos on how to unlock some of the more difficult achievements, making it a valuable resource for those looking to buff their Gamerscore.
True Achievements is free, well designed, feature rich, and well worth a look.
See at Xbox Store (opens in new tab)
Readit
Reddit is a wildly popular shitpost factory social news network which revolves around user-curated content. Comments, pictures, articles, and videos are upvoted and downvoted by various communities known as subreddits, and there's virtually one for every single (mostly legal) topic you can possibly imagine.
"Readit" is a popular Reddit client on Windows 10 and Windows 10 Mobile, and it made the leap to Xbox One very early on after UWP hit the console. It's one of the most fully-featured Reddit clients out there, and has intuitive controls on Xbox One, complete with support for customizable notifications on messages and comment replies.
Whether you just want to keep track of what's happening on Reddit from your TV, or indulge in some full-screen memery with friends, Readit is a good pick.
See at Xbox Store (opens in new tab)
That's a wrap!
Those are our initial picks for the best apps on Xbox One today, although there are dozens and dozens more that are likely missing. What apps should we include in this list when we next update it? Is your favorite missing? Hit the comments and let us know.
Windows Central Newsletter
Get the best of Windows Central in your inbox, every day!
Jez Corden a Managing Editor at Windows Central, focusing primarily on all things Xbox and gaming. Jez is known for breaking exclusive news and analysis as relates to the Microsoft ecosystem while being powered by caffeine. Follow on Twitter @JezCorden and listen to his Xbox Two podcast, all about, you guessed it, Xbox!
I'd love to see an app that allows me to store music locally on the XBox and have it available to play on any account.

What about Photos & OneDrive apps? They definitely need more features but pretty useful.

Might add those after they've had some updates, they're super clunky atm imo.

Agree but not aware of any good alternative unfortunately.

I was amazed by the quality and feature richness of AX-Lite Video Player. Truly an amazing product that rivals the best movie apps for PC

I'm using VLC which I would add to this list as well. Lots of features and has become pretty robust (only still some issues with certain audio formats).

What about Covfefe spinner?

Amazon Video is a must have for Prime members. The app is much better than it was and the selection of Prime free movies & TV is impressive.

If Podcasts is better at syncing now, I might try going back to it. I switched to Grover Pro because Podcasts never synced properly. Grover then synced properly for a few months but seems to have stopped (across all devices). It's really annoying each time you want to open your podcast to have to run through and mark as played everything you already listened to on a different device. Edit: Grover sync does seem to work when I force it, but not so well when supposed to be automatic in background. But maybe I can just make a point of hitting that button each time I'm done listening on one device for the day.

Well, the most popular non-gaming apps are available on most smart TVs, and really Microsoft has destroyed all the non-gaming aspects of the Xbox OS that drew me to it in the first place. So, seriously, Xbox One IS only really useful for gamers.

A lot of people don't have smart Tv's. The world doesn't revolve around you.

Can we stop with the XBox posts? Every other post has been about xBox in the last couple of weeks. This is Windows Cantral not XBox Central.

Prior to this article, the 20 before, only 4 were about xbox.

What about Goal Centre? Live scores (mainly English teams) with toast notifications for goals etc, handy when you're too busy to glance at your phone while playing FIFA lol

What gives with the iPhone App? It sucked compared to the Windows Phone app (because you had to follow a link to comment on the article or view the entire article). However, now it doesn't even have a link to launch the full article and comment. It's just a summary of the article. That's it. I had to onto my computer to comment. Am I iPhoning wrong?

Use the right things. W10M

I don't get mytube. I am trying it out as a trial as not sure if I need it over the regular YouTube app. When I register it says it has a code to copy and paste to signin. I don't remember how to copy and paste in Xbox since I never do it and no instructions on screen to tell you. Also the app keeps crashing so not sure I'm going to keep trying. Finally got in, went to Subscriptions and it signed me in that way but the interface was sluggish. Finally after a reboot of the Xbox, things are working as they should. Unsure why I had so much trouble. Now to see if I prefer it.

The Reddit jab was funny. Truth be told, if you stick to (strongly moderated) subreddits and stay away from the front page or trending topics it's actually one of the better social media experiences out there.

Readit hasn't worked in months

I'd put TuneIn as my most used app, I love being able to just select a genre of music and browse thousands of stations around the world playing it.
It gives a nicer feel than having curated playlists like Groove or Spotify.
I just wish it had background music playback... :/

I use VUDU all the time on my XBox One, more than any other app. Not a perfect app but works well to view all the movies and tv shows I own... Which of course makes me buy more. :)

I like using Wallpaper Studio 10 for syncing backgrounds across all Windows 10 devices, though admittedly the app on Xbox One is still kinda clunky. Hoping to see that improve in the future!