Best Xbox One Games Under $20
By Richard Devine last updated
Looking to get the best bang for your buck? We've got 20 Xbox One games under $20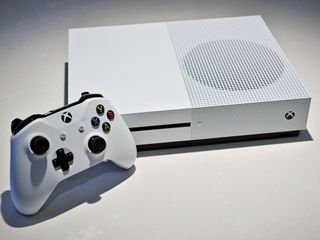 It might be the big game franchises like Halo and Call of Duty and Forza that get all of the attention, but there are some truly great Xbox One games out there that you can get for dirt cheap.
So let's fill out your Xbox library with some of these 20 fantastic Xbox Store games — some indie, some classics, all awesome — that cost $20 or less.
Halo 5: Guardians
The campaign in Halo 5 took a distinctly new path from the pre-Xbox One era games, with much of the focus away from Master Chief and onto Spartan Locke.
Besides the campaign, Halo 5 has a robust multiplayer experience that includes the Warzone Firefight mode, along with more traditional fare like Slayer, Capture the Flag and Strongholds. It's Xbox One X enhanced, is still supported with free additional content and only costs $19.99.
See at Microsoft (opens in new tab)
Wolfenstein: The New Order
The reboot of a classic franchise begins with The New Order, Wolfenstein's first outing on the Xbox One. Set in the 60s, the Nazi regime is in charge and as all round superhuman B.J. Blazkowicz, you're the one that's going to take them down.
It's an alternate history filled with intense action, mechs and some of the most absurd weaponry you'll find in any shooter. It's also only $19.99, and for fans of single-player games in particular, well worth the time.
See at Microsoft (opens in new tab)
Cuphead
Fiendishly difficult and insanely charming, Cuphead is a hand-drawn platformer that will fill you with nostalgia and sometimes much rage.
Play as Cuphead or Mugman in this 30s-inspired run-and-gun platfomer with a heavy focus on boss battles. You simply have to play Cuphead, but be prepared for a challenge. Cuphead is only $19.99 and also supports Xbox Play Anywhere.
See at Microsoft (opens in new tab)
Halo Wars: Definitive Edition
The original Halo Wars might well be playable thanks to backward compatibility, but this new version has been enhanced for the Xbox One and supports Xbox Play Anywhere.
Halo Wars takes the iconic franchise to the top down RTS genre, bringing a unique angle to the war between the UNSC and the Covenant. Besides improved graphics, the Definitive Edition includes all previous DLC into the asking price of $19.99
See at Microsoft (opens in new tab)
Inside
One of 2016's most critically acclaimed games, Inside is from the minds that brought you Limbo.
When you start you'll know very little about what's going on, but the story is unique and engrossing, as is the art style and the world you play through. Not giving anything away, but if you're into story-driven games Inside is a must buy and one of the best $19.99 spends you can make.
See at Microsoft (opens in new tab)
Subnautica
If you've ever wanted to explore the bottom of the ocean, then Subnautica is the game for you.
You'll be able to explore the depths of the sea and the dangers that lurk down there. This is still a game that is in progress, but it's already awesome and poised to get even better. It's available in the Xbox Store for $19.99.
See at Microsoft (opens in new tab)
Dead Island Definitive Edition
Are you a fan of zombies in paradise? This game is a facelift on an old classic, sending you out to fight your way through a zombie-infested island resort.
Whether you're shooting them, running them over in a vehicle, or knocking them upside the head with a paddle, Dead Island Definitive Edition will let you get your zombie fix for just $19.99.
See at Microsoft (opens in new tab)
Oxenfree
In Oxenfree you take on the role of Alex, on a seemingly innocent teenage trip to Edwards Island. Only it quickly becomes much more than that.
Another story-driven title, Oxenfree has some of the best natural dialog you'll find in any game on any platform. An absolute must play and a great price at $19.99.
See at Microsoft (opens in new tab)
Astroneer
Astroneer is the newest Game Preview title and also the newest addition to the Play Anywhere stable. It's a lot of fun, too. You go round exploring, hoovering up resources and such, and while the controls are a little hard to get the hang of, hopefully things will improve as it gets closer to being a finished product.
But Astroneer is space exploration done properly and it's only $19.99.
See at Microsoft (opens in new tab)
Among the Sleep
Have you ever considered what the world looks like as a toddler? How big and frightening the world can be? Among the Sleep is a psychological thriller in which you play as a two year old.
With your sidekick Teddy, you'll try to find your parents in a world that seems absolutely terrifying. You can pick it up now for just $14.99.
See at Microsoft (opens in new tab)
Dishonored Definitive Edition
In a world gone mad you'll play as a loyal subject of the crown who is framed for murder. Revenge is yours to pursue, and there's a kidnapped princess to rescue.
You'll have to decide whether you want to be sneaky and spare your enemies from death, or fall to the dark side and leave havoc in your wake. You can pick it up for just $19.99.
See at Microsoft (opens in new tab)
Steredenn
It's time to save the Earth from space pirates. You'll get access to dozens of different weapons, and fly through beautiful galaxies in the pursuit of safety for your home planet.
With plenty of pixels, Steredenn is a nostalgic sci-fi ride. You can download it now for $12.99.
See at Microsoft (opens in new tab)
Rocket League
Mix ball games with cars and what you have is Rocket League. It's fast paced and action packed and in each 5-minute match the objective is simple: Score more goals than the other team.
Rocket League is enormous fun for just $19.99, is easy to pick up but a real challenge to master. Once you've got the hang of the physics, you'll soon be scoring hat tricks all over!
See at Microsoft (opens in new tab)
Plague Inc: Evolved
It's time to destroy the world, but this time with a pandemic twist. To win this game you'll need to set loose a vicious pandemic, and then evolve it to slowly kill everyone on the planet.
It's a dark game, but it's addictive and more fun than you would think. You can pick it up for $14.99.
See at Microsoft (opens in new tab)
Stardew Valley
You've inherited your grandfather's old farm plot in Stardew Valley. Armed with hand-me-down tools and a few coins, you set out to begin your new life. And so it begins.
This isn't just another me too simulator game, though. Stardew Valley has an enormous world that opens up in front of you and has a quite unique graphical style that hooks you in the moment you lay eyes on it. And it's only $14.99, too.
See at Microsoft (opens in new tab)
The Banner Saga
If you're a fan of dramatic gameplay where your choices really matter, then you've got to check out Banner Saga.
You play as a Viking clan, where every single choice that you make has serious and sometimes terrible consequences. Originally available only on PC, you can now pick it up right on your Xbox One for $19.99.
See at Microsoft (opens in new tab)
Ori and the Blind Forest: Definitive Edition
The forest of Nibel is dying, and Ori is its last hope. This absolutely beautiful platformer will test your logic, as well as jerk on your heartstrings.
The Definitive Edition brings new levels, new difficulties, new attacks, and the a story guaranteed to drag you in. It's available now for $19.99.
See at Microsoft (opens in new tab)
Oddworld: New 'N Tasty
Welcome back to Oddworld, where you'll play as Abe. Once a humble floor waxer, after he finds out his company's insidious plans he intends to break out.
This update on the original Oddworld brings tons of new content right to your Xbox One. Use your brain to escape the factory, and take in the beautiful and occasionally terrible backgrounds. You can pick up this fantastic game for $19.99.
See at Microsoft (opens in new tab)
Unravel
Meet Yarny, a strange creature who slowly unravels as he moves through the world. This is a physics-based puzzler that will make you really think to complete each level.
This beautifully rendered game will tug on your heart strings while testing your logic skills. You can check it out for $19.99.
See at Microsoft (opens in new tab)
Minecraft
It's Minecraft. On Xbox One. If for some reason you've yet to see what all the hoopla is about, the Xbox One edition of Mojang's phenomenon is just $19.99.
Punch trees, dig holes, kill creepers and build quite wonderful structure. The only limit is your imagination.
See at Microsoft (opens in new tab)
There are a lot of games available in the Xbox Store for under $20, but these are the best options that are worth your time and money. Check them out, let us know what you think — and if you've got a game that you love that's not on this list, let us know about it in the comments!
Updated April 25, 2018: We've removed some older titles and added four great new choices at the top of the list that can be yours for under $20.
Richard Devine is an Editor at Windows Central. A former Project Manager and long-term tech addict, he joined Mobile Nations in 2011 and has been found on Android Central and iMore as well as Windows Central. Currently you'll find him covering all manner of PC hardware and gaming, and you can follow him on Twitter and Instagram.
Cool idea for an article. My list: 1. Minecraft 2. Inside 3. Ori and the Blind Forest: DE 4. Fru 5. Kung-Fur for Kinect 6. Super Time Force 7. Fruit Ninja Kinect 2 8. Lovers in a Dangerous Spacetime 9. Dark Dreams Don't Die 10. Max: The Curse of Brotherhood 11. Kalimba 12. Oxenfree

Just finished #2. 5hrs, 102 deaths. Awesome game/experience! Plan to check out #3 & #12.

Excellent! Yes, Inside and Ori are both amazing. I've been gaming for 3+ decades and both of those games are in my Top 10 Games of All Time list. Inside in particular is the only game I can remember where I can't stop thinking about it after I've beaten it. Just an amazing experience.

Weird. They're both great but nowhere near my Top 25 list.

That is a fantastic game.

How about the Banjo kazooie series :P?
I always loved that funky cartoony game.
Not sure on the price tag though :)

Anyone else having trouble with the "See on the Xbox Store" links?

And life is strange (haven't played any but heard both are amazing ) Posted via the Windows Central App for Android

Ori, Limbo, Unravel & Inside

Rocket League! Posted via the Windows Central App for Android

Subnautica is a definite one to play if you like survival/crafting. While I like Stardew valley I think it lags substantially behind the 3DS Story of Season iterations in depth and mechanics.

Inside looks nice but nothing else in this list interests me :(

Resident Evil 4 is better than any of those listed

Inside is a must-have. I also would recommend most Telltale Games, especially The Walking Dead and Batman. Subnautica and Astroneer look interesting but i am not sure about these "game previews" i have to pay for. Will the game ever be finished? Do i get a final version by update or will i have to buy it again later?

The game will be finished, you will get the final version by update and probably something more.

Subnautica at least has been very good about adding to the game and the new features just update in.

What about idarb, when you have some friends over and want some hectic multiplayer action

I hope these prices are valid outside the US.
My One S has been sitting idle for 2 months, I refuse to pay the gouging prices we are charged outside of Merica.

Castle Crashers Remastered? I think it's about 20

Or the original through Backwards Compatibility.

Try Life is Strange for 20 dollars
Windows Central Newsletter
Get the best of Windows Central in in your inbox, every day!
Thank you for signing up to Windows Central. You will receive a verification email shortly.
There was a problem. Please refresh the page and try again.