Best Xbox FPS and shooter games May 2022
Take aim with the best shooters available on Xbox One and Series X|S consoles.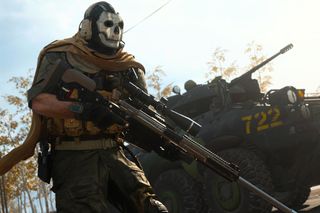 (Image credit: Activision Blizzard)
Xbox has been long considered the home of shooters, first shaped by its pioneering Xbox Live network atop the Halo franchise. This legacy persists today, with most major entries to the genre thriving on Microsoft's latest Xbox One and Xbox Series X|S consoles.
From tense multiplayer battlefields that test your reflexes to handcrafted first-person shooters (FPS) prime for exploration, the genre contains experiences suited to all. Grab your gun, find some ammo, and take aim; these are the best Xbox shooters in 2021.
The best of Xbox shooters in 2021
The shooter remains a staple genre among the world's most popular titles, demanding a balance of strategy and lightning-fast reflexes. Microsoft's best Xbox consoles remain the leading options for shooters, whether in-house franchises like Halo and Gears of War to third-party blockbusters like Call of Duty and Fortnite. There are options for everyone — and we've rounded up the best.
The best shooters on Xbox often include stellar multiplayer experiences, opening your console to other players, both as allies and enemies. Competitive shooters like Call of Duty and Halo present traditional arena-style combat, testing your skills against the globe. The explosive growth of battle royale has also established a whole new genre, dropping dozens of players into high-stakes, last-man-standing battles.
Single-player shooters can also boast rich accompanying stories, virtual realms with hours of exploration, down the barrel of your trusty arsenal. Bethesda-published franchises like DOOM and Prey are praised for their solo offerings, each backed with content-rich campaigns.
Microsoft's Xbox Game Pass subscription service also provided unmatched value, with many of the best Xbox games included at no additional cost. It has Microsoft franchises like Halo and Gears of War, and following its Bethesda acquisition, a handful of stellar single-player worlds too.
1. Call of Duty: Warzone
Call of Duty: Warzone — Xbox
Reasons to buy
+
Best-in-class battle royale
+
Robust, slick gunplay
+
Frequent content updates and limited-time modes
+
Various Call of Duty signatures
Reasons to avoid
-
May lack variety for some
Call of Duty: Warzone launched as Activision's second attempt to shape its best-selling franchise to the hit battle royale formula. It was an instant hit, and now over 100 million players strong, the title is established as an unstoppable behemoth in the space. The free-to-play title has outgrown Call of Duty's standardized release cycle with new content on the regular.
Warzone sees players drop into Verdansk, an ever-changing virtual battleground packed with opportunities for action — even after your hundredth drop. This tactical spin on the military shooter retains the signature pillars that defined the previous Call of Duty games, including an emphasis on robust gunplay, leveraging various gadgets and perks. It's all about knowing your whereabouts and outsmarting opposing squads, and eventually topping its last-man-standing setup.
Warzone isn't for the faint-hearted, with punishing high-stakes gameplay a far departure from Call of Duty's usual virtual mosh pits. While there's nothing more satisfying than scoring the top spot, supplementary respawn-enabled modes also tone down the heat.
Activision continues to pour resources into Warzone, with regular events, battle passes, and a continually evolving world. The game hosted the Call of Duty: Vanguard and Cold War reveals, 2021 brought tie-ins with Die Hard and Rambo, and Activision even permanently nuked Verdansk to debut an all-new map. But if you're looking for a battle royale with hours of rewards (and frustration) ahead, Warzone is one you need to try.
2. Halo: The Master Chief Collection
Halo: The Master Chief Collection — Xbox
Reasons to buy
+
Incredible value
+
Hours of campaign and multiplayer content
+
Frequent content updates
+
Upgraded for modern hardware
Reasons to avoid
-
Old games show age, especially for newcomers
Halo remains a staple for Xbox consoles in 2021, and with Halo Infinite fast approaching, this six-part compilation presents the ultimate catch-up on two decades of action. Halo: The Master Chief Collection faced a rough launch, but with regular updates and new content, it's the ultimate tribute to one of Microsoft's greatest hits. Those yet to experience Master Chief's story will discover incredible value, while the package also doubles as a modernized nostalgia ride for returning Halo veterans.
Halo: The Master Chief Collection nets every pre-Xbox One Halo title to date, including Halo: Combat Evolved through Halo 4 and spin-offs like Halo 3: ODST and Halo: Reach. Campaigns operate solo or with friends via split-screen and online co-op, now cranked up to 4K resolution, with 120 frames per second (FPS) and custom FOV support on the latest Xbox Series X and Xbox Series S consoles.
343 Industries also bundles the Halo multiplayer into one unified menu, allowing matchmaking across various modes and eras. It's all tied up into one shared progression system, battle passes with free cosmetics, and regular updates with new cosmetics and armor. The next major update, Season 8, brings even more additions to Halo 3 and Halo: Reach.
While Halo: The Master Chief Collection faced various technical shortcomings upon release, 343 Industries has continued to invest in the project, now offering the best Halo package to date. It's among the top shooters on Xbox, with further upgrades on current generation Xbox consoles and a must-buy in Microsoft's current lineup. While we're hopeful Halo Infinite joins the list this December, The Master Chief Collection is an ideal stop-gap between mainline Halo titles.
3. Prey
Prey — Xbox
Reasons to buy
+
Expertly crafted environments to explore
+
Stellar atmosphere and world-building
+
Challenging, distinct spin on combat
+
Tons of playstyle customization
Reasons to avoid
-
Sluggish performance and load times on older Xbox consoles
Prey is an incredible story-driven shooter from Arkane Studios, set aboard the Talos I space station. Dropped in an alternative world timeline, Prey follows the discovery of a mysterious alien species and humanity's experiments on the creature's physics-bending abilities. As you might expect, things go south pretty quickly, and you find yourself as one of the station's remaining survivors.
An immersive sim at heart, Arkane conveys a rich world that feels genuinely lived-in, with traces of its former inhabitants littered within the confines of this interstellar complex. With an emphasis on puzzle-solving, passive world-building, and exploration, it's a lovingly crafted single-player experience that rewards those that dive head-first in its universe.
Prey joins the greatest hits of the Xbox One era, an oft-underrated gem that fans of series like Dead Space and BioShock must not miss. It's also among the Bethesda-published titles now included with Microsoft's Xbox Game Pass subscription service, with Xbox FPS Boost support, bolstering the title with 60 FPS gameplay on Xbox Series X and Xbox Series S.
4. Call of Duty: Black Ops Cold War
Call of Duty: Black Ops Cold War — Xbox
Reasons to buy
+
Fluid, responsive gunplay
+
Brings new flair to the Call of Duty campaign
+
Dense multiplayer with tons of modes and maps
+
Content for all shooter fans
Reasons to avoid
-
Still sticks to the "Call of Duty formula," for better or worse
Call of Duty: Black Ops Cold War marks the latest in Activision's long-running military shooter, this time touching on the height of the Cold War while drawing inspiration from the greatest movies of the 1980s. The setting drives home various new themes for the franchise but means an action-packed, Hollywood-inspired campaign and robust multiplayer sandbox. The result is another blockbuster shooter with hours of content, and deep-rooted integration with Warzone, for those bridging its various modes.
Black Ops Cold War plunges players into a Cold War-era CIA operation, assuming the role of an operative codenamed "Bell," just one member of a close-knit team hunting down a mysterious ringleader dubbed Perseus. Fans of past games will know Mason, Woods, and other returning cast members, and while touching on the same "corridor shooter" tropes, it also explores new open-end stealth sequences. Activision also toys with a branching plotline delivering some of the most memorable twists and turns in a Call of Duty game to date.
Multiplayer is more refined, varying from small arena matches with classic modes to larger 40-player battlefields. The create-a-class system remains prevalent, unlocking new weapons and attachments over time, and seasonal battle passes feed players ample cosmetics. Activision has also revived its cooperative Zombies mode, with a narrative and supplementary content beyond its wave-based origins.
Black Ops Cold War doesn't diverge from the time-worn Call of Duty formula; it ties together the greatest triumphs in recent years. While 2019's Modern Warfare represented a massive leap for the franchise, Cold War means more content and the same deep ties with Warzone and other platforms via cross-play. Call of Duty: Black Ops Cold War is the latest in many hits, now offering more than ever.
5. Splitgate
Splitgate — Xbox
Reasons to buy
+
Classic arena FPS action
+
Adds Portal-inspired physics strategy
+
Varied weapons, maps, and modes
Reasons to avoid
-
Lacks content and long-term progression at launch
Splitgate is the latest newcomer making waves with arena multiplayer, often coined as a "Halo meets Portal" shooter experience. This FPS comes from independent studio 1047 Games, and after exploding in popularity following its open beta, it's lured tens of millions of players across console and PC. The studio has scrambled to meet demand, scaling up servers to handle the influx of new players, leaving Splitgate well positioned as it exits beta testing for a full free-to-play launch.
While naturally drawing comparisons to Halo and Portal, Splitgate is a different breed of multiplayer shooter. The sci-fi setting undoubtedly reflects on Microsoft's hit franchise, but similarities to Unreal Tournament and Quake evoke a sense of purity long-lost in modern shooters. Kill-based and objective modes shake up matches, but weapon pickups and intelligent use of physics-bending portals define every encounter.
The team behind Splitgate remains small and agile, likely to determine its ability to carry a hit concept forward for years to come. The recent launch brings "Season 0," an update with new content and title-wide tweaks, plus a paid battle pass and loot boxes with cosmetics to unlock. But Splitgate, in its current form, presents an attractive free-to-play offering, especially for fans of classic shooters like Halo, Unreal, and Quake.
6. Tom Clancy's Rainbow Six Siege
Tom Clancy's Rainbow Six Siege — Xbox
Reasons to buy
+
Precise, smooth gunplay
+
Varied Operators and gadgets
+
Competitive multiplayer maps
+
Free updates all year round
Reasons to avoid
-
Sharp learning curve for new players
-
New content has slowed with time
Tom Clancy's Rainbow Six Siege serves up its own spin on tactical first-person combat, pulling over 65 million players in 2021. It's a breathtaking shooter sandbox throughout, fusing intricate systems that reward strategy and forethought in every battle.
At the heart of Rainbow Six Siege is a roster of hero-style Operators, with dozens of counter-terrorist specialists possessing unique abilities. It's layered with precise gunplay and fully destructible settings, delivering a deep experience unrivaled by competitors. Ubisoft has also produced free updates on a strict tri-monthly seasonal release structure, still pledging at least another five years of support.
Rainbow Six Siege's competitive backbone can take a few hours to grasp with innumerable systems in play. However, its complex mechanics remain consistently rewarding, even if at times frustrating, after hundreds of hours. Backed by regular updates over five years and counting, don't overlook this multiplayer gem.
7. DOOM Eternal
DOOM: Eternal — Xbox
Reasons to buy
+
Feel-good, responsive shooting
+
Brutal, impactful encounters
+
Lengthy campaign
Reasons to avoid
-
Platforming isn't for all
Send demons back to hell with this fast-paced return of the classic arcade shooter. Leveraging tight shooting, gore-filled takedowns, and crazy firepower, the sequel to the 2016 DOOM reboot shares the same values as its predecessor. This single-player gem goes back to the glory days of gaming of raw action, cranked up to 100.
DOOM Eternal puts its weaponry front and center, stacking snappy shootouts upon buttery-smooth movement to satisfy that arcade itch. The game also further explores platforming, adding new challenges, although somewhat displaced from the broader experience. Topped with hellish visuals and fluid encounters, it's a rollercoaster of unfiltered butchery.
Microsoft's Bethesda acquisition has seen DOOM become an in-house Xbox property, with DOOM: Eternal among current Xbox Game Pass offerings. It's also been upgraded for Xbox Series X|S with new 120 FPS and ray-tracing modes, among the best in modern console visuals.
8. Fortnite
Fortnite — Xbox
Reasons to buy
+
Still a unique spin on battle royale
+
Regular free updates and events
+
Caters to non-battle royale fans
Reasons to avoid
-
Can be hard to grasp some mechanics
Fortnite has redefined modern gaming, with skyrocketing success propelling the last-man-standing shooter across the globe. This free-to-play battle royale is nothing less than a cultural phenomenon, with over 350 million players to date and influence reflected across all corners of gaming. While among the first to capitalize on the battle royale boom, it's now evolved into a full-fledged digital platform, unmatched by peers in the shooter space.
Dropping 100 players into an arena primed for conflict, Fortnite is littered with tiered weapons and gadgets to outsmart and eliminate competition. It has some defining mechanics, from resource gathering to construction, providing a distinct twist on traditional player-versus-player (PvP) combat. The game has also toyed with various respawn-enabled playlists and limited-time modes, expanding on a robust underlying sandbox.
But Fortnite's influence has proven its biggest strength, securing regular crossovers with the world's largest brand and personalities. The title has hosted virtual experiences from Travis Scott to Ariana Grande, virtual concert alternatives amid the height of the COVID-19 pandemic. Established brands like Marvel, DC, Nike, and the NFL have contributed with cosmetics, with regular new additions each season.
Fortnite is a global phenomenon, and regular updates only further shape the title into a full-fledged virtual universe. It's available with cross-play and cross-progression spanning console, mobile, and PC, and best of all, it's entirely free to get started.
9. Deep Rock Galactic
Deep Rock Galactic — Xbox
Reasons to buy
+
One of the best Xbox co-op experiences
+
Varied classes each bring fun mechanics
+
Unique, high-stakes mining premise
+
Stunning environments to explore
Deep Rock Galactic starts with a simple mission: Descend into the galaxy's deepest cave networks, extract resources, and make your exit. But assignments rarely go to plan in Ghost Ship Games' mining shooter, with each sub-surface maze laced in deadly hazards that stand in your way. The result is one of the best co-op shooters out there, with its emergent mechanics fueling hours of memorable gameplay with friends.
The best of Deep Rock Galactic comes from its cooperative play, accommodating up to four players per match, although single-player is also available. You pick a class from one of four space dwarfs, each equipped with unique gadgetry to navigate the terrain and weapons to face lurking foes. The game's pacing fluctuates throughout, whether exploring its luscious, fully destructible locations or scrambling to hold back a surprise alien horde.
But Deep Rock Galactic isn't just about shooting and looting, with cave length and complexity among the top factors impacting gameplay. Objectives start with mining crystals by hand, while later missions task teams with building and defending sprawling refineries. When the job is complete, every mission ends with a climatic extraction — a few nail-biting minutes backtracking through your cave and returning to safety. Tense co-op makes Deep Rock Galactic a must-play, plus it's included in Xbox Game Pass libraries on console and PC, with cross-play, too.
10. Borderlands 3
Borderlands 3 — Xbox
Reasons to buy
+
Hours of content to explore with friends
+
Focus on rich, snappy combat
+
Diverse environments and encounters
+
Wacky, fun-loving world
Reasons to avoid
-
Humor can be hit or miss
Borderlands 3 sends players on a crazed all-guns-blazing rampage, exploring every corner of its wastelands, and scooping up countless weapons and rewards in the process. Gearbox Software delivers the best iteration of its shooter series to date, once again nailing the fundamental pillars of a robust FPS, playable solo or via co-op with up to three friends.
The latest Borderlands turns its attention to the Calypso Twins, quirky new villains plotting to conquer the universe, seeking legends of mysterious "Vaults" in the process. You're a vault hunter, one of several heroes poised to save this eccentric universe, causing a ton of chaos in the process.
Borderlands 3 delivers much of the same as past games, although you don't need to revisit earlier entries to get your bearings. It's a looter-shooter that shamelessly embraces every trope of the genre, boasting over one billion weapon variations to assemble your ideal arsenal. You get snappy, goretastic combat with a dash of wacky humor, all an ideal setup for hours of co-op action.
The bottom line on our favorite Xbox shooters
Home to more shooters than ever, Xbox One stows some unmissable action-packed gems. Shooters, whether first-person or third-person, run the gamut of genres and play types, ensuring that there's something for everyone. If you find yourself getting bored by a shooter style, there's probably a different game that'll rekindle your love for that kind of gameplay.
Call of Duty: Warzone takes our top spot in 2021, a free-to-play battle royale package that builds upon everything that made past Call of Duty games so great. It's drawn hundreds of millions with its expansive world of Verdansk, and with regular new content updates and limited-time events, it poses plenty of reasons to stay. Deep integration with Call of Duty: Black Ops Cold War and Modern Warfare (2019) also provides added variety if you opt to stray into its paid, full-fledged titles.