Bing Health & Fitness, PressReader, MetroTube and more are your app highlights of the week!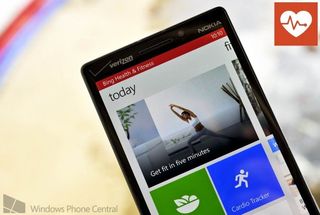 Looking for some new apps? But too busy to read every single post during the week? Then it's time for another weekly roundup of the best new apps in the Windows Phone Store. We'll take a look at what apps and games are new to the scene, which of our favorite apps picked up a worthy update and notify you of any open betas worth joining. Let's get started.
New
Bing Health & Fitness –Looking to get fit for when the sun fully comes out? Then use Bing Health & Fitness to get that beach bod for summer. The app launched this past week and brings a ton of features to keep you healthy. You get great fitness news, health and nutrition content, health trackers, tools and more. You can even use it to record workouts. Be sure to grab Bing Health & Fitness in the Windows Phone Store. (Free)
PressReader – Moving to a new city or country doesn't mean you should lose access to your favorite papers from back home. PressReader is a new app for Windows Phone that allows you to browse and find newspapers from everywhere on planet Earth. You can view those newspaper in a traditional newspaper layout and pinch/zoom/scroll to read articles or you can jump into an article view for an easier reading experience. Pick up PressReader in the Windows Phone Store. (Free/In-app purchases)
Mobile World Congress 2014 –It's time for Mobile World Congress. If you find yourself lucky enough to be physically in attendance then you'll want to pick up this official MWC 2014 app from Nokia. Not only is it absolutely beautiful, but it's super functional. You can use the app to view all exhibitors, speakers and agendas. View venue maps without an internet connection, personalize for favorite speakers, exhibitors and event list. Share and network using the app and NFC, and much much more. Pick it up in the Windows Phone Store. (Free)
Pin.it – We still lack an official Pinterest client on Windows Phone, but that's ok, we have Pin.it. It's a great app for Windows Phone that we just covered this past week. The design and layout are clean, plus you get most of the Pinterest functionality you'd want. Grab Pin.it in the Windows Phone Store. (Free)
Updated
MetroTube – We haven't seen an update for MetroTube since last summer, but this week the app finally picked up an update. Head to the Windows Phone Store and you'll see version 4.1.0 waiting for you. The update brings a new UI overhaul, playback bug fixes and other improvements. Update MetroTube in the Windows Phone Store. ($0.99/Trial)
Nokia Glance – If you're rocking a Lumia handset with the ability to display Glance screens then you're in luck. An update to the app this week introduces the ability to select between notifications, add custom text and more. Update Glance by going to the Windows Phone Store. (Free)
OneDrive –Technically not a new app, since OneDrive is just SkyDrive updated. Either way, it happened this week with not only a branding change, but new features added to the app on Windows Phone. In OneDrive you'll now find a new thumbnail view, improved view for shared files, the ability to share multiple items at once, ability to pin folders to the Start screen and much more. Update to OneDrive in the Windows Phone Store. (Free)
Pandora – Not a big update for Pandora this week, but nonetheless one we should cover. This week Pandora was updated to introduce ads into the app. As you know, the app was ad-free for the past year, but that wasn't meant to be permanent. Grab it in the Windows Phone Store. (Free)
Beta
Booklet – Not happy with the official Facebook app on Windows Phone? Then join the open beta for Booklet. It's a new app that allows you to view and browse our Facebook feed in an innovative manner. Join the beta for free in the Windows Phone Store.
Games
Tap the Frog –Looking for a fun family game? Then check out Tap the Frog. It's the perfect game for the kiddos. Download the free trial in the Windows Phone Store and if you like the game it's only $0.99.
Modern Mayor – Nokia just released a new game this week. Head into the Windows Phone Store and you'll find Modern Mayer, a new game that has you turning a trashy city into the world of tomorrow. Get it in the Windows Phone Store. (Free/In-app purchases)
Have any apps or games you really liked from the past week? Share them below!
Windows Central Newsletter
Get the best of Windows Central in in your inbox, every day!
Wishlist for next week? A update WPCentral apps - WP8 with custom notificatiesounds, Windows 8.1 no addsversion -. Love to see that.
1 Update Twitter Windows 8.1 app?
2. Update WhatsApp? (now the betaversion)
3. Official Telegram app?

Hey guys who were crapping for file manager... Pocket File Manager updated their app and now they have full access to sd card .... Its a full featured file manager for wp8 phones... They are just nailing it... Loving windows to the extreme..

You have to give them this, they all seem faster.

Story Album for Samsung is awesome app :D

The Apps, I want most is yahoo weather, google+(yes I use it and fuck google search nobody got time for that.) and YouTube.

Youtube? Pff. Metrotube is the best YouTube app on any platform. Too bad some clips with embbeded ads don't work.

Wish list: FIX my talking Tom. Since today's update it disappear on every Lumia 620!!! As always we are the last of all!!

The hope Microsoft does something about this Facebook app in windows phone 8.1

Wonder why it takes them so long to find and fix bugs or even add requested features?

It would be a win if we got google maps but a huge win if we got street view for Bing maps!

Is the Metrotube app for WP7 broken for anyone else? The side pane while browsing subscriptions is empty. It is completely clickable, but it has no text in it.

Metrotube is sooo glitchy :'(... Really dude, get used to MyTube and your life will be easier Coming from a switcher

Agree...mytube is awesome

Damn nigga these apps be off da hook son!

What? Posted via the WPC App for Android!

Uh-Oh Al Sharpton gonna be up in this bitch real soon! Quick is there an app on WP8 to block his ass?

Health and fitness is charming... I really need to get one of those diet charts they got there and hit the supermarket

I love Bing Health & Fitness. Installed on my PC when I upgraded to Win 8.1. The WP app syncs my data w my desktop. I like that so much better than my personal info on some unknown 3rd-party website. And it even has videos to show proper technique for workouts, just like the PC app. :D

Uhm..why Glance on my 620 still have the same old options...the update needs Black I guess...

Same by me. I have black.

Figured it out. You find it in settings now under glance.

Bing Health & Fitness rocks!! I'm already on a new diet, new fitness program!! It's just so complete...

Anybody else having battery drain issues after using bing health and fitness?
Windows Central Newsletter
Thank you for signing up to Windows Central. You will receive a verification email shortly.
There was a problem. Please refresh the page and try again.