Three classic Gameloft Windows Phone games on sale once more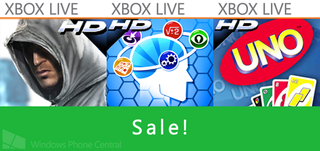 Older Xbox Windows Phone physics puzzle game iBlast Moki is the Red Stripe Deal of the Week, and that's cool. Wouldn't you like some more games to go on sale though? Of course you would! And you're getting your wish, buddy. Three more games have their prices knocked down to 99 cents for the week!
Don't get TOO excited just yet though. The three sale games are all older Gameloft titles: Assassin's Creed: Altair's Chronicles, Brain Challenge, and UNO HD. All three games were just on sale in June, along with a larger selection of titles. But they cost two bucks at that time and only one buck now, so this IS a better sale.
Head past the break for descriptions and Store links!
Assassin's Creed (Windows Phone 7 or 8)
Regular price: $4.99 Sale price: $.99 Download size: 139 MB Store Link
Assassin's Creed: Altair's Chronicles might be the single most frequently discounted Xbox Windows Phone game. This is the sixth time it has gone on sale. Does anybody not own it yet? The game is ancient. Maybe Gameloft should just drop the price to 99 cents already. But believe it or not, the iOS version still sells for $5-7.
Assassin's Creed is a 3D platformer/action title set in the middle ages. With great graphics and full voice acting (though the acting is atrocious), it feels like a DS game squeezed into a mobile title ('cause it is). The controls are fiddly and the platforming can be frustrating, but the story and action mostly make up for it. Easy Achievements too.
Brain Challenge (Windows Phone 7 or 8)
Regular price: $4.99 Sale price: $.99 Download size: 112 MB Store Link
Gameloft games for Windows Phone are still kind of buggy in general, but they've come a long way from this early release. Brain Challenge is a collection of brain-teasing minigames that you should be wary of.
It sports an amazing five Broken Achievements – the most of any Xbox Windows Phone game. Seriously, Brain Challenge is buggier than an entomologist's laboratory. Skip this and get the superior XBLA version instead.
Brain Challenge has only been on sale twice before, so that's something.
UNO HD (Windows Phone 7 or 8)
Regular price: $2.99 Sale price: $.99 Download size: 59 MB Store Link
The original UNO launched with Windows Phone 7. This version offers a single-player Tournament mode that lasts 15 rounds, often mixing up the gameplay with slight rule variations, as well as a Quick Play mode. For more impressions, check out our original review.
Let's be honest. Nobody needs a single-player UNO game, especially now that the multiplayer UNO & Friends is available for Windows Phone 8 and coming soon to Windows 8 and RT. But there is one very good reason to buy this early Windows Phone release: easy Achievements! Seriously, you can get them all in just an hour or so. Given the simplistic core gameplay, I doubt it will keep anybody busy beyond that.
This is the fourth time UNO has gone on sale. Again, a price drop to 99 cents is in order.
Thanks to Jon Jerome for the tip!
Paul Acevedo is the Games Editor at Windows Central. A lifelong gamer, he has written about videogames for over 15 years and reviewed over 350 games for our site. Follow him on Twitter @PaulRAcevedo. Don't hate. Appreciate!
Brain Challenge is $0.99, not $1.99 according to the website link.

I don't know why I'm considering it...probably because I haven't bought a WP game in months!

Thanks - copy and paste error. But like I say in the article, you're better off with the XBLA version if you must play it.

I have a similar version (I think) on PSN and it kinda sucks. I doubt I'll buy this, but I will try out the demo now.

Brain Challenge is on sale 0.99
Change the price!!!!

I'll keep playing UNO with Friends ... Thanks

Whats the deal with MS rehashing all the same games (with exceptions) for deal of the week?

Either they're not very creative or the developers whose stuff hasn't been on sale say no when Microsoft asks them about it. It's hard to say.

Damn, almost considered buying brain challenge, but dem achievements...

Ummm... How about you fix UNOFriends first before your try sucking more money out of us? You charge us for tokens so we can play more than 1 or 2 hands an hour. Then those tokens disappear when the server has an issue and those tokens we paid for are gone. Then you use those tokens to accumulate points to rise up the leader board to earn more spendable points and then those disappear. Fix that game, then come and ask for more more for a similar rehash.

It's actually UNO & Friends, you know. The game does have some issues, but you can easily get all the tokens you'll really need just by adding a lot of friends to your list and receiving gifts from them. I'm sitting on like 60 right now myself.

My games hub actually says "UNOFriends"

That's because of a publishing error. But the title screen says UNO & Friends, as do iTunes, Gameloft's site, etc.

Already have Assassin's Creed and Uno, not interested in a game with broken achievements.

I don't like red stripe deals, I'll rather have purple :P

Gameloft has milked THIS Assassin's Creed game for 5 (FIVE!!!) years now! I had this on my Nokia N82 in 2008! I have never seen a company keep releasing the same game with the same graphics on different mobile OSes and sell it for such a high price. It was amazing 5 years ago but they could do so much better IF they wanted to.
Personally, the Gameloft game Backlash was amazing. I'd rather have that than a 5 year old S60v3 game wrapped in touch controls.
Really....that Assassin's Creed game is from a different era and they should not be charging much of anything for it.



They'll stop milking it when people stop buying it :P

I agree coz all the games are all ports from wp7 :)

Meh, I'll get Uno for quick and easy fun. The other Uno is superior but you also must have connection and it heats my phone up which kind of detracts from the experience. These old school WP7 games don't do that, and who knows Uno might be pulled eventually and I won't get a chance to. Not sure why it's even still there, it's just confusing to have two Unos.

to bad they just ported the gba version of uno as the dsi one is much more superior. still a good game to pass the time.
AC was free a few months ago along with ewj

Assassin's Creed and Earthworm Jimmy Jim going free were store errors. It wasn't a legitimate giveaway.

Thanks for the heads-up, bought Uno at $1, i remember it was launched at $5 :)

Wasn't ascend: hand of kul be on wp8 also

The WP version (which was developed on WP7) is currently in limbo. Signal hasn't confirmed whether they will continue work on it or not.

@ this price you cant get an easier game than uno that will give you 200gs well worth the trouble trying to get operator billing working again. finish all achievements in one play through.
Windows Central Newsletter
Get the best of Windows Central in in your inbox, every day!
Thank you for signing up to Windows Central. You will receive a verification email shortly.
There was a problem. Please refresh the page and try again.