Far Cry 5 Season Pass owners get free copy of Far Cry 3 alongside Mars and zombie missions
Aside from giving away Far Cry 3 Classic Edition to certain Season Pass owners, Ubisoft released a thrilling new trailer for Far Cry 5.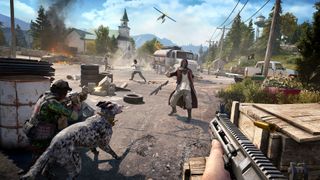 Today, Ubisoft announced the content for the Far Cry 5 Season Pass, and it contains quite a few surprises. The Season Pass is available as part of the Far Cry 5 Gold Edition, or as an add-on on Xbox One, PC, and PlayStation 4.
Far Cry 5 is set to launch on March 27, 2018, and soon afterwards players can expect to partake in three rather curious adventures with a twist. The list of missions is as follows.
"Hours of Darkness" takes players back in time to Vietnam to battle against Việt Cộng soldiers. It's unclear if this is a standalone mission or somehow bizarrely ties into the base game.
Zombies are finally coming to the Far Cry franchise. "Dead Living Zombies" requires players to face hordes of zombies in multiple campy movie scenarios. The mode is very similar to Call of Duty: Zombies. Again, it's unclear how all of this ties into the campaign.
Lastly, "Lost on Mars" is probably the strangest because players will leave Earth behind to go toe-to-claws with Martian arachnids. This content is by far the wackiest Ubisoft has put out for any game. It probably even tops Far Cry 3: Blood Dragon!
More details on post-launch support for Far Cry 5, including an overview of the three adventures and return of the map editor will be shared closer to launch.
That's not all though. All Far Cry 5 Season Pass holders on consoles will receive the single-player content from Far Cry 3 Classic Edition for free. Far Cry 3 Classic Edition will be available to owners four weeks prior to launching as a standalone purchase in Summer 2018 on Xbox One and PlayStation 4. Unfortunately, it looks like PC players won't get this offer but they do get a free copy of the old PC version of Far Cry 3. It's unclear what the changes between the PC version of Far Cry 3 and Far Cry 3 Classic Edition are.
Set on a remote island filled with warlords who traffic slaves, Far Cry 3 sees you embark on a desperate quest to rescue your friends, only to realize that the only way to escape this darkness is to embrace it. Far Cry 3 is known for the franchise's most notorious villain, Vaas, so it should be a treat to visit the game again for many. It's unclear what visual upgrades this new version has received for even the Xbox One X, if any.
Far Cry 5 is set in America, which is a first for the franchise. The game offers players complete freedom to navigate a serene but deeply twisted world as the new junior deputy of Hope County, Montana. The new junior deputy finds that their arrival accelerates a silent coup by a fanatical cult as The Project at Eden's Gate wants a violent takeover. With the outside world cutting ties to the county, it's up to you to join forces with normal individuals, form a resistance, and take back the land. A new story trailer gives you a brief glimpse into the chaotic region.
Keep an eye on WindowsCentral.com/Gaming for all the latest in Xbox and Windows 10 gaming, accessories, news, and reviews!
Asher Madan handles gaming news for Windows Central. Before joining Windows Central in 2017, Asher worked for a number of different gaming outlets. He has a background in medical science and is passionate about all forms of entertainment, cooking, and antiquing.
I can't believe that my Xbox 360 can play Far Cry 3 well, and my Laptop (Core m3 4GB of RAM) can't. A game console with 13 year old hardware can play games better than most entry level PCs. How is that possible?

Same as with GTA V on last gen consoles: incredible optimization. Would you ever think of running GTA V on a computer with 256MB RAM and 256MB VRAM? Of course not.

GTA V is a bad example because it runs horrible on last generation consoles and also has a very low resolution and draw distance. I would never think of running it on them because it just runs so bad when I tried it out.

Its ALL about the optimization. A triple core 3.2ghz power PC with 512Mb of RAM (dynamically split between cpu/gpu) with the right optimizations was and still is a remarkably powerful gaming platform provided you don't expect 720p. I'd kill for a portable xbox 360 type device like the switch (though switch is 2x the power) that I could play my digital library of 360 games on.

I don't understand why ppl think Vaas is the most memorable villian. Hes barely in the game and when he is, its just remedial 1st year psych study stuff he spouts. FarCry 4 has a far more interesting and dangerous antagonist in Pagan Mihn (based on the actual historical despot). And if you choose the 'don't shoot him' option in the game's final scenes he puts an entirely different and unexpected spin on the whole game and who is the actual bad guy... FC4 would have been a much better freebie.
Windows Central Newsletter
Thank you for signing up to Windows Central. You will receive a verification email shortly.
There was a problem. Please refresh the page and try again.