How to choose the best wand in Hogwarts Legacy
Customize your wand's style, length, wood type, flexibility, color, and core.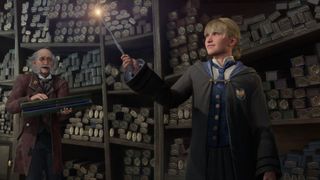 (Image credit: Windows Central)
A special part of every magical student's life is getting their very own wand and this is something that you'll do near the start of Hogwarts Legacy. After some opening cutscenes and preliminary quests, you'll be tasked with going to Ollivanders to acquire this magical instrument. Here you'll be able to choose your Wand Style, Wood Type, and Wand Core. There are plenty of options to allow you to make a truly unique wand or to create a similar wand to your favorite Harry Potter characters' wands.
The best wand in Hogwarts Legacy
More Hogwarts Legacy
- How to solve door puzzles
- How to open High Keep's main gate
- How to search the Witch's tomb for The Helm of Urtkot
- Where to find The Hippogriff Marks the Spot location
- How to solve Merlin Trials
- How to open Eye Chests
- Where to find Troll Bogeys
- How to get large potting tables
- How to complete Ghost of Our Love Quest
- All Demiguise Statue locations
- Hogwarts Legacy review
While choosing your wand is a special experience in Hogwarts Legacy, none of the choices available to you will make your wand stronger than any other. This is simply a fun part of the game that allows you to customize your instrument. So you can have fun choosing the elements you like until you make the one you like best.
There are several customization options to allow you to make something unique or that aligns with what we know about wands from the Harry Potter books. It's this attention to detail that makes Hogwarts Legacy one of the best PC games and one of the best Xbox games out there. Note that Wand Handles are obtained by exploring or completing quests and aren't available when you first choose your wand at Ollivanders.
Swipe to scroll horizontally
Wand options

| Category | Options |
| --- | --- |
| Style | Notched, Classic, Soft Spiral, Spiral, Stalk, Ringed, Crooked Spiral, Natural |
| Colors | Varies depending on Style |
| Wand Length | 9 1/2 inches to 14 1/2 inches |
| Wood Type | Acacia, Alder, Apple, Ash, Aspen, Beech, Blackthorn, Black Walnut, Cedar, Cherry, Chestnut, Cypress, Dogwood, Ebony, Elder, Elm, English Oak, Fir, Hawthorn, Hazel, Holly, Hornbeam, Larch, Laurel, Maple, Pear, Pine, Poplar, Red Oak, Redwood, Rowan, Silver Lime, Spruce, Sycamore, Vine, Walnut, Willow, Yew |
| Flexibility | Quite Bendy, Fairly Bendy, Very Flexible, Quite Flexible, Suprisingly Swishy, Swishy, Slightly Springy, Supple, Reasonably supple, Whippy, Pliant, Brittle, Hard, Sold, Stiff, Rigid, Unbending, Slightly Yielding, Unyielding |
| Wand Core | Dragon Heartstring, Phoenix Feather, Unicorn Hair |
| Wand Handles | Arrow - Black, Arrow - Brown, Avian - Beige, Avian - Brown, Avian - Grey, Basketweave - Red, Botanical - Bronze Leaf, Botanical - Silver Leaf, Celestial - Light Grey, Checkerboard - Teal, Column - Teal and Brown, Corkscrew - Light and Dark Brown, Corkscrew - Teal Blue, Orbicular - Brown, Orbicular - Gold, Orbicular - Velvet, Regal - Pink, Sabre - Ash Brown, Sabre - Brown, Sabre Grey, Shell - Grey, Shell - Honey Brown, Swirl - Brown, Swirl - Lilac |
What is the best wand in Hogwarts Legacy?
No wand combination is better than any other in Hogwarts Legacy as all of the choices you can choose from are simply cosmetic and don't have any bearing on how strong the wand is.
However, if for you the "best wand" means a wand that matches one that a witch or wizard from the Harry Potter books has then you will want to build your wand to the same specifications as that character.
Can I change my wand in Hogwart Legacy?
Sort of. The main look and design of your wand will remain the same and cannot be changed after you initially make it. However, you will be able to change the wand handle based on options you unlock during your playthrough.
Harry Potter character wands
The makeup of some characters' wands, like Albus Dumbledor and Severus Snape, were never actually revealed in the books. So this is a list of characters whose wands we do know about.
Swipe to scroll horizontally
| Character | Wand info |
| --- | --- |
| Harry Potter | 11 inch Holly Wood with a Phoenix Feather core. |
| Ron Weasley (2nd wand) | 14 inch Willow Wood with a Unicorn Hair core. |
| Hermione Granger | 10 3/4 inch Vine Wood with a Dragon Heartstring core. |
| Draco Malfoy | 10 inch Hawthorn Wood with a Unicorn Hair core. |
| Rubeus Hagrid | 16 inch Oak Wood with an unknown core. "Rather bendy". |
| Minerva McGonagall | 9 1/2 inch Fir Wood with a Dragon Heartstring core. |
| Lily Potter | 10 1/4 inch Willow wood with an unknown core. "Swishy". |
| James Potter | 11 inch Mahogany Wood with an unknown core. "Pliable". |
| Tom Riddle (Voldemort) | 13 1/2 inch Yew Wood with a Phoenix Feather core. |
| Bellatrix Lestrange (1st wand) | 12 3/4 inch Walnut Wood with a Dragon Heartstring core. "Unyielding". |
Flick of the wrist
Whether you're looking to match the wand of your favorite witch or wizard or you're more interested in making something unique there are plenty of options for customizing your wand. Remember that the Wood Type, Core Type, Flexibility, and Wand Length cannot be adjusted once you leave Ollivanders. However, there are plenty of fun wand handles to unlock to help add some flourish to your magical instrument.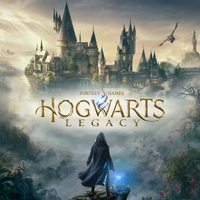 Hogwarts Legacy
Enjoy exploring the wizarding world from your computer as you take on the role of a Hogwarts student. Your unique magical powers enable you to address problems and enemies like no one else can.
Buy for PC: Steam
Buy for Xbox Series X|S: Amazon | Microsoft
Get the Windows Central Newsletter
All the latest news, reviews, and guides for Windows and Xbox diehards.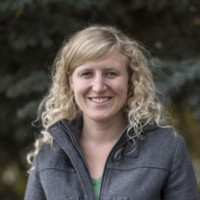 Self-professed gaming geek, Rebecca Spear, is one of Windows Central's gaming editors with a focus on Xbox and PC gaming. When she isn't checking out the latest games on Xbox Game Pass, PC, or Steam Deck; she can be found digital drawing with a Wacom tablet. She's written thousands of game guides, previews, features, and hardware reviews over the last few years. If you need information about anything gaming related, her articles can help you out. She also loves testing game accessories and any new tech on the market.