Can the ASUS ROG Ally play all Steam games?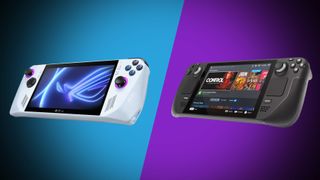 (Image credit: Windows Central)
The Asus ROG Ally is a new handheld gaming PC that aims to directly rival the immensely popular Steam Deck, Valve's game-changing device that plays Steam games on the go. The ROG Ally promises to offer a superior gaming experience, with a higher resolution, a higher refresh rate, and offset joysticks similar to Xbox and Nintendo Switch, but will you be able to play your Steam library on the ROG Ally?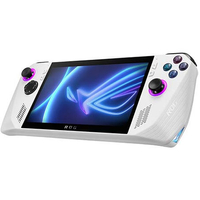 This gaming handheld runs Windows 11 Home and can be used to access several gaming services and storefronts. It's far more powerful than the Steam Deck and will be available this summer. You can preorder it right now.
Preorder at: Best Buy | Asus (US)
Best Buy discount code for cardholders: Q2FY24SAVE10PL
Can I play my Steam games on the ROG Ally?
Yes. The ROG Ally's immediate appeal is that it runs Windows 11 natively, giving you access to a lot more games and launchers without the need for any technical smarts. The ROG Ally will be able to run games from Steam, as well Nvidia GeForce Now, PC Game Pass and Epic Games Store. You can even install the Battle.net launcher and run Diablo 4. You will have no issues accessing your Steam library and account on the ROG Ally as it will function just like a handheld gaming PC.
It is possible to install other launchers on the Steam Deck too, but the steps to do so are complicated for some who aren't as confident with tinkering with their expensive handhelds, and it's definitely a boon that the ROG Ally functions just as a Windows 11 PC for ease. Windows 11 on the ROG Ally will run any game or service that runs on Windows, including Steam.

Another benefit of Windows 11 is that it offers more features and updates than SteamOS, which is based on Linux and designed for Steam games. For example, Windows 11 has a new user interface, a new Microsoft Store, a new Xbox app, a new widget panel, and more. It also supports features like Auto HDR, DirectStorage, DirectX 12 Ultimate, and Xbox Cloud Gaming.
Windows 11 also receives regular updates from Microsoft that improve the security, stability, and performance of the operating system. SteamOS, on the other hand, may not receive as many updates or support as many features as Windows 11.
A better Steam Deck, than the Steam Deck
The ROG Ally is said to have a better display and controls than the Steam Deck, so not only will you be able to play your Steam library, you may actually have a better experience with them on the ROG Ally. The ROG handheld will be able to run more Steam games, not just those that are 'Steam Deck compatible' or optimised.

The ROG Ally has a 7-inch 1080p LCD touchscreen with 120Hz refresh rate, so can displayer much sharper and smoother graphics vs the Steam Deck, which has an 800p LCD touchscreen and 60Hz refresh rate. The ROG Ally is also said to be twice as fast performance wise in comparison to the Steam Deck, as it's got a Zen 4 RDNA3 4nm APU under the hood. In addition to these spec improvements, it's actually a lot lighter than the Steam Deck, so may be more comfortable to hold over long periods.

The ROG Ally can be used in different modes, you can switch between handheld or tabletop. In tabletop you can use the built-in kickstand to play with a seperate controller. There's also the ability to connect the ROG Ally to an external display and play wirelessly.
What should I play on my ROG Ally?
Since you can pretty much play anything on a ROG Ally that you can play on PC, the world is your gaming oyster. If you want some inspiration though, we already have a great list of the Best Steam Deck games, which while you're not limited to on the ROG Ally, is a good starting point for some titles that work very well in handheld format.

Then if you're a PC Game Pass subscriber, you can now play all those titles in handheld too, so check out our Best PC Game Pass titles list for some ideas on your next game.
Get the Windows Central Newsletter
All the latest news, reviews, and guides for Windows and Xbox diehards.
Jen is a News Writer for Windows Central, focused on all things gaming and Microsoft. Anything slaying monsters with magical weapons will get a thumbs up such as Dark Souls, Dragon Age, Diablo, and Monster Hunter. When not playing games, she'll be watching a horror or trash reality TV show, she hasn't decided which of those categories the Kardashians fit into. You can follow Jen on Twitter @Jenbox360 for more Diablo fangirling and general moaning about British weather.