Diablo 4 fans can choose between Lilith and Inarius with SecretLab's new gaming chairs
Which one will you sell your soul for?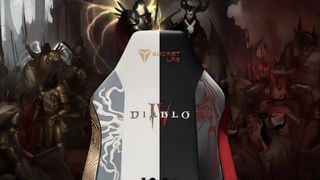 (Image credit: SecretLab)
What you need to know
Secretlab has collaborated with Blizzard Entertainment to create the Diablo 4 Collection Titan Evo chairs.
There are two special editions available, in two sizes, the Lilith Edition and the Inarius Edition.
The chairs are priced at $624 for the Regular size, and $674 for XL.
---
The gates of Hell are opening, on the sixth day of the sixth month to be precise, with the long-awaited launch of Diablo 4 on June 6. We knew we were in for some epic merchandise, but nothing could prepare us for how fiery this Secretlab and Blizzard Entertainment collaboration would be.

Announced today, the SecretLab Diablo 4 Collection will feature two special edition chairs, designed to match the two main characters of the game, Inarius and Lilith. There will be limited quantities available in stock at launch.
The chairs will retail for $624 for the Regular size, and $674 for the XL. That might sound like a hell of a price, but that's a small price to pay for demonic devotion.

If you're not familiar with the Titan Evo chairs, we have previously reviewed the Titan Evo 2022 and scored it highly for its exceptionally robust design and premium feel.

Secretlabs also feature in our Best Gaming Chairs if you're in any doubt about their quality. So if you're also a huge fan of Diablo you'll want to get your hands, or should that be your butt, on these beautifully designed chairs. They are so comfortable, you'll feel like you're sitting on a cloud in the High Heavens. Or maybe a throne in the Burning Hells, depending on your preference.
The question remains though, when fighting your way through Sanctuary, to whom do you pledge your allegiance? Inarius or Lilith? Will you join the forces of light or darkness? The choice is yours, but hurry up, because these chairs will fly out of stock fast.
The Lilith Edition
The Lilith Edition chair is designed for those who embrace Lilith's return and seek to break free from their chains. It features a black Secretlab NEO Hybrid Leatherette upholstery with blood-red suede accents, adorned with the horned visage of the Blessed Mother wrought in intricate embroidery. Her wings extend to the front of the chair, taking on a membranous form echoing the ritual that summoned her back to Sanctuary.
The Inarius Edition
On the other hand, The Inarius Edition chair is designed for those who seek forgiveness and support the cause of the Cathedral of Light. It features a clean white design with gold accents, symbolizing purity and enlightenment. The chair is also upholstered in NEO Hybrid Leatherette, which provides a comfortable yet supportive seating experience. The backrest features an intricate design inspired by Inarius himself, and his wings wrap around the design of the chair.

If you want to feel righteous, as you tear through the hellspawn in Diablo 4, this is the chair for you.
More about the Secretlab Titan Evo Diablo Collection
Both chairs feature Secretlab's proprietary Cold-Cure Foam mix, which provides excellent support and comfort during long gaming sessions. You won't feel the heat of hell with this cool and cozy material. The 4D armrests are fully adjustable, allowing you to find your perfect position whether slaying demons or writing some emails. The chairs also come with a multi-tilt mechanism that lets you recline up to 165 degrees, and lean back like a true Lord of Hell.
The Titan Evo also comes in two sizes. They feature a sturdy metal frame that can support up to 285 pounds (130 kg) in the R and up to 395 pounds (180 kg) in the XL, and both are covered by a five-year warranty. The XL chair also has a wider seat base and backrest. You can choose the size that fits your body and style best.

This isn't the first time Secretlab have collaborated to make a special collection, in the past launching the Minecraft Titan Evo, a World of Warcraft edition and Cyperpunk 2077 to name a few, all of which we've rated highly. Even dogs and children aren't left out of their design ideas, so we're happy to them on the Diablo 4 marketing train with another, what we are sure will be, a quality piece of merchandise for Diablo 4 and gaming fans alike.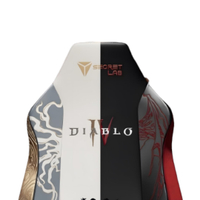 Secretlab Diablo 4 Collection: Special Edition Titan Evo
Embrace the dark side, or let the light embrace you, with these limited quantity Titan Evo chairs from Secretlab. Providing ultimate support and comfort for your gaming or work sessions, whilst also paying tribute to the creators of Sanctuary. Don't miss out and register your interest now.
Buy now: Secretlab
Get the Windows Central Newsletter
All the latest news, reviews, and guides for Windows and Xbox diehards.
Jen is a News Writer for Windows Central, focused on all things gaming and Microsoft. Anything slaying monsters with magical weapons will get a thumbs up such as Dark Souls, Dragon Age, Diablo, and Monster Hunter. When not playing games, she'll be watching a horror or trash reality TV show, she hasn't decided which of those categories the Kardashians fit into. You can follow Jen on Twitter @Jenbox360 for more Diablo fangirling and general moaning about British weather.