This power bank looks like something straight out of Cyberpunk 2077, and it's 25% off right now
Can a power bank be exciting? This one can.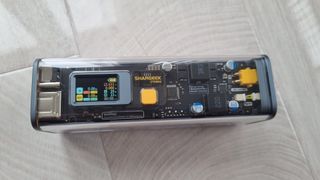 (Image credit: Jennifer Young - Windows Central)
When I first laid my eyes on the Shargeek Storm 2, I asked myself a question. Is it ok to get excited about a power bank? It's a basic accessory,, but one I use daily given I'm constantly on the move with my laptop. It's a pain packing my Razerbook's lengthy cabled power source so a power bank is always in my backpack.

On top of that, I've been playing Baldur's Gate 3 on both the Steam Deck and Logitech G Cloud, and the former isn't up to more than an hour's game time without some sturdy support plugged in. The Shargeek Storm 2 has been my go-to power bank for a few weeks now, and while I initially took interest in it on looks alone, I love it for what's on the inside too—25,600mAh of power, 2 USB-C ports and 2 type-A port.

Now you too may want to fall in love with the Shargeek Storm 2, as it's a juicy 25% off right now on Amazon.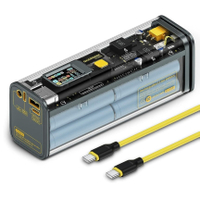 The Shargeek Storm 2 is not your ordinary power bank. It's a cyberpunk-inspired masterpiece that lets you see the inner workings of its battery, as well as the dynamic power output and shifting wattage of your devices on its LCD screen. It's like having a mini-computer in your hand, neat.

We've reviewed the Storm 2 before at Windows Central, albeit when it was merely a Kickstarter campaign back in 2021, and our editor Daniel Rubino remarked then how much it looked like a cyberpunk accessory. If you're planning on checking out the new Phantom Liberty DLC on Steam Deck, then you might just want to fully immerse yourself by using this striking sci-fi-esque portable battery. In fact, I'm inclined to argue it deserves a place on our best Steam Deck accessories for 2023.

With a 100w output it's the most powerful portable power delivery I have for my Steam Deck, but it does state on the website that it's not recommended for use with the ROG Ally. Something to consider if you're looking at charging for the Windows-based device.
With its launch from Kickstarter onto a wider market, I've been taking the Shargeek Storm 2 with me everywhere and putting it through its paces. As someone who travels a lot between home, relatives' places, and various Costa Coffee branches in search of a quiet spot to work, I rely heavily on battery packs. Before I got the Storm 2, I was content with the JSAUX 65w 2000mAh portable power bank, which is still a decent option and much cheaper, but boy, it's dull compared to the Storm 2. Now that I've seen the LCD screen and the stats on how my devices are charging, I don't want to settle for less. I can easily check that my Samsung smartphone is drawing 20W, while my laptop and other more demanding devices can get up to the full 100W. Numbers I didn't care about before, but find fascinating now.
Image 1 of 3
The bank itself takes less than two hours to fully charge, and should then have you set all day. It's certainly a statement piece and one that's definitely worth splashing out $169 on if you want a luxury feel to all your tech. Some may say the price of beauty is too much here, but this is genuinely a fantastic piece of hardware and one I'll continue to use (and show off to friends). This is a rare opportunity to get your hands on the Shargeek Storm 2 at a discounted price, so don't hesitate if you're a sucker for transparent accessories like me.
Get the Windows Central Newsletter
All the latest news, reviews, and guides for Windows and Xbox diehards.
Jen is a News Writer for Windows Central, focused on all things gaming and Microsoft. Anything slaying monsters with magical weapons will get a thumbs up such as Dark Souls, Dragon Age, Diablo, and Monster Hunter. When not playing games, she'll be watching a horror or trash reality TV show, she hasn't decided which of those categories the Kardashians fit into. You can follow Jen on Twitter @Jenbox360 for more Diablo fangirling and general moaning about British weather.