Grab the Cortana-infused Harman Kardon Invoke for just $50
Add a little Cortana to your home for a stupidly deep discount.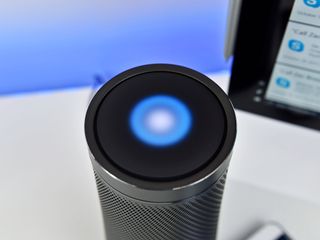 The Harman Kardon Invoke is entering impulse-buy territory with its latest price drop. If you've been looking to add the Cortana-powered speaker to your home, you can currently pick one up for just $50 at the Microsoft Store (opens in new tab).
The discounted price is a far cry from the $200 price tag that the speaker debuted with last year, and it's half of the $100 price that the speaker regularly goes for nowadays. Apart from a similar price drop at Best Buy earlier this year, this is the best price we've seen for the speaker so far.
As we found in our review, the Invoke is an impressive speaker with great sound quality and an excellent design. It also brings Cortana smarts to the mix, allowing query the digital assistant for answers, control smart home devices, and play music using your voice. Essentially, the Invoke mimics functionality you'd find in other smart speakers that pack Amazon's Alexa (opens in new tab) or Google Assistant (opens in new tab).
Still, the Invoke doesn't have any one killer feature on its side to set it apart from the competition. If you're already heavily invested in Google's or Amazon's ecosystem, there was little reason to venture out for an Invoke at its original price. But at $50, it's likely a great buy for those who want to see what the speaker is all about.
If you're curious, you can snag the Harman Kardon Invoke now in either "Graphite" or "Pearl Silver" for $50 a pop (opens in new tab).
See at Microsoft Store (opens in new tab)
Windows Central Newsletter
Get the best of Windows Central in in your inbox, every day!
Dan Thorp-Lancaster is the former Editor-in-Chief of Windows Central. He began working with Windows Central, Android Central, and iMore as a news writer in 2014 and is obsessed with tech of all sorts. You can follow Dan on Twitter @DthorpL and Instagram @heyitsdtl.
Worth it for $50 for someone who doesn't use Cortana?

I would argue it isn't worth it for people who DO use Cortana...and I use Cortana. She can't even play your OneDrive music on it. You have to manually Bluetooth into the speaker and do it yourself.

I was asking more about the quality of the speaker itself. Is it a good speaker for $50. This is assuming that Cortana can be disabled on it...

From everything I've heard even as just a speaker, this is worth more than 50 bucks

Alright, I'm in for one. Could use a good patio/kitchen speaker.

I own one just bought it during the sale it sounds awesome, better than Google home and the Alexa echo. You will like the sound quality especially at 50 price.

It is a good speaker and Spotify and other things work quite well on it.

Its sounds great but is mono only. No stereo at all. You can't pair it with a 2nd one either. However, once setup you can pretty much disable everything but the speaker. Specifically, turn off the microphones AND kill the wifi. The latter requires some ingenuity. What I did was enable the "guest" wifi in my router, connect my phone to that, then setup the Invoke on the guest wifi. When setup is done, unplug the Invoke, disable the "guest" wifi on the router, then plug the Invoke in again (it has no on/off button). It will power up and work as a normal bluetooth speaker.

That's not really disabling wifi on the device is it? It sounds more like it would just simply be looking for the guest wifi network. If the goal is to not have the speaker connected to the internet, wouldn't it just be easier to block its MAC address in the router settings? That would seem like a more elegant solution which also allows for quick toggling the access on and off if needed for updates and such.

I tried that first. When it loses the WiFi connection, presumably because the connection is refused, the Bluetooth no longer works. I tried it several times. It always stopped playing music when I blocked the MAC address in the router. That's when I tried the above method. It works, and it does not have internet access. It can search for it all it wants, it won't connect. There is no other way to do it that I can see.

She can.just the starfishMint skill for one drive or groove.

This is an amazing speaker for $50. An outright steal for the price. Even if you just use it for a bluetooth speaker. Only downside in that aspect is it doesn't have a battery. But if you use a music service like Spotify it's gets so much better. Don't forget you can always adjust volume over voice. 👍

That's cheap enough that I would probably go for it if it was in Canada. I know it's not nearly as useful as a Google Assistant or Alexa one, but it's still some quality sound with Spotify, which might be enough to justify the price even if you don't use other Cortana features often. I'll probably end up buying a Google Home Mini next time it's on sale.

So tempting although I JUST picked up a cheap-o speaker with Google Assistant from Best Buy today. (plus I already have one Invoke). I don't even know what I would do with another. Invoke for the shower? lol

I was looking at this just yesterday. I asked the worker if the price had dropped yet and was told no. Now, today, its exactly where I want it to be. Guess I'm heading back to the mall....

I bought one last week at this price from the SF Microsoft Store. It's a great speaker -- very loud. And for those of you who would rather have Alexa, just say, "Hey Cortana, open Alexa". Alexa lets you ask a string of questions. I personally prefer Cortana (better voice and streams Spotify just fine), but I understand the need for Alexa for things that Cortana doesn't already do. Anyway, at $50 each, I wish I'd purchased two. If they have any left, I may head to the store tomorrow and get another one. Would make an awesome Xmas gift.

They are selling them online for $50 too, not just in-store.

Thanks, ordered! When I bought mine they were showing out of stock online, only available in store. Thanks for the heads up!

For context this is about the same price right now as an Echo Dot or Google Home Mini. Sure, they have arguably better assistants on board, but this will kick both their bottoms as a speaker.

Anyone know if they will bring multi room support to this ever? That would be awesome

They're fire selling them for $50... End of the line

Meaning any further improvement or feature is very unlikely.

bub78 they haven't yet, but you can purchase Google Chromecast Audio devices to plug into the invoke to create this feature. I currently have two and use my galaxy 8+ to cast audio to both simultaneously.

Isn't it about time for the Surface division to make some home device powered by Cortana? This way Msft will just have to develop Cortana just like Surface Pro helped develop Windows 10 further. Now we have a Surface headset powered by Cortana for God's sake. Imagine the amount of hardware growing, Surface wearable some time while cross developing Windows 10.

There's a good chance that could happen in the future.

I'd say there's a zero percent chance of that happening.

Actually, its a better chance of that happening now than ever. Didn't Microsoft just buy or invest in an audio company...the same company they used for their Surface Headphones?

If anyone is on the SF peninsula (or area) and wants one, I'll sell my 2 Graphite invokes.
They work great, sound is amazing for the price I'm going with Sonos Play:one for several reasons though.
Multi-room music being the biggest.

How much ea? I'm very interested

Make an offer, but don't make it stupid. They're still great speakers and better than the $50 pricetag. But alas, they're used.
Msg me if you can

Ordered. At this price it's a steal even if you just use it for the quality of the speaker and Spotify streaming. But as a bonus, I really don't think Cortana is going anywhere and I'd rather use it than Alexa and/or Google any day.

I think MS will surprise everyone with Cortana.

Can it connect just using your cell phone signal, or does it require wifi? Thanks.

Bluetooth, yes. Cell network, no.

You can just use it as a Bluetooth dumb speaker, right? Picking mine up tomorrow.

Yes you can. Not sure how much setup you 'have' to do to get it up and running before that works.

Yes, I am using mine as just a bluetooth speaker. HOWEVER, you have to set it up first using wifi and the Cortana app. It will NOT work with bluetooth out of the box. Pressing the bluetooth button just makes it repeat the "Let's setup the speaker" stuff.

As I have just found out the hard way. Sucks.

There is a way around the WiFi though. If your router has a "guest" account (and you are not currently using it), set up the Invoke on that. You have to get your phone (or whatever) on the "guest" WiFi also. When the setup is done, unplug the Invoke, disable the "guest" WiFi in your router and plug the Invoke in again. It will now work as a normal Bluetooth speaker. You can't just block the Invoke's MAC address, that kills the Bluetooth also. Then turn off the microphones with the button on the back and Cortana is disabled.

Ordered. I'd already been hunting eBay the last couple weeks.

I couldn't pass it by at that price. We'll see how much the voice control gets used. Maybe it will be more useful than I think, but at $50 it is worth it even if used just as a streaming/Bluetooth speaker.

Don't forget you also has Alexa support
/fttt support so I can pretty much do everything with it now.
Also can control an Xbox

Far better voice control than Google with far field tech.

Let's see how my dad reacts to a smart speaker in the home now 😎

I was upset when Best Buy dropped them to $50 and watched as all the ones in my store were shipped out as online orders ): I'm glad this is back now because I'm definitely in for one!

I already have two. We also have Alexa devices. This speaker is awesome, better than anything Amazon has. I'd buy a third but I don't have a place for it. If you like music, this speaker has the best sound response of any smart speakers. Too bad it appears Microsoft has given up on cortana.. Just like the phone.. Jerk offs

Decent quality sound and doesn't look cheap. Cortana can answer daily stuff like weather, store hrs of nearby shops, open Spotify or tunein, I heart radio, timer, set reminder, shopping lists, even speak Chinese if you ask for the translation of an English word or phrase. Once cortana and Alexa merge is complete, it will able to order amazon stuff too. Not sure how well it works outside of US. But as a sound speaker for a single room or kitchen, it is worth it at even at $100.

Just ordered two. It's a really good, high quality speaker. Well worth the $50.

Had a $35 gift card just collecting dust in my Microsoft account so this helped me decide what to do with it. Can't wait to receive it. Is it possible to set up multiple Microsoft accounts (wife and I) on one Invoke?

Just one account, but try doing this under the alexa skill

Definitely worth the $50. Looks and sounds better than Alexa and Google Assistant. There is an Alexa skill that can be enabled, so it makes controlling your smart devices pretty easy "Cortna, enable Alexa"... then give command". Also it works with IFTTT enabled devices, so you can control things like Roomba with the speaker when you set it up. Use I Heart Radio every day and stream music from my phone to the speaker all the time. Going in for another for my bathroom. Use your Microsoft points and redeem the gift cards to get it at an even better price.

Had a $10 gift card from Bing rewards points... Not bad for $40 lol. I wish it would let me connect via Bluetooth and stream Pandora or Google music though. I see it has Bluetooth but idk what the point of it is

You can't use Bluetooth to play music on it?

I haven't been able to. Just got it today though so maybe I'm doing something wrong idk

Ah ok, picking mine up tomorrow. If it can't do simple BT music playing then back to the store it goes.

I can no longer stream Bluetooth with my phone and haven't been able to for a few months

Make sure you say, "Hey, Cortana. Help me connect a Bluetooth device." Then she'll walk you though the steps.

How? I connect via Bluetooth but it doesn't play anything. Google music, Pandora, Google music, nothing

Maybe try re-pairing. my wife plays pandora to it over Bluetooth with her iPhone and I do the same with my OnePlus6 (Android). The invoke sounds awesome. Bummer all the promised updates kinda fell off, but for a speaker she is great.

I tried my old Nexus 7 tablet and it works perfect. I guess it doesn't like my Essential phone...sigh

If your connect through Bluetooth, it should work unless you have some strange setting on the Bluetooth audio output that is causing it not to work

Have two already and ordered one more. I also use it for Skype. You can call any outside line and you can call it when away from home. It's great since I got rid of my land line a few years ago. Now I can call the kids and they can call me. This feature is worth the $50 alone... Wanted to call it out cause it's never mentioned

Does it still come with the free skype subscription?

For everyone one saying it can't do what Alexa and google do, what exactly are those skills? Trivia questions and stuff? Please tell me cause my echo dot collects dust and i use Cortana cause it works better with SmartThings. If you want a smart speaker for novelty crap then maybe i can see this not worth it, if you have a smart home setup, it is a great addition. I wish there were more music providers, but that really is a whole nother gripe cause barely anyone has a Windows 10 app anyway, so highly doubt skills will just come raining in droves.

Totally agree. Spotify works flawlessly and Cortana is a great assistant with a Microsoft account. I don't get what Google or Alexa offer, other than more dictation errors.

Seems like a good deal. But isn't this partly why cosumers and manufacturers have a jaded view of MS. The poroduct didn't do well at release partly because everyone knew it would be heavily discounted within a year. Those that paid full price, probably won't be fooled again.

The product failed, they're just dumping inventory.

After all this time, it's STILL US exclusive???

That would require localization work on Cortana. Which since they're dumping inventory as fast as possible really isn't likely to happen. Rest of the world has Alexa to use with their Microsoft stuff.

I get that Richard, however it doesn't need localisation as they already have Cortana in other regions albeit in a limited manner. Most of us don't want to have an Amazon or Google or Facebook based speaker. As their key goal is to hoover up as much data about you as possible. What Microsoft should do is give us a choice instead of deciding for us. Heck, some of us find the posh voice that is used for UK Cortana extremely annoying. As we'd much prefer Jen Taylor's voice.

If it were that simple to just 'give you the choice', I'm sure they'd love to.

That explains why I can't find this on any uk websites then

This is a great sounding speaker, as long as you like your music in mono. There is no stereo. Also, you HAVE to set it up with wifi first, using the Cortana app. After that, it works as a bluetooth speaker. What I did with mine is set it up using the guest wifi signal, then disabled that. I also keep the microphones turned off. I have no interest in talking to a speaker, or in IT listening to ME. Another annoying thing is that there is no on/off button. You have to unplug it. For $50 its a great speaker. I would never have bought it at the $200 price. No one else did either, apparently.

Yeah I'm about ready to take it back. You'd think they'd allow it to just be a dumb BT speaker w/o jumping through hoops. It's unintuitive and feels kludgey to use.

It normally plays on its own or connected to a phone or pc through wifi. But you can pair it through Bluetooth with a button in the back.

I ended up using an old Android phone to set it up, no contacts or data on it. After setup I blocked the MAC address in the router. Have connected with a couple different phone via BT, seems to be working ok now. Sound is decent, a little tinny to my ear but good enough for a patio speaker for cookouts & such.

Hmmm, that's interesting. When I tried blocking it's MAC address, the Bluetooth stopped working. Anyways, it CAN be turned into a normal Bluetooth speaker. At this price it is worth a little effort.

Can it connect to other BT wireless speakers and push sound to them thru Spotify? I've got outdoor wireless speakers and would like to play the music through those instead of the Invoke.

Purchase Google Chromecast Audio devices to create a home network.

No. It does not even connect to a 2nd Invoke for stereo.

I'd totally get this if I was in US, or if it worked in Spanish Cortana.

Kind off happy I missed the Best Buy $100 sale a while back. Had the credit card out but they were out by the time I saw it. Got one of these though. I already have one, and acknowledge the capabilities fall short of Echo and Google, but the sound is excellent, the physical volume knob is great, and I actually enjoy the random facts when tapping the top. There are a lot of things she can do, but they aren't as broad as the other options. If she meets your requirements, great. Sort of like Windows Phone and Windows S mode. For many they did enough, and did it well.

I got mine setup, and I'm satisfied with the purchase. Obviously a mono speaker, but with impressive frequency response and volume for the cost. Voice recognition is about on par with other platforms. It makes me want to go out and buy some ifttt devices though, which could be a danger to my bank account.

Just buy a Sonos One... MS is dead as a consumer platform...

While I use Cortana a ton, the real issue is no integration with major music services other than Spotify. I use Amazon Music, so an Echo just makes more sense.

It does sound really good with SPOTIFY . But they never did integrate PANDORA capability which was "in the works". Still, they did add ALEXA capabilities but I don't ever use them. CORTANA does what I need pretty well.

Downloaded Spotify in anticipation, set mine up last night, then was disappointed that the Invoke only uses Spotify Premium. Guess I'm stuck with TuneIn.

Can you do skype calls to landline and mobile? Does it still come with the free skype subscription?

They do have a killer feature. Ask cortana next time you go to let's say Target to remind you buy toothpaste and it'll ask you which location. Google nor Alexa doesn't do that. That has come in handy.

I really wanted one before Microsoft shunned Windows Mobile, but now I don't feel a need or want to get this speaker. My car has amazing HK speakers in it, but now I'd rather get one of the Ultimate Ears speakers that don't have to be tethered to an outlet.
Windows Central Newsletter
Thank you for signing up to Windows Central. You will receive a verification email shortly.
There was a problem. Please refresh the page and try again.