Gun Bros locking and loading to become this week's Xbox Live release on Windows Phone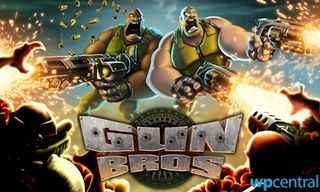 Who's the best at finding out Xbox Live releases ahead of time? Why, Windows Phone Central, of course! We've got the exclusive first word of tomorrow's new Live title... Gun Bros, which we first announced back in April, launches this Wednesday.
Gun Bros is a top-down twin-stick shooter, not unlike Zombies on the Phone. But instead of a horror theme, this one's pure sci-fi, with much more content to boot. Players choose from one of two titular bruddas, outfit them with a bevy of high-tech weapons and armor, and then descend onto several contested planets and start filling their alien invaders full of lasers. Don't worry; I hear the aliens always drink the last of the milk and then leave the jug in the refrigerator instead of throwing it away. Such atrocities will not go unpunished!
Our hands on with Gun Bros back at E3 in June
To see Gun Bros in action and learn more about its optional PDLC purchases, check out our E3 2012 impressions with video. We do it all for you, loyal readers!
Gun Bros from Glu Mobile will debut on Wednesday, July 11 for the low price of free.
Paul Acevedo is the Games Editor at Windows Central. A lifelong gamer, he has written about videogames for over 15 years and reviewed over 350 games for our site. Follow him on Twitter @PaulRAcevedo. Don't hate. Appreciate!
At least it's free. Not too sure about this.

Still waiting for Contract Killer. Now that's one I would get.

They don't cost anything, so why not get 'em both? :)

I love these double stick games. I just hate when I accidentally hit the back button... no wonder why it's being demoed on a 710 :)

Lol I had to look at the 710 to understand what your talking about

If you're holding your finger on the screen, it shouldn't tap the button.

Shouldn't be a big problem with this game. Harbor Master is the worst. I hit the search key 20 times every round :D

Great game happy that ots finally hitting WP :-)

Free with 'cheevos, I'm in!

Loved this game on my iPod Touch and expecting to love it on here.

FINALLY!!! i was starting think it was gona be a WP8 game lol

Awesome!!! I've been waiting for this. Can't wait to download it tomorrow

awesome if this keep up and we receive better gaming apps like this I definitely sticking with windows but I wish we have temple run and angry birds space

Where is that Hitman game? i want that one!

Not going to lie i was starting to worry that this was going to go straight to wp8 and leave us wp7ers left in the cold.

I'm waiting for battlefield 3 on WP lol

And im waiting for a million bucks to fall on my head

This is a good alternative: http://killzombiesformoney.com/ only for WP and free

I'll pass, I don't do pay-to-win. These games should feature an option to pay upfront if one wishes to.
Anyway, Mush is a lovely game, seriously, I'm in love.
And, late to the party but I found out that Fragger is a very good, and clever game.

+1 for Mush. when I first saw it I wasn't so sure but after playing it for a bit I absolutely love it.

Had this on my iPhone, only app I have missed since converting to the lumia 900. Is it tomorrow yet??

ill spend 15-20 on awesome guns just to support the company so lol my friends will abuse my charcter :)

Cool. Looking forward to checking it out. Hoping it's a little bit more accessible than I found Bug Village to be, interested to see how the F2P fits in....

If the PDLC can be paid with Microsoft Points, I'm in. I'm uncomfortable entering my credit card on my electronic devices. I'd rather buy pre-paid cards like they do for Xbox and iOS.

It will be just like Bug Village.
Windows Central Newsletter
Thank you for signing up to Windows Central. You will receive a verification email shortly.
There was a problem. Please refresh the page and try again.