If you're mainly looking for a computer that can handle basic programs, virtual meetings, and web browsing, this is an amazing AIO. It doesn't take up much room, offering a built-in wireless charging station and excellent speakers. However, it is a bit expensive and doesn't offer the best rendering abilities.
Pros
+

Solid performance for office work tasks

+

Built-in camera shutter

+

Base is a wireless charging station

+

Great audio
Cons
-

No discrete GPU option

-

Expensive
Why you can trust Windows Central Our expert reviewers spend hours testing and comparing products and services so you can choose the best for you. Find out more about how we test.
When it comes to the business side of things, Hewlett-Packard (HP) computers have long been known as one of the most reliable and professional options. This extends to the company's All-in-One (AIO) desktops, which provide a reliable PC within a contained form factor.
Over the last week, I've been testing the new EliteOne 870 G9 AIO desktop computer by using it for work and leisure. Like many of the best AIO PCs, it offers a great screen and solid performance, making it useful in home and professional settings. Plus, it has a beautiful design that helps it look good anywhere.
Disclaimer: This review was made possible by a review unit provided by HP. The company did not see the contents of the review before publishing.
HP EliteOne 870 G9: Price and specs
Pricing & specifications highlights
Starts at $1,844 with several configuration options.
The most expensive configuration sells for over $3,000.
HP is a trusted computer manufacturer, but this AIO is overpriced.
Value rating: 3.5/5
HP EliteOne 870 G9 reviewed specs
Price: $1,933.00
CPU: Intel Core i3-12100
GPU: Intel UHD Graphics 730
RAM: 8GB DDR5-4800
Storage: 256GB PCle
Display: 27-inch FHD IPS 250 nits touchscreen
Size: 24.17x9.72x 23.6 inches (613.9x246.8x599.4mm)
Weight: 33.22 lbs (15.07kg)
The HP EliteOne 870 G9 at the configuration I tested has an MSRP of $1,933, although, at the time of writing this, the HP website was having a sale reducing the price to $1,140.47, so it's possible to find it selling at varying prices. There are several options when choosing your own EliteOne 870 G9 configuration, with the least expensive configuration costing $1,844 before tax and the most expensive one costing over $3,000.
As mentioned, the EliteOne 870 G9 can be purchased directly from the HP website. Thanks to the company's worldwide distribution, this AIO desktop is available for purchase in many places worldwide. Specific pre-built configurations of the EliteOne 870 G9 can also be purchased from Amazon or Newegg at varying prices depending on the components and options chosen.
HP EliteOne 870 G9 Recommended Configuration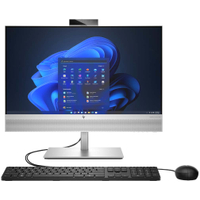 Intel i5-12500 | UHD Graphics 770 | 8GB RAM | 512GB TLC SSD | Wi-Fi 6E
There are several customizable options for the EliteOne 870 G9, but having the Intel Core i5-12500 with integrated UHD Graphics 770 gives the best general amount of performance to handle most tasks. You can also choose to have an optional second internal storage if needed.
Buyers can also choose between the basic wired or wireless mouse and keyboard. If you don't like unsightly wires and are willing to spend more, spring for wireless options. Additionally, going with Wi-Fi 6E, though more expensive, future-proofs your internet connection.
HP EliteOne 870 G9: Design and build
Image 1 of 3
Build quality & design highlights
Easy tool-less assembly means you can get it setup quickly.
Plenty of ports for connecting accessories and devices or for using it solely as a monitor.
Built-in wireless charging station in the base.
An elegant design that looks good in front-facing areas like customer service and receptionist locations.
Design rating: 4.5/5
The best all-in-one PCs offer powerful performance in a sleek body, allowing users to perform various tasks without taking up much room. Thankfully, due to my time testing the HP EliteOne 870 G9, I can say that this desktop has proven that it is one of the best choices out there, including its easy assembly.
Shortly after opening the box, I found that this AIO requires no tools to assemble it. This trend is growing among computer and display manufacturers, but it isn't always the case. The EliteOne 870 G9's base features built-in screws with handles I merely twisted to secure it to the stand. The stand, in turn, simply needed to be pressed into the mounting bracket on the back of the display until I heard a click. From there, it was a matter of placing the AIO how I wanted it on my desk and attaching the necessary cables.
There are two USB-C ports, five USB-A ports, an ethernet port, a DisplayPort, an HDMI port, and a 3.5mm headphone jack. Most of these connections are located on the backside of the computer, although the headphone jack and a USB-A and USB-C port are on the side of the display. With all these connections, I could easily plug in various accessories, including the keyboard and mouse it came with. Plus, the HDMI port allows the AIO to act as a standalone monitor for another computer if I desire.
One thing that I can always say about HP products is that they always look really professional. This isn't surprising considering HP has long been a popular choice among business users, partially due to the company's quality build and elegant presentation. The EliteOne 870 G9 has a very professional look with a sturdy base and adjustable stand that allows the display to be lowered, raised, and tilted up and down to reach your eye level better. I also appreciated that the stand can be panned left or right thanks to its hinge design.

Due to the stand's balanced build and the base's hefty weight, the display feels secure, and the AIO is in no danger of tipping as I use it.
As an added convenience, the heavy base doubles as a Qi wireless charging pad, which I conveniently use for juicing up my phone and wireless earbuds. It can also be used with other Qi-compatible devices.
HP EliteOne 870 G9: Display
Display highlights
27 inches is a very good size for an all-in-one desktop display.
It offers a decent color gamut but is far from the best display you can get.
Brightness and contrast aren't the best, but will work well in office and family settings.
Display rating: 3.5/5
Everything on the 27-inch IPS display comes through crisp and clear thanks to the 1920 x 1080p resolution. Due to its size, it works well for multitaskers who tend to work within two windows or programs at a time. However, since this is not intended as a gaming computer or a desktop for creatives, the color gamut isn't the most impressive.
I can bring up several modes by pressing the menu buttons on the bottom right of the display, including Warm, Neutral, Cool, Low Blue Light, Night, Reading, HP Enhance+, Photo, and Multimedia. I expected these to each provide unique results when running a colorimeter test. However, my results showed that each mode always produced 100% RGB, 80% Adobe RGB, and 85% P3. This is a respectable score given that this display is meant first and foremost for business use, not gaming or creative work.
Swipe to scroll horizontally
| Mode | Colorimeter results |
| --- | --- |
| Warm | 100% of sRGB | 80% of AdobeRGB | 85% of P3 |
| Neutral | 100% of sRGB | 80% of AdobeRGB | 85% of P3 |
| Cool | 100% of sRGB | 80% of AdobeRGB | 85% of P3 |
| Low Blue Light | 100% of sRGB | 80% of AdobeRGB | 85% of P3 |
| Night | 100% of sRGB | 80% of AdobeRGB | 85% of P3 |
| Reading | 100% of sRGB | 80% of AdobeRGB | 85% of P3 |
| HP Enhance+ | 100% of sRGB | 80% of AdobeRGB | 85% of P3 |
| Photo | 100% of sRGB | 80% of AdobeRGB | 85% of P3 |
| Multimedia | 100% of sRGB | 80% of AdobeRGB | 85% of P3 |
After running the color gamut test, I checked the EliteOne 870 G9 display's contrast and brightness capabilities. The display gets decently bright, reaching up to 250 nits, but won't be the best in overly lit rooms or places with strong light sources. The display's contrast measured its best at 780:1, which is rather low and not all that impressive. However, this AIO isn't intended for intensive gaming or creative tasks, so this should work just fine for the average office or home setting.
Swipe to scroll horizontally
| Setting | Brightness | Black | Contrast | White Point |
| --- | --- | --- | --- | --- |
| 0% | 101.9 | 0.14 | 710 : 1 | 7600 (0.299,0.311) |
| 25% | 123.2 | 0.17 | 740 : 1 | 7600 (0.299,0.311) |
| 50% | 143.6 | 0.19 | 750 : 1 | 7600 (0.299,0.311) |
| 75% | 201.3 | 0.26 | 770 : 1 | 7600 (0.299,0.310) |
| 100% | 298.2 | 0.38 | 780 : 1 | 7600 (0.299,0.311) |
As is always the case with monitors, the EliteOne 870 G9 display will provide the best viewing experience if placed perpendicular to windows or bright lighting. The initial location where I set the AIO up had a bright lamp shining directly behind me, and this proved to cause a rather strong glare until I rotated the desktop in a different direction.
This display is also a touchscreen, and I found this very helpful in situations where it felt more intuitive to tap the screen rather than reach for the mouse. However, at one point, my curious cat, Sabrina, showed up and started slapping at the cursor on the display, which resulted in her closing windows and clicking on links. While she was around, I opted to open Windows 11 settings and turn off the touchscreen.
All in all, it's a great display that's perfect for home or office use.
HP EliteOne 870 G9: Performance
Image 1 of 4
Performance highlights
The EliteOne 870 G9 has solidly average performance in most areas.
CPU and GPU rendering capabilities are on the lower side for this price range.
Performance rating: 3.5/5
More Laptops
- Best Windows laptops
- Laptop review and buying guides
- Lenovo Yoga Book 9i preorders
- Dell XPS 17 (9730) review
- Lenovo ThinkPad X13s review
The EliteOne 870 G9 can keep up with some basic-to-medium tasks and will do so while running programs smoothly. However, don't expect it to be a good choice for gaming or 3D rendering software.
While with this desktop, I attended work meetings, ran various programs, worked on Photoshop projects, and even attempted some gaming. As I previously alluded to, this computer is phenomenal for average office tasks like running lower-stakes programs and data entry. However, it struggled with more demanding tasks like rendering 3D models in Photoshop. That makes sense since this only has Intel UHD Graphics 730 and not a beefier NVIDIA RTX discrete GPU.
In addition to my anecdotal time with the EliteOne 870 G9, I ran several benchmark tests to see how it stacked against other computers. For the most part, it performed exactly as I expected. PCMark 10 (CPU-heavy), which tests how well a program performs when running basic modern office tasks like opening programs, attending video calls, and multitasking between programs, scored a somewhat lower score of 5,637. This puts it at the same performance as an HP Dragonfly Pro laptop.
Image 1 of 3
Meanwhile, in Geekbench 6, this computer scored 13,063, putting it between the Lenovo Slim Pro 9i and the Lenovo Legion Pro 5i (Gen 8), where I'd expect to see it, i.e., semi-high to high-tier laptop.
Regarding reading and writing speeds for the solid-state drive (SSD), the EliteOne 870 G9 is excellent, with a read speed of 7,209 MB/s and a write speed of 5,043 MB/s. Those results put it at the high end of modern PCs in 2023
The EliteOne 870 G9 only scored 12,836 in a multi-core test and 1,806 in a single-core in Cinebench 23. This puts it lower than the Lenovo IdeaCentre AIO 5i, which I tested earlier this year, despite the EliteOne beating it out in every other test. That makes sense, however, as the IdeaCentre AIO 5i has 12 cores (4 P-cores and 8 E-cores) and is clocked at 4.5GHz, while the EliteOne only has 4 cores at 4.3GHz, with no P/E distinction.
For the gamers out there, this means you cannot run more demanding games on it when you factor in the CPU and the lack of discrete NVIDIA graphics. On the other hand, this is a business-class AIO for office use, so all this makes sense.
HP EliteOne 870 G9: Keyboard and mouse
Keyboard & touchpad highlights
The base keyboard and mouse options are wired.
The symbols on the keyboard keys started to fade in just one week of use.
There aren't any fancy buttons or shortcut keys on either wired device.
You can also purchase a wireless mouse and keyboard combo when configuring your EliteOne 870 G9 from HP's website.
Keyboard and mouse rating: 4.5/5
Several keyboard and mouse options exist when configuring your EliteOne 870 G9 from HP. The configuration I tested came with the least expensive options, which are very simple in design with wired connection points that need to be plugged into the all-in-one's USB-A ports. These accessories feel nice, with the keyboard buttons pressing in very nicely and the mouse responding well to dragging and clicking. In fact, I'm typing this review up right now on the wired keyboard.
The base keyboard and mouse are admirably functional, but nothing is exciting about them. That helps keep their costs down, though. The one big negative I encountered in this area is that some of the keys on the wired keyboard have already started to wear out after just a week of use. I type a lot, but not that much. In comparison, the Logitech keyboard that I use at my regular desk has been with me for about a year now, and although I've spent hours and hours typing on it, none of the symbols on the keys have worn away. I assume many of the HP EliteOne 870 G9's keyboard key symbols will be worn down within this time (this is why gaming keyboards use 'doubleshot' ABS keycaps, where an outer layer protects the printing).
You can opt for a wireless mouse and keyboard combo if you want to pay more. This removes unsightly cables and frees up two USB-A ports for you to use with other PC accessories. As it was, I had to deal with tucking wires away behind the desk and trying to make my work area look more organized.
Of course, if your typing is a major concern, you could always go for one of our top-recommended keyboards to really up the quality of the HP EliteOne 870.
HP EliteOne 870 G9: Camera, mic, and audio
Image 1 of 2
Other hardware features highlights
The webcam has an awkward design that sticks out on top but offers good picture quality.
There's a physical slider to shutter the webcam for privacy.
In meetings, the AIO's mic does a good job of carrying my voice clearly.
The Bang & Olufsen speakers provide amazing sound quality that's balanced and well-distributed.
Camera, mic, and audio rating: 4.5/5
The strange camera design stood out when I pulled the EliteOne 870 G9 out of the box. It's a bulky block that distracts from the EliteOne 870 G9's otherwise beautiful design. It sits above the monitor and can be adjusted up and down, but I sometimes wonder if I will break it by doing so. It offers a decent amount of resistance when I try to move it.
Despite this, the webcam does a phenomenal job showing me crisply and with good coloring during work meetings. Thanks to compatibility with the included MyHP app, I can adjust the camera settings to help me show up well in lower lighting, adjust the camera frame, smooth out my appearance via filters, and more. I also appreciated that the camera has a built-in privacy shutter, which I can physically slide in and out of place to ensure no one peeks in on me when I don't want them to.
During work meetings, my colleagues informed me that my voice was clear and crisp with the EliteOne 870 G9's microphone, and I had no issues with it.
On a different note, I was absolutely impressed with the built-in Bang & Olufsen speakers this AIO has. These are located just below the display and take up the entire lower section. These speakers got loud but conveyed sound well at a lower volume when I didn't want to distract others around me. Moreover, they produced well-balanced bass and higher tones to keep up with my music-listening or video-watching desires.
HP EliteOne 870 G9: Competition
Earlier this year, I did our Lenovo IdeaCentre AIO 5i 27 review and found it a fantastic choice for office and family usage. Like the HP EliteOne 870, the base doubles as a wireless charging station. However, this AIO desktop has a wireless keyboard and mouse, so I don't have to deal with as many unsightly wires. As mentioned, it isn't quite as powerful as the EliteOne in many ways, but it has slightly better rendering abilities.
If you'd prefer an ultrawide display and are willing to spend more money, there are a few AlOs to consider. But, as you can see from our HP Envy 34 All-in-One Desktop overview, this is a great option. It's got a very similar vibe to the EliteOne 870 G9, but thanks to its impressive (and updated) 12th Gen Core i7 and NVIDIA RTS 3060 Laptop GPU, it offers better performance, though it currently costs $2,350.
Now, for those looking for serious GPU performance, there is an impressive AIO to choose from. In our own Daniel Rubino's Surface Studio 2 review, he talks about how this AIO is "incredibly close to perfection" and only has a "few areas for improvement." And that was the older model. The newer Surface Studio 2 Plus, which we also recently reviewed, takes that and goes further, but you pay a hefty premium for the experience.
Finally, while the EliteOne is mostly aimed at prosumers and business clients, HP does offer more affordable all-in-ones using AMD or Intel processors ranging from 24-inch displays and up. For instance, this HP AIO 27 has a 12th Gen Core i7, 16GB RAM, 512GB SSD/1TB HDD, and a 27" full-HD display for $1,199 (as low as $899 on sale). Likewise, HP's Pavilion line also offers a few different AIO configurations, including this one with a more powerful 12th Gen Core i7, RTX 3050 graphics, 16GB RAM, and 1TB SSD/1TB HDD for $1,699, which is a good deal.
HP EliteOne 870 G9: Score card
Swipe to scroll horizontally
| Attribute | Notes | Rating |
| --- | --- | --- |
| Value | The AIO costs more than competitors on the market, but part of this is for the elegant design. | 3.5/5 |
| Design | This computer has a stunning presence that looks good in any setting. | 4.5/5 |
| Display | 27 inches is a good size and the IPS display has a decent color gamut, but isn't the best out there. | 3.5/5 |
| Performance | It offers solid performance for most office usage, but the GPU and rendering abilities aren't amazing. | 3.5/5 |
| Keyboard and mouse | Wired keyboard and mouse are basic but work well, although symbols on keys already began to wear out. | 3.5/5 |
| Camera, mic, and audio | The camera and microphone are great for virtual meetings while the speakers offer impressive audio. | 4.5/5 |
HP EliteOne 870 G9: Should you buy it?
You should buy this if ...
You want a reliable computer for basic office work or home usage
The EliteOne 870 G9 is not a powerhouse, but it's perfect for attending video calls, running your average programs, and surfing the internet.
You're looking for a computer with great audio
Whether you plan on rocking out to your music or watching videos, EliteOne's speakers are excellent and can provide a balanced sound for your activities.
You tend to multitask between two programs
While it doesn't have the best color gamut you can find, EliteOne's display offers crisp detail and a decent color range overall. The 27-inch screen is perfect for multitasking between two windows, making it great for busy people.
You should not buy this if ...
You want the best value you can find
HP's not the most expensive brand (usually Dell's XPS or Microsoft's Surface lines take that crown), but you may find more affordable options like HP's consumer-orientated Pavilion line.
You need a computer with decent rendering capabilities
Because of Intel UHD Graphics 730 (and no NVIDIA RTX option), it isn't the best for rendering heavy graphics all the time. Even the CPU is somewhat under our expectations. If you plan on working in photo edition programs, 3D modeling software, or gaming, you'll want something with beefier processors.
You want something with a nicer-looking webcam
The HP EliteOne webcam works well but is somewhat awkward looking and doesn't present the cleanest design. You might want to choose a different AIO that allows the webcam to be pushed into the casing when not in use or simply choose a computer with a cleaner webcam design.
Suppose you're looking for a reliable desktop computer that doesn't take up much room and provides solid performance while running your average software. In that case, the HP EliteOne 870 G9 is an excellent AIO to consider. The IPS display offers a great color gamut with crisp detail. Plus, this screen's 27-inch size makes it easy to multitask by allowing you to split the display between two windows comfortably. It also has impressive speakers that can handle a range of sounds, and the base conveniently doubles as a wireless charging station for phones or other compatible devices.
Now, a couple of things might give some buyers pause. This AIO always ran smoothly for me as long as I didn't attempt to perform graphically intensive tasks. Additionally, the EliteOne 870 G9 is a bit pricey for what it offers, but being aimed at business users (or prosumers), we tend to see that often. Still, the trade-off is that you're getting a reliable computer with an elegant design that looks good in professional and home settings.
The HP EliteOne 870 G9 is a phenomenal AIO desktop perfect for the workspace or more compact home settings. There are plenty of components to choose from, including various CPUs, storage capacities, and the choice between wired or wireless keyboard and mouse. Build it the way you want to fit your needs best.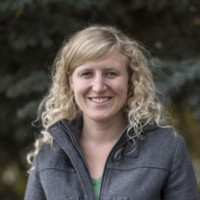 Self-professed gaming geek, Rebecca Spear, is one of Windows Central's gaming editors with a focus on Xbox and PC gaming. When she isn't checking out the latest games on Xbox Game Pass, PC, or Steam Deck; she can be found digital drawing with a Wacom tablet. She's written thousands of game guides, previews, features, and hardware reviews over the last few years. If you need information about anything gaming related, her articles can help you out. She also loves testing game accessories and any new tech on the market.