The Surface Studio 2+ is a minor refresh over its predecessor, with better performance in the same design and thermal envelope. This means we're still dealing with laptop-grade CPU and GPU, and last-gen ones at that. But it's still truly unique, and its display remains unmatched in the PC space.
Pros
+

Still unique

+

Unmatched display

+

Thunderbolt 4 finally

+

Touch and pen support
Cons
-

Design hasn't changed

-

Thick bezels

-

Last-gen specs

-

It's literally $4699
Why you can trust Windows Central Our expert reviewers spend hours testing and comparing products and services so you can choose the best for you. Find out more about how we test.
Microsoft is back with a new Surface all-in-one desktop PC, and on the surface (heh), not much has changed. But with a new processor and GPU under the hood, is the Surface Studio finally worth its incredibly high price tag?
I've been daily driving the Surface Studio 2+ for a little over a month, coming straight from a Surface Studio 2 that I purchased and used for many years. This is my full review.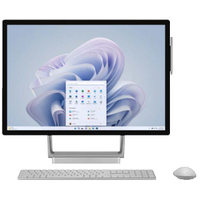 Microsoft's latest all-in-one is more of the same for the Surface Studio line, and that's great for fans of this form factor, but not so great for those who were looking for more power.
Surface Studio 2+: Availability & Specs
Surface Studio 2+ is now shipping only from the Microsoft Store for an eyewatering $4699. Unlike previous generations, the Surface Studio 2+ is only available in one configuration, with an Intel Core i7, 32GB RAM, and NVIDIA RTX 3060 Laptop GPU.
Swipe to scroll horizontally
Category
Specifications
Processor
Intel Core i7-11370H
Graphics
NVIDIA GeForce RTX 3060 Laptop GPU (6GB)
Memory
32GB DDR4 RAM
Storage
1TB SSD
Display
Screen: 28" PixelSense Touch Display

Row 5 - Cell 0

Resolution: 4500 x 3000 (192 PPI)

Row 6 - Cell 0

Dolby Vision support

Row 7 - Cell 0

Corning Gorilla Glass 3
Ports
3 x USB-C with USB 4.0/Thunderbolt 4

Row 9 - Cell 0

2 x USB-A 3.1

Row 10 - Cell 0

3.5 mm headphone jack

Row 11 - Cell 0

Gigabit Ethernet port
Security
TPM 2.0 chipWindows Hello face sign-in.
Camera
1080p front facing camera
Audio
Stereo 2.1 speakers with Dolby Atmos

Row 15 - Cell 0

Dual far-field studio microphones
Network
WiFi 6: 802.11ax compatible

Row 17 - Cell 0

Bluetooth Wireless 5.1 technology
Dimensions
Base
Length: 250mm
Width: 220mm
Thickness: 31.45mm
Display
Length: 637.35mm
Width: 12.5mm
Height: 438.90 mm
Weight
Weight: 9.56kg max
Color
Platinum
Price
$4,699
Surface Studio 2+: Design & Ports
The Surface Studio 2+ features an almost identical design to the first-gen Surface Studio that shipped back in late 2016. That makes this design nearly seven years old, and while it still stands out as a unique all-in-one in the PC space, it's starting to show its age in certain areas.
For example, the bezels around the display are on the larger side for 2023. When we have all-in-one PCs from HP, Lenovo, and Apple, shipping with much thinner bezels, the Studio 2+ stands out like a sore thumb when compared side by side with the competition.
The only change to the design of the Surface Studio 2+ is with the layout of the ports around the back. Frustratingly, there are still no USB-A or USB-C ports on the side or front of the box where the computer guts live, so you've still got to reach around to the back to plug in accessories.
The selection of ports has changed as well. We now have three USB-C ports, all of which are Thunderbolt 4 capable, as well as two USB-A ports and a 3.5mm headphone jack. Microsoft has removed the full-size SD card reader, meaning you'll need a dongle if that's something you used on the first two Surface Studios.
Surface Studio 2+: Display & Features
Microsoft's Surface Studio display has always been above the competition in the PC space. With a close to 5K resolution of 4500 x 3000, it's one of the sharpest displays you can get on a Windows PC with a PPI of 192. This means Windows, icons, and text render beautifully on the 28-inch 3:2 touchscreen panel at a native 200% scaling.
The only real downside to the display these days is that it's still only 60Hz, which is fine if you've never experienced a high-refresh-rate computer monitor. But if you're coming from a display with a 120Hz or higher refresh rate, you'll notice the downgrade. But this is the trade-off for having a super high-resolution panel.
I will say that contrast ratios are excellent for an IPS panel. Microsoft rates it as 1200:1, and if I didn't already know that this wasn't an OLED, I'd have a hard time believing it wasn't.
This time, there is support for Dolby Vision, an HDR (high-dynamic-range) technology that delivers better contrast for movies, media, and more. Microsoft has been using Dolby Vision in its latest Surface devices, and it's great to see it here as it delivers a bit more punch to the Studio 2+'s display.
Like the display, the audio gets a software boost this time from the inclusion of Dolby Atmos, which provides better spatial separation and audio performance.
The Surface Studio 2 has a unique sound system that sets it apart from other desktop PCs. The display houses four speakers (two on each side), and the base contains a subwoofer. The speakers are hidden behind the screen, creating a seamless and elegant design. This feature adds to the overall quality and value of the Surface Studio 2, as it eliminates the need for external speakers and preserves the aesthetic of the device.
While you can't see Studio 2+'s speakers, they punch way above their weight for an embedded design.
The Studio 2+ also includes a 1080p front facing webcam and dual-microphone array along the top bezel, which looks and sounds excellent. Additionally, the webcam includes support for Windows Hello facial recognition, which is plenty fast and super convenient for authenticating purchases and logging into your device.
While the Surface Studio line has always been able to lay the display down to use in draft board mode, the Surface Studio 2+ is the first to offer native support for Windows 11's touch mode (see my hands-on). When you lay the display down, Windows 11 will convert the Taskbar into something more touch-friendly and minimize it out of the way when it's not being used.
This is what sets the Surface Studio line apart. Paired with touch and pen capabilities, this device is an artist's dream. Microsoft continues to ship the Surface Studio 2+ with the older Surface Pen, not the new Surface Slim Pen 2 with haptic capabilities.
Finally, it's worth noting that for $4,700, Microsoft does include Surface Keyboard, that Surface Pen, and Surface Mouse in the box, all pre-paired. Combined with the built-in speakers, this is truly an all-in-one experience, as no other accessories are necessary.
While it is not included, Surface Studio 2+, like its predecessors, does support the unique Surface Dial, which is an excellent accessory for artists and engineers who use this PC for its intended purpose. Microsoft also recently updated the Surface Dial settings in Windows 11 (preview), which is also a nice touch.
Surface Studio 2+: Performance
Performance on the Surface Studio 2+ is great. It's a huge upgrade over the Surface Studio 2, which was rocking a 7th-Gen Intel chip and a GTX 1070. The Studio 2+ uses a more recent (2021) 11th-Gen Intel Core i7-11370H, paired with the excellent NVIDIA RTX 3060 Laptop GPU.
Now, you'll have noticed that both the CPU (Intel is now on 13th Gen Mobile) and GPU are of the last-gen variety. That's okay on the GPU front, as it was still the latest when the Studio 2+ was first announced, but the same cannot be said for the CPU. Intel 12th-Gen had been on the market for almost a year, yet the Studio 2+ is shipping with an 11th-Gen chip.
Intel's 12th and 13th Gen processors underwent a major architectural shift with a big.LITTLE design, which is similar to ARM. So, instead of 4 cores (8 threads) in the i7-11370H at 4.8GHz, the newer 13th Gen i7-13700H gets 14 cores (20 threads) at 5.0GHz. It's a massive difference in performance that you don't get here.
That said, the Studio 2+ isn't slow, but paying $4499 for a last-gen CPU does sting a little. What's more, the CPU and GPU in the Studio 2+ are using "laptop" variants, meaning these don't even push full desktop-grade power. This is because the thermal design of the Studio doesn't allow for anything hotter.
Image 1 of 6
With that said, these chips are outputting a good amount of performance. The 11370H is the same chip that ships in the Surface Laptop Studio, and it's great for heavy tasks such as creative work in Adobe applications. It'll crunch data in a large spreadsheet with no problems too.
The GPU is an NVIDIA RTX 3060 Laptop GPU, which is also great for video rendering and 3D modeling. It's also capable of gaming, but you'll be required to turn down the resolution in games or run them at lower graphics settings to achieve a smooth 60fps.
With the inclusion of NVIDIA RTX this time around, Studio 2+ owners can also leverage modern AI tools that rely on the tensor cores like NVIDIA Broadcast (now with eye-contact support) and other AI generators., and gain support for ray tracing and NVIDIA Deep Learning Super Sampling (DLSS).
Like the Surface Studio 2, the Surface Studio 2+ will thermal throttle slightly when running demanding tasks for extended periods, but not enough to impact usage in my testing. The fans will spin up, and you will hear them when they do, but most of the time, the Studio 2+ is running cool and quiet.
Another big area for improvement is storage performance. The first Surface Studio had a spinning hard drive with atrocious performance (1,327 MB/s sequential read, just 512MB/s for write). Surface Studio 2 went to an SSD, and things improved dramatically, jumping to 3,094 MB/s read (952MB/s write).
Surface Studio 2+? It goes up to 6,382 MB/s for sequential read and 4,924 MB/s for write. That's a huge gain in performance and, when combined with the updated CPU and GPU, makes the overall responsiveness of Studio 2+ feel much better compared to previous versions. Heck, those storage speeds are great for any PC in 2023.
Surface Studio 2+: Competition
The all-in-one market is heating up this year, with the likes of HP and Lenovo shipping high-end, flagship all-in-ones for creative professionals. HP has the Envy 34, which can be had with an Intel 12th-Generation Core i9 and RTX 3080, along with a 5K ultrawide display. These specs, on paper, blow the Surface Studio 2+ out of the water, and for just $3599, it is considerably less too.
Then there's the Lenovo AiO 9i, which has just been announced and is expected to start shipping later this year. This device features Intel 13th-Gen processors and RTX 40 series graphics, paired with a 32-inch 4K display panel that's bigger than the Studio 2+, and pricing that starts at just $1,799.
Lenovo also has the older but Surface Studio-like Yoga A940 AIO (2019). It has a smaller 27-inch 3840 x 2160 display, dated 9th Generation Intel Core i7-9700 processor, AMD Radeon RX 560 GPU, and the display does come down similar to the Studio 2+'s all for a lot less money at $1,904. Granted, the Studio 2+ will be better in every category, but Leonvo's choice is 60% cheaper, making it a good option for those on a budget who want a similar design.
With that said, Surface Studio 2+ still stands on its own for power, performance, size, design, and functionality, making it the most premium experience for this format.
You can see more choices on our best all-in-one Windows PCs recommendations.
Surface Studio 2+: Should you buy?
You should buy the Surface Studio 2+ if ...
You're looking for a flagship Windows all-in-one.
You are an artist that uses a digital pen.
You want the best display in a Windows all-in-one.
You need a touchscreen.
You should not buy the Surface Studio 2+ if ...
You need the latest specs.
You want your money to get you more performance.
You don't need a touchscreen.
You don't need a display that lays down.
The Surface Studio 2+ is hard to recommend, but not because it isn't great. I think the Surface Studio 2+ is the best all-in-one on the market, but the price-to-performance ratio is too out of kilter to be something I can happily recommend to anyone looking for a Windows all-in-one.
Unless you need the things that make Surface Studio unique: 5K display, touch and pen support, studio mode, etc., you will be able to get something with much more up-to-date specs for less money. But if you need any of the things listed above, you kind of don't have a choice.
If you're an existing Surface Studio user and are considering upgrading, here's my two cents: Surface Studio 1 customers should definitely upgrade; the performance increase from 6th-Gen Intel and GTX 965m will be mind-blowing. If you're coming from a Surface Studio 2, the answer is less obvious.
Surface Studio 2 is still fully supported by Windows 11, and the 7th-Gen Intel chip paired with a GTX 1070 is still an excellent pairing for creative tasks. Unless you really do find the Surface Studio 2 lacking in the performance department, or you need Thunderbolt 4, I think you can wait for the Surface Studio 3.
Zac Bowden is a Senior Editor at Windows Central. Bringing you exclusive coverage into the world of Windows on PCs, tablets, phones, and more. Also an avid collector of rare Microsoft prototype devices! Keep in touch on Twitter: @zacbowden.