How to downgrade from Windows 10 to Windows 7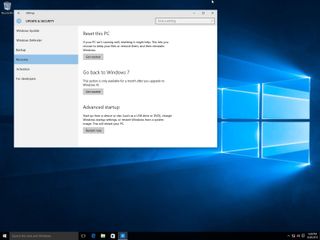 Windows 10 is having a great jump start, in only three weeks, after the operating system released to the public millions of users have already upgraded. Perhaps some of the reasons why people are quickly upgrading is because Microsoft is offering Windows 10 as a free upgrade for computers running Windows 7 and Windows 8. Additionally, there a lot of new features, such as Cortana, the Unified Settings app which runs across devices, the return of the Start menu, which combines the Windows 7 Start menu with the Start screen in Windows 8.1, and many more features that you can read in my previous write up here.
Seeing that Windows 10 introduces many new features, that it's headed in the right direction, and that you're getting it for free, there is no doubt that Microsoft wants you to upgrade and quickly. In fact, you only have one year from the day it was launch to take on the free offer after that you'll have to pay to upgrade.
However, since Windows 10 became available to the public, not everyone has had a good experience. Some people have issues upgrading, others have been reporting compatibility issues, the Windows Store not updating apps (which has already been fixed), and a number of other problems. As you can imagine, once people begin having issues almost by reflect the first thing that comes to mind is how can go back from Windows 10 to my previous version, in this case, Windows 7.
Today, we are going to go through three options, and steps to downgrade from Windows 10 to Windows 7, in case things aren't working out for you.
It's worth to point out that the options are pretty much the same as downgrading from Windows 10 to Windows 8.1, which I have previously added here.
Method one: Recovery by uninstalling Windows 10
Microsoft did something new in Windows 10 that wasn't available in Windows 8, which is adding a feature to the Settings app to allow you seamlessly go back to your previous version of the operating system.
As such, if you are having issues with Windows 10 or you simply don't like it you have options. For example, the software giant is including the "Go back to Windows 7" feature to make the process a lot simpler. However, there is a caveat; you only have a month after you have upgraded to Windows 10 to go back.
Now, if you're still on the one-month "trial", you can follow the instructions below to roll back:
1- Use the Windows + I shortcut to open the Settings app.
2- Navigate to Update & security and go to Recovery.
3- If everything is set correctly on your PC, you'll see the option Go back to Windows 7. Here simply click the Get started button.
4- At this point, you will need to pick the reason you're going back, click Next.
5- You will get a warning that you'll need to reinstall some apps and programs, and you'll lose any changes made after upgrading to Windows 10. Keep in mind that while a file backup is not necessary, but it's highly recommended, and then click Next.
6- Make sure you know your Windows 7 password as you'll be locked out of the system without it, and then click Next.
7- Finally, click the Go back to Windows 7 and to begin the downgrade process.
The time to complete the process should only be several minutes, but the time will vary from computer-to-computer. After you're back in Windows 7, don't forget to check that all your programs work correctly. As always make sure Windows is up to date, as it has probably been several weeks since and Microsoft may have already released some patches.
Method two: Downgrade by using you previous backup
You should always keep a backup of your computer before modifying any operating system. If you haven't upgraded to Windows 10, check out my previous post on how to prepare your computer for Windows 10. That will guide you through what you need to do before upgrading, including creating a full backup of your computer.
If you have the backup, you are haft way done. You only need to make a backup of your new files since the last full backup or simply copy all your files to an external drive. Besides, you may want to note any new software you have installed on your computer since the last backup, as you will need to reinstall them later on.
You can do this by:
Searching for Control Panel with Cortana.
Navigating to Programs and Features.
Arranging the list of apps in your system by Installed On.
After you have the backup of your files, and you know the apps you need to reinstall, reboot your computer using the "repair disc", which you're prompted to create after creating the initial full backup.
Quick Tip: If you don't have repair disc, you can also boot with the Windows 7 installation media to perform the recovery.
Connect the external hard drive with the backup, reboot your PC, follow these steps:
While in the Setup wizard, click Next, and then Repair your computer.
Select "Restore your computer using a system image that you create earlier", and click Next.
Select the backup to restore and click Next.
Select the image you want to use and click Next.
Click Next one more time and then Finish to begin with the recovery process.
Once the process completes, you'll be back to the previous version of your operating system, in this case, Windows 7.
Method three: Downgrade by clean installation
Alternatively, in the same way like you could do in going back to Windows 8.1, you can downgrade from Windows 10 to Windows 7 by doing a clean installation of the operating system. This method is more suited for people that have the time and don't trust the concept of rolling back.
This process involves having to reinstall the operating system using the Windows 7 installation media, and formatting, which will erase everything on the hard drive. You'll also need to reinstall all your applications once again, and use a backup to restore all of your files. This process takes more time than other methods, but it will ensure that everything works correctly.
Follow this steps:
Reboot your computer with Windows 7 installation files (make sure your PC is set to boot from the drive with installation files).
During the Windows Setup, click Next, accept the licensing, and click Next.
Click the option Custom: Install Windows only (Advanced) option to do a clean installation.
Delete any partition created by you current installation of Windows.
Select the empty drive and click Next to start the installation process.
Important: If you have a partition where you store files or a secondary hard drive, you don't have to delete these partitions.
Once the Windows Setup process completes, you will once again back to Windows 7. However, remember that you need to restore your files and reinstall and configure all the programs you have previously installed on your system.
Wrapping this up
As you can see, downgrading from Windows 10 to either Windows 7 or Windows 8.1 are virtually identical. Just remember that in both versions of the operating system you only have a month to use the Settings app to go back to you previous version. If past the 30 days, then you likely have to go through one of the other two methods.
Always remember to make a full backup first, you'll never know when you are going to need it to recover!
Are you giving up on Windows 10 and going back to Windows 7? Let us know your experience in the comments below.
More Resources
Remember that we have many other articles on Windows 10, if you need help you always check these other resources:
Windows Central Newsletter
Get the best of Windows Central in in your inbox, every day!
Mauro Huculak is technical writer for WindowsCentral.com. His primary focus is to write comprehensive how-tos to help users get the most out of Windows 10 and its many related technologies. He has an IT background with professional certifications from Microsoft, Cisco, and CompTIA, and he's a recognized member of the Microsoft MVP community.
Win10 broke my realtek Ethernet. But I'll wait for a fix, this is why WiFi was invented :P rolling back is too much effort

For me it broke all network adapters including Bluetooth. Surface Pro.

The touchpad on my laptop never regained all the functions that the Synaptics program provided. Other than that, Windows10 has been fine for me. The mobile version is a different story. I've installed and rolled back many times.... On three different Lumia phones.

Did you roll back to windows 7/8.1 or did you stay with 10?

Seems like the changes they made with ndis in w8.1 still carry forward problems with select network adapters

You can fix it for free in a windows store that's happens to me and they fix it for free

Then get your proper drivers.... go and find them and don't wait them to appear magically on Windows update. I clean installed the computer but the one I upgraded I had to search for video drivers and sound drivers. because there was no sound when i upgraded and video was blinking. I had to hide Windows update from updating the drivers and it works fine now. but I had to go and find the proper Windows 10 driver. in this clean installed windows 10 desktop, I haven't had any problems. it works fine. really good I must admit. but I clean installed of course.

Downgrading seems like a last resort. Definitely go out to the computer manufacturers website and get the latest drivers for anything that's not working. If those don't work, check with the hardware manufacturers website.

100% agree! Or use the forums here to ask for additional assistance. In most cases, it's an easy fix.

Surly, you would suspect that many of those who have chosen to downgrade have first explored a variety of options to address whatever issues they encountered. If, in the end, they decided to revert back to the previous operating system of their choice, that's entirely up to them.

Oi, smartass. I have a BSc in computer science so don't try and act like u know something I don't. "oh look for drivers". REALLY? YOU DONT SAY?. Gtfo of here. This is a known issue; even the latest realtekdrivers don't fix this for me.

I used Windows 8.1's drivers and it works now

Trust me. I tried that. No go. A lot of people have no fix for this right now.

Windows 10 running on all my three computers smoothly. No hiccups!

"windows 7 SEEMED FASTER" we all get the joke here hehe

Guessing clean install is the only option if you cant boot into safe mode to do this rollback

Just upgraded last night and it's pretty much everything Microsoft hyped it up to be for me.

Yes it is, apart from them installing malware and collecting your information to share with ad companies

Its actually quite shocking. I watched a YouTube video on how to recover your privacy in W10 and its quite many steps. I have a strong feeling ill be wiping my W10 computer and putting 7 on it.

and what about getting pills to enlarge your penis? or what about the nigerian who is writing to you? did you send her money to get the millions she promised? Did you say "actually shocking I WATCHED A YOUTUBE" really? is that your information? why not go to Wikipedia, maybe that can be a better source of information. Stop believing everything you see on internet. that's what I meant, use your brain, and stop being dumb as other people, especially Linux users who try to twist everything is done. do you think windows 7 doesn't do it? how do you think Microsoft got the "well Windwos 7 users didn't use the start menu as much so that's why we wanted to make start screeen full on windows 8"​
Do you think that's done with magic? no, it's because Windows 7, vista and 8 collects ANONYMOUS information to improve the software.
the difference it's Windows 10 works as a service, so they have to update it faster, they need faster feedback from people.
MOST can be turned off. you see alot of steps to recover your privacy? what privacy is being invaded? NOTHING, Microsoft won't even know it's you the one sending the feedback or the information. they only use the information to improve the services. What I have seen is stupid people uninstalling and removing everything that makes Windows 10... Windows 10.
but will you throw away your phone? if you are here you must have a smart phone, and do you know they collect the same information?
how do you think smartphone have improved their keyboards and spellcheckings and things like that? because they send samples about what you type.
same with voice assistants like siri, google now and cortana, they need to send samples of your voice to improve the accent, the way you speak, and recognize everyone better.
Handwriting stuff is the same.
do you think it got improved by just magic? no, software have always tried to gather anonymous feedback, sometimes it can turn off or on, sometimes people don't even care if it's there, they don't go to settings or help menu and turn it off.
so what's the problem about Windows 10 doing it? if Microsoft have done it before. again, what I have seen is stupid people removing, Windows Store, Cortana, Xbox app, Solitaire, news app, sports app, Photos app....
do you think that crap invade your privacy? really? some poeple have turned completely the feedback, but do you think "basic" sends your credit card information? your phone number? your address? and Microsoft will go and knock your door and send flowers or chocolates?
Why do Microsoft needs that personal information? Everything Microsoft is saying in the EULA and MSA, they are not just talking about Windows 10, although on MSA they don't even talk about WIndows 10 but other services.
But my point is, all those many words don't talk exactly about one service, it can be about many services, or just specific ones.
Like "we will store your browse story and favorites and blabla" one, if you use Edge browser with a Microsoft account, what do you think it's going to happen? do you think the settings will sync telepathically? no, they have to be stored on Microsoft servers so they get sync. And this is just one small example of everything. Microsoft is not with a hotdog, popcorn and icecream checking everything you do like if they were TeamViewing your computer. You are an anonymous feedback and number and information, just like on previous Windows. just like you are random numbers and information on software you install and gets your feedback one way of the other. like Adobe, Autodesk etc etc.

Thanks for this comment. It should be in an Article Lol.

Your comment is showing in Black Accent colour on my Phone. Whereas all other are showing in Green (selected colour). Is this due to the no. of words in your comment is so much. I have never seen this effect in app before or is it a bug.

Better stay away from anything Google then, as they also scan your emails as well.

FUD, crap and missinformation. research and stop being dumb. but keep believeing that crap and being pathetic at not even trying to research what you claim. I am sure you don't even know what "malware" is. and you don't even know what "telemetry" is. accept it, you just repeat like a monkey what you read on internet without actually research a little, like the other people dumb like you.

Yup. Had intel i7 something..

Why why why.. Its 2015 now

Shit happens. Not everyone's upgrade was smooth.

and that's becuase of their installations. do you think Windows 10 will upgrade better if you downgrade and try it in the next months? it probably won't. the problem is some people have installed so many things that affect the registry and system files. it can mess up pretty easily with an upgrade. the best way it's to clean install, stop being lazy and reinstall software. ask their sons to do it if they don't know. I am sure most of the software they have installed is not even what they really use daily. Upgrading is a usal gamble, but when it's a windows 7 or 8 that has been modified and installed toolbars and software here, and that, and this. and you see their desktop filled with 1000 icons. you understand the problem is not Windows 10, but the Windows you are upgrading from. becuase clean installs work good. on my side they have. and Windows 10 feels amazing if you clean install. or if the upgrade is made on a computer that hasn't been used for years and years but months or weeks.

if only we were all just as smart as you. You have all the answers, I wish I were you.....Im not worthy....:-( eat a booger. I like Win 7 Pro and wont go to Win 10 until I have no other choice.

Because Windows 7 Ultimate 64bit is still the best and will be the best for at least a couple of years if not more

Next article, How to roll back to Windows Vista
How to roll back to Windows XP
How to roll back to Windows 2000
How to roll back to Windows 98
How to roll back to Windows 95
How to roll back to Windows ME
How to roll back to MS DOS.

Ah.
It was just for some fun. My views though.

you got it wrong with ME buddy!

It's probably his favorability list, ME was not so fine

How to roll back to Linux :P

How to to roll back to living a life without computers.:P

Wouldnt downgrade if only store and search would work.

Windows 7 sucks! Staying on 8.1 for a while.

Need an article on how to downgrade from Windows 10 to DOS 5.0

Windows 7 is 70's computing

I upgraded from 10 to 7, I now have readable fonts back

Some systems are not powerful enough for an upgrade to Windows 10. AMD E1 & E2 systems, I'm looking at you!!

Wasn't this article posted just a few days ago?

Off topic but can someone provide me solution of inaccessible boot device error while resetting the windows10 on my Acer laptop.

I did a clean install on a 2 year old Dell. It's running bad but the drivers are all generic. I downloaded them all and I'm pretty sure that'll make things run smoother. Always check for the latest drivers.

Biggest thing I miss is aero glass transparency. I wish MS paid more attention to aesthetics, U.I animations-transitions, icon art.

Nice that they at least ask why you're rolling back.

Why would you wanna do this? Barmy.

You are talking about Cortana all the time as it's something what is standard, but so many of us around the world don't have Cortana at all. So, Cortana is NOT the part of Windows 10, it's just option for some countries.

Someone would have to hold a gun to my head to get me to go back to 7. Even then, I'd have to debateit in my mind for a while.

What's the licensing situation? Are you 'allowed' to switch between, say, 7 and 10 as much as you want? Provided it's the same hardware, of course.

Broke my Microsoft display adaptor. Did they even test?

Hi. I purchased a brand new laptop with windows 10 and I definitely want to downgrade to windows 7 but the problem is that I need to find drivers for my laptop and I am completely lost in that. Are there any drivers that can be compatible with my laptop model or should I look for the specific drivers for my model? it's an asus x540sA. Please help I hate Windows 10. I work better with 7

Hi, please help me 2 days ago I upgraded from windows 7 to 10, and it doesn't start up all I get is the blue window with the round circle like charging and then black screen without cursor, after trying a lot I finally was able to get inside in safe mode and I do have the windows old file there, my question is how to revert this from safe mode ? its been only 2 days and it's a dell laptop, I don't have the windows 7 cd because it was already installed.
Please help me, thanks for your time.

I didnt have the "Go back to windows 7" can you help me to fix it?
Windows Central Newsletter
Thank you for signing up to Windows Central. You will receive a verification email shortly.
There was a problem. Please refresh the page and try again.