How to downgrade from Windows 10 to Windows 8.1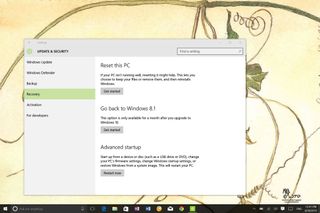 Microsoft released Windows 10 on July 29th, and since launch there have been over 50 million installs of the operating system. And there are good reasons. The software giant is betting on Windows 10 to be one of the best operating systems you want to use. After all, it brings familiar features from Windows 7, it improves the shortcomings from Windows 8.x, and it's a free upgrade.
Repeatedly, Microsoft CEO, Satya Nadella said: "We want to go from users needing Windows to choosing Windows to loving Windows." However, while Microsoft wants you to upgrade to Windows 10 and move forward, we're still in the early days of the new operating system. Since launch, many users has been reporting some issues, which range from upgrade problems, apps not opening, compatibility and network issues, and a lot more. So, as you can see Windows 10 seems not to be ready for a lot of people. So, today we're going to look the options you have and instructions to downgrade successfully from Windows 10 to Windows 8.1 if you decide the operating system isn't working for you at this time.
If you want to roll back, there are a number ways you can do this process. Today, we're going to look a three different ways.
Method one: Recovery by using a previous backup
If you have been following our Windows 10 coverage, you probably came across the post: "How to prepare your PC for the Windows 10 upgrade". If you followed the guide, you have created a full backup of your computer before upgrading to Windows 10.
If you did, fantastic! You can simply make a new backup of your new files since the last full backup or just make a copy of all your files to an external hard drive. Also, note any new software installation since the last full backup, as you'll need to reinstall them after rolling back.
You can do this by:
Searching for Control Panel with Cortana.
Navigating to Programs and Features.
Arranging the list of apps in your system by Installed On
Once you have the backup of your files, and you know the apps you need to install, reboot your computer using the "repair disc", which you're prompted to create after creating the initial full backup.
Quick Tip: If you don't have repair disc, you can also boot with the Windows 8.1 installation media to perform the recovery.
After rebooting, follow these steps:
While in the Setup wizard, click Next, and then Repair your computer.
Click Troubleshoot, and then click Advanced options, and select System Image Recovery.
Select the operating system you to recover from, click Next, and then Finish to begin with the recovery process.
Once the process completes, you'll be back to the previous version of your operating system, in this case, Windows 8.1.
Now, if you have made a lot files changes, it'll be recommended you delete all of your files and restore the updated versions using the new backup you created before downgrading back to Windows 8.1. Also, don't forget reinstall any software since the last backup.
Method two: Recovery by clean installation
If you want to downgrade from Windows 10 to Windows 8.1 in a clean way, you'll be better off starting from scratch again. This process involves having the installation media of Windows 8.1 and performing a clean install of the operating system.
This method requires you to backup your files and to re-install all the programs on your computer. This method takes more time, but it's also the cleanest way to downgrade.
If you don't the Windows 8.1 installation media, don't worry, Microsoft now allows you to download the files from the company's servers. Follow this link and instructions (opens in new tab).
And then follow these instructions:
Reboot your computer with Windows 8.1 installation files (make sure your PC is set to boot from the drive with installation files).
During the Windows Setup, click Next, accept the licensing, and click Next.
Click the option Custom: Install Windows only (Advanced) option to do a clean installation.
Delete any partition created by you current operating system.
Select the empty drive and click Next to begin the installation process.
Important: If you have a dedicated partition to store files or a secondary hard drive, you don't have to delete these partitions.
After the installation process completes, you'll be back to your previous version of Windows. Now the only thing left to do is to restore your documents and other files from the backup, and you'll need to re-install any software you have previously installed.
Method three: Recovery by uninstalling Windows 10
Then there is the third option. Unlike Windows 8.x, Microsoft has conveniently included a roll back option in the new Settings app that allows users to go seamlessly back to their previous version of the operating system with a single button.
If you happened not to like Windows 10, or you're having issues, Microsoft is adding the "Go back to Windows 8.1" feature to make the process a lot easier. However, the downside is that you only have a month after you upgrade to Windows 10 to go back. If you're still within a month after the upgrade you can follow these steps to go back:
1- Use the Windows + I shortcut to open the Settings app.
2- Navigate to Update & security and go to Recovery.
3- If everything is set correctly in your system, you'll see the option Go back to Windows 8.1. Here simply click the Get started button.
4- At this point, you can tell Microsoft why you're going back, click Next.
5- You'll get a warning that you'll need to reinstall some apps and programs, and you'll lose any changes made after upgrading to Windows 10. A file backup is not necessary but recommended. And then click Next.
6- Make sure you know your Windows 8.1 password as you'll be locked out of the system without it, and then click Next.
7- Finally, click the Go back to Windows 8.1 and let the process complete.
The process will take some time depending on your system configuration. Once you're back on Windows 8.1, don't forget to check all your apps are installed correctly and check for new updates, as, after a few weeks, it's likely to be out-of-date.
That's all!
Wrapping this up
Remember in school when you're taught the hard way, the difficult path, to resolve an equation? Well, of the three methods, this last option should be the easiest and the one recommended by Microsoft. However, keep in mind that the Settings app option to go back to your previous operating system is only good for a month. As a result, make sure you try Windows 10 as much as possible before the month expires, that way you don't have to resort to more complex methods.
Also, no matter what you do, always remember to make a full backup first, you'll be surprised when it will come in handy!
Are you on Windows 10? How do you like the new operating system or are you planning to downgrade? Let us know your experience in the comments below.
More Resources
We already have extensive coverage of Windows 10, in case you need more information or how-to articles, make sure you check these resources:
Mauro Huculak is technical writer for WindowsCentral.com. His primary focus is to write comprehensive how-tos to help users get the most out of Windows 10 and its many related technologies. He has an IT background with professional certifications from Microsoft, Cisco, and CompTIA, and he's a recognized member of the Microsoft MVP community.
Nooo! Windows 10, overall is better!!

I don't see a point to any of all this. Windows 10 is here for a reason. It still puzzles me why people want to switch back. Unless they have a reason for it, then that's fine. But if there is no reason why you want to go back, don't. Because, like I said, there is no point in going back if you have no reason to do it.

Great on desktop, bad on tablet. Many tablet users are downgrading.

"many tablet users are downgrading"
Source? Lol what am I saying? Of course you don't have one.

I've downgrade from Windows 10 on tablet.

I'm on a Surface Pro 3 and had to downgrade to 8.1 for two reasons, OneNote is not working the same on Windows 10 and OneDrive is not working the way it was before. On top of that, if I'm away from a Wifi point, the software just starts complaining that it cant log me in. I know, I'm not connected t anything. Windows 10 is still Beta, I'm upgrading again after TH2.

and also battery lifeis much worse on Windows 10 (4-5) hrs. On windows 8.1 it was 8-10 hrs surface pen button didnt work on windows 10(for me) and on windows 10 i can not snap up 3 apps side by side (in tablet mode) i went back to windows 8.1 and im again happy :)

Someone had their sassy flakes and snarky juice for breakfast this morning.

I can't live with the fact that copy paste in google drive/docs in EDGE doesn't work. I also need Right Click Save As and my computer working every day! I need a better touch interface where everything doesn't freeze all the time. Ergo i wanna go back to 8.1 but apparently i can't because microsoft says i didn't follow the right update path (i did a clean install from iso)

The source is presumably anecdotal. I too upgraded my Surface Pro 3 to Windows 10, only to revert to Windows 8.1 because the new tablet/touch experience is so poor. Also, as others have said, OneNote is now missing many of the features that made it so useful on 8.1. I'm all for unifying interfaces across devices, but to remove really useful functions goes against convention for upgrades. Some Apps are undoubtedly improvements over what went before - but not in all cases. The News app in 8.1 is lovely to use on a tablet; in 10 it is just disappointing. Microsoft were really onto something with 8.1 on tablets. It's a real shame they didn't seem to understand this.

W10 cry babies (W8.1 user) that replacing W8/8.1 cry babies (W7 user)...

You sir are an idiot! Explaining all the things that MS broke in this release to you would be a waste of breath!!

They f*ck up the Onedrive's placeholder feature on windows10. I had to rollback from day one because of that. I can't work without that feature from windows 8.1.

Obviously the point is there are reasons to roll back like some mignt not like it or find it too buggy? Just because its here doesnt mean everyone should upgrade, thats not a reason in itself.

Reasons are that most people who do a wide range of serious work need good computers. Windows 10 doesn't promote good computing.

Windows 10 is not as efficient as Windows 8.1 on laptops yet. That may be a problem.

Windows 7 is like the XP it just works! rest is just apps i dont want on a desktop

Well I'm glad you cleared that up.

I switched back on my surface because one drive was unusable.

Lucky you. I can't go back, MS won't allow me to for some reason.

@Michael Fuller1, there are legitimate reasons to downgrade to W8.1. Not everyone has had a successful install or is having a issue free install.

Yeah, who would have thought that people would be oki with the capability of only being able to delete on mail at a time.

I installed Win10 on my Asus X205TA Eeebook, which has a 20 GB C drive. The last straw was when I had to uninstall Office just to keep things running. I have ZERO APPS and what might be a good OS someday. Going back to 8.1 NOW. Even if space weren't an issue on this little PC, this box allowed me to take my work anywhere because I had access to my OneDrive files via ICS, tethering it to my cell phone. I've watched movies on Netflix on this little box via tethering. But now? Sorry, ICS/mobile hub not working yet. Oh, and OneDrive? Can no longer sync with SD card AND if you choose to sync some files, you can't see placeholders for files that are available online only. WTF? Yeah, maybe when Win10 is really RTM.

I want to go back because Windows 10 is slower. Slower to boot, and also has been stuck on using over 60% of my CPU at all times for the past two days. Service Host: Local Service (7) has been eating up CPU for two days now, and it's driving me nuts. It's all Network Store Interface Service, Network stuff, and COM+ Event system listed under there, along with WinHTTP Web Proxy Auto-discovery and Diagnostic Service Host. I feel like I've got something seriously wrong here. My OneDrive and Microsoft Uploader are also broken in odd ways, and no longer interact properly with Office. What a pain.

I had to switch back. On two separate occasions, after W10 updated, my PC failed to boot. The first time it restarted after the update, the PC hung at the OEM splash screen. After several retries, I was able to get into the W10 recovery setup and was able to boot. The 2nd time it happened, the PC restarted but the screen wouldn't show an image. So the PC was turned on, but I'm looking at a dark screen. I just left it running for over a day, but after a while, I figured it was as good a dead. I actually bought a new PC instead. As if by some act of God, 2 days later, when I was unboxing the new computer, I decided to turn it on one last time. It started normally. The first thing I did was pull the trigger on the downgrade to 8.1 while the computer was still working. Background: This was a Win7 era HP computer that I had previously upgraded it Win8. I really liked W10 and was sad to see it go. I returned the new Dell to Costco and will wait until the end of the year before I retire this HP with a new machine built for Win10. So, having the roll back feature is a really good thing!

I upgraded my Dell tablet and it's so slow it's unusable with Windows 10. So the option to downgrade is fully appreciated. On the other hand, it's been downgrading for over 24 hours now so I'm not sure I'd recommend the option. If it's not done by the time I get home from work today, I'll have to figure something else out.

What a ridiculous thing to say. Obviously people have a reason to go back to a previous version. I don't see any point to this post!​

Incompatibilty Revit.Architecture.2014

maybe because your a MS appologist!

May be you have not used the Metro Apps like Mail, News, Money, etc. In Windows 10 its so messed up. Many good features of windows 8.1 is missing. I didn't expect to see this from microsoft. I think MS sent the experienced to home and made freshers to make win 10...!

you will definitely switch back if you don't have a dynamic dual graphics card

Yes. But I expect good battery life from my Surface 3.. Which is why I got it in the first place. Windows 10 is only getting me about 6hrs vs 9hrs on Windows 8.1. I tested via upgrade and clean installation and with various power settings.. Couldn't get anywhere near as good battery life, hence I switched back to 8.1.

I read that disabling the Windows Tips notifications and enabling ad blocker makes a difference to battery life. Disclaimer: I have disabled the Tips but have not monitored battery life.

Surface 3 sometimes can't power on during sleep and I have to force shut off. The Windows button still vibrate but nothing on the screen. I downgraded to Windows 8.1 and upgraded to 10 again but still had issue with it. So I had to go back 8.1

I agree and we should help people move forward not quit.

Windows 10 is more of a compromise OS than 8.1 ever was. In many ways it was ruined by Microsoft listening too much to whiny Windows XP and 7 holdouts, mac trolls, etc. Similarly, Windows 10 mobile is being absolutely ruined by changes to make it more akin to Android and IOS, once again thanks to whiny chumps who can't see a good and innovative thing when it's right in front of their faces. I like a lot of things about Windows 10 on laptop/desktop mode, but they ruined tablet mode in many regards, and OneDrive is a massive downgrade. Windows mobile 10 is nothing less than a train wreck.

I also switched back to 8.1 on my Surface Pro. Main reason: OneDrive. As long as it remains the way it is on 10, I will have to stay on 8.1

Many users crashed their systems or were stuck with some weird problems. The option then was to downgrade only and then again upgrade to Windows 10.

Win 10 is crap. Source: My computer.

Nope..... I wouldn't. Windows 10 better

I rolled back to win7, overheating in 10 for some reason. 10 is better though.

Must be your rig and driver issues Posted via the Windows Central App for Android

Yep I'd say so, don't have the patience for the old girl though. Holding out for continuum :)

what are you going to tell me next week? how to move back in with my parents?

We checked actually, and your parents, unfortunately, do not want you back under any circumstances :P

:-D Posted via the Windows Phone Central App for Android

Nicely-played, Daniel, nicely-played. :)

I don't think Windows 8.1 users would want to downgrade because they are already familiar with modern/universal apps and most of the features that are now in Windows 10 also why would they want to lose all those added features like Cortana? The only users I think would downgrade are the users from win 7 because everything will be new to them especially those who don't like change or new things.

Don't forget the OneDrive "smart files" aka placeholder in windows 8.1.

Tell that to those in countries that dont support cortana or their media services.

Actually, upgrade from Win 7 is sensible. But comparing to win 8.1, win 10 is total crap. Edge doesn't have swiping gestures, onedrive is useless and use on tablets is very painful.

Start screen o W8.1 still rules over Windows 10 start screen both in Default view and App list. One thing that bothers me is how they have accomplished to make WIndows 10 uglier than Windows 8. They tried to minimize so much and in the end they ended up with something like Windows 3.1 There are no clear distinctions what's highlgthed text only and what is the text you can actually click on. Very piss poor user experience.

Is amazing that computer companies and even hardware companies don't be ready to Windows 10 even having an TP which could be done the drivers for 10 from a scratch instead of be bearing by using drivers of Windows 8.1 or 8 or even lack of software for Windows 10 I could accept that my old scanner a canon lide 25 work only with older drivers of 7 just fine but newer hardware I wouldn't accept that today or newer hardware don't have drivers for, Windows 10

I actually went back to 8.1 on my Surface Pro. Windows 10 is awesome on desktops. Not so much with tablets. I'm sure that will change and I'll upgrade when it does.

Really? I like it much more on my surface pro than I do on my desktop. I haven't had any issues, and it really doesn't seem all that different than widows 8.1 if you are in tablet mode.

The touch gestures are all fck up! How can you not see that?

The scaling is too small even at 125%. I tried 150% which makes it better in tablet mode but it makes everything too big when I go back to desktop. It makes my RDP sessions a pain. I get scroll bars if I have the scaling at anything other than a 100%. So I would have to switch scaling when I went from tablet mode to desktop. You have to sign out them back each time you do that. Also I don't keep my taskbar on the bottom I keep it on the left which isn't bad in tablet mode until I switch from landscape to portrait. Then the thing takes up so much room. So I tried auto-hide. That was better but I want to see my taskbar when I'm in the desktop. To basically when going from tablet mode to desktop I would have to switch scaling and auto-hide on the taskbar.

You can try custome DPI :) I'm currently using the scale of 135% on my Pro 2 (win 8.1) and it's a perfect balance.

Why would anyone want to go back. Your ex is an ex for a reason

As others have said, Windows 10 isn't really *there* yet on tablets.

Sometimes your ex gives better head. Just sayin'.

I don't see a point to any of all this. Windows 10 is here for a reason. It still puzzles me why people want to switch back. Unless they have a reason for it, then that's fine. But if there is no reason why you want to go back, don't. Because, like I said, there is no point in going back if you have no reason to do it.

Ah you again, double posting with your infallible logic.

Well, Michael, there will always be rebels among us. People who get their jollies spending a day rebuilding their PC, reinstalling all their apps and stuff. "Windows 10 is here for a reason." Yeah, that reason would be all the Win 7 whiners who freaked at the sight of live tiles, who couldn't figure out that the right and left edges of their screen were active areas, who were overwhelmed by the immersive browser, who needed their mamby-pamby START button...

I want to clean install windows 10 on my hp pavilion laptop.
I have downloaded both ISO for dvd and usb.
But it shows a error whenever I try to boot with the media.
Am I doing anything wrong?

What's the specific error? Thanks,

Unfortunately, Method 3 does not work on my Surface Pro 2. I upgraded on a week ago, but the message box tells me the files have been deleted that allows for rolling back. Also, doing a "remove everything" on restore on asus tablet kills the ability to boot the tablet altogether. I have been going through this over the past four days. I contacted Microsoft, and they continued to tell me to rollback to 8.1. I continually and kindly replied, "I can't. That's the point of my call." On top of that, the ASUS tablets are no longer booting and no longer install and activate Win 10.

I downgraded because the OS laggs!!! I cant even run a 2003 game :( pls help

I'm running my PC games just fine with Windows 10. I had issues during July 30 after upgrading, the machine was rebooting in a cycle, so I rolled back to 8.1, I found 2 weeks later that issue was with AMD Catalyst updates, which needed to be done before upgrading to Windows 10. Once I upgraded my graphics drivers to latest in 8.1 I could upgrade to Windows 10 and there are no more issues.

I have no option except going back to 8.1. Forced and Automatic Graphic driver update again and again is driving me crazy. Windows 10 can go to hell.

You can actually suppress the automatic installation of driver updates through a quite hidden setting in the old Control Panel.

Doesn't work, I have tried everything, both the control panel setting and the tool provided by Microsoft.

Offtopic, but I have to ask somewhere... I'm on 10512 TP and there is watermark at screen again. Anyone else with same issue?

Everyone has this "issue" as its on purpose. Annoying, yes...but normal. Posted via the Windows Central App for Android

I got it... But it was removed in last two updates. Just wanted to know if it's problem with me...

Because it is an "Insider Preview". The final versions don't have the watermark, but the testing versions do.

I have both W8.1 and 10 on my laptop via dual boot. Some of the CAD software I use like SolidWorks and AutoCAD as well as my current MATLAB version isn't updated for W10 yet. So made a partition for W8.1 for that specific reason. Other than that, I would be fully invested in W10.

That's another valid reason: there are still major software applications that won't work with Windows 10. At some point down the road those companies in question may issue updates, or simply offer a new version, but as of now, no point in going backwards in your productivity.

"Windows 8.1 seemed faster" (on that screenshot)... Am I imagining stuffs? Or et tu Mykrosoft?

Because tablet mode is horrible. I refuse to put windows 10 on my SP3 because id rather not turn it into a $900 Frisbee.

Offtopic. Is there windows 10 upgrade for lumia 1520?

You don't read Windows news very often, do you?

No.. Only oneplus 2, Samsung gs6, moto X, nexus 6, lg g4 will get the upgrade..

Blasphemy! Heresy! Apostasy!

Haven't used 8.1 much but I heard that Tablet mode were better.

can you roll back if you're on the insider build program?

You should be able. Thanks,

Trying to hang in there but intermittent battery drain and OneDrive/MS Account sync issues are making it hard. Help!!!

Almost tempted to do this just to get OneDrive with placeholders back.

Windows 10 on my SP3 and keeping it that way. I have sent feedback on what I like and what I want added. No issues to date.

Funny, I just downgraded my daughters tablet (hp stream 7) from 10 to 8.1 this morning. Interesting to see this story this afternoon! I was a little surprised that the option is only available for one month. Seems a bit arbitrary. The tablet was quite slow and many of the programs wouldn't work probably after the upgrade. For ex the Disney fairies wouldn't load, abcmouse.com would not work properly (even in IE), and she couldn't play a lot of the things on nickjr.com.
And I already mentioned that it was slow (yes, it started slow but was worse w 10), I even turned as many of the graphic/display features off that I could but the overall system was less usable.. I did have the family controls on, which monitors usage and sends me a weekly report, and that probably cause some of it (although I like that capability). You can disable the whole tablet at various times.. Maybe there will be some improvements, but until there are, both my children will be stuck at 8.1. We upgraded the tablets at church last week, so we will see if they run better *than hers*. (same hp stream 7's, used for vnc of DAW and as remote PowerPoint for the speaker).

Thanks for your story, I have a 7" Windows 8.1 tablet for my little daughter with just 16GB of storage and I won't upgrade it to Windows 10 due to the issues you mentioned. I'm pretty sure these issues might get fixed in some months and I'll try to upgrade.

Gabriel, DON'T DO IT! I'm rolling back my Asus X205TA which has a 20 GB C drive. Win10 takes darn near every byte and it won't allow anything to be offloaded to an SD card...

Windows 10 on my HP Stream 7 made the tablet completely unusable. I had to roll back.

If you downgrade from windows 10 back to windows 8.1 can you still upgrade back to windows 10 at a later date? I ask because i want to downgrade to install certain programs that wont install on windows 10 due to net 45 issues

yes you can, I followed that route. On July 30 upgraded to Windows 10, rolled back to 8.1 using OEM recovery tool on July 31, on August 16 I upgraded to Windows 10 using Microsoft's Media creation tool for Windows 10. (This should be really called Windows 10 installer, no need ot have a USB stick or a blank DVD to upgrade to 10).

I have a ? If I go back to win8.1 and the free for 1 year upgrade expires but I want to go back to win10 on same PC. Is it still free for me since Microsoft servers already registered my hardware before? or do I have to pay now for the upgrade?

no complaints here windows 10 is pretty good

I must say that after using Windows 10 for the last 3 weeks I have no intention of going back to Windows 8.1. Now I will admit that if you would of asked me that question 2 weeks ago I would have considered going back because I was a fan of Windows 8.1 and was lamenting the new "tablet mode". I have a SP 3 and purchased it because I wanted the best of both worlds, laptop and tablet and Windows 8.1 was really conducive to achieving this goal. Yes, I wish I could snap more than 2 apps at a time, or get easy access to the desktop but I have grown to really like the "hybrid" nature of Windows 10 and have made changes to my start screen to better adjust to "tablet mode." For example, if I want to snap more than 2 apps, I just stay in desktop mode and can snap up to 4 apps at a time. Like I said, I won't be going back, however, I definitely respect that some folks may choose to go back to Windows 8.1.

One other option is available if you did not delete the original recovery partition on your machine. I had to do this on my Dell Venue Pro 8 yesterday. I tried to do a reset of Windows 10 but the touchscreen didnt work afterward and i didn't have a USB keyboard or mouse available. Select the advanced start up and recovery options and there should be a choice to restore the machine back to the operating system that was originally shipped from the factory. Even though the machine came with Win 8, the update to 8.1 also updated the recovery partition. The machine recovered nicely to 8.1 and then I upgraded to 10 and everything is working fine.

I don't need to know this!!

I am planning to downgrade on my surface pro 3. only used 8.1 for a month, but it has been 3 weeks with windows 10 and it is not good on the tablet. 1 it is very slow. 2 the automatic switch to tablet mode when the keyboard is removed sometimes does not happen. 3 on boot up it sometimes does not spawn the keyboard, even though i have it set to go to tablet mode. 4 the gestures are less intuitive. 5 the overall feel is awkward. 6 desktop mode is too small. 7 updates and store purchases sometimes won't work. 8 the snap feature is less functional for me. I will miss cortana, but that is about it. I have windows 10 on several desktops and while there were some rough patches, when it works it works well. It is baffling how they misfired so badly on the tablet experience.

I'm also planning on upgrading back to Win8.1 on my Surface Pro 3.....Win10 is a mess. As a side not, it's funny that Edge browser (for me at least) can't even run the Rich Text Editor on this site to leave replies -- I had to use a more basic text editor :)

Upgraded to win10 on Surface 3 with "remove everything" option :
System lags a lot, RAM is always full with no room for more programs
Lots of graphical glitches
Hardware buttons sometimes not responding
Sometimes can't login without physical keyboard because the touch one won't come up!!!
OneDrive placeholder files gone, that's a huge step back!! Upgraded on VAIO laptop:
Random BSOD for INTERNAL_POWER_ERROR, disabling AMD gpu or updating drivers/OS doesn't work at all.
That's a few reasons why some people want to go back to 8.1

I was almost one of them, had a few issues and memory got used up fast I can't even back up my phone. And when I did the maths it didn't make no sense but worst off my laptop don't have dvd drive so I can't do a back up by bvd.

I have Windows 10 on three systems, and love it! I definitely like it better than either Windows 7 or Windows 8, so I plan to stay with it. However, on one of the computers, I'm very temporarily going to have to roll it back to Windows 8. On my Nextbook Flexx, all the "functional" elements of Windows 10 work just fine. However, the start menu [etc] colors don't change along with the background like they're supposed to, and it also makes some odd choices in which color it pulls from the background. For example: on the picture with the green tent and just the thin sliver of burnt amber sunset, rather than pulling a lovely green from the tent, it pulls the weird burnt amber from the sunset (while the other Win10 machines all pull the green). Again, not a major functional problem, but still something that fairly seriously impacts the aesthetics, which are more important to me than perhaps they should be. :-) I reached out to Nextbook customer service to see if they had, like an updated video driver or something to fix the issue, and what they're telling me to do is roll back to 8, make sure everything is totally updated, and then reinstall 10... ...so, that's what I'm gonna do! And I definitely want to do this before that rollback expires! :-) Cheers! Posted via the Windows Phone Central App for Android

UPDATE: I went back to 8 last night and am now back on 10. This was all successful in and of itself, however, the intended effort to fix the colors not changing with the background has failed. So we're back to the drawing board. Posted via the Windows Phone Central App for Android

I may need to go back on my laptop. I have been part of insider program. I stopped getting builds since Windows 10 RTM. But my system has become quite slow. Takes time to log in or show log in screen. Frequent hangs nd cursor lockup for few minutes. Is there a way to go back to Windows 8.1 by just uninstalling Windows 10?

One comment on Method 3, if you do this method, after you are back to W8.1, do a "REFRESH your PC without effecting your files" Why? After you roll back to W8.1, most of the built in scheduled tasks end up being corrupted and fail to run, which causes more issues later on. Trust me, I learned the hard way. OneDrive files quit syncing properly, among other things.

Upgrade wife SP3 to windows 10 and after not being able to resolve the wifi connection issues i converted it back to window 8.1. Now its been a few weeks and i would like to go back to windows 10 to see if the problem is resolved but it starts the down load and install then just boots back to windows 8.1. Very frustrating.

I have had sp3 since day 1 with no WiFi issues on windows 10.

I never "upgraded" to Windows 10 but this is a useful guide to people that don't want to be beta testers.

it's pretty good, no complaints from me

Mmmm... I was/am a fan of Windows 8.1 but I updated to windows 10 ,but in many ways it seems like a step backward. I know many people had a problem with windows 8.1 and so Microsoft had to do something ... I guess the learning curve was too much for some. I could roll back to 8.1 , but what would be the point in the long run.

Not all people can adapt to change. Soem people would rather stay with what they are used to and keep it until they die. They just couldn't learned something new and its just too much of an effort for them. Most people though specially the young ones love changes and love to learn new things. Yes, experience is different depends on the people, depends on devices and its specification.

I am very happy with Windows 10, but I keep having these small, horribly irritating bugs which are ruining the experience for me. Most annoyingly theres this bug with Realtek sound drivers, the audio in any kind of multimedia will stutter and glitch randomly every few seconds. I did literally everything I could, from clean driver installations to a clean Windows 10 installation, nothing helped. This is obviously Microsofts and Realteks fault, and I'm waiting for a fix so I can start using Windows again. Other than that, there's a few more things they need to fix, but besides this audio glitching issue I love Windows 10, I just can't really use it right now.

I am playing an MORPG game for more than 10 years now. I played it on XP, on WIndows 7, on Windows 8 and 8.1. However this game don't run properly on Windows 10. It keeps crashing. But heck, I wouldn't go back to Windows 8.1 for this. I stopped playing and just enjoy Windows 10.

After upgrading to win 10 I can't paly LOL and Mstar anymore. I want to downgrade to win 8.1 but I forgot my password. What should I do?:-(

Also there's certain games that I can't play.. like far cry 3. it lag everytime I want to play it. Somebody help meT_T

hi , the same happened to me , even i forgot my password of 8.1 what did u do? Am thinking of booting windows password recovery tool from usb when i reach the old password screen during downgrade any kind of help will be useful microsoft support team has no solution to this and they wont answer about password recovery tool because its againts their policies as it is 3rd party sotware

Don't understand why do people have an issue with windows 10 tablet mode? I use it on surface pro 3 alot. After the initial customising and working out the new stuff I find it faster and easier to use. Grouping stuff looks better and accessing settings etc is much better. Its more intuitive and friendly Imo.

Whelp, I think there may be some settings in work where testing windows 10 would neccessitate a downgrade back to windows 8 once done, but I doubt that there is much of that. Would like to see the numbers of people who have actually done this rather then why...

One must be logged in as an Admin user to roll back using Settings-->Update & Security-->Recovery-->Go back to Windows xx. This makes sense as you really don't want little Jimmy starting down this path. A standard user sees only the Advanced startup option on the Recovery page. This did cause some uncomfortable moments the other day in front of a group to which I intended to demonstrate the Go back... process (part way). --John (not going back and I liked Windows 8.1)

Hey all, Help! I downgraded from 10 back to 8 ( surface pro 3)and now everything i downloaded and installed from the windows store while using 10 is in limbo. I try to run them and a banner says the app can't open and directs me back to the store. it asks if i would like to try and repair it but nothing happens. So now these apps sit in my start menu, they won't open, selecting them to uninstall only brings up "unpin". i tried deleting it from the windows apps folder but there are files that i can't delete no matter what permissions i give myself and they don't show when i look for them at in c:\

Last night I reset my HP All-In-One back to Win 8.1, There were many errors on Win10 (wifi disconnection, intrnal error and rebooting by itselft etc) , Hp Suggested me to do factory reset.

Will my origional Win 8.1 key work if I downgrade from Win 10 after 30 days? I regret upgrading, edge browser can easily end up in a hijack loop and I have other issues, I get BSOD if I turn my screen off while PC is still on. Plus I just don't trust all the new spyware features and nothing has been able to convince me otherwise, even though I have turned them all off in the privacy section. But the Ege Browser hijack loop was the final straw. Got a virus pop up window with no buttons to cancel or leave the page, force closed edge in task manager. When I started edge browser back up it automatically loads the previouse session and goes back to the dodgy site. Hijack loop compte. Disconnecting the internet connection, ending task on edge browser and then starting edge withot an internet connection breaks the loop. But come on, this is a joke! The funny thing is I got the virus warning hijack while searcing for "roll back win 10 after 30 days", the irony!

Im certianly going to roll back (if I can, as its past the 30 Days...Crap) because, on One Desktop computer the Motherboard isnt Win 10 Compatible. On another, the Start menu/Search/Cortana wont come up ( Many Windows community fixes tried), the Personalize screen wouldnt open (That bug was fixed with a KBxxx), and the clock/calendar wont open...So that ones a shoe in to go back, its also after the 30day limit. Two notebooks, one has software and manufactures Gui's not compatible, the other also manufactures Gui's, but more to the issue is the notebooks (unchangable) video cards (onboard obviously ) are not supported, and I loose my multiple screen capabilities, or the drivers revert to Base Microsoft Video drivers, so again a total of 4 (four) systems to revert back to either Win 8.1 or 7... By the way... Win 7, Win 8, Win 8.1...... Win 10... where was 9? So like Microsoft had Said so profusely ..."That Win 10 is the most tested OS prior to Launch to date"....dosnt say much for their Beta testing. If I had someone in my IT and had (have) 4 out of 7 Systems go down, he would be let go for incompetence ....Nuff said... off the soap box and off to figure out how to save the systems...CRAP!!

i tried windows 10 five times now but still has a big bug. incompatibility with nvidia graphics drivers thats a few thousand users. before i upgraded from win 8.1 pro 64 bit i run sfc/scannow no issues found upgrade and microsoft keep trying to overide nvidia graphics certain components only. most people wont even know but if you run sfc/scannow it then shows corruptions in system files and it relates to a dll of nvidia graphics card microsoft have thr own driver for nvidia and it conflicts with nvidia drivers and causes some files to have wrong sha expected by microsoft and it does cause display issues at certain points. i also found once that apps started to stop working one by opne they failed. was told by microsoft if i had been using windows ten for over a month my windows 8.1 key would no longer work with windows 8.1 they also told me only option was to purchase a new operating system and gave me details to sales team this was information given by windows technical support. dont fix it sell it make more money even when it is microsfot that caused the problem. so be ware windows 10 could cost you more than you think. i am now happy back with windows 8.1 and staying this way. the option to go back to win 8.1 from win 10 still causes corruptions in win 8.1 afterwards. i had to do a clean install and start from fresh reinstalling every single piece of software and setting over 100 different software programs. all because microsoft cant get it right. that is why you need to go back to win 8.1 from 10 and why this is here. also if you wait too long it will cost you more money and microsot gain no matter what and will not support but charge to supporet bugs that are there own fault.

I Want to downgrade win 10 to 8.1 due to some technical issues..then can i get win10 update again?

Lol look at all those people getting their panties in a twist because people want to revert. Do you own or have stock in Microsoft? Doubtful. Here's my issue, I've gone to settings, updates, recovery, back to Windows 7. I took all the steps, answered all the questions, it restarted three times, I get to the login page and..... It's still Windows 10 Lmfao. Why isn't this working?

Windows 10 is a piece of grabage! Microsoft broke networking that use to work fine in 8.1 including its wokring with domain controllers!

"You can't go back on battery power alone. Plug in your PC and try again." Some one teach me how to solve this problem. My model is Surface and I went to Setting, Update & Security, Recovery then Go back to windows 8.1 and stuck

I own a small computer consulting company and wrote an article on this topic. Downgrading from windows 10 is super easy. http://www.1fixcomputermedic.com/tech_tips/3-simple-steps-to-get-rid-of-windows-10/ Hopefully this will help.

I downgrade from 10 to 8.1 in my HP Stream 8 tablet, now I can't run windows update.I tried reinstall from recovery option but no way.please help me what I do?(sorry for my English)

So, where there is no "Go back to windows 8.1" button, how do I downgrade?

its not showing the button get stared for windows8.1 downgrading from windows 10
Windows Central Newsletter
Get the best of Windows Central in in your inbox, every day!
Thank you for signing up to Windows Central. You will receive a verification email shortly.
There was a problem. Please refresh the page and try again.