Top 20 reasons why it's a good choice to upgrade to Windows 10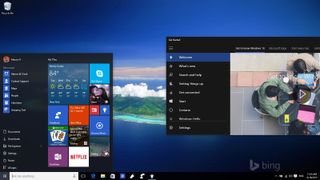 Now that Windows 10 is here, we can start saying goodbye to Windows 8. It's been a bumpy ride for Windows, but with the new operating system, it seems that everything is about to change.
Windows 10 is the next version that focus on familiarity and making the old new again while also improving on being a mobile operating system. The new version brings a countless number of features and enhancements that are likely to attract more users than Windows XP and Windows 7. The reasons go beyond what's new but because it's free too.
Today, Windows 10 has over 50 million installs in just three weeks, which represents almost five percent of the market. This figure means that people are adopting the new operating system faster than the previous version. As such, if you upgraded to Windows 10 or planning to upgrade, today I would like to share 20 reasons that make Windows 10 an awesome operating system.
Let's look at some of the reasons to make the move to Windows 10!
Top 20 Reasons to Upgrade to Windows 10
1. Windows 10 is free
It's completely free for the lifetime of your computer. How Microsoft can get you to upgrade quickly? Easy, by making it free. The new operating system is being offered as a free upgrade for computers running a genuine version of Windows 7 Service Pack 1 and Windows 8.1 Update for the first year.
2. One core that rules all devices
Windows 10 is Microsoft's dream of one operating system running everywhere. The same version of Windows 10 can run on a desktop computer, tablet, phone, and game console (upgrade coming soon). There is even a version of Windows 10 for IoT (Internet of Things) devices.
This ubiquity means that Windows 10 will look familiar everywhere, and it allows developers to create apps that work seamlessly across devices.
3. Windows as a Service
Windows as a Service (WaaS) is the idea of moving away from big releases every 2-3 years, making versioning a thing of the past. Instead, Microsoft is continuing to release new updates on a daily basis. That means instead of waiting to release new features through a service pack or major release, Microsoft will roll out new updates with patches and features as soon as they are ready. So, technically, Windows will never be considered a complete product, because it'll always be evolving.
For users it also means that there is only one-time upgrade, after installing Windows 10, your device is supported for the lifetime of that computer and phone at no extra cost.
4. The Start menu is back
Windows 10 combines the best of Windows 7 and Windows 8.1, and it brings the best of both worlds. In the new version everything will look familiar, perhaps the first feature you'll notice is the return of Start menu.
The Start menu is back, and the Start screen is gone. The Start Screen is still technically there, but not exactly in the same way. In Windows 10, Microsoft has combined the Windows 7 Start menu with the Start screen in Windows 8 to come up with new Start menu. On the left side of the menu, you see the elements taken from Windows 7 with a list of most used apps, access to locations, such as Settings and File Explorer. Here you have access to the Power options, and you can also access to all of your apps – just like you were able to do in the past.
On the right side, you'll see the elements that Microsoft is bringing from Windows 8. You'll get your Live Tiles with up to date information, you can also arrange tiles in groups, and you can even resize the Start menu depending on your screen resolution or use the full-screen mode.
Microsoft has spent a lot of time building the Start menu and as a result, we have a beautiful design and very customizable. In fact, the Start menu has already won the IDSA Digital Design Award.
Compared to Windows 8, Windows 10 is easier to navigate, there is no more friction moving between the modern and desktop environments, and Windows 7 users will feel at home with new changes.
5. Windowed apps
There is a new Store in Windows 10, and now apps float freely in the desktop, just like traditional desktop apps, instead of apps taking the entire screen. This feature is a great improvement over Windows 8, as it turned out too difficult for many users to multitask using different kind of apps. Additionally, there has been improvements on the Taskbar, but usability continues to be the same.
6. Cortana
Cortana beats Siri to the desktop. In Windows 10 one of the major features is Cortana, Microsoft's world first personal assistant, which now is part of the experience. Cortana is deeply integrated into the operating system, and even though you can't uninstall it, you can at least disable it. However, you may want to think twice before disabling it, as it can be a very helpful feature.
At the Taskbar, users will find the search box where Cortana lives, by typing a query you can quickly get answers, find files locally and stored in OneDrive. If you have taken a picture of a receipt or place, just type something you remember about that moment, and you'll see that image in the search results. You can also set reminders, send emails with voice commands, track packages and flights, and a lot more.
Also, Cortana is coming to iOS, Android, and Xbox one, so the assistant will be able to help virtually on any device.
7. Continuum
Windows 10 is a major upgrade for PCs, but Microsoft is also improving the operating system to work well with touch-enabled devices. With Windows 10, the software maker is including Continuum, which most people know as Tablet mode, and it's a feature that automatically switches the user interface from a mouse and keyboard to a touch-optimized environment.
Tablet mode is aimed to allow users with 2-in-1 devices to keep a continuity of productivity no matter what device you're using. The feature automatically kicks in when it registers that there is no presence of a keyboard and mouse. However, you can also enable Tablet mode manually, which will offer a very Windows 8 like experience with the Start menu and File Explorer going full screen.
8. Task View (virtual desktops)
Yes, "virtual desktops" are now part of Windows 10. Virtual desktops are not a brand new idea, Linux, and Apple's Mac OS X had this feature for a long time. Even Windows XP had an add-on to enable virtual desktops. However, in the new version Microsoft is including Task View, which is a new feature that allows you to manage easily all your running apps.
You still can use Alt + Tab to move between apps, but using the Windows + Tab shortcut (or clicking the second button from the left in the taskbar) gets you access to the new Task View. This view displays all your current apps organized by relevance. If the desktop is getting cluttered, you can always click the + New desktop button on the bottom-right corner to create a new virtual desktop and group apps by the task at hand. Virtual desktops help you to keep things organized.
9. Snap Assist
If you liked to snap multiple apps to the either side of your screen in Windows 7, you'll love Snap Assist in Windows 10. The improved feature now allows you to snap up to four apps in your screen. When you snap an app, Snap Assist will display related apps you might want to snap next. A very handy tool!
10. Action Center
Similar to Apple's OS X, Windows 10 includes a new Action Center that makes notifications a whole new experience. You can access Action Center by using the icon on the notification area, or swipe from the right.
Action Center offers two functions: it organizes all your notifications from apps, including Mail and Calendar, and system notifications. It also allows you to access the "Quick actions" button to control various system settings with a touch of a button.
11. Windows Hello
Windows 10 packs some new features that make the operating system very secure, but Hello is perhaps the feature with the most buzz. Windows Hello is a new feature that allows users to ditch password and pins finally. Instead, the OS features native biometric authentication using a special camera with infrared sensors, such as the new Intel's RealSense 3D camera for facial recognition.
You can also use a fingerprint scanner to authenticate users into Windows 10 in a snap.
Computers need to be equipped with such technology, meaning most current PCs in the market don't support Windows Hello face recognition. However, shortly Windows 10 users will have the new feature on new PCs in fall of 2015.
12. Windows apps
In Windows 10, Microsoft is introducing a new app model referred to as universal Windows apps. These new kind of apps are based on the modern-styled design found in Windows 8. But now there is a new version, which also allows developers to build apps and target them to all kind of devices, including PCs, tablets, phones, and Xbox.
Unlike the modern Windows 8 apps, the universal apps for Windows 10 work across devices. Developers only have to write the code once. Apps run fully windowed, and they are mouse and keyboard friendly.
13. Microsoft Edge
Internet Explorer is finally gone. Well, not entirely, but it will be soon. Instead, the software giant is introducing "Microsoft Edge", the new web browser for Windows 10. While the new browser is far from complete, and there are many missing features, Edge is headed in the right direction.
The new browser offers the latest features on web technologies, and it includes a nonintrusive version of Cortana to help when you need it. Users can even take advantage of web notes, which allows you to annotate web pages and share them with socially or privately with other people. Also, you can save web pages for later viewing with Reading List, and Reading View lets you declutter web pages by offering a PDF-like view to read web content.
It's worth noting that the experience using Edge will vary from computer-to-computer. If you have a fairly new PC, you'll notice that the browser works quite alright, but on a two-year-old computer or older, Edge will be on the slow side. Furthermore, at this time the browser doesn't support extensions, but this ability and more are coming in a later update.
For those Google Chrome or Mozilla Firefox fans, the chances are that Microsoft Edge will not convince you yet, but the browser is expected only to get better. However, for users who want to stay away from Chrome eating up all the computer memory or for those who simply don't like Firefox, Edge has become another option.
14. Settings app
Another feature worth upgrading to Windows 10 is the Settings app, which is the new unified interface to configure the operating system. The Settings app is an upgrade to the PC settings in Windows 8.1 and it's what is going to replace Control Panel. However, not every setting has been migrated to the new Settings app. As such, you can still find the old Control Panel if you wish to change some of the Windows 10 setting through that interface.
The Settings app still needs work, but it gets the job done. Compare to Control Panel, non-technical users will find the new interface easier to use. Also, the Settings app works across devices. As a result if you know how to access preference on a Windows 10 PC, you also already know how to change the preferences on a Windows 10 smartphone or tablet.
15. Push button reset
One good feature in Windows 8 was the ability to refresh or reset your computer as needed. If you bought a branded PC, the feature would make it a lot easier to restore your system to the factory defaults. However, if you have a custom install of the operating system, every time you need to reset or refresh your computer you are alerted of missing files. Consequently, you couldn't use either feature because you need to provide the recovery files.
In Windows 10, Microsoft is changing how this feature works. Now, the feature is called "Reset this PC" and it allows you refresh or reset your computer from one place. Best of all, the operating system can use the files already on the computer to reinstall the operating system, as such (technically) you won't be prompted anymore to supply the installation files.
16. DPI scaling per-monitor
The new version of Windows finally supports DPI scaling settings per-monitor. Although, Windows 8.1 did a good job automatically adjusting the DPI (dot per inch) settings, it only supported scaling for your main monitor. For example, if you had a laptop with a high resolution, and you connected to a 1080p external monitor elements did not look correctly, and there was no way around it.
Now Windows 10 supports DPI scaling on all your monitors, and the magic happens automatically. Of course, you can always change the settings to your needs and per-monitor.
17. Xbox One game streaming
The new operating system is also built for gaming, not only you're able to play your PC games with higher performance improvements with DirectX 12, but you can also play your Xbox One games too. Thanks to the Xbox app, you can remotely connect to your Xbox One console and stream games right to Windows 10. If you're playing games in the next room, you don't even need to connect your Xbox One controller to Windows 10. However, if you are out of range, you can connect the controller via USB to your computer because the driver comes bundled with the operating system.
Xbox One game streaming to Windows 10 is particularly useful in a house with multiple people. If someone else is using the TV, you can still play your games over your local network through your Windows 10 device (assuming cable TV is not routed through the Xbox).
18. Storage management
In Windows 10, Microsoft is making many improvements regarding storage. For starters, the new version has a much smaller footprint for installation. If you're making a clean install, you'll notice that Windows 10 takes a lot less space, often less than 10 GB.
Through the Settings app on System > Storage, users can easily manage their storage space, and move default saved locations to an external hard drive. You can even click on each hard drive to view what's taking up space in your system. Very useful information and very easy to use for beginners.
19. If you have issues, there is the Contact Support app
Even though there are many tech savvy users, there are still many others that will need help using Windows 10. This time around Microsoft includes the Contact Support app that makes it super easy for users to get servicing for apps, Windows, and of course billing.
Furthermore, there is a Get Started app too. If you remember Windows 8 didn't include a guide at launch, and this was a problem, as many users couldn't figure out how to do a lot of basic tasks. In Windows 10, you have the Get Started app with useful information about the new features, how to get help, and how to use the new tools in the operating system.
20. Upgrading to Windows 10 is easier, and you can roll back
Although, no upgrade can be perfect when you have to support a large variety of system configurations, in comparison with other versions, Windows 10 is much easier to upgrade. Additionally, you can "try" the new operating system. If you don't like it, you have a month to roll back to your previous version of the operating system (another thing that wasn't available in Windows 8).
Wrapping thing up
While the new operating system is still in its early days, it's already very good. Windows 10 includes a handful of visual and under-the-hood improvements, some new apps, and Internet Explorer is finally going away.
Yes, the operating system isn't complete, but with Windows as a Service, you can expect new features and patches to roll out quicker than before.
What do you think about Windows 10 new features? Do you have a favorite feature or change? Let us know in the comments below.
More Info
For more basic info on Windows 10, including some tips and our vast array of how-to articles, make sure you head to our main Windows 10 help page or jump into our forums!
Windows Central Newsletter
Get the best of Windows Central in in your inbox, every day!
Mauro Huculak is technical writer for WindowsCentral.com. His primary focus is to write comprehensive how-tos to help users get the most out of Windows 10 and its many related technologies. He has an IT background with professional certifications from Microsoft, Cisco, and CompTIA, and he's a recognized member of the Microsoft MVP community.
Great article to share when people ask "What makes Windows 10 so great anyway?", which sadly I see a lot on internet forums.

the upgrade is also free for pirated version but seems to be not for all , a friend of mine has 4 pcs with pirate windows 7s and he updated all his machines and the windows is activated

Your 'friend' should have his hands cut off for being a thief

Going ISIS on us are we :)
My friend did that for Windows 8.1
And not much stealing. You can't steal software. Posted via the Windows Central App for Android

Legally its called something else. Morally its the same. Getting something for free and the owner of the stolen item doesnt get any compensation. So really, you can steal software.

But why do articles like this say, several times in this case, that you only get W10 for the 'life of your computer'? This is ONLY TRUE FOR OEM VERSIONS! Retail versions can be moved between computers so an upgraded retail edition is not limited to the life of the computer. If WC articles keep making this error people will start thinking they've been downgraded to an OEM edition of Windows.
Also, this article does make mention of an improved experience on mobile and talks about tablet mode being a reason to upgrade? Somewhat completely and disappointingly inaccurate there. Better to list the down sides of a W10 upgrade separately so as not to confuse. Otherwise folk will expect a touch experience that's even better than W8 and will find out differently only after the whole install process.
6/10, could do better.

Most users do not have retail versions nor is it a major factor in upgrading.

"WC articles keep making this error people will start thinking they've been downgraded to an OEM edition of Windows."

Is there any actual evidence that people think this or that we are causing it? I have not seen it. In fact, the biggest issue right now is OEM license upgrades fail to activate on a clean installed system. Something we are looking into and seems more pertinent.

I can only be happy that all 4 of the OEM machines I upgraded and then did a clean install activated right away :)

Yes I can agree with you since I have also have System Builders version of Windows 10 Pro

It is a good list, but you forgot to list the most important reason: 1. Minecraft: Windows 10 Edition So, let's revise this puppy to the "Top 21 Reasons to Upgrade to Windows 10" and slide everything down a spot. (Props on noting the DPI scaling per monitor, though).

I'm genuinely curious, why do you see the Minecraft on the Windows Store as the #1 reason to upgrade? I mean, it's not bad, but it's based off of the Pocket Edition, which means that it doesn't include a lot of features that the Minecraft community love (my 11 year old cousin, for example, said it was missing a bunch of spells or some type of stone, so he was going back to the desktop version). I'm sure in the future (like when it comes out of beta and gets more features), it will be nice, but I'm curious why you think it's #1.

Well, I was jesting. That said, I do think it is a valid reason to upgrade, based on the upside it has compared to the Java version, mainly, convergence with other versions of Minecraft (e.g. I'm sure it will be the basis for the HoloLens version of Minecraft) and cross-platform play with Pocket Edition. Yes, it is missing features now, but it's in beta. Those features will come.

Oh, I thought you were serious lol. You commented the same thing on my post below, so I thought it was a big deal.

ha ha, sorry. I'm very serious when it comes to jesting. I'm committed to it ;)

My kids play Minecraft religiously and they say the win 10 Minecraft beta is totally different and they don't like it. Posted via the Windows Central App for Android

Which version of Minecraft do they play? Regardless, I wouldn't say it's "totally" different from any other version. They're all more similar than dissimilar. That said, Minecraft: Windows 10 Edition is in beta, so it shouldn't be held against other versions, and it also has more potential than say, the 'original' PC version because it's built on C++ instead of Java.

I keep reading about a W8.1 requirement, yet my system upgraded straight from 8 (.0 that is), with no questions asked during the upgrade or afterwards

Well theres also the small bonus(that w8 users have had) which is that basically mse is basically builtin

Hi Dan, Although I agree with the many reasons stated above some of them are valid only for "the big countries". What do I mean? 1. Cortana (IMO the biggest gain compared to Windows 8.1 which I loved on my ThinkPad Yoga) is only available in a select number of markets so I am not able to use her even for basic stuff like run a program, send an email, check the weather an so on. The stupid thing here is that if I change the settings of my laptop to trick it into believing I am in the US Cortana works great a great deal of things except checking movies, restaurant and other stuff which I really don't care about. 2. Groove and Movies & TV are still linked to Xbox Live and the service is only available in 42 countries. So I have a UK account on my Xbox 360 to be able to use it and play mulplayer games and so on. I get that when the service is for the Xbox (regardless of version) or for a software with limited usage like Windows Phone it is fine to limit the regions where it is available. When trying to upgrade a billion machines all around the globe it is just plain shortsighted. Apple saw that so when the iPhone to over the world they made sure that the possibility to buy music and movies from iTunes would be available worldwide. 3. Continuum is great but it is not correct to advertise it solely as a Windows 10 feature as it requires a new Windows 10 phone in order to be used. Unless the world is taken over new phones with Windows 10 it will be useless. (I'm excluding the option of Micrsooft making this feature available to iOS or Android over an app which looking at Cortana might also happen) 4. Windows Hello is great but (1) for laptops with fingerprint readers it is already there since Windows XP although through additional software and (2) the camera unlock requres the latest and greatest RealSense camera which is currently available in around 10 machines. The rest will have to buy a new machine which (I would expect) would come with Windows 10 preinstalled. 5. I tried using Edge as my default browser for a week but after that I went back to IE11. The title and address bars in IE11 take less space than Edge (snapped them to confirm) and there are some pages which crashed under Edge but kept running normally under IE11. Overall it still feels more like a beta rather than a finished product. Don't get me wrong, I'm quite excited with the new OS and already upgraded 7 machines to it. My frustration comes from the fact that it is quite US (and the big 5) centric when it comes to services availability and there are many areas where it still feels like I'm running the Slow Ring preview version rather than a complete product like Windows 7 that will get new features and the normal patches each Tuesday. Cheers!

3. Continuum is great but it is not correct to advertise it solely as a Windows 10 feature as it requires a new Windows 10 phone in order to be used. Unless the world is taken over new phones with Windows 10 it will be useless. (I'm excluding the option of Micrsooft making this feature available to iOS or Android over an app which looking at Cortana might also happen)

Continuum doesnt need a windows phone, continuum is also when windwos switches between tablet and deskop mode for example on the suface when a user connects/disconnects a keyboard & mouse so it can be used soley on windows 10 without a phone.

I agree on this one but my ThinkPad Yoga with Windows 8 was already able to change my experience through using an included Lenovo app. For example: going to the Desktop when closing an app while in laptop mode but going to the Start screen when in tablet mode. I get that this was not included in Windows and was not as extensive as now on Windows 10 but it was already a feature. IMO the big Continuum feature will be the ability to use my phone on a full HD or 4K display and be able to do presentation and other actual work.

But 95% or Normal users are conservative (inc billions of desktop Enterprise users), and are not convinced by "Changes for Changes" sake, and simply see their computer as tools to get work done. It that regard, not many of these features are convincing or compelling to justify change from 'plain old' Windows 7. Edge does not run Microsoft Silverlight (c.f. Line of Business Apps) It is only us techies, that get excited by all these little gimmicks. And I am still on Windows 8.1 on my main desktop development machine (W10 on old Laptop) and will not be updating my Tablet to Windows 10. Wiindows 10 is really a play to retain Enterprise and new PC buyers in two to three years time, when Windows 7 going out of support. (albeit Windows 10 IS more interesting than MacOS and Linux but not as compelling as iOS or Android) BTW if 50 Million = 5%, then 100% = 1000 Million, 1 Billion which is only 50% of Satyas 2 Billion in two years migration Target ?

Tell me about it, but I'm really not surprised. I knew I was going to see a lot of articles discouraging people from upgrading for really no good reason. I really don't know if we should have expected to see more. The criticism is semi-quiet because people like to jump on a bandwagon. There are too many being positive on 10, so some of them don't want to sound like a silent voice in the wind.

This isn't buzzfeed, stop pretending to be, we want proper articles not this "Top X reasons" "you'll never guess what happens next" blabla clickbait oneliners

Overruled. This is a very good article for those who want a summarised list of what is new/worthy in the Windows 10 upgrade. Also, please use "I want proper articles..." and not "we". Your argument is not any stronger in using we. Although I am proud of our 10K word review, the reality is not everyone is going to read that, especially casually. This is how we break it down and it is simple internet economics that people appreciate brevity, conciseness and the ability to skip around.

I like these articles as it gives me a reason to check out Windows Central every day :)

I shared this article a half hour ago with my daughter and best friend and they are both currently upgrading. To see the reasons listed as in the article is extremely helpful. Many people are confused about the new Windows. Thanks from me for writing it.

Haha. I need to find a way to use Overruled in my conversations. Love it.
I like this article because it's very straightforward. I'm usually so exhausted and brain dead by the end of the day when I have time to read articles that I end up avoiding anything that looks like it may take too much focus. This format gives me lots of information in a very organized, tidbit sort of way. I like it. Also, I saved it because while I don't care for 10 as my regular OS for now, so I moved back to 8, this article is a good reference to keep track of what things I really like about 10, since I'm sure I'll switch back to 10 soon.

Agreed, the masses and most of us with little time need a TL:DR version of the Win 10 review. I still haven't made it through that bad boy so I was going to suggest it for next month's book club reading. Posted via the Windows Central App for Android

Personally, I like these articles. Mostly because I can refer other people to them, rather than explaining what the differences are between x & y, for the millionth time.

Thanks, your comment is appreciated. Although, there are a lot tech enthusiast out there who already know what's new, we want to make sure that everyone knows that there are features and changes worth to upgrade. Thanks,

I know, right? What the fuck happened to this site? A year ago I used to check for news many times a day, nowadays I just check once a day (if ever) and just scroll to see if anything worthwile about windows 10 mobile has come up.

And yet we have doubled our traffic in one month meaning our articles are resonating with people and helping users. We are not Windows Phone Central, we are Windows Central. When Windows 10 Mobile ramps up and there are actual things to write about, we will dominate that topic as well. For now, we are letting Windows 10 for PC shine as it should.

Hmm. How does this article help anybody? To understand why Windows 10 is worth the trouble of upgrading, MS has explained them on their site in a easy to understand way. This article to a new reader just seems like fanboy stuff made to attract attention and gain more MS attraction.
As for writing about windows phone or win 10 mobile (or whatever it will be called next year), you guys do a pretty good job of covering that area of windows. But when there's one important article hidden in a pile of "HEY LOOK HOW COOL WIN 10 IS," articles, it gets so annoying because we already know how cool windows 10 is. Maybe I'm overreacting, but I still think you guys need to tone it down a little bit.

I am not going to debate this stuff. I see the traffic, I see the search inquiries, I know what people are looking for and I am guessing you do not have much experience in running a website dedicated to computing technology. I appreciate you have an opinion on the matter, but it will remain yours and not ours as the editorial staff. You just have to realize and accept that not every article we write you will agree with or find interesting. I am fine with this and you should be too.

You are annoyed because you are a regular visitor here and are already knowledegable about a lot of these things. Many of the how to articles Windows Central post is about things I already know how to do. However, Windows Central isn't only about people like you and me. There are people who will do a search for windows 10 or windows 10 settings and they will see the links to the windows central articles. THey will click on those articles and get informed. That is also the purpose of this site. If you do a search on windows 10, you will see many click bait and FUD articles about security issues and install problems. Most of those articles are posted by 3rd rate sites that copy and paste from other sites. Occassionally, you see writers from mainstream press sites writing tech article when it's obviousl they don't have a clue what they are writting about. They saw some of the FUD article and decided they needed to write a similar article. It's nice that at least in between all the crap, you will see article from windows central, Thurrott, and Tom Warren (the rest of the Verge writers really seem to have limited knowledge about anything related to Microsoft).

I like this article. Very helpful. Posted via the Windows Central App for Android

You say you don't want to see articles like this, yet you did read it AND took your time to add a comment, thereby providing more traffic, viewcount and engagement to this post, which will likely result in more posts like this in the future. I hope you see the irony.

Yes I took the time BECAUSE it's getting annoying to see these articles.
And I didn't even bother to read the whole thing before commenting because I knew it will be filled with stuff I already know and some Windows praises.

Possibly because it will get Indexed, and probably be seen in any Google search results, for anyone interested in good reasons to Upgrade. Which is as good a reason as any.

I think these articles are great. I've already upgraded to W10, but it's a convenient, easily readable, summary I can send to family members or friends. I've also really been enjoying the "How to do X in WIndows 10" articles. Some of the tips I already knew, some I didn't, but they're a very nice way to ease people into using the new OS.

Yeah Daniel, but stop being such a MS-fanboy ! I am a Windows user for more than 20 years by now and I mostly WORK with my puters (desktops and laptops). None of all your 20 admiration points really fit me. Windows 10 is a pure consumer OS that comes with Metro-default apps that are really way below the quality of what I use for years already on my devices. I have installed it in a dual-boot config with Windows 7 (because it si free) but I don't do anything with it. I go on with Windows 7 : a handy, user friendly, good looking OS for people who actually WORK with their PCs.

(a) I didn't write this article (b) name-calling is not constructive and also a cheap shot (c) Your issues are your issues, not ours (d) it's true, not everyone agrees on things on the internet (e) it's fine if you do not like Windows 10

You guys rarely ever give an honest criticism of Windows, that could actually draw MS's attention and make them care. All I see is unnecessary encomiums showing Windows to be the next best thing since sliced bread, when clearly it has issues that need fixing.

I'll give you the honest criticism of Windows 10 you seek. 1. It's way better than Windows 7 (but so was Windows 8.1). 2. The new Start Menu is an improvement over both Windows 7 and Windows 8. 3. Cortana integration is boss. 4. DPI scaling per monitor is what's up. 5. Tablet mode and touch gestures in Windows 10 is inferior to Windows 8. 6. Microsoft Edge has potential but has a long way to go until. Thankfully, IE 11 is still solid in the meantime. 7. Xbox One streaming is legitimately awesome. 8. OneDrive in Windows 8.1 is far better than in Windows 10. Should you upgrade? Possibly no if you're a tablet or 2-in-1 user who uses tablet mode a lot. Otherwise, definitely yes. You're welcome.

Hmm, your 6th and 8th points clearly state where MS has screwed up. I'll admit didn't read your reply correctly the first time, because I thought it was just another fan reaction. Criticism in my dictionary, is not obsequiously agreeing to whatever MS is doing, which is what I initially thought you wrote when I skimmed over your comment. Hence the edits, sorry about that. I know what's good in win 10, just want this site and its readers to fully acknowledge the bad and stop defending MS everytime.

This: "I'll give you the honest criticism of Windows 10 you seek. 1. It's way better than Windows 7 (but so was Windows 8.1). 2. The new Start Menu is an improvement over both Windows 7 and Windows 8. 3. Cortana integration is boss. 4. DPI scaling per monitor is what's up. 5. Tablet mode and touch gestures in Windows 10 is inferior to Windows 8. 6. Microsoft Edge has potential but has a long way to go until. Thankfully, IE 11 is still solid in the meantime. 7. Xbox One streaming is legitimately awesome. 8. OneDrive in Windows 8.1 is far better than in Windows 10." ESPECIALLY THIS: "Should you upgrade? Possibly NO if you're a tablet or 2-in-1 user who uses tablet mode a lot. Otherwise, definitely yes. You're welcome."

"Cortana integration is Boss". Well, it is available in so few countries that it is boss for a very limited number; therefore not really a game changer world-wide is it? Rather like the "Windows Hello" feature, that holds real promise but almost noone yet can actually ues.

Whining isn't equivalent to honest criticism. If the writer feels like Windows 10 is worth upgrading then it makes sense for him to share his reasons why. I'm not sure how that bothers anyone. Besides, when you read the title you knew what it would be. Scrolling by is always an option. Posted via the Windows Central App for Android

I'd like to see a counterpoint "Reasons why you shouldn't update to Windows 10". My main reason why not is loss of Windows Media Center. Posted via the Windows Central App for Android

Why can't a W10 PC be used for work like a W7 PC? I'm curious.

It has Universal apps that Windows 7 can't run :)

Me too, I use a Win10 laptop everyday for coding, db admin and sys admin at work. What's he doing that can only be done on 7?

So, it comes with metor apps that you can easily remove (one of the big advantages of metro apps is that they are easy to unistall and are more secure). You can easily change teh default apps to launch the x86 apps you use. Since all your windows 7 apps work with with windows 10, there is no reason why you can't do your WORK on windows 10. Many people were asking for virtual desktop because of their usefulness in WORK situations. Snap assist and the better multi-monitor support is also useful for WORK situations. Cortana can be used to launch apps fast and find files. I use that regularly for WORK as well. You haven't really listed a single thing in windows 10 that would limit it as a work computer. As a matter of fact, I believe it was Bank of America that just announced it will be converting their computers to windows 10. You think they don't get real work done? The article Daniel wrote was more about he consumer focused new features, since that is who reads articles on this site. However, there are many enterprise facing features and security improvements as well. From what you wrote, it sound like you issue is that windows 10 isn't "good looking" enough for you. That is an aesthetics thing and has nothing to do with functionality. If how something looks is more important than how it works, you are free to keep using windows 7. PS who the hell uses the word puters?

Stop complaining. There's nothing wrong with this article and the title isn't clickbait because it accurately describes what the article is about.

Um, nothing wrong with it? 'Completely free for the lifetime of your computer'... really? So my retail edition has somehow been downgraded to an OEM edition, has it? Hmm. I'm not sure that constitutes as 'nothing wrong'.

You do realize that most people have an OEM release and that retail editions are fewer in number. Also, while it may be true (TBH, I am not sure), we are targeting the broadest audience. Most people are not moving their HDD or OSs between computers. When you buy a computer today, unless it barebones from NewEgg, you are getting an OEM license.

These articles are brilliant for those who find them helpful. In simple and easy to read terms many will find this helpful as they may not be IT professionals or geeks and it will perhaps help then make a decision to upgrade. There are many more Windows 10 articles too for further information, this being one of many. Thanks for this and all other Windows 10 articles, I have found little gems of info in some.

If fact most licenses from newegg are OEM.

True, although there you can build a barebones system with a clean HDD too, requiring a builder version of W10.

He does make an interesting point, though--one that I was unaware of. I have the Pro edition of Windows 10 that I originally bought as Windows 8 Pro. If what he says is true, that means that, in the future when I buy a new PC, I can buy the cheaper "Home" edition and then replace it, for "free", with the Pro edition that I already own on my current device, right? That seems like really useful information, if true. I'd like to know more about that. I didn't even know there was a difference between an "OEM edition" and a "retail edition" until I read AndyCalling's comment, and I am pretty well informed when it comes to these things, so it might be something that could benefit the rest of Windows Central's readers. Sounds worthy to be elevated to its own article. There's no shame in taking a reader tip, crediting them, and then expounding on it.

As long as you call into MS and say your old PC is dead and you're transferring your retail license to a new system, it is possible and I have done it many times. It's even possible with OEM license IF you're prepared to stretch the truth. My WIndows 7 OEM license was moved through 3 different motherboard/processor/gpu setups in its life.

I doubt many people buy Windows 10 Retail version when they can get it for free. If you have PCs that came with XP or Vista, you might as well get new PCs that come with OEM Windows 10.

Actually, nothing was downgraded. If you bought a retail copy of windows 7 or 8, you can install windows 7 or 8 on a new computer. What makes you think you are entitled to a free 10 license? OEMs and Enterprise customers are still paying for windows 10. Microsoft is providing a promotion to upgrade current computer. That doesn't mean you are entitled to install windows 10 on a new computer you built a year from now. Microsoft hasn't really elaborated on how it will handle retail copies. My guess is that you might be able to call them and have the new install activitated. However, if they say no, you really can't complain because you never actually bought a retail copy of windows 10. You bought a retail copy of 7 or 8 and that is what you are entitled to install on a new build after the promotion expires in a year.

You don't have to read it!

What's with the trend of legitimizing a personal opinion by attaching "we" to complaints? YOU associate it with Buzzfeed and don't like it. The ME part of "we" disagrees. Posted via the Windows Central App for Android

Maybe it's the.. umm.. "royal we"? =P

But what if when you try to upgrade and it says "something happened"?

Change you pc region to USA

Yup, that did the trick in my case.

Best thing to do is uninstall any antivirus/ internet security program and restart computer. After that try using the Media Creation Tool

To make it a well rounded, informative article it would be great to see a few points about what's not so great/ things to know (Data collection, windows update control, UAC requirements, etc)

That too is in the works. We only have so many writers/time ;)

I hear you, but my personal opinion (and what I think others want) are objective articles. "Top X reasons" articles without the not so great things read like advertisements / fan boy biases. It discredits your site without regard for your time constraints. Publish less often but with more comprehensive coverage?

As much as I'd like to agree with your point I've done a 180 on this. I use to attempt to call out the writers on this site for not calling out Microsoft on it's shortcomings. But the more sites i read it's easy to find many negative stories about MS. There are plenty. And some sites only write wonderful stuff about iOS/Android and crappy things about MS.
--------------------
So, I've come to the realization that it's ok to be PRO Microsoft at this site. Give me the good things that other sites wouldn't even bother to share, because they are much more concerned with the negative aspect.
--------------------
So no! I don't agree with your ascertion of "fan boy biases" on this site... even though I once held those same beliefs. I now see the value of a "PRO" Microsoft site. It provides hope that the product your using is a great one. But if it's negative you want go read BGR and many others... my 2 cents.

I wasn't calling anyone out or accusing this site of being fan boy. I said that one sided stories come off that way and take credit away from good articles. WP certainly favors windows-as they should-but I feel that you become a more useful resource and get more accolades when you cover both sides-at least to some degree. I'm an MS fan, but I want to hear about what's not working too.

""Top X reasons" articles without the not so great things read like advertisements / fan boy biases. It discredits your site without regard for your time constraints." Forgive me for interpreting this as calling out. Because they didn't write anything about "...not so great..." it leaves only one conclusion. As I stated you can visit the myriad of other sites and you'll find easily the things wrong with WP10. I know because I read them. And that's not to say those writing "negative" articles about W10 are wrong. I'm just saying I've come to appreciate this site's positive writings about MS without all the negativity. Because I can certainly find the negative elsewhere.

Yes, like why does Cisco IPSEC VPN, not work? I use my computer to connect to work computers. I have had to revert back to 8.1. Ith worked just fine until the Las three or for preview builds.

Interesting. Although these are user-specific scenarios that are either hard to replicate or even identify (none of us here use that, for instance). Certainly there are still issues with Windows 10. Our job, which is rather difficult, is to quantify those and rank them by how widespread the issue and number of users effected.

Yes but Dan, tablet mode. That affects everyone using anything other than legacy wimp systems. A hugely wide spread issue. OneDrive, another one. There are so many. W10 needs big caution signs right now, and really ought to come with a 'Men at work' construction sign wallpaper as default. If users rush to install W10 today they will not exactly get the class A experience yet. Hence the year long upgrade window, which might be worth encouraging users to take advantage of until W10 has had a service pack or two (or a major revision for all touch devices...).

So about tablet mode...this really comes down to opinion, in my opinion. I use tablet mode all the time on my Surface 3 and Surface Pro 3 and like it a lot, actually. Cortana, Action center, the apps, the look... I'm not saying tablet mode is 100% awesome, but I definitely disagree that it is an automatic reason to pass on upgrading. I prefer Windows 10 on my Surface 3 to 8.1 as do many others. This is why it is hard for me to come down on this topic in saying "OMG tablet mode is terrible".

Even if you do think that (I am surprised though...) you must have noticed the lack of options? All the stuff people regularly complain about having been stripped from tablet mode could have been retained as options without even being noticed by those who prefer the scaled back approach to touch. That cannot be a plus however you see it.
Even when using the desktop, I have the most precision of precision touch pads available for PC home users (the Logitech T650) and touch is just pathetically broken. So it's not just a tablet thing.

Should people update to Windows 10 and not like it in the current state they can roll back. It's easy to do. Should they want to try again after the next major update, they can.

Why doesn't desktop have File Explorer app like Mobile? Using explorer.exe with touch has always been painful. Windows 10 explorer seems worse in some way than 8.1 but I can't quantify. I have small~ish->normal sized fingers and the touch targets in modern apps are too small in 10. Until Redstone, I cannot advocate upgrading to 10 if you're touch first. If you want the free license, my advice is to wait until day 364 to activate within the first year.

I thought there was a section in the settings to connect to work computers. I think it is called WORK ACCESS

Maybe you should contact Cisco.

Actually, that would be a different article with a different title. An article about reasons to upgrade does not need to be "well rounded" how you are saying it. That would be confusing. A separate article about reasons to wait or not upgrade at all might be worth a writers time, but I don't think those reasons need to be in this article. Posted via the Windows Central App for Android

I'll update once more bugs are squashed. I have a year, I'm in no rush.

You are right!. Wait for few more months before you upgrade. I upgraded my ASUS laptop to Windows 10 two weeks ago. I like Win 10 a lot. But there are few issues. a) Slow boot up times. takes 2-3 minutes to boot. Win 8.1 booted in seconds. b) There are lots of bugs still in the OS like a) Pinning and Unpinning doesnt work sometimes, Mail app crashes and not responsive occassionally.
b) Action center takes minutes to open up. c) and many others. My ASUS PC is i7, 64 bit, 8GB RAM and 1TB HDD. I am speding countless times to update my ASUS drivers to boost the boot up time. But nothing is working so far. I am sure all these issues will be addressed subsequently, but if you are not in a hurry it is safe to wait for few more months before you upgrade.

Certainly it is dependant on hardware. Rule of thumb is the newer the device, the better the upgrade experience. Sorry to hear about your issues, hopefully they will be resolved.

Did try try a clean install?I did a clean install on 8 devices including a tablet and have had 0 complaints

No, it was not a clean install. Installed it over 8.1

I am pretty sure your boot up time would be normal after a clean install, meaning boot from ISO/USB and have the option to partition the drive. If you just go with the 'keep nothing' option, you are left with all the rubish from your previous installtion, still on the disk even though the programs are not present in an installed sense.

Hi Daniel, My ASUS laptop is hardly a year old. Came with Windows 8.1. My Windows 10 upgrade experience was smooth as butter. But now using Windows 10, facing these teething issues. I will try doing a hard reset as suggested by others and see if that solves this issue. Thanks!

I know this feeling. Radeon 3200 in an HP all-in-one cannot do hardware acceleration. green video players everywhere and basic skin which makes 10 look terrible.

Amazingly I (clean) installed on my wife's 7ish year old Dell XPS, and found afterwards not one device was missing a driver. On my 2 year old Lenovo, was missing the usual strange card reader drivers. So you can be lucky...

I also had those problems until I did a clean install of the OS using the Media Creation Tool. Now my HP Elitebook is working faster than ever before. Oh and make sure to go into the BIOS and turn on UEFI BOOT MODE

Thanks! I will try it out.

My Dell Inspiron 15 screen used to flicker a lot which gone after upgrading to Windows 10 pro!!!! :)

This is slightly off topic, but the title reminds me of a CNET article where they had "9 reasons to upgrade to Windows 10" and I was like "really? 9??? You had one job" lol

lol, although there are reports that using odd numbers for those articles do better for SEO, so it was likely on purpose.

Well, if that's the case, perhaps Mauro should've had 21 reasons to upgrade to Windows 10 lol

Ironically, it was originally 19 reasons but he came up with a 20th ;) In this case, the content drives the number and not just pure SEO considerations :P

Go back to 21 reasons! Add in Minecraft: Windows 10 Edition! Es numero uno!

Can we get an equal top 20 reasons not to upgrade as well? I mean just to be fair.

1. You don't like free stuff 2. You don't like new stuff 3. You are stuck in the past 4. You wear a tin foil hat 5. Your PC can't handle it ........ and more

6. You have a modern touch device and have moved on from legacy wimp systems...

7. You're very paranoid about Windows 10 spying on you.
8. You were scared off when you heard about pirated apps being disabled, because a few apps and games were of course pirated.

And you didn't bother reading the more informed reports were it was explained why both of these privacy issues are over blown.

@Zeroplanetz probably has computers running Windows 95

Lol my PC beats out a lot of peoples on here. Not worried in that department.

What about the price of it? Will it still be free next year, one year after release?

No. It will be $119.99 for home and $199.99 for pro.

Should rename 12 to universal apps, now it has the same name as 5 which is"windows app"

The term Microsoft uses is "Windows apps" in general for all Windows 10 apps. In fact, it's actually called Universal Windows Apps (UWA). Universal describes what they are, but their "brand" name is Windows apps. We use "windowed" app as a descriptor since those types of apps used to be only full screen in Windows 8.1. Now, however, they can be properly windowed like older win32 apps bringing user familiarity.

It's a big difference. I use more apps now that they can run in Windowed mode instead of always "full screen".

Is their any plans to enable drag and drop between these universal windows apps? Unless its already available and I'm too stupid to have tried it. Reverted back to 8.1 on my surface 3 due to the hit in battery life after upgrading.

So this one is tough and it is a good point. I have heard there is an API to enable this, but so far we have not yet seen it in action. I agree that it should be there. We'll have to wait and see what happens.

And here I am waiting on all my stuff to back up. Why didn't you guys it takes like forever to back up over 400gb worth of files?lol The struggle is real. Posted via the Windows Central App for Android

I hear ya RaRa! Obviously, I should have paid more attention to that warning about my backup expiring several months ago, and my painfully slow upload speed. :(

Seriously I thought ok an hour or two and bam! Everything backed up. Not. While I'm at 20% and I had to reschedule my Windows 10 upgrade as the notification popped up. But going forward, I will know better and understand that these things simply take time. Posted via the Windows Central App for Android

Yes I know it is a struggle but that is why you should be backing up every week so that it's easier in the long run. Also the best backup tool available for Windows is CMS Bounceback Ultimate

Yeah I see now as I figured as long as my laptop runs fine and I have space on the hard drive I was fine. This is my first time backing up EVER. In my entire life ever. I just didn't know it was such a tedious task. I have too many pictures of the kids and family to risk upgrading to Windows 10 without doing it now. My plan is to upgrade as a holdover until January when I can just get a brand new Windows 10 device. I'm really digging the looks of the Dell XPS 13. I would go for a Surface Pro device too if it came with a keyboard included.

6 shouldn't even be in this list, Cortana is not available for most of the world, even for English speaking countries. Microsoft isn't too savvy when it comes to peddling their products and services to consumers outside of the USA, no wonder Apple and Google are running all the way to the bank. Cortana solves alot of the socalled app gap issues, yet it is limited to the 3% US market.

About that, we are a US based site where over 1/3 of our traffic originates (2.8 million readers this month, to be precise). The 3% market share does not apply to PCs in the slightest, in fact, Windows PCs in the U.S. are upwards of 90%. How could we not mention that? You seem to be conflating mobile, Apple and Android with desktop PCs, the focus here.

Well unbelievable, Daniel and Microsoft use the same flawed logic as well. Microsoft has a 3% market share in the US for Windows Phone and chooses to focus mainly on the US market while ignoring most other markets where they have respectable marker share and Daniel, when the site gets 2/3rd of its visitors from outside the US he feels it's correct to include points that are relevant only to the US. Well at least Microsoft and Daniel are in sync on everything.

"and Daniel, when the site gets 2/3rd of its visitors from outside the US he feels it's correct to include points that are relevant only to the US."

Nope. You just don't get it. But hey, attack my integrity due to lack of facts! 1/3 of our traffic is from ONE country. 2/3 is from 20+ other countries, so the biggest chunk of our traffic is coming from one region. Furthermore, Cortana is available in six

other

countries, including:

China, United Kingdom, France, Italy, Germany,

and

Spain.

Guess what? Five of those are also big users of Windows Central. So your logic is completely flawed. Cortana is not just relevant to those in the US. Far from it. Should we ignore those countries too in addition to the US because what,

you're mad?

No, my friend, you are the one who is out of sync here, not us. You have an axe to grind, which is a separate issue.

I get 'pericle's point about Cortana - I have the same feeling about it - it often makes headlines for Windows 10 and is pushed as a big plus, and I am also peeved at its multitude of mentions on this site. But if I am honest, the peeve is really about MS not rolling it out to more countries than it has already, and being ''left out of the fun'. I suppose that is the axe to grind, but true, not with wcentral.

You're logic is flawed, actually. Market share doesn't trump volume. Three percent market share in the U.S. results in signfificantly more Lumia sales than double-digit market share in other markets. The U.S. is still the largest market for Windows Phone.

Ain't that the thruth, MS really needs more non-American PR staff & market researchers (or start listening to the existing ones)

Am I the only one that thinks windows 10 and especially Edge is a step backwards from a touch input standpoint? I love 10 on my laptop, but hate it on my Surface....

We have mentioned that the swipe gestures are coming back, likely in the wave 2 update.

How about 'hot corners'? I miss those almost as much as I miss Windows 8.1's swipes.

Hot corners are used with the mouse. They aren't related to touch. Since, hot corners and teh start menu were the main issues people had with windows 8, I really doubt they are coming back. Besides, there were only 2 hot corners. THe third one was basically the start button which came back in 8.1. So, you have the multitasking corner which was replaced by the button on the taskbar and the corner that brough up the charms. The notification center takes the place of some of the charms, the dedicated search bar and power button take the place of the remaining functions. So, what benefit does od the hot corners serve?

Yes, I know this. I used them all the time. The benefits of the hot corners is saving time: if my mouse cursor is near the top of the screen, I can more quickly open up Task View or Action Center if hot corners exist. There is no reason to remove the hot corners and swipes that made Windows 8.1 so great. Those users who don't need them don't have to use them. Those who want to, can.

No, you certainly aren't. Whilst the forums are full of complaints about the touch downgrade, articles seem to see it as a plus point? I assume that is because journalists are keyboard fans and so none of them favour touch interfaces. That's the only logic that makes sense to me.

totaly agree. I hate it on my surface (Pro 3) but love it on my desktop PC

Really great article. The one thing that has really spoiled my Windows 10 experience has been the disaster that they call OneDrive in it. They really need to bring back some of the Windows 8.1.1 features because OneDrive in Windows 10 means you have to sync the folders to your device and fill up your disc with OneDrive files!

I've yet to set up OneDrive on my updated Surface yet, for this reason. OneDrive really needs some help, and not sure why MS has been slow to get this addressed, being that "Microsoft Cloud" is getting advertised on tv now.

For me upgrading brought some problems. First, after upgrade I cannot play WOT anymore even if I updated to the newest driver my graphics card. Second, many operations take more time now, my laptop seems slower.

Well, I would not (yet) mention Edge if a friend asks me as about why to upgrade.... I have a hard time to understand why some pretty basic features (scrolling sideways to go back, to just name one) which are cool on tablets, and were here (!!) are not implemented from the beginning. For tablet mode, Edge isn't really well designed... Other things like just starting to type on start menu and then being able to seach the PC as well as the internet in one go are also missed. Now in tablet mode, you'll always need to hit Start before you can do this, and it doesn't search the internet. To me, the new start menu isn't an improvement, not even in desktop mode. But that's just me (btw, I do not use the start menu on 8.1 for other than starting programs/apps, so I'm not really bothered that it was full screen...). On the Surface pro 3 of my daughter, she's disappointed. Remarably worse battery life foremost! So, it's a mixed bag and I would need to cut your list down a bit to be sincere to a friend askimng me about "why"...

Yes, I have noticed my battery drains faster on the Surface 3 running Win10. Have not updated the Surface Pro 3 to Win10 yet, partially for this reason. I like Win10 and think it was a good move, but you'd think Microsoft would have it configured to work as perfect as possible on their own hardware.

The hype train rolls on!!!

Will install till next year

Arrghh, and OneDrive...how I miss the not locally synced folders of 8.1.

Hello was a huge disappointment after I upgraded to 10. Apparently, Hello is not supported on the Surface Pro 3, according to MS support. How does Microsoft have a feature that their flagship device can not run? Not understanding this at all. Other than that, I'm likeing Win10. I miss some of the UI of 8.1, but this OS will grow on me and hopefully improve in the coming months. I happened to like the metro screen, so they kinda flubbed up the look of that. This is def the OS desktop users will love...but it feels less tablet friendly than 8.1 so far, to me at least.

"Apparently, Hello is not supported on the Surface Pro 3, according to MS support. How does Microsoft have a feature that their flagship device can not run? Not understanding this at all."

Easy. RealSense from Intel is an in-development product that was not yet available when the Surface Pro 3 hit the market. Technically, the Surface Pro 3 is an

old

device now. Think of when it came out and then add 9 months of development time before it. Windows 10 is future-forward meaning some of the things it supports is not widely available on the market yet. That's not a bad thing, actually. Look for Surface Pro 4 this fall and we'll see about Windows Hello.

Ass you use it and learn the ins and it's off it's tablet ui it'll grow on you I like it more then 8.1

You need the right hardware and they want you to buy the next Surface.

More bad news: They also blocked the possibility to download more ram

I want upgrade to Windows 10 from 8.1 but i use Media Centre for watching and recording Freeview T.V. channels in the U.K. As media centre is not in Windows 10 can anyone please tell me what i can use as a replacement especially for recording

As long as you don't need to clean install you'll keep media center I got a device with media center on it running 10

Are you sure you don't mean Media Player? Media Center does not exist in Windows 10 in any form. Those who upgrade from 7 or 8.1 with Media Center get the Windows DVD app for free on that computer (though they lose it if they do a clean install after that).

Can't you use Xbox One to record your shows and then stream it to any Windows 10 device?

Um... Xbox One DVR hasn't been released yet, even for Preview.

Soon won't you be able to use Xbox One to record your shows and then stream it to any Windows 10 device?

I've been putting NextPVR on all my Windows 10 systems. I also have a VM on my server with Windows 7 that I use for connecting Media Center on my Xbox 360s.Thinking about using the Xbox One DVR and streaming to my PCs once it's released, but there is only a single tuner version available right now. Another option would be to use the SiliconDust DVR when it's released, but I'd need to upgrade to a newer HDHR tuner and it's not available natively for any Xbox. Also, the Plex plugin they're making won't show Live TV.

The author must have really run out of reasons for upgrading, to actually include the settings app as a reason to upgrade!

The new settings app is there for non tech savvy people that get confused by the old control panel

I would put directx 12 as a more important reason to upgrade. However, considering that most people have never gone inside the control panel, but have used the settings on their mobile devices, adding a setting page on windows 10 that is closer to the feel of a mobile device will make a lot of people more comfortable to use it. Plus there aren't any setting that can cause problems for the computer. You can't say the same thing about some of the things in teh control panel.

I can't argue with 1,2,3 or 16. However: 4. I hate everything about the Windows 10 Start Menu. I love everything about the Windows 8 Start Screen, and it is IMPOSSIBLE to get the Windows 10 facade to look and behave close enough to the Win8 SS to be acceptable. 5. I never, EVER needed to have Metro apps do anything other than snap as they do in Windows 8. I hate mixing Metro and legacy apps. 6. There was never a reason why Cortana couldn't have been added to Win8. Waiting until 10 was stupid. 7. Continuum is horrible. It makes the Frankenstein's monster even worse. I don't want an OS that shape-changes every time I turn around. I want it to be consistent. 8. The same people who whined about the "jolting experience" moving between Metro and legacy apps are hypocritically loving virtual desktops. 9. Snap exists on Windows 8. 10. I hate the Action Center on WP8.1 and hate it on Windows 10. 11. Windows 8 already supports fingerprint scanners. Works great on my wife's laptop. I don't see the sense in buying special devices to to speed up login. 12. Universal apps already existed on Windows 8. However, because Microsoft is departing from the Metro design, they SUCK beyond my ability to express. 13. Edge browser is the most lame, SLOW, lacking browser I've ever used. Thankfully, I can still use IE on my Windows 10 test machines. Sadly, it's not the Metro version of IE, which is must nicer. 14. I really find the Settings app on Windows 10 horrible compared to what is on Windows 8. And it's NOT touch friendly. 15. Reset/refresh on Windows 8 is not difficult, either. 16. I never had an issue on any of my dual monitor devices in Windows 8.1 scaling. 17. I despise console gaming because of the stupid controller. Plus, gaming on a PC is always better. Why would I lower my standard by streaming a game from the console? 18. Windows 10 sucks at the most important aspect of storage management: placement of the OneDrive. You CANNOT set it for an SD card (as is commonly done on Windows 8 tablets). 19. Customer support. LOL. 20. Upgrading to Windows 8 was easy. And I'm already hearing some horror stories about those who tried to roll back to 8 from 10.

You are most definitely in the minority.

Just your personal opinion, I found Windows 10 much more friendlier for laptops/convertibles than Windows 8.1. I think 8.1 was thought for tablets and Windows 10 for laptops/convertibles like a Surface Pro 3.Thats the reason I'm keeping my 7" tablet with Windows 8.1 and my Dell Inspiron laptop with Windows 10. But this is just my opinion too, some may say tablets work better with Windows 10 and laptops worked better with 8.1. All is subjective, and Microsoft is giving you the choice to try Windows 10 for free for 1 year, after that, you won't be able to upgrade for free.

1. Windows 10 is free, but a privacy mess and you lose control of your OS. 2. Yet to see this, this dream isn't working out well. 3. No improvements since release. 4. By adding the start menu back, they ruined the start screen and the tablet experience. The new start menu is too limited, not enough customization options. 5. Great feature for desktops! 6. Useless to me if I can't use it locally. 7. A complete disaster, the tablet experience is terrible. Start screen is vertical and wastes too much space. Not enough customization options. 8. Useless to me, thank gosh they added an option to remove from taskbar. 9. Already had this in Windows 8. 10. Useless to me, too limited, app store doesn't use it, can't set your own pre-defined settings. 11. Useless, most people don't have real sense hardware. 12. Most of the core apps are half assed and missing many features. Many of the apps UI is too busy, Windows 8.1 design language was way better. 13. This browser is too half assed to be used as a primary browser. 14. Another half assed app, many settings missing, important update details missing, large amounts of space wasted. 15. Great feature, made it easy for me to roll back to 8.1! 16. Scaling is broken on tablets, start screen and desktop needs to be separated. 17. Useless to me, I don't own an Xbox One, cannot uninstall this crap without PowerShell. 18. Useful on tablets. 19. Completely useless support. 20. This is true. Upgrading was easy and rolling back to 8.1

Dan, you are THE MAN! I appeciate your hard work and dedication to Windows Central. I find your articles and videos informaitive. You have tought me much about Windows. Keep up the good work!! Windows 10 has some flaws, put I am highly impressed by how it works so fair. I find it a joy to use. I brought in my Toshiba Laptop to work, which I updated to Windows 10 from 8.1, to show off to my "Apple OS or nothing" boss, and his reaction to Windows 10 (I paraphrase) : Apple needs to do something more exciting with their OS. This is really impressive. My boss always felt Windows produced junk. Not anymore!!

Thanks, although Mauro wrote this article ;) Glad you are enjoying Windows 10.

Mario!!!! Ny apologies, brother!!! You have also taught me much about Windows 10 as well. Need to pay attention to who the author is, the next time I comment. I commend all who contribute to Windows Central!

Yes. I see I did misspell his name. Sorry, Mauro!!!

Well who could stay mad at clippy? =P

I live in Mexico, installed Windows 10 yesterday and just found that Cortana will come to Brazil and Mexico at end of 2015. Even without Cortana, I like the OS, I was an insider in March and the OS looks to have fixed thousands of bugs and improved the UI with Aero transparencies, dark themes which is IMO the best Windows ever launched in UI and design. Having said that, it is sad that news on other websites (excluding WindowsCentral) today are focusing on privacy issues regarding the OS sending data to Microsoft. I may be wrong, but I think this has to do a lot with setting up the new store with your account, migrating 8.1 apps to Windows 10, installing regional settings, upgrading weather/map location data, etc. But once this is done, your data won't be send to Microsoft anymore. Besides, I feel much more safe by sending my personal info to Microsoft than to Google.

I really miss the windows 8 swipe from the left that allowed to split the screen with an app and the desktop
Windows 10 swipe from the left to show the currently opened app is useless as this can be done with alt+ tab (since 20 years)

And let's go to the reasons WHY it's not good to upgrade.... 1. No Windows Media Center....is my big one.. 2. Loss of freedom of the OS like Windows 7 had, Microsoft has too much control like Big Brother watching you. 3. Window 7/8 allowed you to stop Reboots for updates if a user was logged in 4. DRM based games wont play 5. Microsoft can disable hacked games, so if you want a CD crack so you dont have to put in a CD every time you play, you cant do it 6. Edge is new but, still tons of issues, some pages cant be viewed right, pluggins dont always work right, and crashes more than IE 11. 7, Althrough 10 is new and fresh, there are a lot of aspects in Performance and bugs that were never adressed and still ongoing issues. 8. No freaking Windows Media Center, something I use every day in almost every room in my home with THOUSANDS invested in systems for it. Although Windows 10 has some nice features, if you liked 7 and were mixed about 8, chances are you will like Windows 10. If you have not upgraded yet, I would wait, Give it 6 months, let Microsoft work out all the major bugs and then do the Free upgrade. I find myself using Windows 7 more than Windows 10, as I have found 3-5 programs that I use, dont even work in 10....they work fine in 7 and 8... Still feel Windows 10 was RUSHED to hit a deadline and on the concept "Let's just release it, we will fix the bugs later"... Read around the net, I am far from the only person who feels this way..

2. Is this about that rumour circulating about Windows 10 spying on you? It doesn't if you turn on the privacy settings and does not spy on you anymore than Google would on an Android device.
4. DRM based games work perfectly on my system, and I was an insider since last October. Not only that but I've had better performance from all of the updates over the past year. It's a problem with your system.
5. It's been said before: This is only for Microsoft apps and games, primarily from the Windows Store. They will not try to disable any other software because they possess no legal right to do so, especially without the correct copyrights.
6. If Edge is crashing, try to download your graphics card drivers from the official website since that also fixed a LOT of performance issues.

On the othersubjects,, what ever, do some reading on other sites that people are not Microsoft Fanboys. This is almost like you going on Android centreal and saying Windows Phone rules... How do you think that thread would go ? >6. If Edge is crashing, try to download your graphics card drivers from the official website since that also fixed a LOT of performance issues. Really ? Where do you think I am downloading drivers from, P0rn sites ? 2 sites I will download drivers from Guru3d (where people test and review drivers in depth or Nivdia's site. WIdnows 10 performance issues is also a known issue, VERY wll know acording to the overclockers web sites and proven too Believe me Edge crashing is a known feature, plug in compatabilty is a KNOWN issue, Web site compatablity is KNOWN issue. Look it up on a the feedback program with 100's of "me too" checks. Do your homework before claiming anything here...

I understand where you're coming from for Media Center. If it wasn't for Xbox One game streaming I probably wouldn't be so quick to move on to Windows 10. On the other hand, Media Center is a dead platform. No development has gone on there for five years or so and there will be no further development. I'm keeping a Windows 7 VM for now for connecting my 360s, but on my PCs I've moved to NextPVR for TV watching/recording and Plex for my media collection. There are plenty of options to use on Windows 10 that are actively supported and more coming later this year. Anyway, I've been following the so-called journalism about Windows 10 privacy and piracy control and have found nothing actually concerning, just bloggers calling themselves journalists with no research done on the subject. An informed user will have no trouble turning off anything they don't want transmitted and there's nothing nefarious going on there, anyway. It's all related to making Windows services better or specifically for using Cortana or other services. Also, that whole EULA pirated software thing is specifically for Windows online services and Xbox/Xbox Live and specifically NOT for Windows 10 (try reading it yourself as to what it pertains to).

I'm not sure all this is completely accurate, and even the ones that are will be worked out over time. As for Media Center, people had to know that was coming eventually.

I'm curious to know why highlight universal apps when they were a big part of the 8.1 upgrade and nothing has really changed in their function? Otherwise this is a nice list, although personally I don't get the hype about Hello.

Windows 10 are full universal. Windows 8 was a pseudo-universal platform. Apps built for the W10 universal platform will not run on 8.

Downgraded from Windows 10 to Windows XP, now my kids can watch videos; yeyiii!

Now your kids can have an unpatched, unsupported OS that's more likely to be hijacked. Yippee! Honestly, not sure where your coming from since ever version of Windows since XP has had much better support for video formats.

No idea what that person was talking about

New OneDrive sucks though, smart files should have never been dropped

Ok, so now reasons not to switch:
- no touch support in Edge
- no full featured OneDrive client
- unstable and buggy start menu (flickering, not visible colors etc)
- no global Cortana
- development in progress version (so it's free)
I'm back with 8.1

Nice summary. I think Cortana is controversial because it is does not support every language and/or market. Some other features are rough around the edges. Wil likely get improved over the next twelve months. My favorites are tablet mode/continuum and the action center and live tiles. I think they are going to change the way we use windows in the mobile space and as a tablet. All are underdeveloped currently, but we will likely see significant changes in the near and medium future. Personally another improvement I see with windows 10 is improved stylus support. It's not much more, but they're is an inking API available and it will vastly improve the of the stylus in the OS and apps. ​ ​ ​ ​ ​ ​ ​ ​ ​ ​ ​ ​ ​ ​ ​II

Great article for us, especially for my colleague

I'm going to hold out at least half a year, I want all my apps/drivers to have a chance to be ironed out as more Windows 10 users hopefully force publishers to act and update. I would love to do a clean install, but don't have the time to re-configure every app and setting I have.

Say goodbye to Windows 8? Yeah, right. Nothing compelling me to "upgrade" yet.

better onedrive support? NOT!

Reason 21... its faster...

Great list, though I really don't care much about the start menu or rolling back.

Task view. Clean and simple. Being able to switch between so many virtual desktops I need is a priceless features for a (current) priceless OS. And indeed a wicked article. I will clearly use 19 of the points to try and sell the idea of upgradingto Windows 10 to friends and family. Still lacking Cortana here :)

Dan, how much for a windows 7 product key? Posted via the Windows Central App for Android

That's great article. I also produce short video for guide installation. https://www.youtube.com/watch?v=IOVbgc9MJD8

Just installed it before reading anything about it. I figured may as well. Microsoft doesn't really give people a choice in the matter. When they come out with a new operating system they put it on every freaking computer they have in existence till almost everyone has it. So far I'm not all that impressed. I have a program that monitors my ram and CPU usage and it uses more of both, and it lags because of it, oh and I really don't like Cortana. The thing sounds fine and dandy, till you find out that it pretty much tracks EVERYTHING YOU DO, and sends it off to God knows who, and you can't uninstall it. -_-

I am glad I didn't install windows 10. And I am glad there are SMART people who did not install windows 10 as well.
Windows Central Newsletter
Thank you for signing up to Windows Central. You will receive a verification email shortly.
There was a problem. Please refresh the page and try again.