Top 20 reasons why it's a good choice to upgrade to Windows 10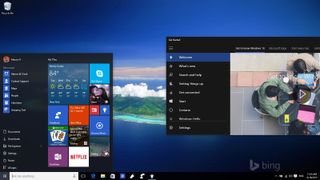 Now that Windows 10 is here, we can start saying goodbye to Windows 8. It's been a bumpy ride for Windows, but with the new operating system, it seems that everything is about to change.
Windows 10 is the next version that focus on familiarity and making the old new again while also improving on being a mobile operating system. The new version brings a countless number of features and enhancements that are likely to attract more users than Windows XP and Windows 7. The reasons go beyond what's new but because it's free too.
Today, Windows 10 has over 50 million installs in just three weeks, which represents almost five percent of the market. This figure means that people are adopting the new operating system faster than the previous version. As such, if you upgraded to Windows 10 or planning to upgrade, today I would like to share 20 reasons that make Windows 10 an awesome operating system.
Let's look at some of the reasons to make the move to Windows 10!
Top 20 Reasons to Upgrade to Windows 10
1. Windows 10 is free
It's completely free for the lifetime of your computer. How Microsoft can get you to upgrade quickly? Easy, by making it free. The new operating system is being offered as a free upgrade for computers running a genuine version of Windows 7 Service Pack 1 and Windows 8.1 Update for the first year.
2. One core that rules all devices
Windows 10 is Microsoft's dream of one operating system running everywhere. The same version of Windows 10 can run on a desktop computer, tablet, phone, and game console (upgrade coming soon). There is even a version of Windows 10 for IoT (Internet of Things) devices.
This ubiquity means that Windows 10 will look familiar everywhere, and it allows developers to create apps that work seamlessly across devices.
3. Windows as a Service
Windows as a Service (WaaS) is the idea of moving away from big releases every 2-3 years, making versioning a thing of the past. Instead, Microsoft is continuing to release new updates on a daily basis. That means instead of waiting to release new features through a service pack or major release, Microsoft will roll out new updates with patches and features as soon as they are ready. So, technically, Windows will never be considered a complete product, because it'll always be evolving.
For users it also means that there is only one-time upgrade, after installing Windows 10, your device is supported for the lifetime of that computer and phone at no extra cost.
4. The Start menu is back
Windows 10 combines the best of Windows 7 and Windows 8.1, and it brings the best of both worlds. In the new version everything will look familiar, perhaps the first feature you'll notice is the return of Start menu.
The Start menu is back, and the Start screen is gone. The Start Screen is still technically there, but not exactly in the same way. In Windows 10, Microsoft has combined the Windows 7 Start menu with the Start screen in Windows 8 to come up with new Start menu. On the left side of the menu, you see the elements taken from Windows 7 with a list of most used apps, access to locations, such as Settings and File Explorer. Here you have access to the Power options, and you can also access to all of your apps – just like you were able to do in the past.
On the right side, you'll see the elements that Microsoft is bringing from Windows 8. You'll get your Live Tiles with up to date information, you can also arrange tiles in groups, and you can even resize the Start menu depending on your screen resolution or use the full-screen mode.
Microsoft has spent a lot of time building the Start menu and as a result, we have a beautiful design and very customizable. In fact, the Start menu has already won the IDSA Digital Design Award.
Compared to Windows 8, Windows 10 is easier to navigate, there is no more friction moving between the modern and desktop environments, and Windows 7 users will feel at home with new changes.
5. Windowed apps
There is a new Store in Windows 10, and now apps float freely in the desktop, just like traditional desktop apps, instead of apps taking the entire screen. This feature is a great improvement over Windows 8, as it turned out too difficult for many users to multitask using different kind of apps. Additionally, there has been improvements on the Taskbar, but usability continues to be the same.
6. Cortana
Cortana beats Siri to the desktop. In Windows 10 one of the major features is Cortana, Microsoft's world first personal assistant, which now is part of the experience. Cortana is deeply integrated into the operating system, and even though you can't uninstall it, you can at least disable it. However, you may want to think twice before disabling it, as it can be a very helpful feature.
At the Taskbar, users will find the search box where Cortana lives, by typing a query you can quickly get answers, find files locally and stored in OneDrive. If you have taken a picture of a receipt or place, just type something you remember about that moment, and you'll see that image in the search results. You can also set reminders, send emails with voice commands, track packages and flights, and a lot more.
Also, Cortana is coming to iOS, Android, and Xbox one, so the assistant will be able to help virtually on any device.
7. Continuum
Windows 10 is a major upgrade for PCs, but Microsoft is also improving the operating system to work well with touch-enabled devices. With Windows 10, the software maker is including Continuum, which most people know as Tablet mode, and it's a feature that automatically switches the user interface from a mouse and keyboard to a touch-optimized environment.
Tablet mode is aimed to allow users with 2-in-1 devices to keep a continuity of productivity no matter what device you're using. The feature automatically kicks in when it registers that there is no presence of a keyboard and mouse. However, you can also enable Tablet mode manually, which will offer a very Windows 8 like experience with the Start menu and File Explorer going full screen.
8. Task View (virtual desktops)
Yes, "virtual desktops" are now part of Windows 10. Virtual desktops are not a brand new idea, Linux, and Apple's Mac OS X had this feature for a long time. Even Windows XP had an add-on to enable virtual desktops. However, in the new version Microsoft is including Task View, which is a new feature that allows you to manage easily all your running apps.
You still can use Alt + Tab to move between apps, but using the Windows + Tab shortcut (or clicking the second button from the left in the taskbar) gets you access to the new Task View. This view displays all your current apps organized by relevance. If the desktop is getting cluttered, you can always click the + New desktop button on the bottom-right corner to create a new virtual desktop and group apps by the task at hand. Virtual desktops help you to keep things organized.
9. Snap Assist
If you liked to snap multiple apps to the either side of your screen in Windows 7, you'll love Snap Assist in Windows 10. The improved feature now allows you to snap up to four apps in your screen. When you snap an app, Snap Assist will display related apps you might want to snap next. A very handy tool!
10. Action Center
Similar to Apple's OS X, Windows 10 includes a new Action Center that makes notifications a whole new experience. You can access Action Center by using the icon on the notification area, or swipe from the right.
Action Center offers two functions: it organizes all your notifications from apps, including Mail and Calendar, and system notifications. It also allows you to access the "Quick actions" button to control various system settings with a touch of a button.
11. Windows Hello
Windows 10 packs some new features that make the operating system very secure, but Hello is perhaps the feature with the most buzz. Windows Hello is a new feature that allows users to ditch password and pins finally. Instead, the OS features native biometric authentication using a special camera with infrared sensors, such as the new Intel's RealSense 3D camera for facial recognition.
You can also use a fingerprint scanner to authenticate users into Windows 10 in a snap.
Computers need to be equipped with such technology, meaning most current PCs in the market don't support Windows Hello face recognition. However, shortly Windows 10 users will have the new feature on new PCs in fall of 2015.
12. Windows apps
In Windows 10, Microsoft is introducing a new app model referred to as universal Windows apps. These new kind of apps are based on the modern-styled design found in Windows 8. But now there is a new version, which also allows developers to build apps and target them to all kind of devices, including PCs, tablets, phones, and Xbox.
Unlike the modern Windows 8 apps, the universal apps for Windows 10 work across devices. Developers only have to write the code once. Apps run fully windowed, and they are mouse and keyboard friendly.
13. Microsoft Edge
Internet Explorer is finally gone. Well, not entirely, but it will be soon. Instead, the software giant is introducing "Microsoft Edge", the new web browser for Windows 10. While the new browser is far from complete, and there are many missing features, Edge is headed in the right direction.
The new browser offers the latest features on web technologies, and it includes a nonintrusive version of Cortana to help when you need it. Users can even take advantage of web notes, which allows you to annotate web pages and share them with socially or privately with other people. Also, you can save web pages for later viewing with Reading List, and Reading View lets you declutter web pages by offering a PDF-like view to read web content.
It's worth noting that the experience using Edge will vary from computer-to-computer. If you have a fairly new PC, you'll notice that the browser works quite alright, but on a two-year-old computer or older, Edge will be on the slow side. Furthermore, at this time the browser doesn't support extensions, but this ability and more are coming in a later update.
For those Google Chrome or Mozilla Firefox fans, the chances are that Microsoft Edge will not convince you yet, but the browser is expected only to get better. However, for users who want to stay away from Chrome eating up all the computer memory or for those who simply don't like Firefox, Edge has become another option.
14. Settings app
Another feature worth upgrading to Windows 10 is the Settings app, which is the new unified interface to configure the operating system. The Settings app is an upgrade to the PC settings in Windows 8.1 and it's what is going to replace Control Panel. However, not every setting has been migrated to the new Settings app. As such, you can still find the old Control Panel if you wish to change some of the Windows 10 setting through that interface.
The Settings app still needs work, but it gets the job done. Compare to Control Panel, non-technical users will find the new interface easier to use. Also, the Settings app works across devices. As a result if you know how to access preference on a Windows 10 PC, you also already know how to change the preferences on a Windows 10 smartphone or tablet.
15. Push button reset
One good feature in Windows 8 was the ability to refresh or reset your computer as needed. If you bought a branded PC, the feature would make it a lot easier to restore your system to the factory defaults. However, if you have a custom install of the operating system, every time you need to reset or refresh your computer you are alerted of missing files. Consequently, you couldn't use either feature because you need to provide the recovery files.
In Windows 10, Microsoft is changing how this feature works. Now, the feature is called "Reset this PC" and it allows you refresh or reset your computer from one place. Best of all, the operating system can use the files already on the computer to reinstall the operating system, as such (technically) you won't be prompted anymore to supply the installation files.
16. DPI scaling per-monitor
The new version of Windows finally supports DPI scaling settings per-monitor. Although, Windows 8.1 did a good job automatically adjusting the DPI (dot per inch) settings, it only supported scaling for your main monitor. For example, if you had a laptop with a high resolution, and you connected to a 1080p external monitor elements did not look correctly, and there was no way around it.
Now Windows 10 supports DPI scaling on all your monitors, and the magic happens automatically. Of course, you can always change the settings to your needs and per-monitor.
17. Xbox One game streaming
The new operating system is also built for gaming, not only you're able to play your PC games with higher performance improvements with DirectX 12, but you can also play your Xbox One games too. Thanks to the Xbox app, you can remotely connect to your Xbox One console and stream games right to Windows 10. If you're playing games in the next room, you don't even need to connect your Xbox One controller to Windows 10. However, if you are out of range, you can connect the controller via USB to your computer because the driver comes bundled with the operating system.
Xbox One game streaming to Windows 10 is particularly useful in a house with multiple people. If someone else is using the TV, you can still play your games over your local network through your Windows 10 device (assuming cable TV is not routed through the Xbox).
18. Storage management
In Windows 10, Microsoft is making many improvements regarding storage. For starters, the new version has a much smaller footprint for installation. If you're making a clean install, you'll notice that Windows 10 takes a lot less space, often less than 10 GB.
Through the Settings app on System > Storage, users can easily manage their storage space, and move default saved locations to an external hard drive. You can even click on each hard drive to view what's taking up space in your system. Very useful information and very easy to use for beginners.
19. If you have issues, there is the Contact Support app
Even though there are many tech savvy users, there are still many others that will need help using Windows 10. This time around Microsoft includes the Contact Support app that makes it super easy for users to get servicing for apps, Windows, and of course billing.
Furthermore, there is a Get Started app too. If you remember Windows 8 didn't include a guide at launch, and this was a problem, as many users couldn't figure out how to do a lot of basic tasks. In Windows 10, you have the Get Started app with useful information about the new features, how to get help, and how to use the new tools in the operating system.
20. Upgrading to Windows 10 is easier, and you can roll back
Although, no upgrade can be perfect when you have to support a large variety of system configurations, in comparison with other versions, Windows 10 is much easier to upgrade. Additionally, you can "try" the new operating system. If you don't like it, you have a month to roll back to your previous version of the operating system (another thing that wasn't available in Windows 8).
Wrapping thing up
While the new operating system is still in its early days, it's already very good. Windows 10 includes a handful of visual and under-the-hood improvements, some new apps, and Internet Explorer is finally going away.
Yes, the operating system isn't complete, but with Windows as a Service, you can expect new features and patches to roll out quicker than before.
What do you think about Windows 10 new features? Do you have a favorite feature or change? Let us know in the comments below.
More Info
For more basic info on Windows 10, including some tips and our vast array of how-to articles, make sure you head to our main Windows 10 help page or jump into our forums!
Get the Windows Central Newsletter
All the latest news, reviews, and guides for Windows and Xbox diehards.
Mauro Huculak is technical writer for WindowsCentral.com. His primary focus is to write comprehensive how-tos to help users get the most out of Windows 10 and its many related technologies. He has an IT background with professional certifications from Microsoft, Cisco, and CompTIA, and he's a recognized member of the Microsoft MVP community.