How to download Xbox One X 4K game assets on your regular Xbox One
With the Xbox One X around the corner, the regular old Xbox One will allow you to begin preparing for the big day by downloading 4K assets in advance.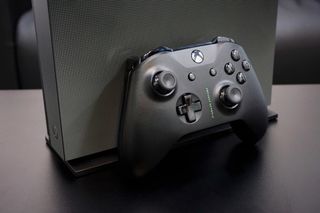 The Xbox One X is a 4K behemoth capable of running games at UHD resolutions with 60 frames per second and HDR. Dozens of games are slated to receive free updates to take advantage of the X's significant 6TF power boost, and you can begin preparing for that eventuality today.
In the fall 2017 update, regular Xbox One consoles have gained the ability to download 4K assets early to help prepare for the transfer to the Xbox One X, either via local storage or network transfer. Naturally, the 4K assets won't make your games look better on your existing Xbox One, you'll need the X for that. This just helps you get ready to make the move across.
Here's how to take advantage of the new 4K assets and check to see whether they have downloaded.
Open up the Guide by pressing the Xbox button on your controller.
Navigate to the right using the joystick to the System cogwheel.
Use the "A" button to access Settings.
Use the joystick and "A" button to access System.
Use the joystick and "A" button to select Backup & transfer.
Put a check in the box which says Download 4K game content.
Press the "B" button to go back to the System menu.
Now select Updates with the "A" button.
Put a check in the box that says Keep my games & apps up to date.
Now, when you have enough storage space, the Xbox One will begin updating your games automatically with "Enhanced" 4K assets. Like it says in the warning, these file sizes can be astronomically huge, and the Xbox currently doesn't give you a great deal of control when it comes to downloading assets for specific games.
You can check whether a game has installed 4K assets or not using the following method, usable as of the Xbox fall update.
Check whether 4K assets are installed
Open up the Guide by pressing the Xbox button on your controller.
Navigate down to the Games & apps button shown here.
If a game is downloading 4K assets, it should appear in the Updates tab.
You can check if a game has 4K assets by selecting it, by pressing Right bumper, left bumper, menu and view simultaneously.
You will see this screen depicting "Assets installed," if you see an "X," or "Xbox-Scorpio" we've taken that to mean the game is Xbox One X-ready. We've asked Microsoft to clarify whether or not that is actually the case, though, as many games don't seem to have received updates yet.
You can also filter games by Xbox One X Enhanced at the top of each section, but it seems to be a little buggy at the moment, not displaying the correct games.
Admittedly, this functionality is a little clunky, and many games are missing 4K assets that are listed to receive them, but as we get closer to the Xbox One X, more games should begin seeing updates. It probably won't be used a great deal after this year, as the Xbox One X will download 4K assets automatically.
Jez Corden is the Managing Editor for Windows Central, focusing primarily on all things Xbox and gaming. Jez is known for breaking exclusive news and analysis as relates to the Microsoft ecosystem while being powered by caffeine. Follow on Twitter @JezCorden and listen to his Xbox Two podcast, all about, you guessed it, Xbox!
When is this arriving for everyone? Will it be available for us that pre order?

The update gets released to the public later this month. Those that pre ordered the Xbox One X will be getting it but they will NOT be getting it before everyone else. In fact, those in the Xbox Insider program are trialing the update now. The Insider program is only for those who want to preview the updates and find bugs or issues within those updates before they are released to the public. I don't think they have access to downloading 4K assets for Xbox One X enhanced titles right now (I could be wrong though) but they will be able to download them before the general public.

Yeah, I am aware of all of that, but thanks for the answer. Reading my comment, I can see how I messed that one up. I meant to write, 'will this update be available in time to download the assets for those of us that pre ordered the console?'. My guess is no on that, but I'm not sure why this needed to be in the new update of the dashboard, unless its a deeply embedded feature.

the update is out next week so yes you will have time

Only ReCore and Shadow of War updated for me so far, but I can confirm that everyone (certainly on the Preview builds) is applicable. For those checking, it seems to separate the assets into three categories - Xbox Durango (all hardware), Xbox Durango Only (OG and S) and X (quite naturally, Xbox X only) There also appears to be a flag set called 'X1XE' which is still set as 'False' even on the updated ones (so obviously that will change once the hardware does if it's downloaded the assets)

I have 7 terabytes of external HD space, I can't wait. I get the alpha build updates, so I'm primed to go.

I have an external HD and the latest update with the new dashboard. I'll see if I can do this.

I did that the other day and noticed Forza 7 had a little over 28 gig update. I will need to do the trick to see if that was the X assets update.

Have they opened the floodgates on 4K assets yet? This setting has been available for at least a week but I haven't seen anything download yet.

I've switched the toggle on and still haven't seen any updates available. Is it just me or are they still not being pushed out yet?

its active for me, enabled not to long ago and downloads kicked off.

Thx for combination and details about "X" symbol, very appreciated!:)

What if I don't have a back up and transfer option?

Hi, if you press Right bumper, left bumper, menu and view simultaneously in the Mass Effect Andromeda game, it appears as Assets installed: Xbox-Scorpio. Does this mean that Mass Effect Andromeda has been updated for xbox one X? This game is not in the game list of Xbox one X enhanced games...

That's interesting. I doubt it, might be a false positive. Does it appear in your list when you filter by Xbox One X Enhanced games?
Windows Central Newsletter
Thank you for signing up to Windows Central. You will receive a verification email shortly.
There was a problem. Please refresh the page and try again.